Oreo has to be one of the most tried and true cake flavors out there, and is the inspiration for this oreo drip cake. On their own, Oreos are chocolaty, crunchy, chewy, and simply delicious.
It has everything you could want from a cookie, and it translates so well into a cake flavor!! This Oreo drip cake is inspired in both design and taste by this classic cookie.
This cake is made with my chocolate buttermilk layer cake recipe. While I have a few different chocolate cake recipes, I thought this one was perfect for this cake.
It has great structure, and an amazingly fluffy and unique texture.
However, I swapped out the regular baking cocoa for a secret ingredient. It's actually my favorite type of cocoa, and I love to use it in my recipes.
The Secret Ingredient in this Oreo Drip Cake
Oreos have such a unique taste, and dark color. To help translate both of these aspects into this Oreo drip cake, I use black cocoa.
Black cocoa has a slightly higher pH than dutch-processed cocoa (8 vs.7), and is much less acidic than natural baking cocoa (5-6).
This gives the cake layers a bittersweet, chocolaty taste just like an Oreo cookie! It's absolutely delicious.
Black cocoa also has a beautiful dark color, which makes the cake layers the same color as an Oreo.
It can be hard to find in grocery stores, so I like to order it on amazon. If you can't get it in time, dark baking cocoa (like this) will work too!
My Favorite Part: The Oreo Buttercream
I'm already a huge frosting fan, and the Oreo buttercream in this cake is a real game changer. It's simply addicting.
I found myself eating scoops of it with leftover Oreos while I was filming this cake. It took all my self control to resist it!
The base of this frosting is my classic American buttercream recipe. There are so many reasons why I am obsessed with this buttercream recipe.
I love the that is only uses 5 ingredients, which most of us already have in our pantries!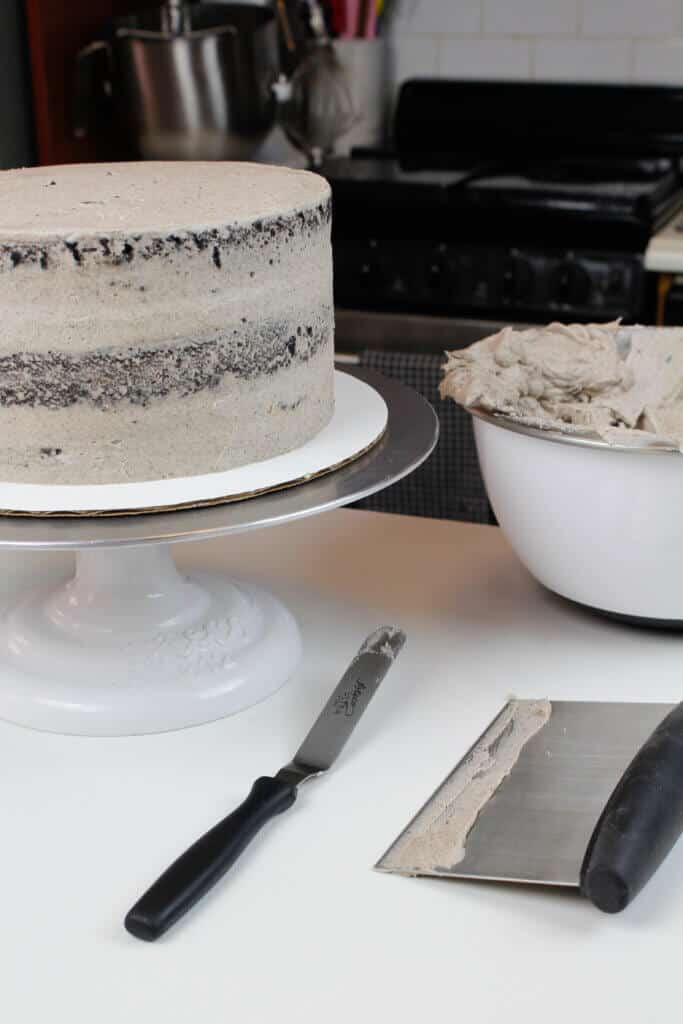 This frosting is also pretty much foolproof, and only takes about 5 minutes to make.
American buttercream is definitely on the sweet side, but I have a huge sweet tooth so I love it.
The only thing that could make it better is…you guessed it…crushed Oreos!!
It may seems like all you have to do is cut up some Oreos and throw them into the buttercream.
However, it's actually not that simple! If you plan to pipe with this buttercream (which I did!!), you need to use a food processor to completely crush the Oreos.
Bits of Oreo will get stuck in your piping tip if you don't. Trust me, there is nothing more frustrating than being mid-swirl with a Wilton 1M, only to have the frosting tip get plugged and ruin your perfect design.
Large bigs of Oreos also make smoothing the frosting on the sides of your cake almost impossible.
It's worth reaching up to your highest cabinet (or the back of your pantry), and pulling out your food processor.
If you don't have a food processor, be sure to cut your Oreos up into superfine pieces.
The Decorative Touch: A Chocolate Drip
The sides of this cake seemed a bit bare, so I added a chocolate drip! I use chocolate ganache to make my chocolate drips. It's made with heavy cream and chocolate.
Chocolate ganache is also super easy to make! The hard part is mastering the perfect drip. It really comes down to two factors, chilling your cake, and letting your ganache cool to the right temperature.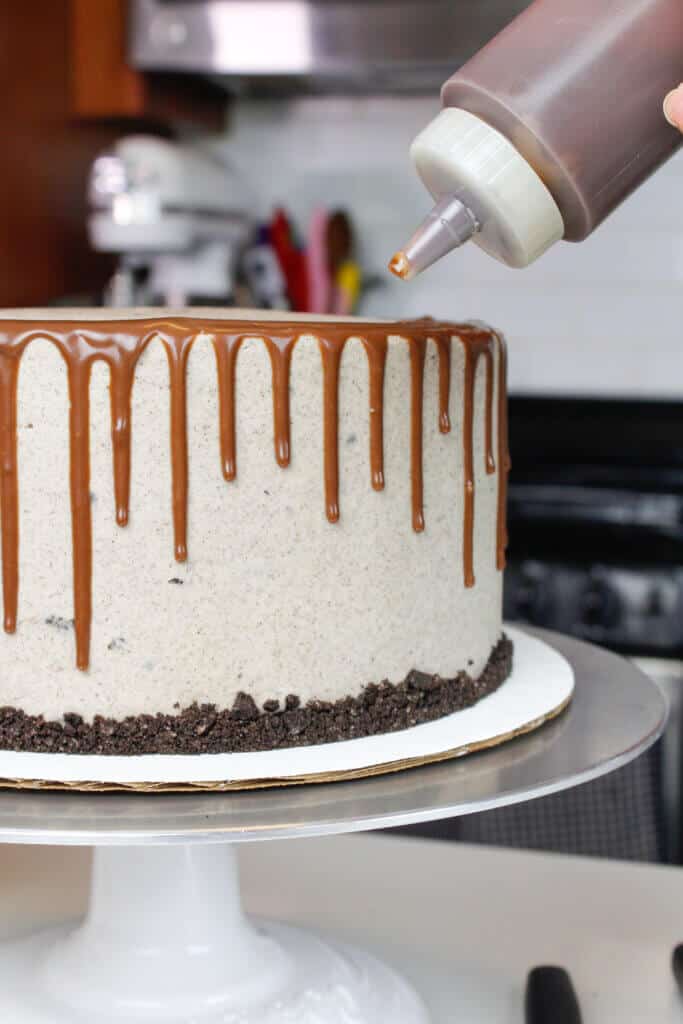 If your ganache is too warm, it can right all the way down your cake and right off your cake board.
If the chocolate ganache is too cool, it can result in short, little, stubby drips. The best way to know if your ganache is the right temperature is to make a test drip.
Make a single drip on your chilled cake, and see what it looks like after a couple minutes. Is it too thick? Too thin?? Adjust accordingly, then add drips around your entire cake.
It might be scary the first time, but I promise it gets easier the more drip cakes you make!
Let Me Know What You Think!
Nothing makes me happier than when I get emails or DMs with photos of your amazing creations. Please don't hesitate to reach out to me with your triumphs, or questions <3
If you try this Oreo drip cake recipe, please tag me @chelsweets. Also use the #chelsweets so that I can see your baking!
Yield: 30 servings
Oreo Drip Cake
This Oreo drip cake is the best!! It's made with delicious dark chocolate cake layers, Oreo buttercream, and is decorated with a gorgeous chocolate drip!
Total Time
2 hours
18 minutes
Ingredients
Chocolate Cake Layers
2 ½ cups all-purpose flour (325 grams)
¾ cup unsweetened black cocoa powder (75 grams)
3 cups granulated sugar (600 grams)
2 ½ teaspoons baking powder (10 grams)
1 teaspoon salt (6 grams)
1 cup unsalted butter or 2 sticks, room temperature (226 grams)
2 teaspoon vanilla extract (8 grams)
1 cup egg whites – about 7 large egg whites (235 grams)
1 ½ cups buttermilk, room temperature (342 grams)
1/8 cup vegetable oil (28 grams)
1 teaspoon instant espresso (or coffee), dissolved in 1 tablespoon of hot water
Oreo Buttercream
3 cups unsalted butter, room temperature (650 grams)
11 cups powdered sugar (1375 grams)
1 teaspoon salt (6 grams)
1/3 cup heavy cream (or whipping cream) (60 grams)
1 tablespoon vanilla extract (12 grams)
1 ½ cups of crushed Oreos (225 grams)
Chocolate Drip
1/4 cup heavy cream (58 grams)
1/2 cup milk chocolate chips (88 grams)
Additional Decorations/Tools:
Stand mixer
Whisk and paddle attachments for stand mixer
Spinning cake stand
Grease-proof cake board
Large offset spatula
Bench scraper
Large piping bag
Wilton 1M Frosting tip
12 full Oreos
Instructions
Chocolate Cake Layers

Preheat oven to 350°F. Line 3, 8-inch round pans with parchment rounds, and grease with non-stick cooking spray.
Sift together all dry ingredients (flour, cocoa, baking powder, sugar, and salt) into the bowl of a stand mixer.
Mix chunks of room-temperature butter slowly into the dry mix, on a low speed using a paddle attachment. Continue to mix until no chunks of butter remain, and the mixture becomes crumbly. It should resemble moist sand.
Pour in egg whites, and mix on low until just incorporated.
Mix in the buttermilk in two installments, on a low speed.
Scrape down the sides of the bowl with a spatula, then add in vanilla, liquid espresso, and oil. Mix at a low speed until fully incorporated.
Divide batter evenly between the prepared cake pans. I like to use a digital kitchen scale to weigh my pans, and ensure they all have the same amount of batter.  This guarantees your layers will bake to be the same height.
Bang the bottom of each pan on our counter. You can do this on top of a kitchen towel to make the process less loud. This helps removes any air bubbles before the pans are placed in the oven.
Bake for 33-34 minutes, or until a skewer comes out with a few moist crumbs. 
Allow the layers to cool for 10 minutes on wire racks, then run an offset spatula around perimeter of the pan to separate the cake from the pan.
To accelerate the cooling process, I like to pop my cake layers in the freezer. You can also leave them on wire racks to finish cooling. Once the layers are fully cooled, I like to level them and trim the caramelized bits from the sides of the layers using a serrated knife.
Be sure the layers are completely cooled or chilled before trimming. If you try to trim the layers while they're still warm, they will crumble apart. This is optional though, and this step can be skipped.
Oreo Buttercream
Beat the butter on a medium speed for 30 seconds with a paddle attachment, until smooth. Slowly add in the powdered sugar, 1 cup at a time. Place a kitchen towel over the stand mixer, to help reduce the powdered sugar clouds. Alternate with small splashes of cream.
Once fully mixed, add in the vanilla and salt, and beat on low. Add in 1 cup of crushed Oreos (saving the rest for the cake decoration), and mix on low until the ingredients are fully incorporated, and the desired consistency is reached.
If the frosting is too thick, add in additional cream (1 tablespoon at a time). If the frosting is too thin, add in more powdered sugar (1/4 at a time).
Chocolate Drip
Place the milk chocolate chips in a heat-proof bowl, and set aside.
Heat heavy cream in a heat-proof bowl in the microwave for 45 seconds to 1 minute, until gently bubbling.
If you don't have a microwave or prefer to use the stove top, you can heat the cream over a medium heat in a pan until it begins to simmer. Remove from heat.
Gently pour the heavy cream over the chocolate chips, making sure they are covered with cream. Allow mixture to sit for 1-2 minutes.
Stir slowly until the cream and chocolate are fully combined, and ganache is silky smooth.
Set aside to cool for about 20 minutes, until the mixture is just slightly warm to the touch.
Cake Assembly
Stack and frost cake layers on a greaseproof cake board, using a dab of frosting to help secure the first cake layer to the board.
Spread an even layer of Oreo buttercream between each cake layer, and top with a large spoonful of crushed Oreos. Stack all the cake layers. Flip the top cake layer upside down to make it easier to frost.
Apply a thin coat of frosting around the cake, to fully cover the cake layers. Smooth using a bench scraper, then chill the cake in the fridge (20 minutes) or freezer (5 minutes) until the frosting is firm to the touch.
Add a second, thicker layer of frosting to the cake, and smooth using a bench scraper.
Spoon crushed Oreos around the base of the cake, then use the offset spatula to carefully press them into the frosting.
Chill the cake in the fridge (20 minutes) or freezer (5 minutes) again until the frosting is firm to the touch.
Place the remaining frosting into a piping bag fitted with a Wilton 1M frosting tip (open star).
Once the cake is chilled, add the chocolate ganache drips to the cake using a spoon.
To add the drips, take about a tsp of ganache, scrape the bottom of the spoon against the bowl. Add the ganache to the top of the cake (about ½ inch from the edge of the cake).
Gently push the ganache over the edge of the cake with the spoon, and allow it to run down the side of the cake.
Allow the first drip to be a test drip, to check the consistency of the ganache.
If the test drip seems too thick, try heating up the ganache for 5-10 additional seconds in the microwave. If the mixture seems too thin, allow it cool a bit longer, then try another test drip.
Once the ganache is the right consistency, add drips around the entire cake. Top the perimeter of the cake with large buttercream swirls, adding whole Oreos between the swirls.
Notes
You can make my chocolate drip recipe in advance, and store it
in the fridge until you're ready to use it. Store in an airtight container. To
get it back to the right consistency, heat the mixture in 15 second increments,
or until it reaches the right viscosity.

It should be slightly warmer than room temp, but not warm enough
to melt the buttercream on your chilled cake.

The buttercream can also be made in advance, and so can the cake layers!
Nutrition Information
Yield
30
Serving Size
1
Amount Per Serving
Calories

630
Total Fat

31g
Saturated Fat

18g
Trans Fat

0g
Unsaturated Fat

11g
Cholesterol

75mg
Sodium

289mg
Carbohydrates

86g
Fiber

1g
Sugar

72g
Protein

5g
If you enjoyed this recipe, you might also enjoy these: