It seems like everywhere I look, I see a chocolate drip cake!! Chocolate drip cakes seem to have taken the cake world by storm.
While I usually make colorful drip cakes using my white chocolate ganache drip recipe (colored with gel food coloring), I have a soft spot in my heart for a classic chocolate drip cake.
Drips are just the perfect way to dress up a cake! They're such an elegant, yet playful way to really spruce things up.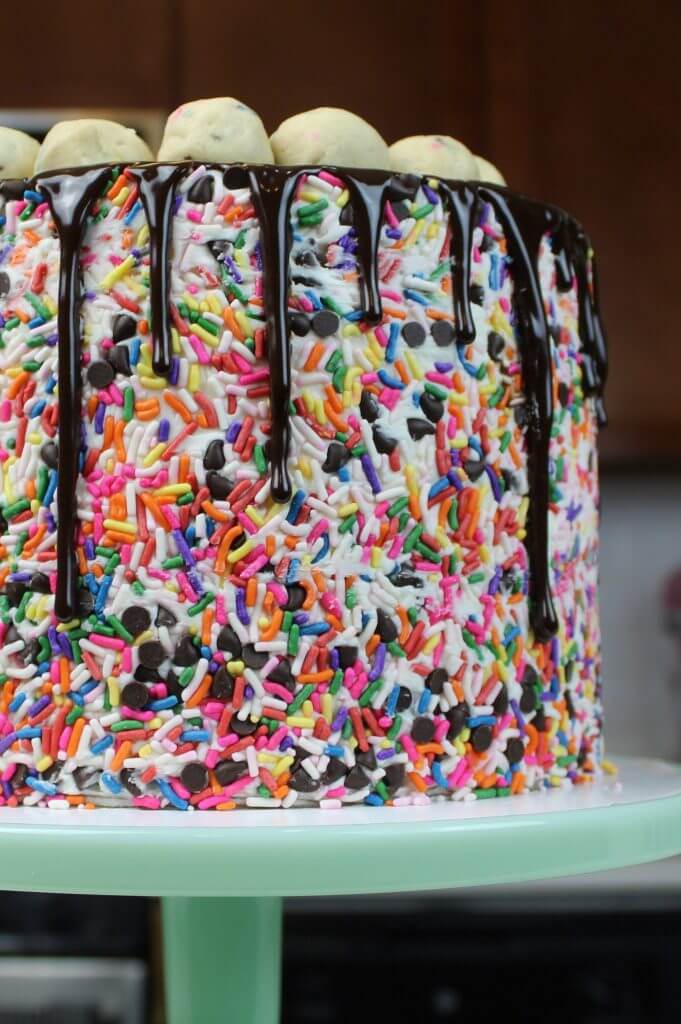 I've made so many drip cakes lately, I've started thinking that cakes look kind of naked without them! If you've never made a drip cake before, don't worry!
Whether you call them chocolate drippies, drip cake ganache, or drip cake icing, I've got you covered.
I'm going to share everything you need to know to make the perfect drip cake!! It's easier than you might think.
The Easiest Recipe: Milk Chocolate and Heavy Cream
Just because chocolate drip cakes are beautiful, doesn't mean they have to be complicated. Let's start by discussing the most basic part of a chocolate drip, the ingredients it's made with!
The best part of my chocolate ganache drip recipe is that it's made with only two ingredients.
All you need is a half cup of milk chocolate chips, and some heavy cream. If you can't find heavy cream in your grocery store, you can also use heavy whipping cream.
Don't worry if you're not in the US! I've included the metric measurements below. So whether you want to make a drip cake in the UK, and Australia, you can use this recipe.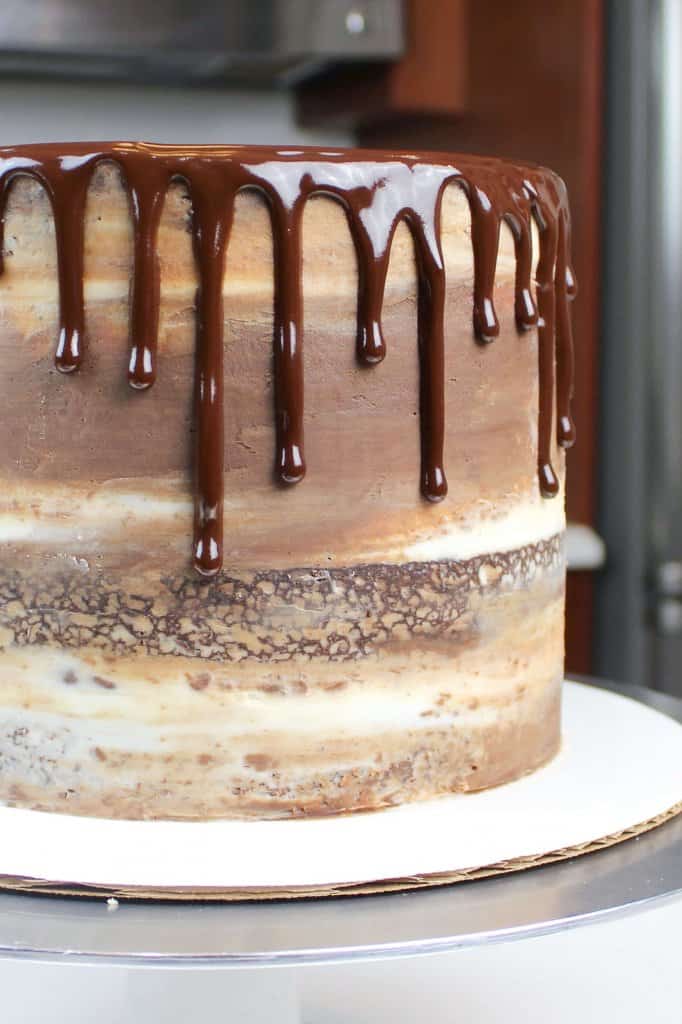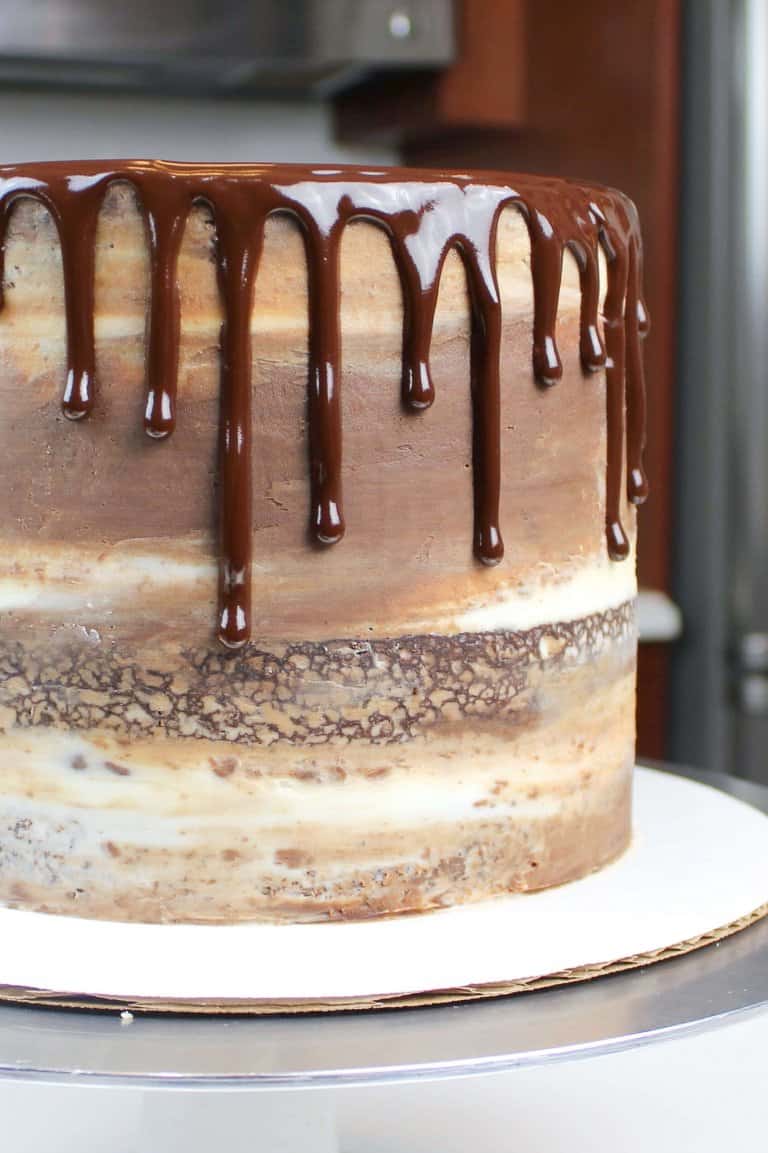 Sadly you can't use regular milk in place of the heavy cream in this chocolate drip recipe. Heavy cream has 36-38% milk fat.
You need that to create the wonderful consistency of the chocolate ganache. If you use regular milk, your mixture will be too thin.
To make this recipe, you simply heat up the cream, and pour in the chocolate chips.
Then let them sit for a minute to melt, give them a quick stir. And just just like, you have silky smooth ganache.
The ratio of milk chocolate to heavy cream is super important in this recipe. Because of the chocolate in mixture, it will thicken as it cools.
Having the ganache at the right temperature allows you to create those beautiful, perfect drips! Since this recipe uses chocolate and cream, it is technically a milk chocolate ganache.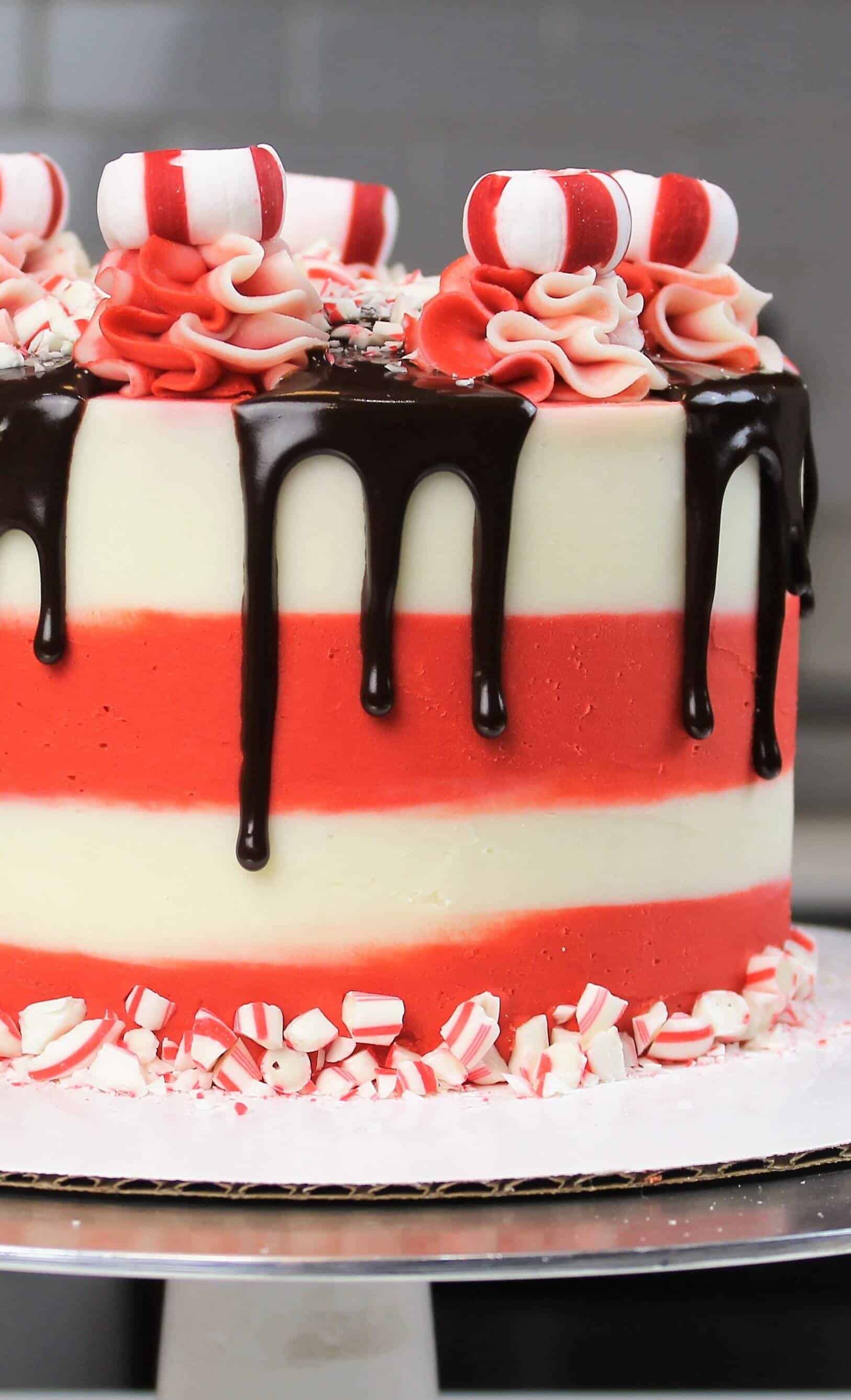 How To Make The Perfect Chocolate Drip Cake
Drip cakes don't have to be scary, but there are a few things to keep in mind to make sure you get that perfect drip look! The most common issues include:
Runaway drips – drips that run straight to the bottom of the cake, and right off the cake board
Thin, watery drips, that looks more like streaks than drips
Ganache that seems to melt the buttercream, and not keep its shape
Short, stubby drips that (sadly) look like candle wax
Most of these problems are caused by adding the chocolate ganache to a cake when it isn't at the right temperature.
You can also have issues if the cake isn't properly chilled. If you follow my drip cake tutorial below, I promise you can avoid all of these issues!!
Step #1: Chill Your Cake!!
My first tip is to make sure your cake is properly chilled.
Once frosted, you should allow the cake to sit it your fridge for at least 20 minutes, or in your freezer for 10 minutes. This makes the frosting cold and firm to the touch.
Chilling the cake helps the buttercream keep its shape, and not "melt" when then slightly warmed ganache is added to it.
It will also slow down the speed at which the drips run down the cake. This helps them from running all the way down the cake.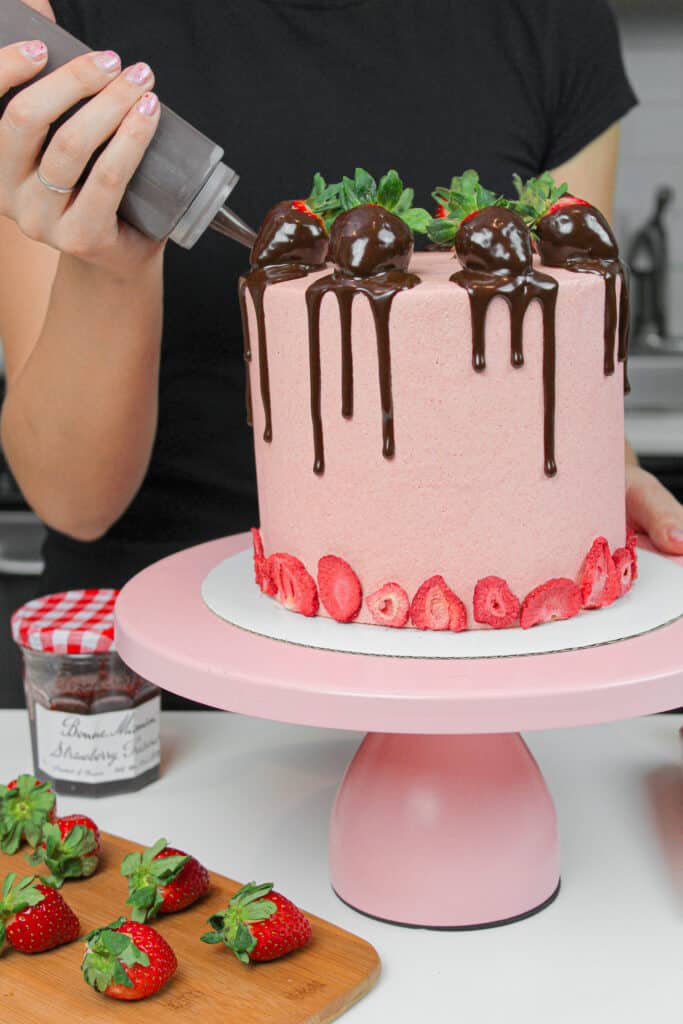 Step #2: Getting Your Ganache The Right Temperature
My second tip is to make sure your chocolate ganache is the right temperature!! It should be just slightly warmer than room temperature. When I say that, I mean it should be just a tiny bit warm to the touch.
If your ganache is too warm, it will be thinner than you want, and will run straight down the cake.
On the other hand, if it's not warm enough, you will end up with short, stubby little drips. Neither of these will create those beautiful, long drips.
Step #3: The Test Drip
The best way to ensure your ganache is the right temperature is do a test drip. THIS IS A CRUCIAL STEP!!!
Make a single drip on the side of your cake, and let it flow. Allow it to slowly run down the side of the cake, and see where it stops.
If it's the length and look you're after, then go ahead and add drips to the rest of the cake.
On the other hand, if it's not quite right, adjust as needed.
Either pop the ganache into the fridge for a couple minutes to allow it to cool off a bit more, or heat the bottle (or bowl) in the microwave for 5-10 seconds.
Then test out one more drip to be safe! While these extra steps may make the process longer, it's worth it to make sure your drips are perfect.
When you spend hours making a cake from scratch, it's worth taking the extra 10 minutes to ensure your ganache drips will turn out beautifully.
If you're more of a visual learner, here is a video tutorial showing exactly how I add drips to my cakes.
Techniques For Adding Chocolate Drips To The Cake
There are two ways to easily add colored drips to a cake. One way is to use plastic bottles.
I prefer this method, since it makes the process so much easier. The ganache is contained in the bottle, and can also easily be heated or chilled.
If you don't have any plastic bottles on hand, you can also use a spoon or a small offset spatula.
With either tool, you can carefully push the ganache over the edge of your cakes, creating each drip. This is the method I used to make the pink drips on my circus animal cake.
My fridge almost always has a bottle of leftover ganache in it. I always save any leftovers of my chocolate ganache drip recipe, since they can easily be reheated in the microwave and used on another cake.
Whenever I use a spoon, I get ganache all over my counter or on the cake where I don't want it.
I actually prefer the way drips look when they're added to a cake using the spoon method, but I rarely do it because it's harder to film!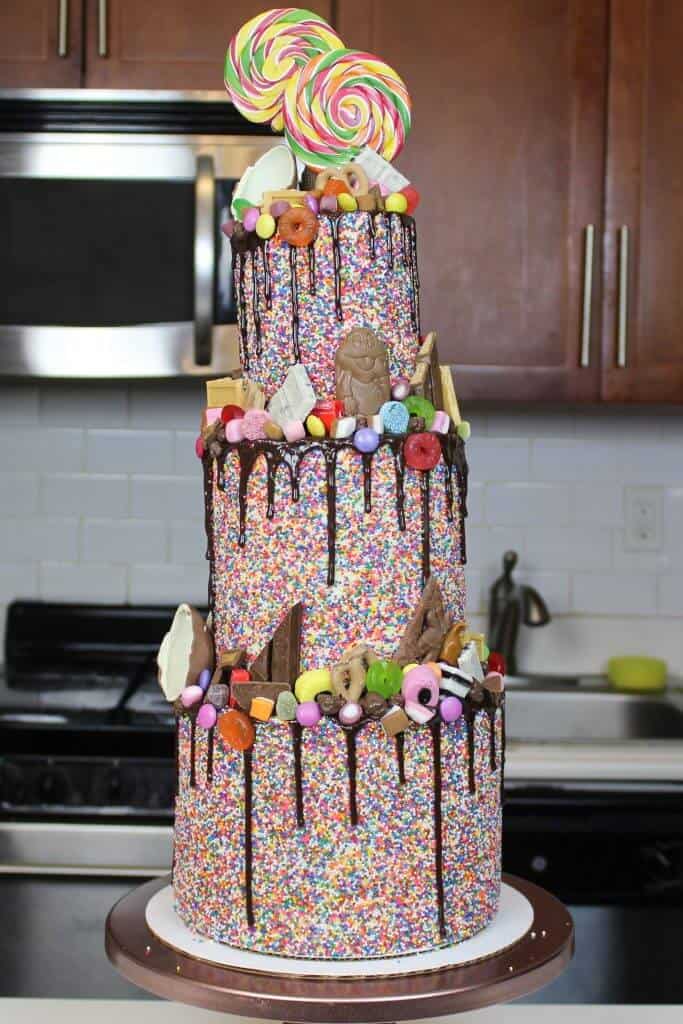 Additional Tips for Making the Best Chocolate Drip Cake:
Use this drip recipe on any type of buttercream cake, as long as it's chilled
Don't use this chocolate drip recipe on fondant – it can do weird things to the fondant, and create a goopy mess
I prefer using Ghirardelli milk chocolate chips, but any milk chocolate chip (or finely chopped milk chocolate bar) will work
The ratio of heavy cream is different if you candy melts. Candy melts cannot be swapped for the chocolate in this recipe! They are not interchangeable
Be sure you use heavy cream or heavy whipping cream! You need the high fat content to create the right consistency in this recipe. Milk cannot be used in place of the cream.
Making This Chocolate Drip Recipe in Advance & Storage Tips:
Make this chocolate drip recipe ahead of time or save leftovers! Once it's made, wrap the bowl with plastic wrap or cover the top of the plastic bottle and store in the fridge for up to 3 weeks.
To use chilled ganache, heat the bottle or bowl in to the microwave for 10 second intervals until it reaches the right consistency
Use leftover ganache to top cupcakes (like my oreo cupcakes below), cookies, or even ice cream!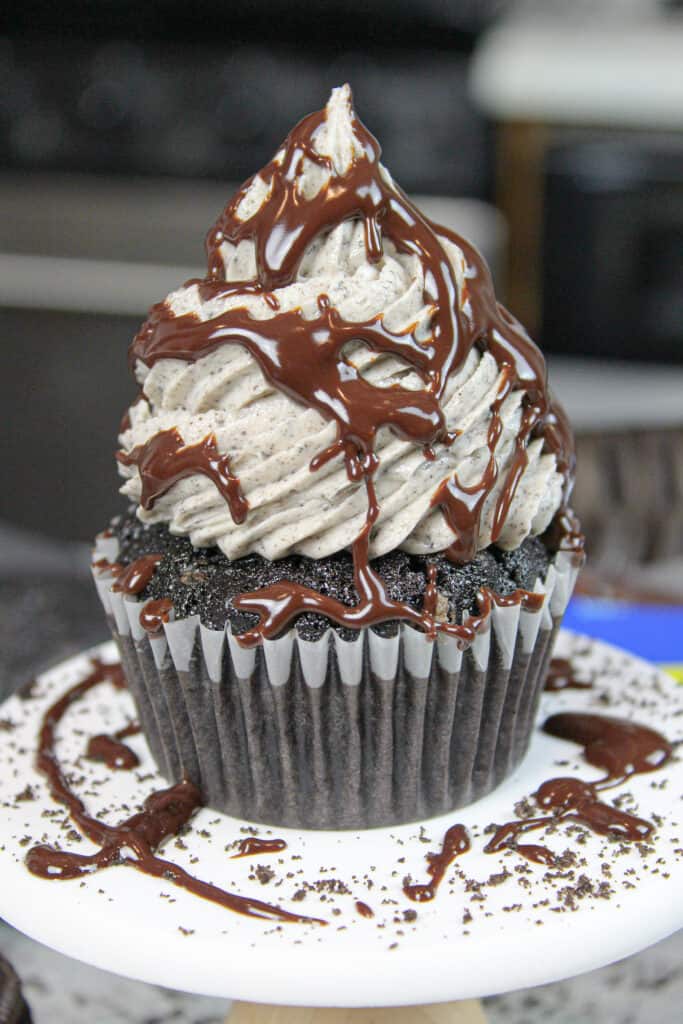 Let Me Know What You Think!
If you try this chocolate ganache drip recipe, I'd love to hear what think of it! Please leave a rating, and let me know your thoughts by sharing a comment 🙂
Also be sure to tag me @chelsweets and use the hashtag #chelsweets, so I can see your beautiful creations on social media.
Other Recipes You Might Like:
Yield: 1
Chocolate Drip Recipe
My chocolate drip recipe uses just two ingredients, and comes together in about 5 minutes! I also share all my tips to make the perfect chocolate drip cake
Additional Time
5 minutes
Ingredients
Chocolate Drip Recipe
1/3 cup heavy cream (77 grams)
Instructions
Place 1/2 cup milk chocolate chips in a heatproof bowl, and set aside.
Heat 1/3 cup of heavy cream in a heatproof bowl in the microwave for 45 seconds to 1 minute, until gently bubbling.
If you don't have a microwave or prefer to use the stove top, you can heat the cream over a medium heat in a pan until it begins to simmer. Remove from heat.
Gently pour the heavy cream over the chocolate chips, making sure they are covered with cream. Allow mixture to sit for 1-2 minutes.
Stir slowly until the cream and chocolate are fully combined, and ganache is silky smooth. Pour into a plastic squirt bottle to easily add drips to a cake. If you don't have any plastic bottles on hand, you can also use a spoon to drizzle it over cakes.
Set aside to cool for about 20 minutes (or place in fridge for about 10 minutes), until the mixture is just slightly warm to the touch.
Complete a test drip, to check the consistency of your ganache. If the test drip seems too thick, try heating up the ganache for 5-10 additional seconds in the microwave. If the mixture seems too thin, allow it cool a bit longer, then try another test drip.
Notes
This recipe makes 1 cup if ganache, which is plenty for an 8-inch layer cake.
You can make my chocolate drip recipe in advance, and store it in the fridge until you're ready to use it. It lasts in an airtight container or sealed plastic bottle for up to 3 weeks in the fridge.
To get it back to the right consistency, heat the mixture in 10 second increments, or until it reaches the right viscosity. It should be slightly warmer than room temp, but not warm enough to melt the buttercream on your chilled cake.
Nutrition Information
Yield
1
Serving Size
1
Amount Per Serving
Calories

716
Total Fat

53g
Saturated Fat

34g
Trans Fat

1g
Unsaturated Fat

16g
Cholesterol

108mg
Sodium

88mg
Carbohydrates

52g
Fiber

3g
Sugar

46g
Protein

9g