I get asked a lot about my cream cheese frosting recipe, and I'm finally sharing it!
People call cream cheese frosting all different kinds of things. Sometimes it's called cream cheese icing, other times cream cheese buttercream.
In my mind, there's a huge difference between the two.
Cream cheese icing is much thinner, and works great when glazing muffins, or topping a sheet cake. However, it does not pipe well!
Cream Cheese Frosting That's Sturdy Enough To Pipe
On the other hand, cream cheese frosting does!! It's thick, has structure, and pipes like a dream. Bring on the cupcakes, layer cakes, and even tiered cakes!!
This is what makes this frosting recipe so great.
It has the tang of a cream cheese, but is sturdy like my classic American buttercream. This means you can easily pipe big swirls on you cupcakes.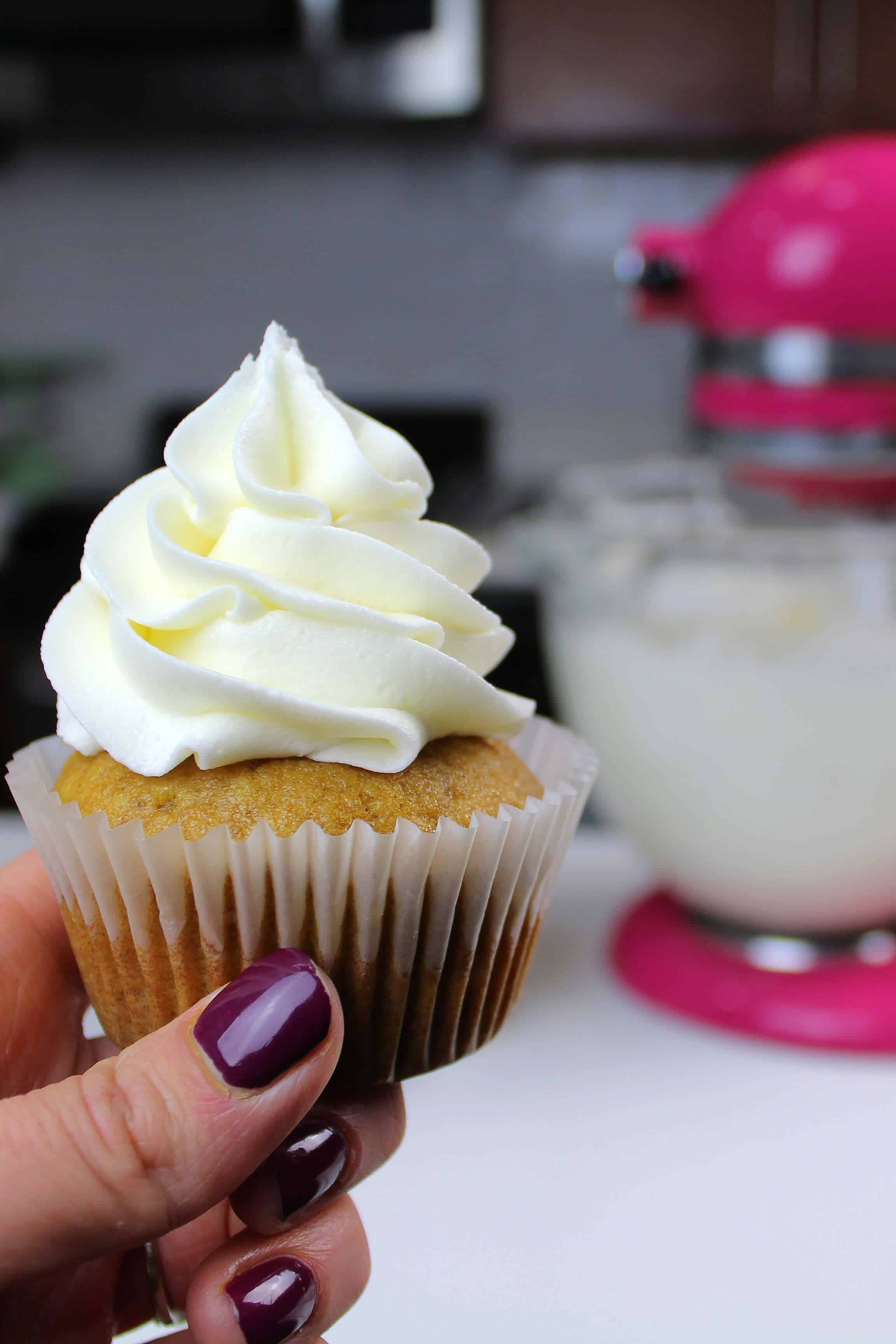 Thick Enough For Layer Cakes and Tiered Cakes
It also means you make a tall layer cake, and feel confident that the frosting will be sturdy enough to keep everything in place.
I've paired this frosting recipe with my chocolate layer cake and my red velvet cake recipe, and loved it! This frosting recipe is also used on my bagel and lox inspired cake.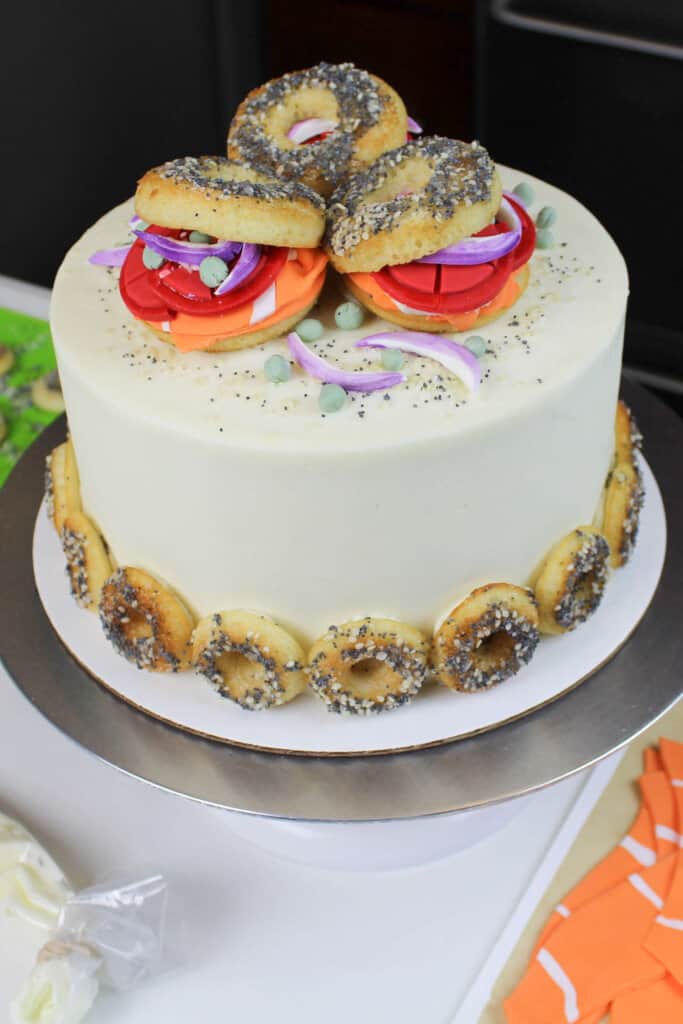 Like I mentioned above, this frosting has a consistency similar to normal buttercream. This means it's strong enough to be used on a tiered cake.
I get loads of questions and comments asking about cream cheese frosting and wedding cakes! A lot of people worry about using cream cheese frosting on that big/heavy of a cake.
But fear no!! I made a massive olive oil wedding cake, and used this frosting recipe (plus some lemon zest) to frost it.
The cake sat in the reception room for 6 hours before it was cut into, and it kept its shape perfectly!! The picture below shows the cake before I transported it to the venue.
I added some fresh flowers from the bride's florist to the cake once I got there 🙂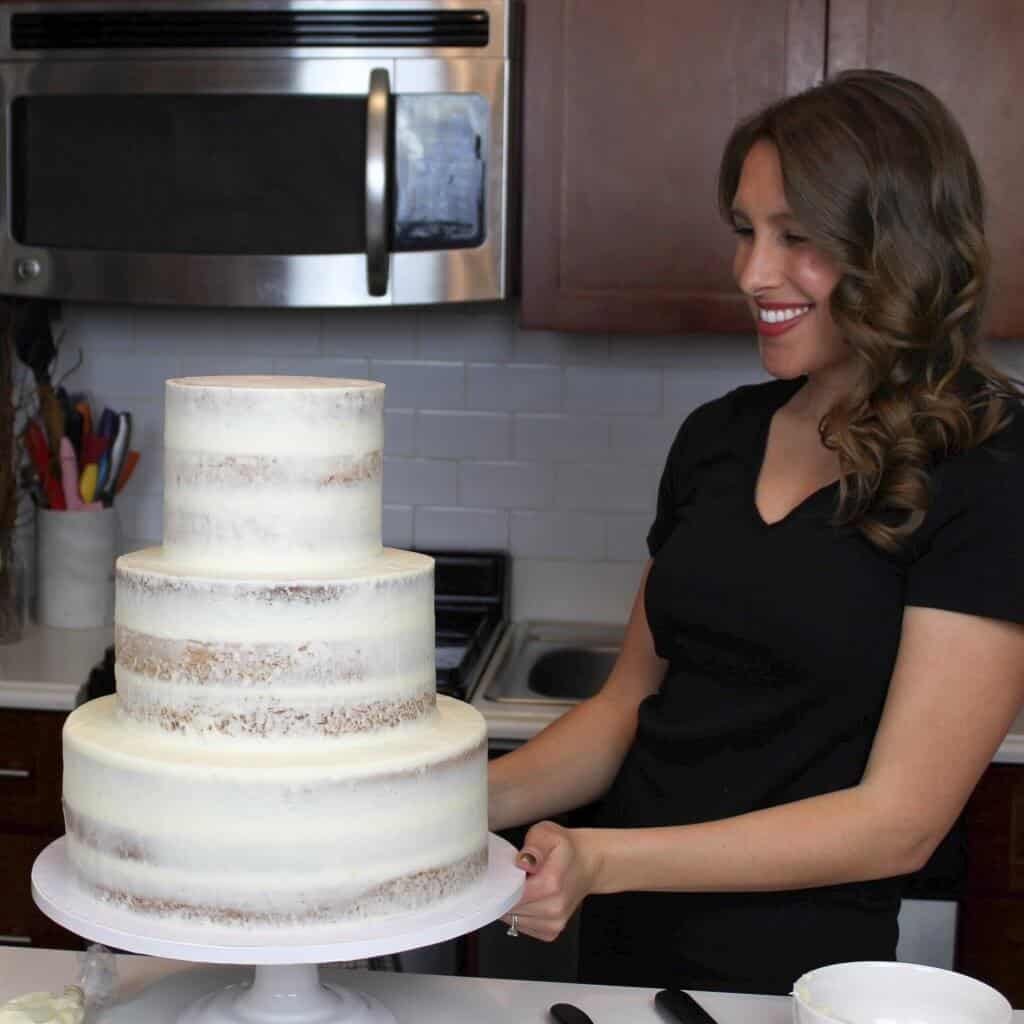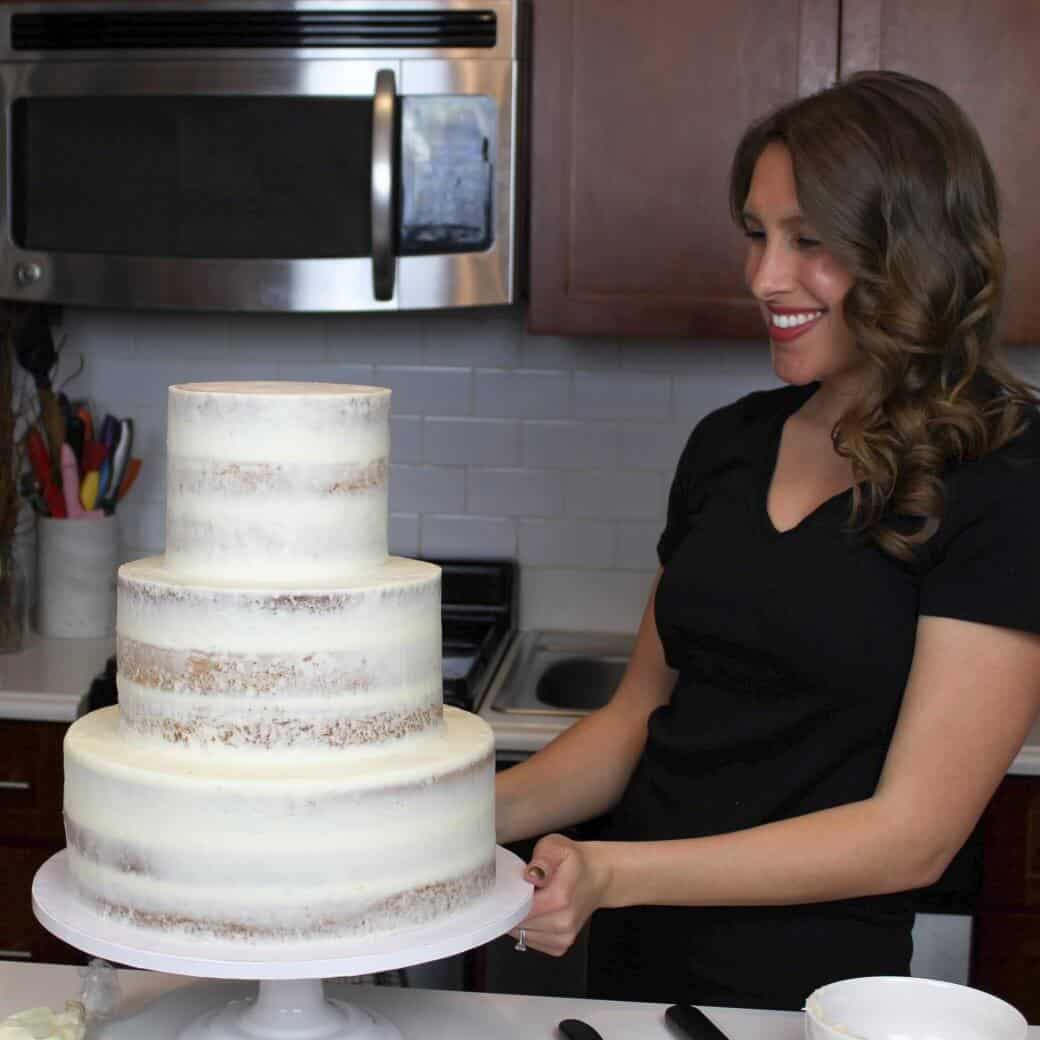 Let Me Know What You Think!
Nothing makes me happier than when I get emails or DMs with photos of your amazing creations. Please don't hesitate to reach out to me with your triumphs, or questions <3
If you try this frosting recipe, please tag me @chelsweets. Also use the #chelsweets so that I can see what your baking!
Yield: 6 cups
Best Cream Cheese Frosting
This cream cheese frosting has that delicious cream cheese tang, but the structure of a classic buttercream! It pipes like a dream, and is great for frosting layer cakes!!
Ingredients
Cream Cheese Buttercream Frosting
2 cups unsalted butter, room temperature (452 grams) - 4 sticks
1 cup full-fat cream cheese, room temperature (225 grams or 8 oz.)
11 cups powdered sugar (1375 grams)
1 tsp salt (6 grams)
2 Tbsp heavy cream (or whipping cream) (29 grams)
1 Tbsp vanilla extract (12 grams)
Instructions
Cream Cheese Buttercream Frosting:

Beat the butter and cream cheese on a medium speed for 30 seconds with a paddle attachment, until smooth.
Add in the vanilla and salt, and beat on low until the ingredients are fully incorporated.
Slowly mix in the powdered sugar on a very low speed, 1 cup at a time. Alternate with small splashes of cream. 
If the frosting is too thick, add in additional cream (1 tablespoon at a time).
If the frosting is too thin, add in more powdered sugar (1/4 cup at a time).
Cover the cream cheese frosting with a piece of plastic wrap, to prevent a crust from forming until you're ready to use it.
Nutrition Information
Yield
24
Serving Size
1
Amount Per Serving
Calories

389
Total Fat

19g
Saturated Fat

12g
Trans Fat

0g
Unsaturated Fat

6g
Cholesterol

52mg
Sodium

131mg
Carbohydrates

56g
Net Carbohydrates

0g
Fiber

0g
Sugar

54g
Sugar Alcohols

0g
Protein

1g