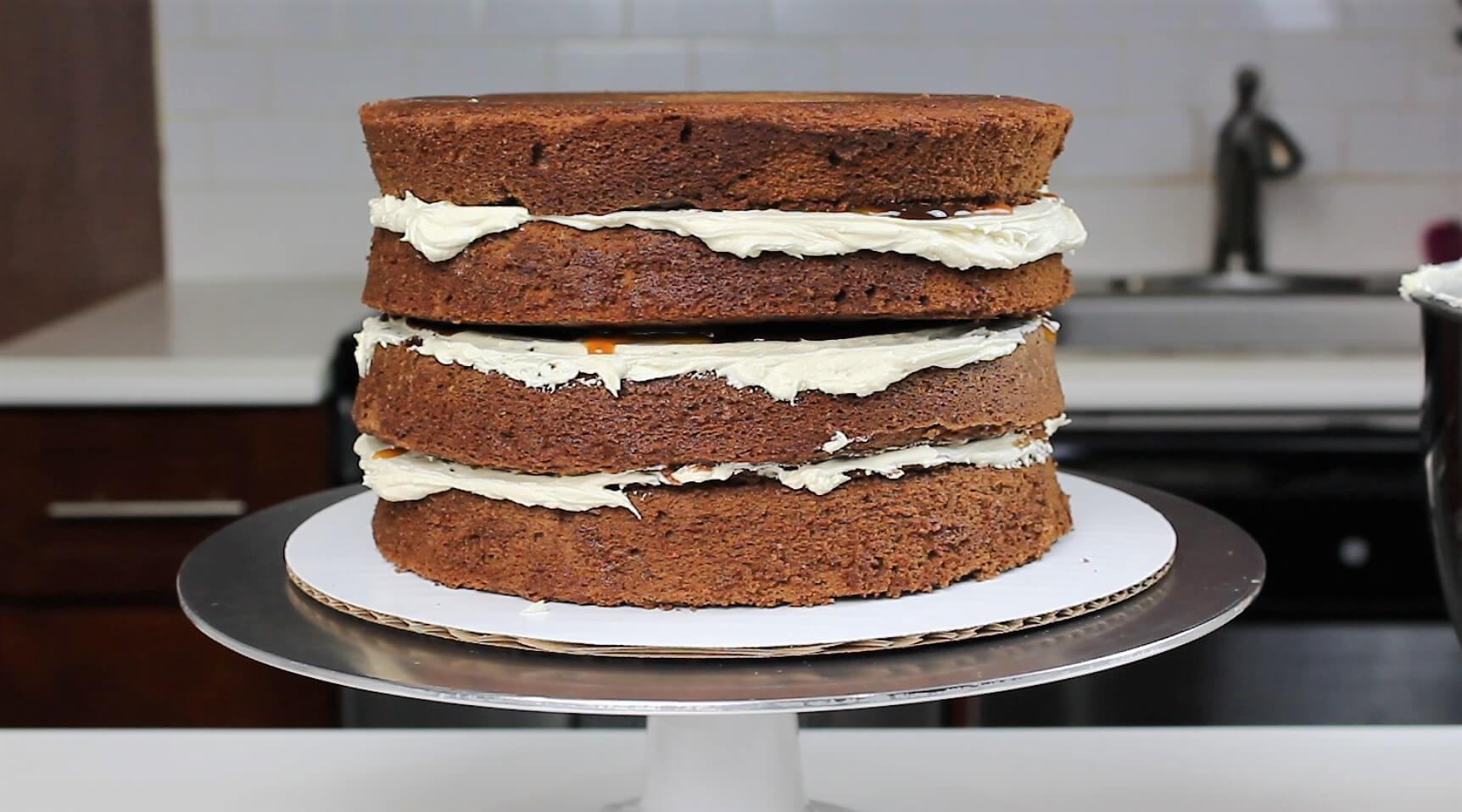 This chocolate buttermilk cake recipe is actually a modification of my favorite vanilla cake recipe! It's delicious, moist, and best of all, it keeps its shape!
The layers bake with smooth sides that are perfect for stacking and frosting. Another perk is that it can be made in one bowl! That's right, ONE BOWL!!! The recipe is adapted from Kara's Couture Cakes, and can be found below:
Chocolate Cake Ingredients:
2 1/2 cups (320 grams) flour
3/4 cup (75 grams) unsweetened cocoa powder
3 cups (600 grams) granulated sugar
2 1/2 tsp (13 grams) baking powder
1 tsp (5 grams) salt
1 cup unsalted butter or 2 sticks (227 grams), room temperature
2 tsp. (9 grams) vanilla extract
1 cup egg whites (244 grams) – about 7 large egg whites; I use egg whites from the carton to avoid wasting egg yolks
1 1/2 cups (360 grams) buttermilk, room temperature
1/8 cup (28 grams) vegetable oil
1 tsp instant espresso (or coffee), dissolved in 1 tbsp of hot water
Instructions:
Preheat oven to 350°F. Line four 7 inch pans (for taller layers) or 8 inch round pans with parchment rounds, and grease with non-stick cooking spray.
Mix together all dry ingredients (flour, cocoa, baking powder, sugar, and salt) in a stand mixer on low (with a paddle), until fully combined.
Mix chunks of room-temperature butter slowly into the dry mix, on a low speed. Continue to mix until no large chunks of butter remain, and the mixture becomes crumbly.
Pour in egg whites, and mix on low until just incorporated. Mix in the buttermilk in two installments, on a low speed.
Add in vanilla, espresso, and oil, and mix at a low speed until fully incorporated. Scrape down the sides of the bowl with a spatula, then beat on medium high for about 30 seconds.
Divide batter evenly between the prepared cake pans. I like to use a digital kitchen scale to weigh my pans, and ensure they all have the same amount of batter. This guarantees your layers will bake to be the same height.
Bake for 35-38 minutes, or until a skewer comes out clean. Allow to cool for 10 minutes, then run an offset spatula around perimeter of the pan to separate the cake from the pan. Place cake layers on a rack to finish cooling.
To accelerate the cooling process, I like to pop my cake layers in the freezer once I've removed them from the cake pans.
Once the layers have fully cooled, I sometimes like to trim the caramelized bits from the sides of the layers using a serrated knife.
While these layers bake pretty flat, sometimes I'll also trim the top of the layers too if I'm working a super special partnership.
Be sure the layers are completely cooled or chilled before trimming. If you try to trim the layers while they're still warm, they will crumble apart. Below is a full tutorial showing how I trim my layers:
Below is a cross section shot of this cake recipe! You can see how moist it is, and also how well the layers hold their shape when stacked!!
This peppermint mocha cake is from I live stream I did with Food Network back in December.