I've shared my recipe for funfetti cupcakes and red velvet cupcakes, but I haven't shared my recipe for chocolate Oreo cupcakes.
I'm a big fan of baking with Oreos. I love them in ice cream, cakes, even croissants! Hence my Oreo drip cake and my Oreo frosting recipe.
I think they also make an awesome cupcake flavor.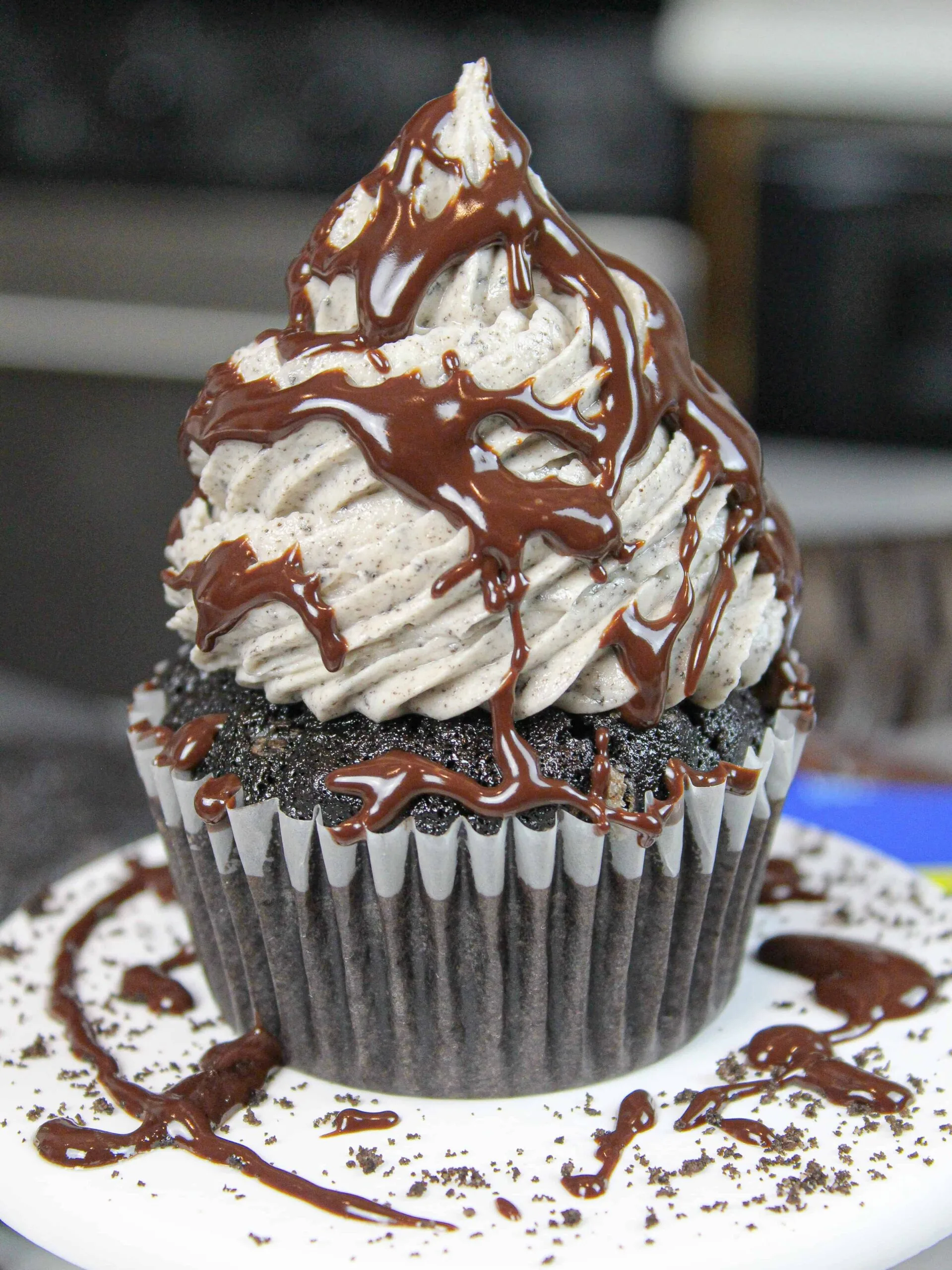 Incorporating Oreos into this Recipe
While adding Oreos into a cupcake recipe doesn't seem that challenging, there are actually are a few things to consider.
Do you put them into the cupcake batter? Do you add them to the frosting? Do you fill the cupcake with them??
I chose to get a little creative. I added a ton of crushed Oreos into the frosting to give it that yummy chocolate cookie taste, and I also added some into the batter.
This cupcake recipe adds an entire cup of chopped Oreos into the batter.
It adds great texture to the cupcakes, and gives you get the Oreo crunch in every bite!
The Secret Ingredient in These Chocolate Oreo Cupcakes
Oreos have such a unique taste, and dark color. To help translate both of these aspects into these chocolate Oreo cupcakes, I use black cocoa.
Black cocoa has a slightly higher pH than Dutch-processed cocoa (8 vs. 7) and is much less acidic than natural baking cocoa (5-6).
This gives the cupcakes a bittersweet, chocolaty taste just like an Oreo cookie! It's absolutely delicious.
Making The Perfect Oreo Frosting
These chocolate Oreo cupcakes are topped with my favorite Oreo frosting.
The base of this frosting is my classic American buttercream frosting recipe. There are so many reasons why I am obsessed with my buttercream recipe.
I love that is only uses a handful of ingredients, which most of us already have in our pantries! This frosting is also pretty much foolproof and comes together in less than 10 minutes.
American buttercream is definitely on the sweet side though. I have a huge sweet tooth, so I love it!
If you don't, you can try mixing crushed Oreos into a less sweet frosting. My Russian buttercream or Swiss meringue buttercream are great alternatives.
The only thing that could make my American buttercream better is…you guessed it…crushed Oreos!!
My Advice: Use Crushed Oreos in the Frosting
It may seems like all you have to do is cut up some Oreos and throw them into the buttercream. However, it's actually not that simple!
If you plan to pipe with this buttercream (which I did!), you need to use a food processor or blender to completely crush the Oreos.
Bits of Oreo will get stuck in your piping tip if you don't break down the Oreos into small enough pieces.
Trust me, there is nothing more frustrating than being mid-swirl, only to have the frosting tip get plugged and ruin your perfect design.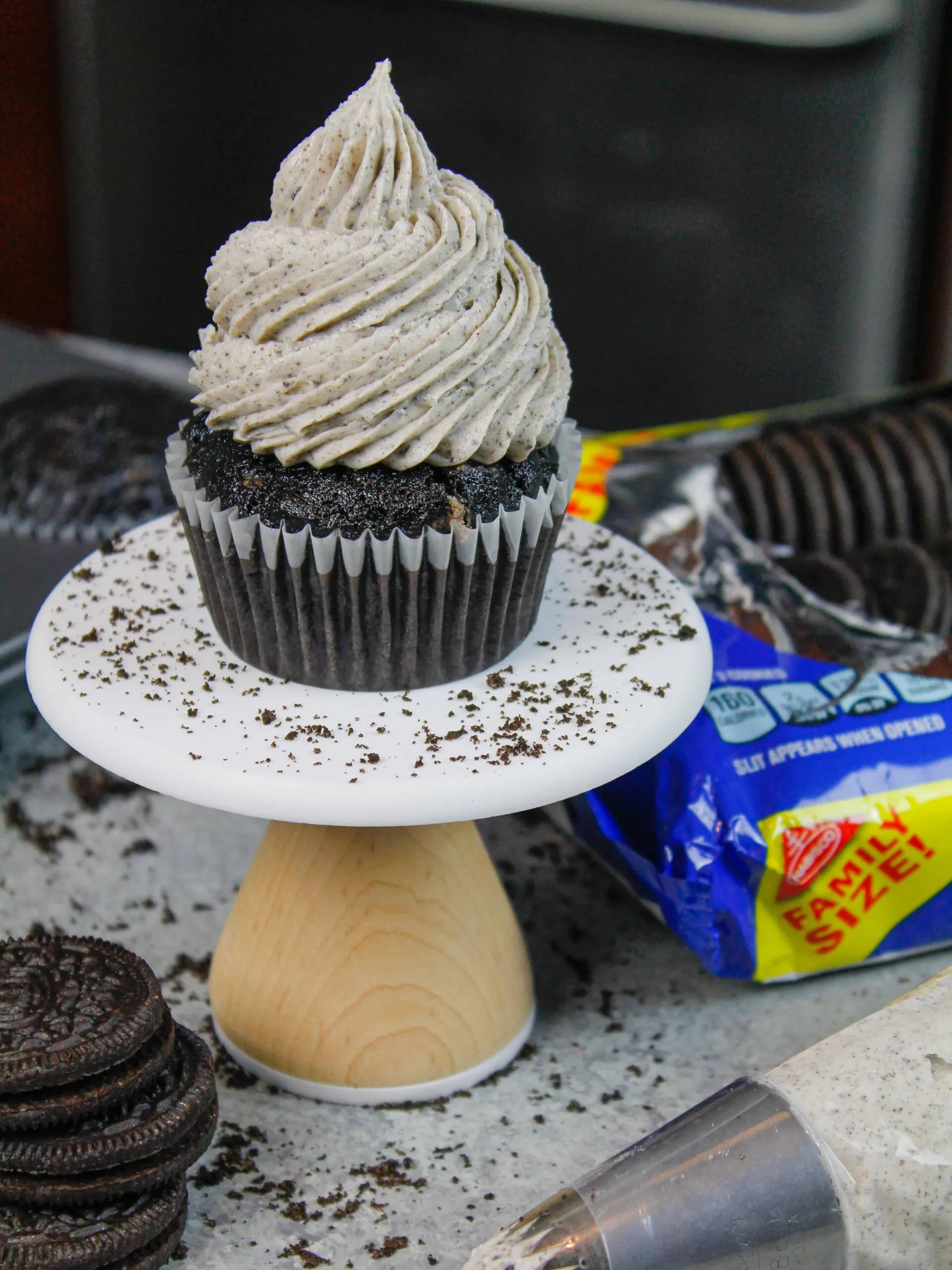 It's worth reaching up to your highest cabinet (or the back of your pantry) and pulling out your food processor.
I keep my Ninja food processor on my top shelf and have to get out a step stool to reach it. It's a pain, but I knew it was necessary for this.
I've had my Ninja for several years, and it still works great! You can also use a blender if you don't have a food processor handy.
I really pulverized my Oreo cookies to get them to the right consistency. To do this, crush the Oreos by pulsing them a few times, then hold down that crush button!!
Let the food processor work its magic until you have super fine bits of Oreo.
Workaround If You Don't Have a Food Processor
If you don't have a food processor, be sure to use a sharp knife to cut your Oreos into superfine pieces.
Really commit to getting a super fine texture! It's definitely more challenging to get the right texture with a knife.
It also takes a bit of time to get the Oreo bits into uniformly small pieces.
Above is a batch of Oreo buttercream I made with hand-chopped Oreos.
It definitely wasn't as smooth as I would've liked, but the frosting tasted great.
I was using this as a cake filling, and it worked well for that! This would also work to spread on cupcakes if you weren't planning to use a piping tip.
However, frosting with this consistency would've been almost impossible to pipe swirls with!
These chunks would definitely get stuck in a decorative piping tip like a Wilton 1M or a Wilton 4B (used on these cupcakes).
Below is a batch made with pulverized Oreos. You can see the texture is much smoother!
Tips for Making the Best Chocolate Oreo Cupcakes:
Don't over-mix your batter. Stir until the flour is just combined into the batter.
Properly measure your flour (spoon into the cup measure, then level) or use a kitchen scale when making the cupcake batter.
Make sure your ingredients are at room temperature. They mix together best that way.
Bang your cupcake pan on the counter before putting it in the oven, to bring any air bubbles that are trapped in the batter to the surface.
Don't over bake your cupcakes. Keep an eye on them and be sure to set a timer.
Making These Chocolate Oreo Cupcakes in Advance
These cupcake can be made in advance! If stored unfrosted in an airtight container, they can last for:
2 days at room temp
Up to a week in the fridge
Up to 3 months in the freezer
Frosted cupcakes can sit out at room temperature for a day, or be stored in an airtight container in the fridge for up to 5 days.
If you have extra buttercream you don't use, it can be stored in the fridge for up to a month, or kept in the freezer for up to 3 months.
Let Me Know What You Think!
If you try this recipe for chocolate Oreo cupcakes, I'd love to hear what you think! Please leave a comment below and a rating.
Other Posts You Might Like:
These Oreo cupcakes are to die for!! They're made from scratch, and are surprisingly easy to make. This cupcake recipe can be made in one bowl, and is topped with loads of homemade Oreo frosting.
Additional Time
10 minutes
Ingredients
Chocolate Cupcake Batter
3/4 cup hot water (180ml)
1 1/2 tsp instant espresso or coffee (3g)
1/3 cup milk or dark chocolate chips (60g)
1/3 cup black cocoa powder (32g)
3/4 cup all-purpose flour (98g)
3/4 cup granulated sugar (150g)
1/2 tsp salt (2g)
1/2 tsp baking soda (3g)
2 large eggs, room temperature (112g)
1/3 cup vegetable oil (70g)
1 tsp white vinegar (4ml)
1 tsp vanilla extract (4ml)
1 cup roughly chopped Oreos (150g)
Oreo Buttercream Frosting
1/2 cup of crushed Oreo cookie crumbs - about 6 cookies (75g)
1 cup unsalted butter, room temperature (226g)
3 1/2 cups (1 lb. box) powdered sugar (454g)
1/4 cup heavy cream or whipping cream (60ml)
2 tsp vanilla extract (8ml)
1/2 tsp fine salt (3g)
Additional Decorations/Tools:
Stand mixer
Whisk and paddle attachments for stand mixer
Large piping bag
Wilton 1M Frosting tip
Instructions
Chocolate Oreo Cupcakes:
Begin by preheating the oven to 350°F /175°C. Place cupcake liners in baking pans.
Add 3/4 cup of (VERY) hot water into a large bowl.
Mix in 1 1/2 tsp of coffee or espresso powder and stir lightly until dissolved.
Carefully pour in 1/3 cup chocolate chips and 1/3 cup of black cocoa powder. Let this sit for 2 minutes to melt the chocolate, then stir until smooth.
Pour the dry ingredients (3/4 cup flour, 3/4 cup sugar, 1/2 tsp baking soda and 1/2 tsp salt) into chocolate espresso mixture, and stir until just combined. Scrape the sides and bottom of the bowl as needed with a spatula.
Mix in 2 eggs, one at a time.
Then add 1/3 cup vegetable oil, 1 tsp vinegar, and 1 tsp vanilla. Mix until the batter is smooth - it will be thin!
Fold in the crushed Oreos with a rubber spatula.
Fill cupcake liners 3/4 full and bake for about 18 minutes, or until a toothpick comes out clean (or with minimal crumbs).
Allow cupcakes to cool in pans for 10 minutes, then remove and place in the freezer for 15 minutes (to accelerate the cooling process).
Oreo Frosting:
Crush the entire oreo cookies in a food processor until no large bits remain. Set aside.
Beat the butter on a medium speed for 30 seconds with a paddle attachment in a stand mixer or in a large bowl with a hand mixer. Mix until smooth.
Slowly add in 3 1/2 cups of powdered sugar on a low speed. Place a kitchen towel over the stand mixer, to help reduce the powdered sugar clouds. Halfway through add 1/4 cup of heavy cream to make the frosting easier to mix.
Once fully combined, mix in 2 tsp vanilla extract and 1/2 tsp fine salt on low.
Add in 1/2 cup of crushed Oreos, and mix on low until the ingredients are fully incorporated, and the desired consistency is reached.
If the frosting is too thick, add in additional cream (1 tablespoon at a time). If the frosting is too thin, add in more powdered sugar (1/4 at a time).

Decorating These Oreo Cupcakes:
Place the frosting into a large piping bag fitted with a Wilton 4B frosting tip.
Pipe a generous swirl on top of each cupcake, and top with some additional crushed Oreos.
If desired, drizzle with chocolate ganache and leftover bits of crushed oreo.
Notes
If you want to make mini chocolate cupcakes, this recipe can be baked in mini muffin tins! It makes about 40 mini cupcakes, and they only need to bake for 9-10 minutes.
These cupcake can be made in advance! If stored unfrosted in an airtight container, they can last for:
2 days at room temp
Up to a week in the fridge
Up to 3 months in the freezer
If you have extra buttercream you don't use, it can be stored in the fridge for up to a month, or kept in the freezer for up to 3 months.
This frosting can also be made in advance.
Nutrition Information
Yield
12
Serving Size
1
Amount Per Serving
Calories

534
Total Fat

35g
Saturated Fat

15g
Trans Fat

0g
Unsaturated Fat

17g
Cholesterol

81mg
Sodium

408mg
Carbohydrates

52g
Fiber

2g
Sugar

32g
Protein

5g