As you all know by now, I'm a big fan of sprinkles and Oreos. I've made funfetti cinnamon rolls, oreo cupcakes, and even a funfetti oreo cake! It was only a matter of time until I incorporated these flavors into a cookie, right?? And let me tell you, these funfetti oreo cookies do not disappoint!
They bake up soft and chewy thanks to a bit of cornstarch, which pairs perfectly with the crunch from the bits of oreos and sprinkles.
The oreos and sprinkles also give these cookies beautiful look once they come out of the oven.
Making The Funfetti Oreo Cookie Dough
This recipe is pretty straight forward, but does require an electric mixer of some sort to cream together the butter and sugar.
I've made these with both my hand mixer and my stand mixer, and they've turned out great both ways.
Another important step is chilling the dough for about an hour. If you don't, the cookies will overspread as they bake.
This can cause your cookies to lose that wonderfully chewy texture and lead to crispy cookies almost like my oatmeal lace cookies.
While those are delicious in their own right, that is not the texture we're going for with these cookies.
Substitutions and Swaps
I love these funfetti oreo cookies just the way they are but I know some of you might not have all of these ingredients on hand!
Below are some swaps and substitutions that can be made in this recipe.
All Purpose Flour – I haven't tested this recipe out with gluten free flour, but it should work as long as you use a good blend like King Arthur's GF flour.
Unsalted Butter – If you only have salted butter on hand you can use it in place of the unsalted butter in this recipe. Just be sure to omit the salt that this recipe calls for. You can also use vegan butter in its place. Or if you feel really fancy you can use browned butter!
Granulated Sugar – You can use light or dark brown sugar in place of the granulated sugar if that's all you have on hand.
1 Large Egg – In place of the egg, you can use a flaxseed egg or 1/4 cup of vegetable or canola oil. This will cause the cookies to spread more, but they should still taste great.
Rainbow sprinkles – if you don't have any rainbow sprinkles on hand, you can use additional crushed Oreos or chopped up chocolate chips in their place.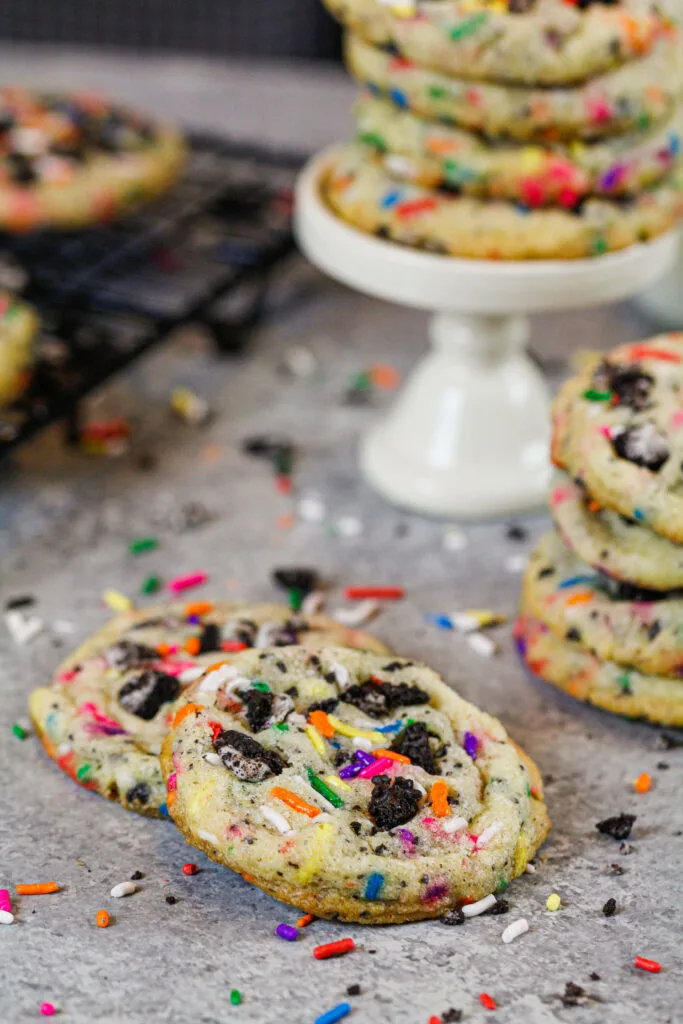 Tips for Making the Best Funfetti Oreo Cookies:
Turn your oven on about 40 minutes after you put you cookie dough in the fridge to chill, so the oven will be preheated once your cookies are ready to be baked.
Properly measure your flour (spoon into the cup measure and then level) or use a kitchen scale to measure your dry ingredients.
Ingredients at room temp mix together better! So be sure you set out any cold ingredients ahead of time.
Use a cookie scoop (mine fits 1 Tbsp per scoop) to make sure your cookies are uniformly sized.
Be sure to space your cookies about 3 inches apart before baking them! They spread a bit as they bake.
These cookies will continue to bake and set once they com out the oven, so it's ok if they look slightly underdone in the center when you pull them out
Press extra sprinkles and chopped up Oreos on top of the cookies once they're baked to make them look just as incredible as they taste.
Storing These Cookies
Make your cookies in advance! If stored in an airtight container, they can last for up to a week at room temperature.
The cookie dough balls can also be made in advance and frozen for up to a month. When you're ready to bake them, there's no need to thaw the dough. Preheat oven to 350°F and place frozen cookies on parchment paper-lined baking sheet about 3 inches apart.
Baked cookies can be frozen! These cookies last for up to a month if frozen in a ziploc bag or airtight container. Move them to the fridge the day before you plan to eat, then let them sit out at room temperature for a few hours before eating.
Let Me Know What You Think!
If you try this recipe for funfetti oreo cookies, I'd love to hear what you think of it! Please leave a rating, and let me know your thoughts by sharing a comment.
Other Recipes You Might Like:
Yield: 30 cookies
Funfetti Oreo Cookies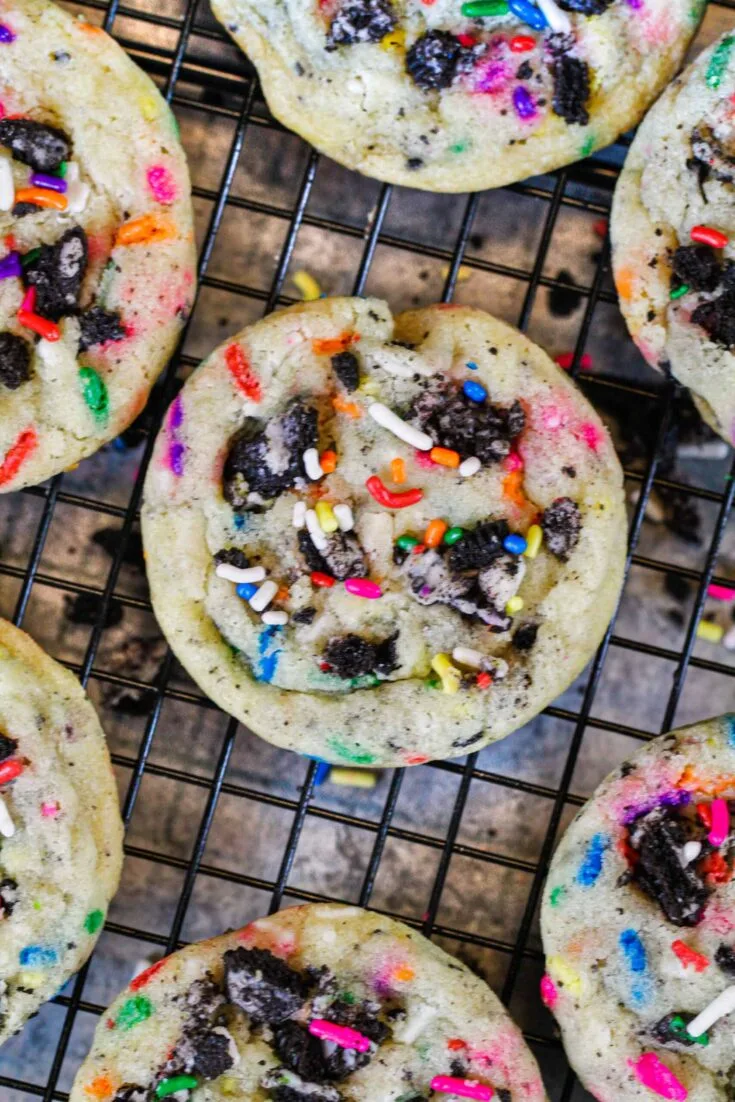 These mini funfetti oreo cookies are soft, chewy, and irresistibly delicious! They're packed with crushed oreos and rainbow sprinkles.
Total Time
1 hour
19 minutes
Ingredients
Funfetti Oreo Cookies
3/4 cup unsalted butter, room temperature (170 grams)
3/4 cup granulated sugar (150 grams)
1 large egg, room temperature (56 grams)
1 tsp vanilla extract (4 grams)
1/4 tsp salt (1 gram)
1 tsp baking powder (4 grams)
1/2 tsp baking soda (3 grams)
1 tsp cream of tartar or cornstarch (4 grams)
1 1/2 cups all-purpose flour (185 grams)
1/2 cup sprinkles (90 grams)
1/2 cup crushed or finely chopped oreos - centers included! (50 grams)
1/2 cup mini chocolate chips (85 grams) - optional
Instructions
In a large bowl, cream 3/4 cup of unsalted butter and 3/4 cup of granulated sugar at a medium high speed for about 2 minutes until the mixture becomes lighter in color.
Mix in 1 large egg and 1 tsp vanilla, scraping down the sides of the bowl as needed with a rubber spatula.
Add in 1/4 tsp salt, 1 tsp baking powder, 1/2 baking soda, and 1 tsp of cream of tartar or cornstarch. Mix together on a low speed until the ingredients are just incorporated.
With the mixer running on low speed, slowly add 1 1/2 cups of all-purpose flour into the batter in two additions. The cookie dough will be quite thick, but that's how it's supposed to be.
The last step is to add in 1/2 cup of rainbow sprinkles and 1/2 cup of crushed oreos. If you want to add in a bit more chocolate, you can also fold in 1/2 cup of mini chocolate chips or chopped up chocolate chips. Mix them into the dough on a low speed until they're evenly distributed..
Scoop and roll cookie dough balls that are about 3/4 inch in diameter. Place the balls of dough on cookie sheets lined with parchment paper or a silicone baking mat and chill for an hour in the fridge. This helps make the cookies chewy and prevents them from spreading too much while baking!
After 40 minutes of chilling your cookie dough, preheat your oven to 350 F.
Rearrange the cookie dough balls on the baking mats so that they're 2 inches apart from each other.
Bake the chilled cookie dough for about 9-11 minutes. The cookies will appear undone and soft/puffy, but will continue to bake and firm up while they cool on the baking sheet.
If desired, press a few pieces of crushed oreos and sprinkles on top of each cookie once they've been out of the oven a few minutes.
Allow the cookies to cool on the cookie sheets for 10 minutes, then move them to wire rack to cool completely.
Notes
Doubling or Halving This Recipe
This recipe can be doubled or halved! Or you can make smaller cookies by using 1 1/2 tsp of cookie dough instead of 1 Tbsp. Bake the mini cookies for 5-7 minutes at 350 F.
Flavor Variations
If you want to incorporate chocolate into these funfetti oreo cookies, you can replace a 1/4 cup of the flour in this recipe with unsweetened baking cocoa.
You can also fold in 1/2 cup mini chocolate or chopped up chocolate chips in step #5.
Storage
These cookies can be stored in an airtight container for up a week.
They can also be frozen for up to a month! Allow them to sit out at room temperature for a few hours to thaw, then enjoy!
Tips for Making the Best Funfetti Oreo Cookies:
Use a cookie scoop (mine fits 1 Tbsp per scoop) to easily scoop and shape your cookies
Press some additional bits of crushed oreos and sprinkles into the cookies when they're fresh out of the oven.
Nutrition Information
Yield
30
Serving Size
1
Amount Per Serving
Calories

167
Total Fat

8g
Saturated Fat

4g
Trans Fat

0g
Unsaturated Fat

4g
Cholesterol

18mg
Sodium

90mg
Carbohydrates

23g
Fiber

1g
Sugar

11g
Protein

1g
Here's a walk down memory lane! These are the photos from my original post for this recipe from back in 2016. They were quite a bit smaller and the recipe has been modified a bit to make bigger and chewier cookies 🙂