Hey there! I'm Chelsey, and I'm so excited to welcome you into my kitchen.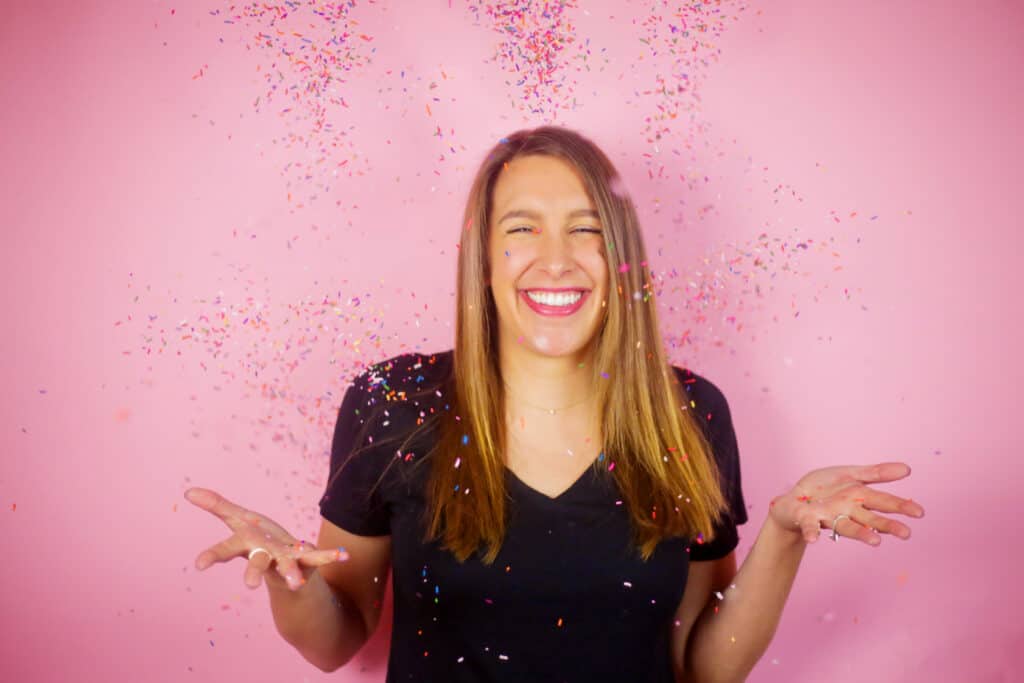 Unlike a lot of bakers out there, I didn't grow up in the kitchen with my Mom or Grandma. I don't have a treasure trove of family recipes, and I had absolutely no background in baking before I found my passion for it at age 22.
I audaciously decided to make a birthday cake from scratch for a coworker, and I was hooked.
That's part of what makes baking so exciting for me!! There's always a new flavor to test out, and a challenging decorating technique to play around with.
I've taught myself through trial and error, and love to share everything that I've learned along the way. I also love to simplify recipes when possible to make them a bit more approachable.
I hope to encourage other home bakers to find their own joy in the kitchen, and see that baking a cake from scratch isn't as intimidating as it may seem. In fact, it may be just what you need after a stressful day!
In my kitchen, I find myself at ease. It's the only place I truly lose track of time. I get so blissfully caught up in smoothing the frosting just so, or getting the perfect shot of a finished cake. It was my favorite thing to do when I got home from work, and I still feel the same way about it now (even though it's my job now!).
I left my day job in corporate finance at the end of 2018 to pursue Chelsweets full-time. If you want to know more about that, I shared some pretty personal posts about why I quit my job, and all the things I considered before leaving my corporate job.
While I currently live in NYC, I was born and raised in Seattle. I love New York for many reasons, but I will always be grateful to this city for helping me discover my love of baking. I started baking when I first moved here, in a kitchen the size of a closet. Baking has allowed me to meet so many wonderful people, and has led to some amazing opportunities.
I've been featured by Buzzfeed, Instagram, The Wall Street Journal, Bloomberg, amNewYork, Business Insider, Cosmopolitan, Country Living, and Pop Sugar. I have also been on the Ben and Pickler show, and Home & Family, which were both amazing!
Right now I'm focusing on content creation across my social platforms, and my ongoing digital partnership with the Food Network. I don't sell any of my cakes, and give the cakes I make to my friends, family, and neighbors.
To see more of the cakes I've made, you can follow me on Instagram, Facebook, and TikTok!
For in-depth, full-length tutorials, you can visit my YouTube channel. Be sure to subscribe so you don't miss any new cakes!
*DISCLOSURE: This site also contains other affiliate links which means that, at no additional cost to you, I may earn a small commission if you make a purchase. Read my full disclosure policy here.