How have I never shared my funfetti cake recipe?!?! It's mind blowing, especially considering it's my very favorite cake flavor.
In fact, Stephen and I love it so much it's going to be the largest tier of our wedding cake!
And that's saying a lot, I've made a ton of different cake flavors over the years. When I think about why I love it so much, it's hard to say why.
I grew up on funfetti boxed cake mix, and I think I've always had a soft spot in my heart for it. Or maybe it's just all the sprinkles!!
Technically I've included it in past recipes, like in my funfetti cookie dough cake. But most of you aren't trying to make a cake that over the top (there's a cookie dough filling, chocolate drip, sprinkle coating…etc.).
You want a moist, easy to make, and absolutely delicious funfetti cake recipe that you can make from scratch.
I took things a bit further and colored both the cake batter and buttercream with gel food coloring, but this is totally optional 🙂 I just couldn't resist!!
What is Funfetti Cake?
Funfetti cake is usually a moist vanilla cake base. It has sprinkles folded into the batter, and baked right into the layers. The sprinkles add both a pop of color, and a bit of texture to each bite.
Most funfetti cakes incorporate sprinkles into the decoration or design of the cake as well!
Sprinkles are usually used to decorate the outside of the cake. Sometimes they're gently pressed into the frosting, to completely coat the cake (just like the tiny smash cake below).
Another popular look is to use a fancy sprinkle blend, around the base or sides of the cake.
Or to really take things to the next level, you can even fill the center with sprinkles.
What Types Of Sprinkles Should I Use To Make Funfetti Cake?
While you might think all sprinkles are created equal, sadly you're wrong. When making a funfetti cake, you have to be sure you use the right type of rainbow sprinkle.
The best sprinkles for making a funfetti cake are rainbow jimmies. They are the longer sprinkles, that you used to (and may still) put on your ice cream.
These sprinkles keep their color, and won't immediately bleed into your batter.
This is important, because it will help your batter say white while you add it to your pans. This will allow the color of the sprinkles to really shine through once the layers are baked.
If you really want to be picky about your sprinkles, I also recommend getting a rainbow sprinkle blend that doesn't have any chocolate/brown sprinkles in it.
Funfetti cake layers look so much better without any brown sprinkles!
The type of sprinkle you should NOT use are the tiny, round, rainbow sprinkles. They're called nonpareils, and they are the true enemy of funfetti cake layers.
Nonpareils will start to bleed their colors the second they're stirred into your cake batter, resulting in a creepy, pink/grayish batter.
This can also happen if you let you rainbow jimmies sit in your batter for an extended period of time, and then try to stir it.
The key take aways? Only use rainbow jimmies in this funfetti cake recipe, gently fold them into your batter, and immediately pour into your cake pans.
Funfetti vs Confetti Cake?
In my mind, sprinkle cake layers have always been called funfetti. But when I was doing a little keyword research, I learned that a majority of you (about 80%) call it confetti cake.
Back in the day, a lot of the boxed cake mixes called it confetti cake mix. My theory is that we call it the name we grew up with.
Pillsbury is the only brand that dubs its sprinkle cake mix funfetti, and I'm like 90% sure we I used pillsbury mix as child!!
While I clearly am outnumbered on this one, I definitely think that calling sprinkle cake layers funfetti is just more…fun! No pun intended.
What Makes This Funetti Recipe So Delicious?
There are lots of funfetti cake recipes out there. Why is this one the best (in my opinion)?There are a few reasons.
This cake recipe is based off my vanilla layer cake recipe, which is amazing on its own. It's a butter cake recipe, can be made in one bowl, and is pretty much foolproof.
This recipe also uses buttermilk, which makes tender cake layers, and adds so much moisture! It also gives this cake a delicious tang, which pairs so well with the sweet buttercream the cake is frosted with.
While buttermilk can be found in most grocery stores, some parts of the country or foreign countries don't sell it! If you're having a hard time getting your hands on buttermilk, don't worry.
You can make your own buttermilk! For each cup of buttermilk that the recipe calls for, use 1 tablespoon of white vinegar or lemon juice plus enough milk to fill 1 cup.
You also can use plain, low-fat yogurt as an equal substitute, cup for cup.
This funfetti cake recipe also uses the tiniest bit of almond extract. It can be omitted if you're worried about tree nut allergies. Otherwise, I highly recommend including it.
It added just a hint of almond flavor, which makes this cake feel even more special. Almond extract reminds me of wedding cakes, and it takes this cake recipe to the next level.
How Should I Decorate my Funfetti Cake??
Over the years I've decorated my funfetti cakes a lot of different ways. I highly recommend using some assortment of fancy sprinkles, rainbow frosting, and/or cute candles!
Below is an ombre sprinkle look I did a couple years ago. Sometimes all you need is a cute sprinkle blend!!
I've also made some epic sprinkle covered funfetti cakes in the past, included the funfetti cookie dough cake below.
The most important thing to keep in mind when decorating a cake is to have fun. That's the whole reason why we bake, right?!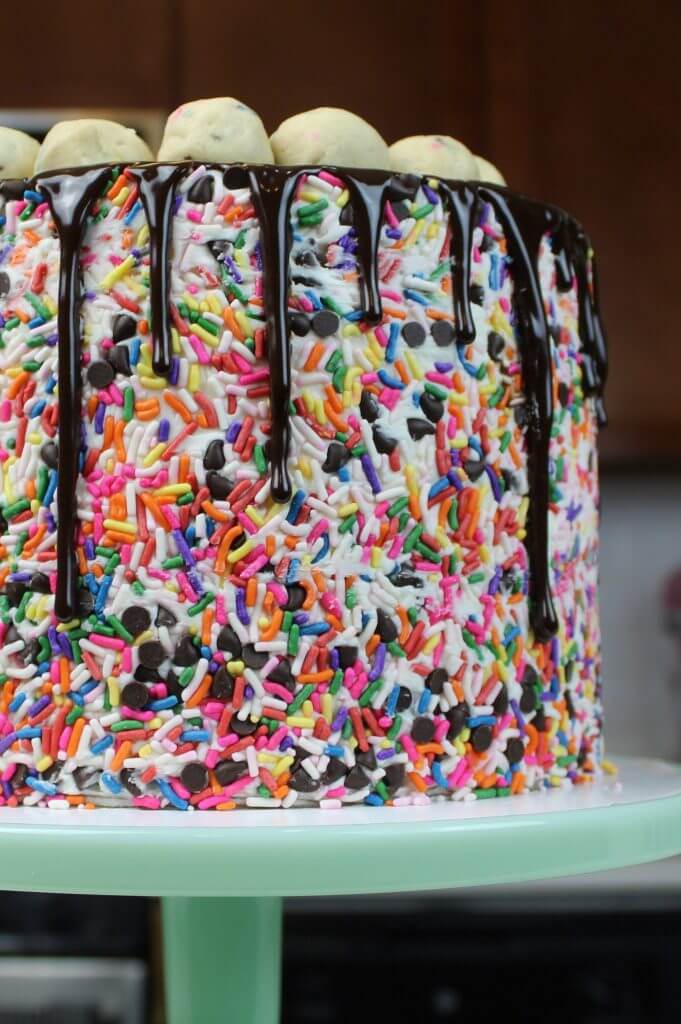 Or to hop on the latest sprinkle cake trend, you could make a fault line sprinkle cake!!
It's made with my funfetti cake recipe, and is frosted with my black buttercream frosting.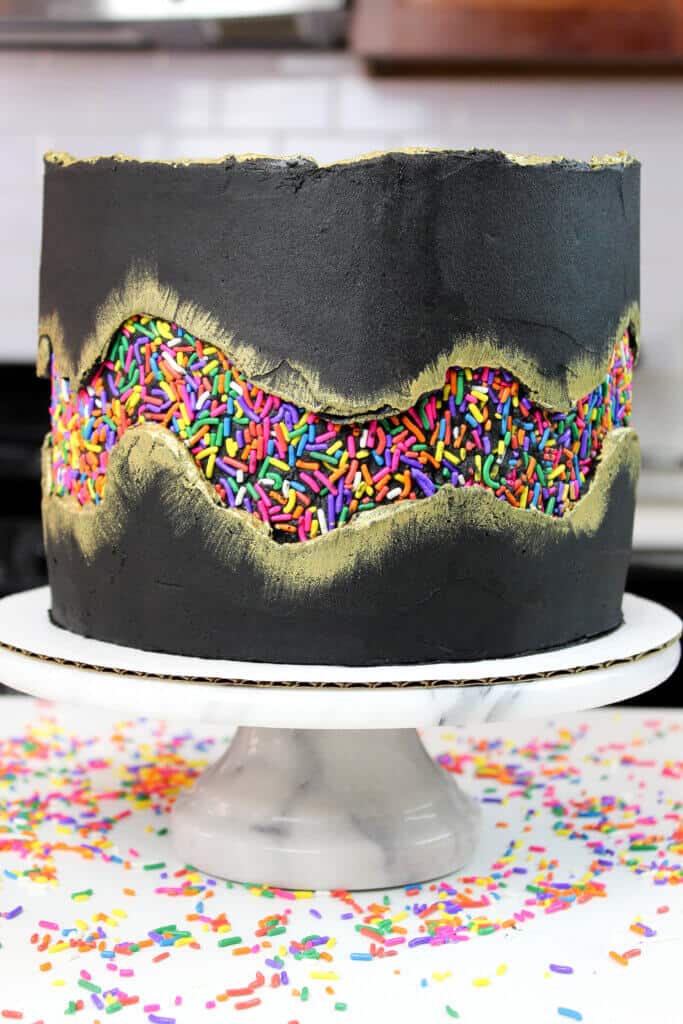 Let Me Know What You Think!
I'd love to hear your thoughts on this funfetti cake recipe! Are you team funfetti or team confetti??
Nothing makes me happier than when I get emails or DMs with photos of your amazing cakes. Please don't hesitate to reach out to me with your triumphs, or questions <3
If you try this funfetti cake recipe, please tag me @chelsweets. Also use the #chelsweets so that I can see your amazing creations!

Yield: 24 servings
Funfetti Cake Recipe
This amazing funfetti cake recipe is made from scratch, and is so easy to make. It's moist, and packed with flavor and sprinkles!!
Additional Time
20 minutes
Total Time
1 hour
10 minutes
Ingredients
Funfetti Cake
3 cups all-purpose flour (390 grams)
3 cups granulated sugar (600 grams)
2 1/2 tsp baking powder (10 grams)
1 tsp salt (6 grams)
1 cup unsalted butter, room temperature (226 grams) - 2 sticks
2 tsp. vanilla extract (8 grams)
1 1/2 tsp almond extract (6 grams)
1 cup pasteurized egg whites from a carton (or about 7 egg whites) (235 grams)
1 1/2 cups buttermilk, room temperature (345 grams)
1/8 cup vegetable oil (28 grams)
3/4 cup of rainbow jimmies or long strand sprinkles (130 grams)
gel food coloring (if desired)
Vanilla Buttercream Frosting
3 cups unsalted butter, room temperature (678 grams)
11 cups powdered sugar (1375 grams)
1 tsp salt (6 grams)
1/3 cup heavy cream (or whipping cream) (75 grams)
1 1/2 Tbsp vanilla extract (18 grams)
Decorations
Fancy sprinkle blend
Wilton 1M
Deep pink and Turquoise gel food coloring (optional)
Instructions
Funfetti Cake Layers:
Preheat oven to 350°F. Line four 7 inch pans or three 8 inch round pans with parchment rounds, and grease with non-stick cooking spray.
Mix together all dry ingredients (flour, baking powder, sugar, and salt) in a stand mixer with a paddle until fully combined.
Mix chunks of room-temperature butter slowly into the dry mix, on a low speed. Continue to mix until no large chunks of butter remain, and the mixture becomes crumbly.
Pour in egg whites, and mix on low until just incorporated. Mix in the buttermilk in two installments, on a low speed.
Add in vanilla extract, almond extract, and oil, and mix at a low speed until fully incorporated. Scrape down the sides of the bowl with a spatula, then beat on low speed for about 15 seconds (the key is to mix until the ingredients are JUST incorporated, so that the batter isn't over-mixed). 
If desired, add in gel food coloring. Mix the color in by hand using a rubber spatula, scraping the sides and bottom of the bowl part way through. Mix until the batter is evenly colored.
Fold the sprinkles into the cake batter using a rubber spatula, just they've evenly distributed.
Divide batter evenly between the prepared cake pans (about 475 grams per pan).
Bake for 34-37 minutes, or until a toothpick comes out clean. Allow the pans to cool for 10 minutes, then run an offset spatula around perimeter of the pan to separate the cake from the pan.
Place cake layers into the freezer for 45 minutes, to accelerate the cooling process. Once the layers are fully cooled, carefully flip the pans and remove the layers from the pans.
Use a serrated knife to level the tops of the layers, and then frost as desired.
Vanilla Buttercream Frosting:
While the cake layers bake and cool, make the vanilla buttercream frosting.
Beat the butter on a medium speed for 30 seconds with a paddle attachment, until smooth. Slowly add in the powdered sugar, 1 cup at a time. Alternate with small splashes of cream.
Once fully mixed, add in the vanilla extract and salt, and beat on low until the ingredients are fully incorporated, and the desired consistency is reached. 
If the frosting is too thick, add in additional cream (1 teaspoon at a time). If the frosting is too thin, add in more powdered sugar (quarter of a cup at a time).
If you plan to color the buttercream, add in the gel food coloring once the frosting is fully made.
Reserve about 1 1/2 cups of frosting to color a separate color, to pipe swirls on top of the cake. Place this frosting in a piping bag fit with a Wilton 1M frosting top.
Color the remaining frosting with gel food coloring.
In this cake, I used turquoise Americolor gel food coloring to make the blue frosting, and deep pink americolor gel food coloring for the swirls on top of the cake.
To Assemble The Cake:
Stack and frost cake layers on a greaseproof cake board, using a dab of frosting to help stick the first cake layer to the board.
Add an even layer of buttercream between each cake layer.
Apply a thin coat of frosting around the the cake, to fully cover the cake layers. Smooth using a bench scraper, then chill the cake in the fridge (10 minutes) or freezer (5 minutes) until the frosting is firm to the touch.
Add a second, thicker layer of frosting to the cake, and smooth using a bench scraper. Then decorate as desired!
Notes
One batch of cake batter makes about 1900 grams, so when I'm making a cake with four layer, I add 475 grams of batter into each pan.
Once the layers have fully cooled, I sometimes like to trim the caramelized bits from the sides of the layers using a serrated knife.
These cake layers can be made in advance!! Learn more about how far in advance they can be made, and how to properly wrap them in my post on how to make cake layers ahead of time.
Since this frosting will be used to decorate a cake, it is important to mix the buttercream on the lowest speed at the end of the process for a couple minutes, to get out any extra air that might have be incorporated during the mixing process.
You can also stir the frosting in a bowl with a rubber spatula, pushing it from side to side, to get rid of any air bubbles.This will make it easier to get super smooth sides on your cake!
The frosting recipe above is 1.5 batches of my American buttercream, which is the amount I usually make for 7 or 8 inch cakes. This makes enough buttercream to add a generous amount between the cake layers, and to have leftover buttercream for any special decorations. If you have extra buttercream you don't use, it can be stored in an airtight container for up to a month in the fridge.
Nutrition Information
Yield
24 slices
Serving Size
1
Amount Per Serving
Calories

682
Total Fat

33g
Saturated Fat

19g
Trans Fat

0g
Unsaturated Fat

12g
Cholesterol

82mg
Sodium

286mg
Carbohydrates

94g
Fiber

0g
Sugar

80g
Protein

4g