As I was writing my post on how I make smooth buttercream, I began to touch on the subject of buttercream consistency.
So many factors influence frosting consistency. It's one of the hardest things to get right when making frosting.
I laughed and thought to myself, I could write an entire post about buttercream consistency on its own!! And here we are 🙂
There is a delicate balance between the temperature of your kitchen, the brand of butter you use, the temperature of your butter, and the amount of heavy cream you use.
It seems like it shouldn't be that complicated, but each of those variables can have a big impact on how your frosting turns out.
Factor 1: The Brand and Quality of Your Butter
Let's start by discussing the butter. The brand of butter you use and the temperature of your butter play a big part in your buttercream consistency.
The percentage of fat and water in butter can vary based on the quality, brand, and how it's made.
Traditionally churned butter can have as little as 65% fat, but most commercially made butter has 80-82% fat.
The rest is mostly water (16-17%)! Usually the higher the quality of butter, the higher the fat percentage.
While this is great in terms of taste and texture, it means you may have to use more heavy cream.
When I use really high-quality butter like Plugra (a European style butter), I find I have to use almost twice the amount of heavy cream to get the consistency right.
On the other hand, I use less heavy cream when making frosting with my go-to unsalted butter from Whole Foods (the 365 brand).
I love it because it's super white in color, which makes naturally white frosting.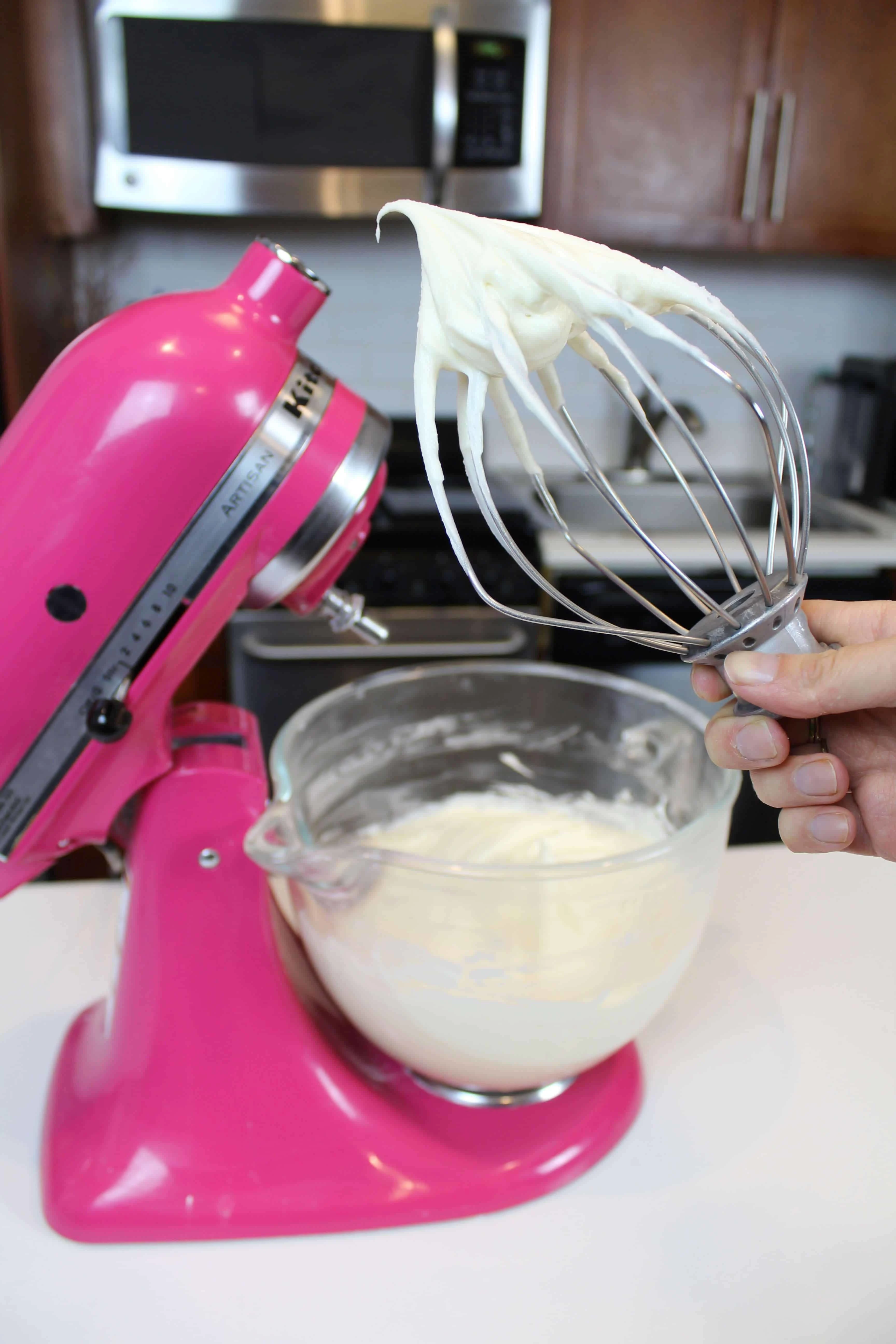 However, my Whole Foods butter definitely seems like it has less fat in it. It becomes softer much more quickly and it's a lot easier to incorporate powdered sugar into it.
For this reason, I actually prefer making American buttercream with slightly lower quality, store-brand butter!!
Shocking, I know. Usually you hear the whole finest quality ingredients spiel.
And while there is totally a time and place for that, this isn't it in my opinion.
Just to be clear, you should still use a respectable brand of unsalted butter. Margarine or butter spreads don't cut it.
You just don't need the fancy $6 European butter when making American buttercream.
Factor 2: The Temperature of Your Butter
In addition to the quality of your butter, the temperature of your butter can also have a big impact on the consistency of your frosting.
Most people think that room temperature butter means butter that's been sitting out for hours and is soft to the touch.
However, it only takes an hour or two for butter from the fridge to warm to room temperature.
The butter should be soft enough to indent with your finger using a bit of pressure, but not soft enough to totally squish in the packaging.
This is super important when making more temperamental frostings like Swiss meringue buttercream or Russian buttercream.
American buttercream is quite a bit more forgiving though. In fact, a lot of the time I leave my butter out overnight.
It's quite soft in the morning, but this actually makes it easier to incorporate the powdered sugar.
With that in mind, if your butter is warmer you won't need to add much as much heavy cream.
On the other hand, if you butter isn't this warm you might need to an extra bit of cream.
Factor 3: The Temperature of Your Kitchen and Your Climate
Another factor that plays a huge role in your frosting consistency is the temperature of your kitchen and your overall climate.
If you live somewhere with a warm and/or humid climate, it can have a big impact on the consistency of your buttercream.
Even if the consistency seems great when you first make it, it may get too thin as the frosting sits or lose its structure as a frosted cake sits at room temperature (hello bulging sides!)
If that's you, you should definitely use less heavy cream. You may even want to swap out some of the butter for shortening.
A lot of people that live in super warm climates like Florida, the Philippines, or Australia like to swap half the butter for hi-ratio shortening.
Hi-ratio shortening is designed specifically for bakers. It is 100% fat with added emulsifiers and no added salt or water.
This allows your frosting to hold more sugar and liquid, which makes it super temperature stable.
This is also a great idea if you're making a cake during a hot summer, especially if it's a wedding cake!! The only downside is that it does affect that taste of the frosting.
Sadly, shortening doesn't taste as good as butter. But if you do a 1:1 ratio of shortening to butter in your frosting, it should still end up tasting pretty good.
Factor 4: Adding the Right Amount of Heavy Cream
The final factor for getting your (American) buttercream frosting just right is the amount of heavy cream you add.
While I'd love to say there's a magic amount that will work perfectly for everyone, sadly that isn't the case.
Based on the factors discussed above (butter quality, butter temp, climate temp, etc.), the amount of heavy cream you need to add can vary a lot.
Or if you try adding milk instead, it will thin the frosting out way more than heavy cream.
If you go this route, I suggest adding in half the quantity of cream a recipe calls for.
I know that it's hard to know what the "right" consistency is when you're relatively new to baking or if you're making a type of frosting you're not used to.
To make it easier to know when you're frosting is just right, I've come up with the test below.
The Spatula Test – Know What Visual Cues to Look For
The easiest way to see if your frosting is the right consistency is the spatula test! I check the consistency of every batch of frosting I make using this test.
It confirms that your frosting is stiff enough to hold its shape, but spreadable enough for you to easily frost your cake or pipe onto cupcakes.
The spatula test works best with variations of American and Russian buttercream.
Firmly press a rubber spatula into your frosting and pull directly up. Turn the spatula right side up and look at the frosting on the tip.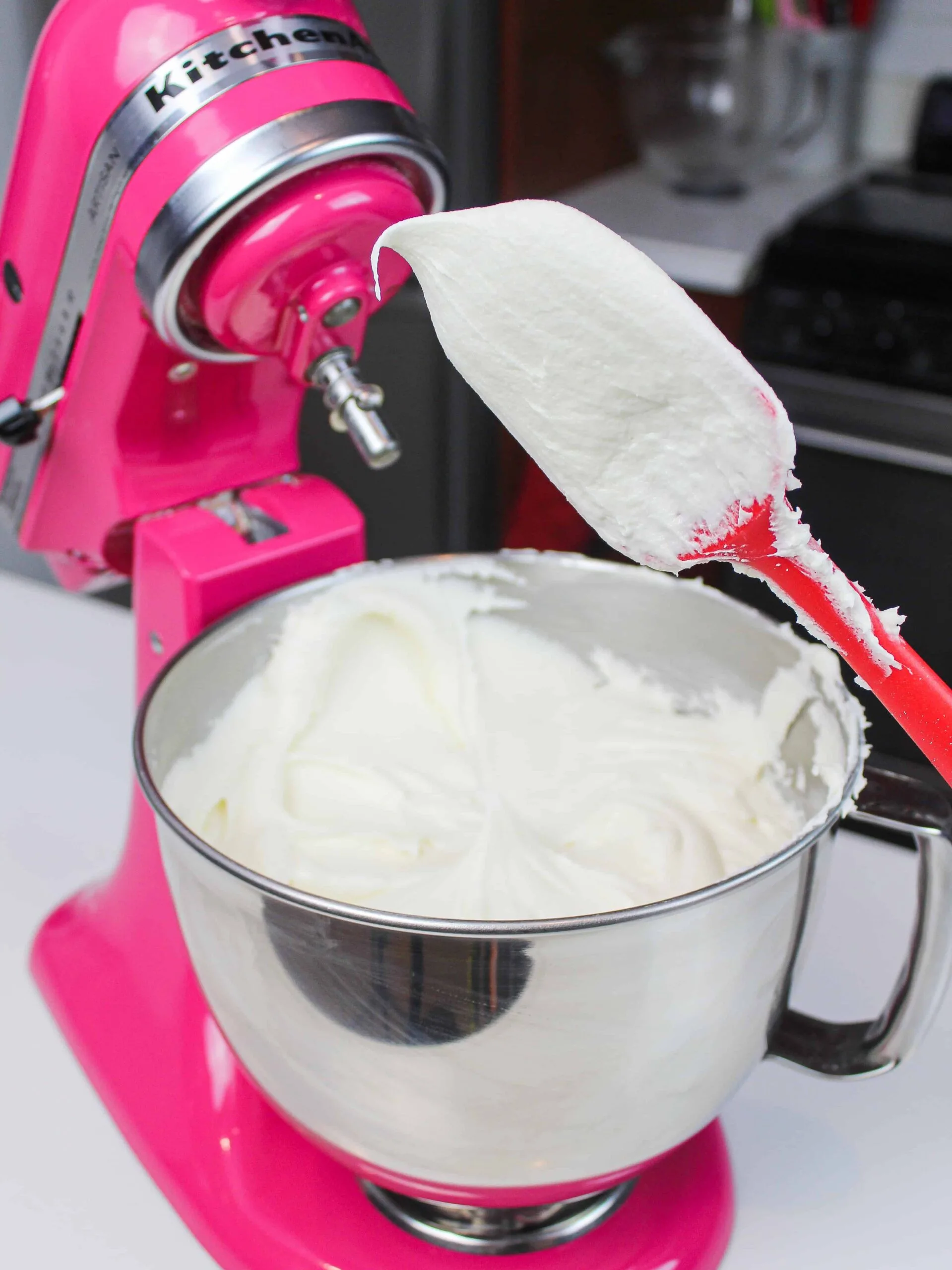 The frosting should form a somewhat stiff peak that has a little curl on the end. It's stiff enough to hold up that curl, but soft enough to create that little curl.
That little curl is a great visual cue to know that your frosting is just the right consistency.
If it's too stiff and sticks straight up, I suggest adding in more heavy cream (1 Tbsp at a time).
If it's too thin and doesn't form a little peak at all, try adding a bit more powdered sugar (1/4 cup at a time). You can also chill it in the fridge for 10-minute intervals.
After each adjustment, be sure to retest the frosting with your spatula before making any additional changes.
The End
So, there you have it. Everything you've ever wanted to know about buttercream consistency, and probably more 😛
If you have any other questions or tips, please share them in the comments section below.
Other Posts You Might Like:
Yield: 6 cups
Vanilla Buttercream Frosting
This American buttercream recipe only uses five ingredients! It's so delicious and easy to make, you'll never buy frosting again!!
Ingredients
2 cups unsalted butter, room temperature (452g; 1 lb. box)
1 Tbsp vanilla extract or vanilla bean paste (12g)
1/2 tsp fine salt (3g)
7 cups powdered sugar (907g; 2 lb. bag)
3 Tbsp heavy cream or whipping cream (45g)
Instructions
Beat 2 cups of unsalted butter on a medium speed for 30 seconds until smooth with a paddle attachment / stand mixer or a hand mixer.
Mix in 1 Tbsp vanilla extract or vanilla bean paste and 1/2 tsp salt on a low speed.
Slowly add in 7 cups of powdered sugar while mixing slowly on the lowest setting. Halfway through add in 3 Tbsp of heavy cream or milk to make it easier to mix. I like to place a kitchen towel over my mixer to contain any powdered sugar clouds.
Mix on low until the ingredients are fully incorporated and the desired consistency is reached. Scrape the sides and bottom of the bowl as needed with a rubber spatula.
If the frosting is too thick, add in additional cream (1 Tbsp at a time). If the frosting is too thin, add more powdered sugar (a quarter of a cup at a time).
If you plan to color the buttercream, add in the gel food coloring once the frosting is fully mixed and beat on low until it reaches the desired color.
To make the frosting extra smooth, stir it by hand with a rubber spatula for a minute or two right before you use it. It's an arm workout, but it's worth it! Push the frosting back and forth and spread it around the side of the bowl. This will push out any extra air and makes it easier to smooth onto cakes or pipe with.
Notes
Yield:
One batch of buttercream makes about 6 cups, which is enough to frost a 7-inch or 8-inch layer cake with 3 layers, or frost about 3 dozen cupcakes.
If you're struggling to get your frosting smooth I share all my tips for making super smooth buttercream here.
Making This Vanilla Buttercream Frosting in Advance:
Make your frosting ahead of time or save any leftover frosting! It can be stored in an airtight container in the fridge for up to a month, or in the freezer for up to 3 months.
Be sure to give it a good stir once it thaws to get the consistency nice and smooth again.
A frosted cake can last in the fridge for up to a week, or in the freezer for up to a month. The buttercream locks in all the moisture, keeping the cake fresh and delicious!
If you cut into the cake and have leftovers, use any remaining frosting to cover the cut section to keep it moist and store it in the fridge for up to a week.
If you are making this frosting for a cake, mix the buttercream on the lowest speed at the end of the process for a couple of minutes, to get out any extra air that might have been incorporated during the mixing process.
Nutrition Information
Yield
6
Serving Size
1
Amount Per Serving
Calories

1091
Total Fat

66g
Saturated Fat

41g
Trans Fat

0g
Unsaturated Fat

21g
Cholesterol

177mg
Sodium

208mg
Carbohydrates

129g
Fiber

0g
Sugar

126g
Protein

1g