After revamping my millionaire bars a couple weeks back, I decided to start looking through more of my old recipes. I originally shared this recipe for chewy oatmeal lace cookies back in 2013.
The recipe is absolutely delicious and didn't need to be updated, but I did need to take some new photos and share the recipe in a proper recipe card.
I also didn't mind having an excuse to whip up a batch of these. They're a super unique cookie and are in a league of their own. I've never had another cookie like this!
Why These Oatmeal Lace Cookies Are So Incredible
What makes these cookies so incredible? It's hard to put into words, but I'll do my best.
I think so much of it comes down to the texture. The brown sugar and butter perfectly coat each grain of oat and allow it to bake into a beautiful web of caramelized oat goodness.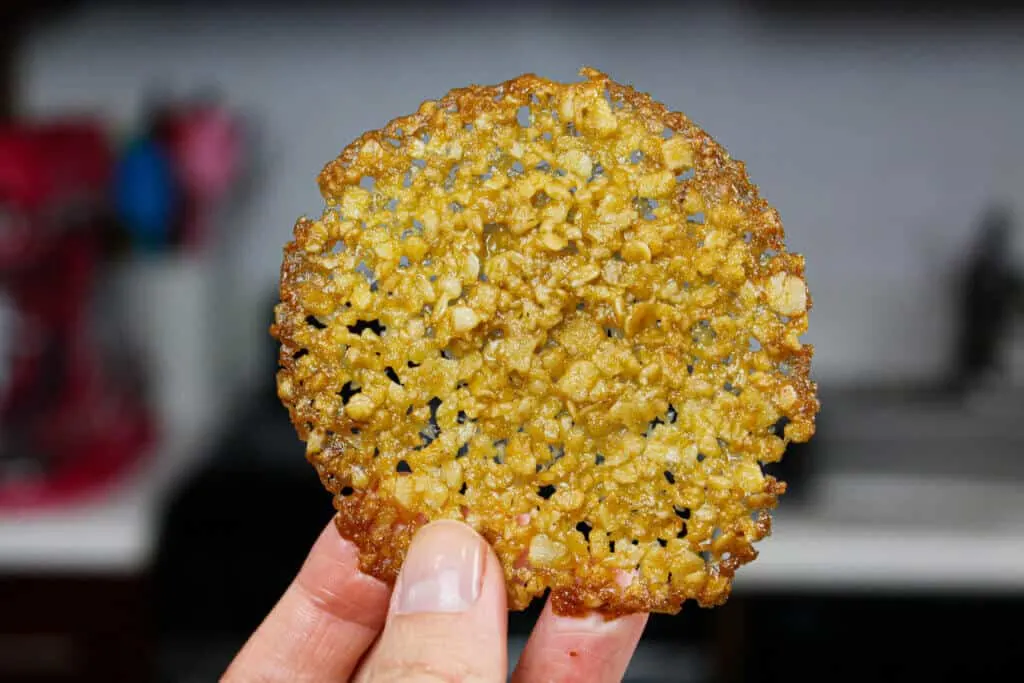 It's one of the only cookie recipes I know of that has liquid cookie dough. With that in mind, maybe we should call it a cookie batter?
The viscosity of the batter allows the cookies to spread a ton as they bake. This allows the edges of the cookies to develop a crispy, golden-brown crust that gives it an amazing texture and flavor.
As you bite into it, you get the crunch from the edges of the cookie, combined with the soft, chewy center.
It's everything you could want in a cookie and more. They're totally addictive, especially when they're still slightly warm from the oven.
Luckily, each cookie is only about 70 calories, so it's ok if you eat a few (or more) 😛
Using the Drop Cookie Technique
Like I mentioned above, this cookie dough (or batter, as I like to call it) is super thin!! This means there's no rolling out cookie dough balls or chilling the cookie dough.
Instead, you drop tiny spoonfuls of batter onto a cookie sheet and bake them right up.
This is truly the definition of a drop cookie. I like to use a small spoon to carefully drop teaspoons of batter around the pan.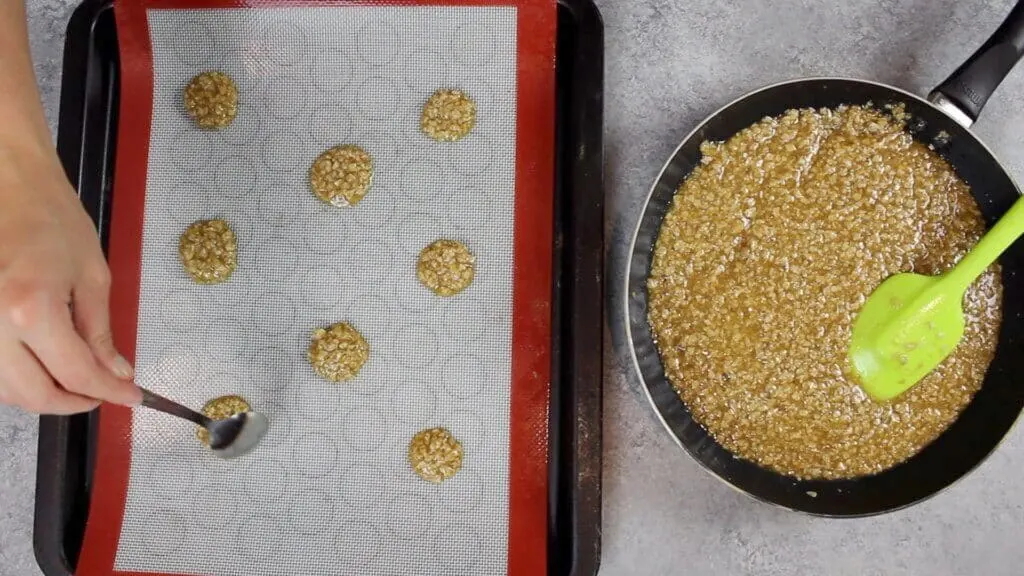 These chewy oatmeal lace cookies bake at a relatively high temperature (375 F / 190 C), which helps them spread and bake quickly, and crisp up.
They end up being about 3 times their original size. This is why it's crucial that you leave ample space between them.
Otherwise you'll end up with one giant sheet of oatmeal lace!! Am I speaking from personal experience? Yes.
Keep an Eye on the Oven
Another special and very convenient thing about this recipe is that the cookies bake in 5 minutes!!
It makes sense because they're so thin, but you definitely want to set a timer and keep a close eye on them.
I've found that with generous teaspoons of batter, 5 minutes in a preheated oven creates golden brown edges and soft centers when baked on silicone mats.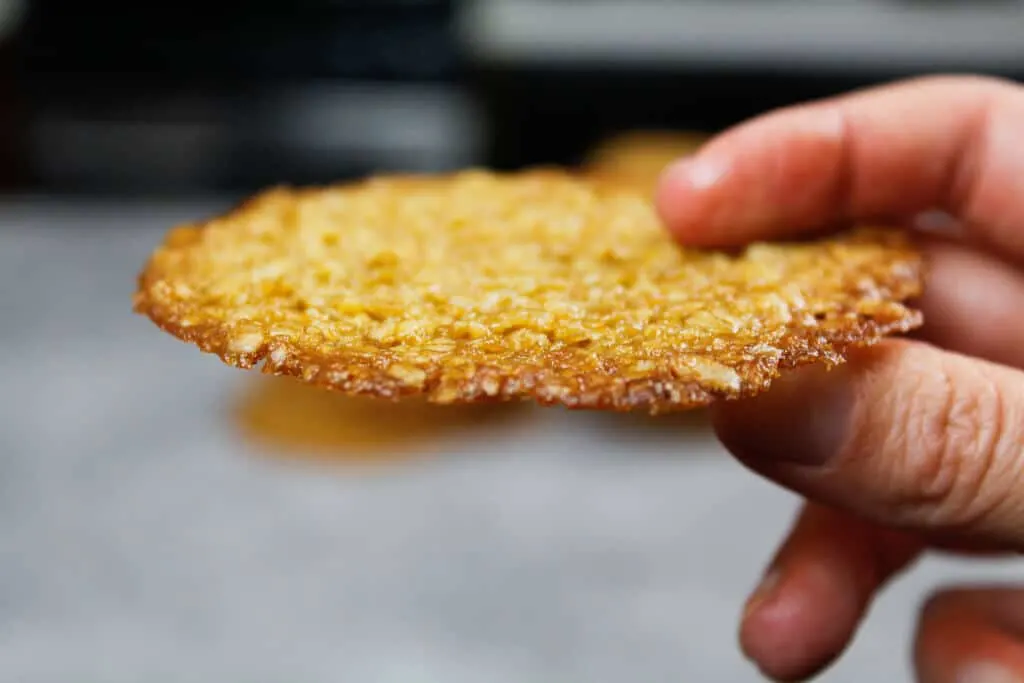 However, you might need to adjust the bake time based on the size of your cookies and your oven.
I recommend doing a test with your first batch, to find out what the perfect timing is for you.
One batch of batter makes about 60 cookies, so you will be baking several batches. Trust me, you'll thank yourself for figuring this out in the beginning!
Tips to Make the Best Oatmeal Lace Cookies:
Leave about 3 inches between each cookie as you spoon out the batter. They spread out a TON when they bake.
Use only a teaspoon of batter to make each cookie! This will help you make chewy cookies with golden brown, crunchy edges.
Be sure your cookie mixture isn't too hot when you add in the egg. You don't want the heat from the dough to scramble the egg!
Let the cookies cool for at least 5 minutes before you try to move them to a wire rack.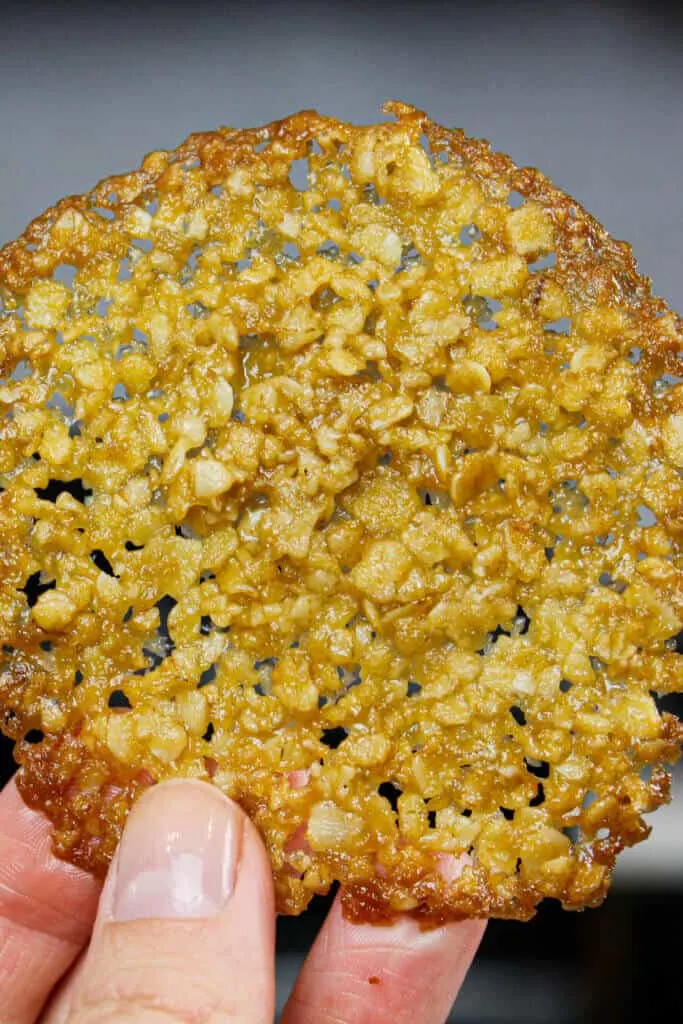 Let Me Know What You Think
If you try making my chewy oatmeal lace cookies, I'd love to hear what you think! Please leave a rating and let me know your thoughts by sharing a comment.
Or if you share your creations on social media, be sure to tag me @chelsweets and use #chelsweets!
Other Recipes You Might Like:
Yield: 60
Chewy Oatmeal Lace Cookies Recipe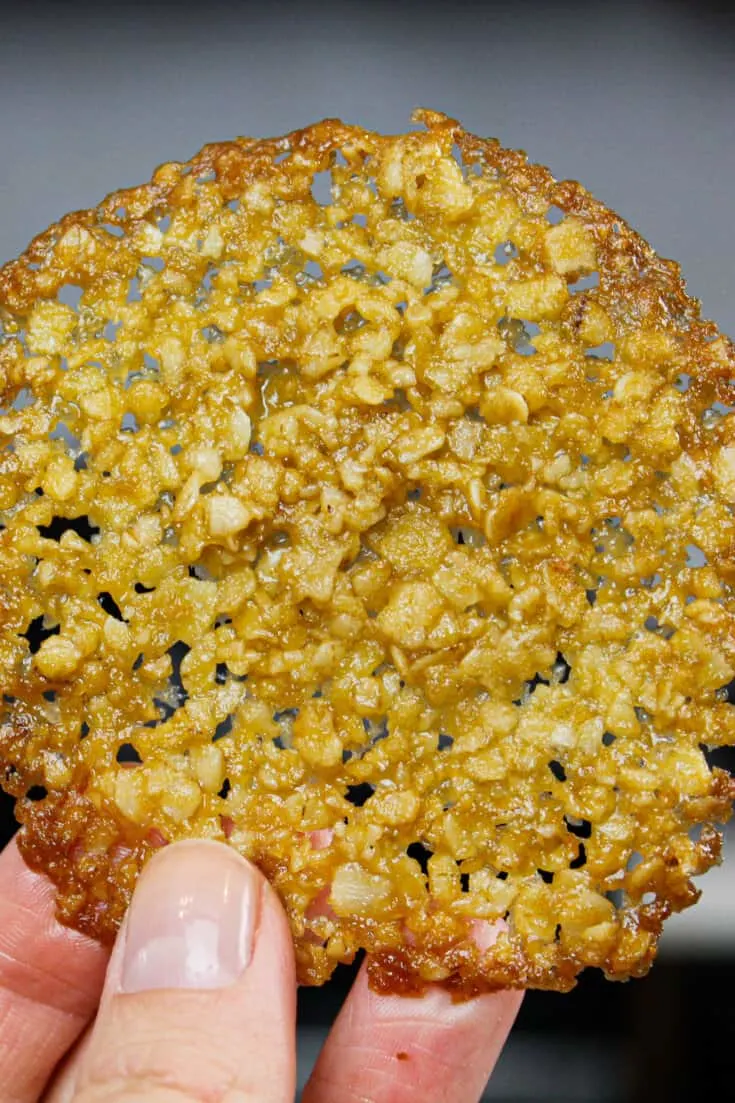 These chewy oatmeal lace cookies are super easy to make and are one of my favorite cookie recipes! They're perfectly caramelized so they have crispy golden brown edges and a chewy center.
Additional Time
15 minutes
Ingredients
Chewy Oatmeal Lace Cookies
1 cup or 2 sticks unsalted butter (226g)
2 1/4 cups packed light brown sugar (450g)
2 1/4 cups quick oats (200g)
3 Tbsp all-purpose flour (24g)
1 tsp salt (6g)
1 large egg, room temperature and lightly beaten (56g)
1 tsp vanilla (4ml)
Instructions
Preheat oven to 375º F / 190º F and line 4 large baking sheets with silicone baking mats or parchment paper. Set aside. If you don't have that many baking sheets, line however many you have.
Heat butter and brown sugar in a large saucepan over medium heat. Stir frequently until butter has fully melted and mixture is smooth.
Carefully stir in oats, flour, and salt. Mix until the oats are fully covered with the brown sugar/butter mixture.
Mix in lightly beaten egg and vanilla extract. Stir until fully incorporated.
Drop cookie batter by the teaspoon onto the prepared baking sheets. Leave at least 2 inches between each cookie to allow them to spread.
Bake two trays at a time for 5 minutes, until the edges are golden brown. As soon as the two are done, pop in the next round. Keep a close eye on these, as the bake time can vary based on how much batter you use to make each cookie.
Let the cookies cool on the sheets for 5 minutes, then move to wire racks to cool completely. Drop more cookie batter onto the cleared cookie sheets and repeat steps 5 & 6 until you've used all your batter.
If you don't plan to eat these cookies immediately, keep them out at room temperature in an open container.
Notes
Yield
This recipe makes about 60 thin cookies! You can halve the recipe if you want to make fewer cookies (use an egg white as 1/2 an egg).
Notes for Making the Best Chewy Oatmeal Lace Cookies
These cookies spread out quite a bit, so make sure you give each cookie enough room as it bakes.
I like this recipe best when it's made with quick oats, but it will work with rolled oats too!
Making These Oatmeal Lace Cookies in Advance
These oatmeal lace cookies can sit out at room temperature for a few days at room temperature.
They also freeze well if stored in an airtight container, and last up to two weeks if frozen. Just be sure to transfer them to the fridge a day before you want to bring them to room temp to serve (this helps reduce the temperature shock).
Nutrition Information
Yield
60
Serving Size
1
Amount Per Serving
Calories

65
Total Fat

3g
Saturated Fat

2g
Trans Fat

0g
Unsaturated Fat

1g
Cholesterol

11mg
Sodium

49mg
Carbohydrates

9g
Fiber

0g
Sugar

7g
Protein

1g
Below are photos from my original blog post on these oatmeal lace cookies. Sometimes it's nice to look back on old photos and remember where it all began 🙂