As soon as I shared my funfetti cake recipe, I knew this funfetti cupcake recipe was only a few steps behind. I've said it before and I'll say it again, funfetti is my favorite flavor of all time.
Now, I know that sprinkles don't actually add any flavor to a cake. But I swear the bright pops of color and the slight change in texture from the extra bits of sugar do make a difference.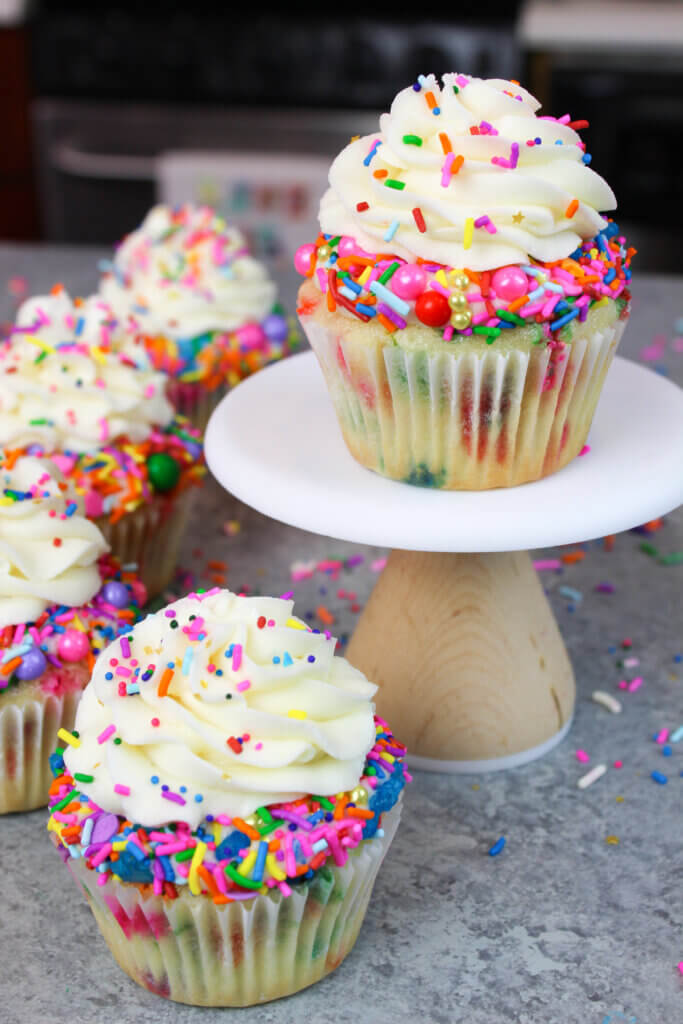 It also isn't just the sprinkles. A good funfetti recipe is all about adding sprinkles to an already great cake or cupcake recipe. The sprinkles are just the finishing touch. The flare.
The cupcakes base in the real star of the show, and I did quite a bit of testing to make this one just right.
The Secret Ingredient (Besides Sprinkles): Sour Cream
In additional to sprinkles, there's one other ingredient in this funfetti cupcake recipe that totally makes it…sour cream!!
Sour cream might sound weird, but it's really such a wonderful ingredient to bake with. While working on this recipe, I did some extensive testing with my vanilla cupcake base.
Another benefit of using sour cream is that it brightens the batter, and makes it whiter. White cupcake batter makes the sprinkles really stand out. It helps them to look as colorful as possible.
I found that the cupcakes that used sour cream as the dairy (vs. buttermilk, or whole milk) were the best base to add sprinkles to, for a few different reasons.
As the sugar in the sprinkles bake, they can sometimes stick to the cupcake liner. This makes them harder to peel than a vanilla cupcake. The cupcake liners peel off most easily when the cupcakes are made with sour cream.
The sour cream makes the cupcakes fluffy and moist, and minimizing any color bleeding from the sprinkles. What I'm really saying is sour cream makes the prettiest funfetti cupcakes too!
What Types Of Sprinkles Should I Use To Make Funfetti Cupcakes?
The best sprinkles for making a funfetti cupcakes are rainbow jimmies. They are the longer sprinkles, that you used to (and may still) put on your ice cream.
While you might think all sprinkles are created equal, sadly you're wrong. When making a funfetti cupcakes, you have to be sure you use the right type of rainbow sprinkle.
These sprinkles keep their color, and won't immediately bleed into your batter.
This is important, because it will help your batter say white while you add it to your cupcake liners. This will allow the color of the sprinkles to really shine through once the layers are baked.
If you really want to be picky about your sprinkles, I also recommend getting a rainbow sprinkle blend that doesn't have any chocolate/brown sprinkles in it.
Funfetti cake layers look so much better without any brown sprinkles!
The type of sprinkle you should NOT use are the tiny, round, rainbow sprinkles. They're called nonpareils, and they are the true enemy of funfetti cake layers.
Nonpareils will start to bleed their colors the second they're stirred into your cupcake batter, resulting in a creepy, pink/grayish batter.
This can also happen if you let you rainbow jimmies sit in your batter for an extended period of time, and then try to stir it.
The key take aways? Only use rainbow jimmies in this funfetti cupcake recipe, gently fold them into your batter, and immediately scoop into your lined cupcake tins.
The Sprinkle Hook-Up:
To take these cupcakes to the next level, I topped them with some colorful sprinkles. This sprinkle blend is fittingly called "bright skies," and is made by Sweetapolita.
While we're on the topic of sprinkles, have I got a deal for you! If you need to refresh your sprinkle supply, or want to step your sprinkle game up, you can use the code CHELSWEETS15 to get 15% your order from Sweetapolita!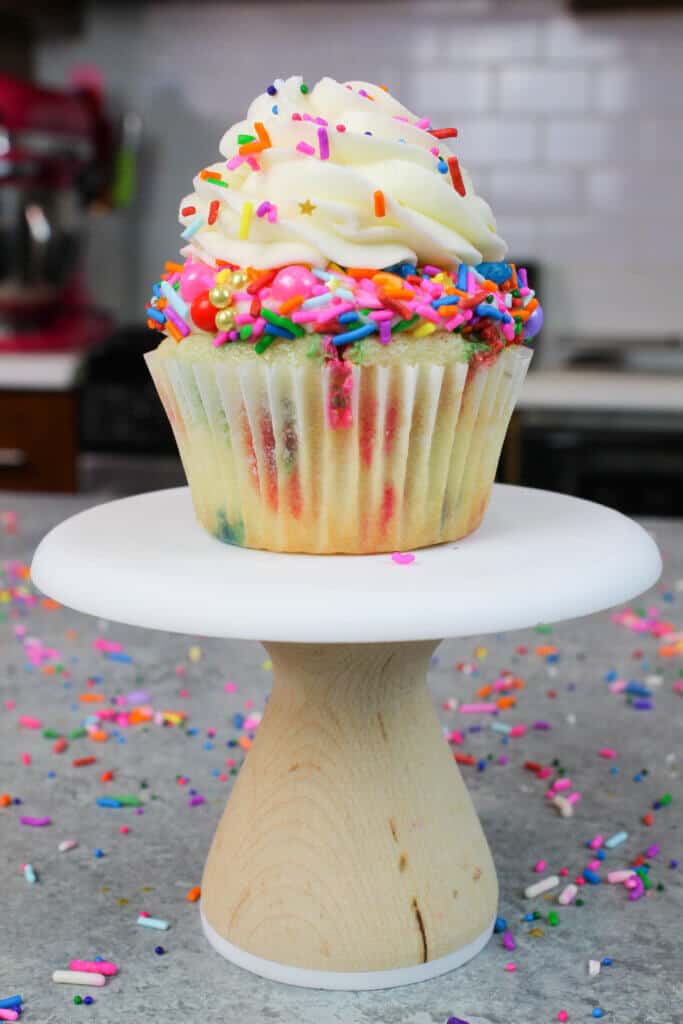 To make this style of cupcake, I added a small dollop of frosting onto the cupcake. I then dunked the cupcake into a bowl of this pretty sprinkle blend. Next, I topped the cupcakes with a swirl of vanilla buttercream.
For the first frosting dollop, I simply snipped the end of a piping bag to have a 1 1/2 cm opening. I used a wilton 1m to make the second frosting swirl.
I added an extra sprinkle of the same sprinkle blend over the top of the cupcakes, because you can never have too many sprinkles!!
Funfetti vs Confetti Cupcakes?
In my mind, sprinkle cupcakes have always been called funfetti. But when I was doing a little keyword research, I learned that a majority of you (about 80%) call them confetti cupcakes.
Back in the day, a lot of the boxed cake mixes called it confetti cake mix. My theory is that we call it the name we grew up with.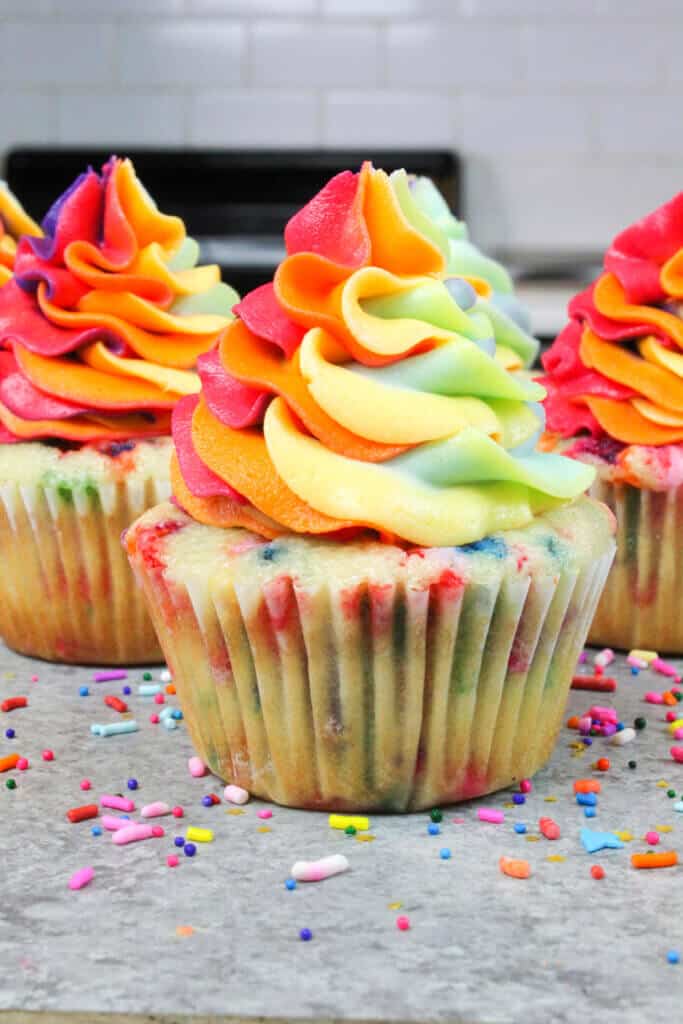 Pillsbury is the only brand that dubs its sprinkle cake mix funfetti, and I'm like 90% sure we I used pillsbury mix as child!
While I clearly am outnumbered on this one, I definitely think that calling sprinkle cupcakes funfetti is just more…fun! No pun intended.
Tips for Making The Best Funfetti Cupcakes:
Properly measure your flour (spoon into the cup measure then level) or use a kitchen scale to measure your dry ingredients
Use a cookie scoop to easily fill your cupcake liners
Ingredients at room temp mix together better, so be sure you set out any cold ingredients ahead of time.
Bang your cupcake pan on the counter before putting it in the oven, to bring any air bubbles that are trapped in the batter to the surface
Use a high quality almond extract to give your cupcakes an amazing flavor!
Making These Cupcakes In Advance & Storage Tips:
Make your cupcakes in advance! If stored unfrosted in an airtight container, they can last for 2 days at room temp, up to a week in the fridge, or up to 3 months in the freezer
Make your frosting ahead of time too, or save any leftover frosting! It can be stored in an airtight container in the fridge for up to a month, or in the freezer for up to 3 months. Be sure to give it a good stir once it thaws to get the consistency nice and smooth again.
Frosted cupcakes can sit out at room temperature overnight in an airtight container, but I find frosting them right before serving is best.
Let Me Know What You Think!
I'd love to hear your thoughts on this funfetti cupcake recipe! Are you team funfetti or team confetti??
I made a few batches of these funfetti cupcakes, and decorated them three different ways.
The first batch had rainbow swirled frosting. The second style used a simple frosting dollop topped with sprinkles. I dipped the third batch in a fancy sprinkle blend, and topped with a large buttercream swirl.
If you try this funfetti cupcake recipe, please tag me @chelsweets. Also use the #chelsweets so that I can see your amazing creations!
Other Recipes You Might Like:
Yield: 12
Funfetti Cupcakes
This funfetti cupcake recipe is insanely simple to make, and equally delicious! It comes together in one bowl, and makes super moist and fluffy cupcakes!!
Additional Time
5 minutes
Ingredients
Funfetti Cupcakes
1 1/4 cup all-purpose flour (160 grams)
1 cup sugar (200 grams)
1 1/2 tsp baking powder (6 grams)
1/2 tsp salt (3 grams)
1/2 cup water (118 grams)
1 tsp vanilla extract (4 grams)
1 tsp almond extract (4 grams)
1 large egg, room temperature (57 grams)
1/4 cup vegetable oil (56 grams)
1/2 cup sour cream, room temperature (128 grams)
1/3 cup rainbow jimmies / long sprinkles (60 grams)
Vanilla Buttercream Frosting
1/2 cup (1 stick) unsalted butter, room temperature (113 grams)
1 3/4 cups powdered sugar (220 grams)
1 Tbsp heavy cream or milk (15 grams)
1/4 tsp salt (2 grams)
1 tsp vanilla extract (4 grams)
1/2 tsp almond extract (4 grams)
Instructions
Funfetti Cupcakes
Begin by preheating oven to 350°F (175°C), and place cupcake liners in baking pans.
Add 1 1/4 cup all-purpose flour, 1 cup sugar, 1 1/2 tsp baking powder and 1/2 tsp salt to a large bowl, and gently combine with a large spoon.
Next, add 1/2 cup water, 1 tsp of vanilla extract, 1 tsp of almond extract, 1 egg and 1/4 cup vegetable oil in to the dry ingredients. Mix until the batter comes together and is smooth.
Add 1/2 cup sour cream, and gently stir until just combined.
Gently fold in the rainbow sprinkles.
Fill the cupcake liners about 3-4 way full. Bake for 19-20 minutes, or until a toothpick comes out clean.
Allow the cupcakes to cool for 5 minutes before moving them to a cooling rack to finish cooling. If you want to accelerate the cooling process, pop the pans into your freezer for about 30 minutes.
Vanilla Buttercream
Beat 1/2 cup of butter on a medium speed for 30 seconds with a whisk attachment, until smooth.
Slowly add in 1 3/4 cups of powdered sugar in two installments. Alternate with 1 Tbsp of heavy cream or milk.
Once fully mixed, add in 1 tsp vanilla extract, 1/2 tsp almond extract, and 1/4 tsp of salt. Beat on low until the ingredients are fully incorporated, then mix on a medium high speed for a couple minutes to make the frosting nice and fluffy.
If the frosting is too thick, add in additional cream (1 Tablespoon at a time). If the frosting is too thin, add in more powdered sugar (quarter of a cup at a time).
Place the buttercream in a piping bag fit with your favorite frosting tip, and pipe large swirls onto the fully cooled cupcakes.
Garnish as desired, then enjoy!
Notes
This recipe can also be used to make mini cupcakes! This recipe makes about 40 mini cupcakes, which only need to bake for 10-12 minutes.
These cupcakes last at room temperature for up to 2 days if stored in an airtight container (unfrosted), or in the freezer for up to 3 months.
If you do freeze them, transfer them to the fridge the day before you plan to frost them and bring them to room temperature (minimizes condensation).
Nutrition Information
Yield
12
Serving Size
1
Amount Per Serving
Calories

497
Total Fat

24g
Saturated Fat

11g
Trans Fat

0g
Unsaturated Fat

11g
Cholesterol

63mg
Sodium

316mg
Carbohydrates

69g
Fiber

0g
Sugar

57g
Protein

2g