I've tried several vanilla cake recipes, and have found a few that I liked. However, this vanilla layer cake recipe blows them all out of the water!! It's delicious, moist, and best of all, it keeps its shape!
This recipe is a butter cake recipe, and not a sponge cake recipe. This is important to note, because it has a denser texture than a fluffy sponge cake.
It also means that you don't have to worry about whipping up egg whites, or carefully folding in dry ingredients.
In fact, this recipe is so easy to make, I call it a fool-proof recipe! My vanilla cake recipe comes together in one bowl!
The butter and buttermilk in the recipe give it an amazing taste. I now use this as my go to white cake base recipe, and color or flavor it as needed.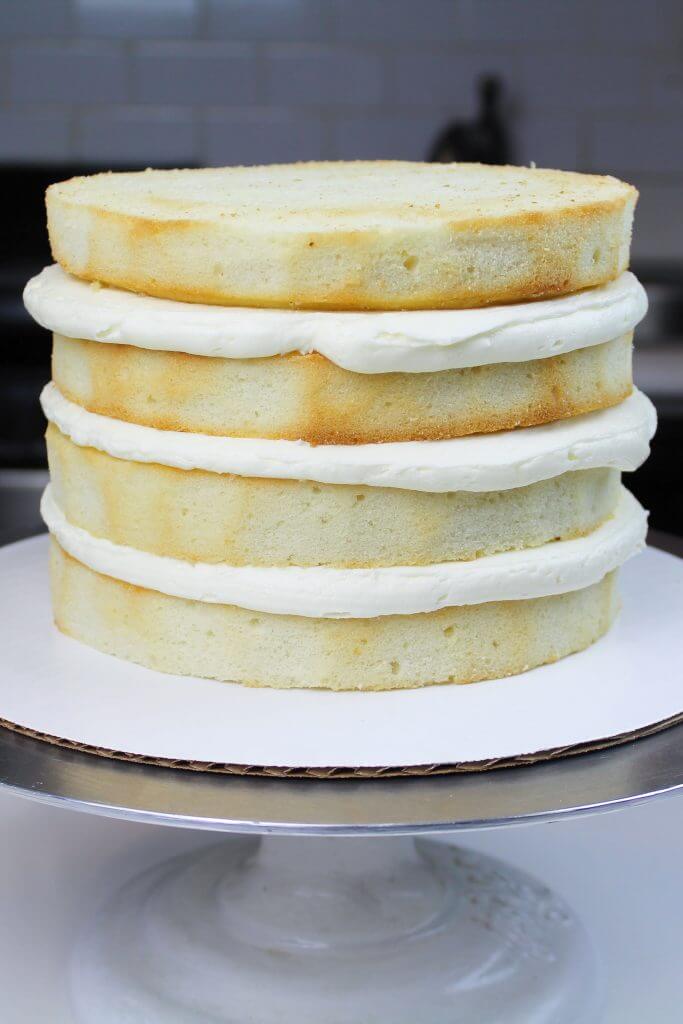 The Secret Ingredient: Buttermilk
What is the secret ingredient to this vanilla layer cake recipe?? BUTTERMILK! I don't know what is is, but I'm absolutely crazy about buttermilk.
I love baking with it, and use it in most of my cake recipes! It makes such tender cake layers, and adds so much moisture! It also gives my cakes a delicious tang.
While buttermilk can be found in most grocery stores, some parts of the country or foreign countries don't sell it! If you're having a hard time getting your hands on buttermilk, don't worry.
You can make your own buttermilk! For each cup of buttermilk that the recipe calls for, use 1 tablespoon of white vinegar or lemon juice plus enough milk to fill 1 cup.
You also can use plain, low-fat yogurt as an equal substitute, cup for cup.
Making Layers Ahead of Time
One of the best things about this vanilla cake recipe is how easy it is to make. This entire recipe can be made in one bowl.
I'm a big fan of one bowl recipes, or anything that helps reduce the amount of dishes I have to do! Another great part about this recipe is that the layers keep insanely well!
These layers can be made in advance, and can be stored in the freezer for several weeks if properly wrapped!
If you do plan to freeze them, be sure to either place them in an airtight container, or wrap them tightly in saran wrap.

Coloring Your Cake Layers
If you want your vanilla cake layers to be a super vibrant color, I highly recommend using gel food coloring. Liquid food coloring can work too, but you won't be able to get as strong of a color.
You also can throw off the consistency of the vanilla cake batter if you add too much liquid food coloring.
Gel food coloring is incredibly concentrated, so it allows you to use less. A tiny drop will create beautiful, bright colors like the ones in my Peeps cake below (or my rainbow swirl cake above)!
Gel coloring is also thicker, and won't change the consistency of the cake batter. My favorite brand of gel food coloring is Americolor, but any brand will work.
How To Bake Flat Cake Layers
Another fantastic aspect of this vanilla layer cake recipe? It bakes super flat! This is mainly due to the way the recipe is formulated. I also like to rotate my cake layers halfway through baking.
This helps ensure that the hot spots in my oven don't cause any sides of my cake layers to bake higher than the others.
Another trick to bake flat cake layers is to wrap wet baking strips around your cake pans.
Believe it or not, I have a mini oven and can barely fit 4 cake pans in my oven! I've found that baking strips don't really work for me since my pans are so close to the edges of my oven.
However, you all have let me know that in a standard oven, baking strips work great with this recipe! Baking strips reduce the amount of caramelization around the sides of the cake layers, and also help them bake flat.
Trimming and Torting Cake Layers
If you want to completely remove any caramelization from your cake layers, you can use a serrated knife to clean them up! I like to trim my cake layers for my cake videos, to help the vibrant colors of my cake layers shine through.
If you do decide to trim your cake layers once they're baked, be sure the layers are completely cooled or chilled before trimming. The layers will fall apart if you try to cut them while they're still warm.
You can also level your cake layers, by trimming off the top of each layer.
This makes it easier to built a straight, level cake! While this is by no means necessary, it can be an important step if you're building a tiered cake.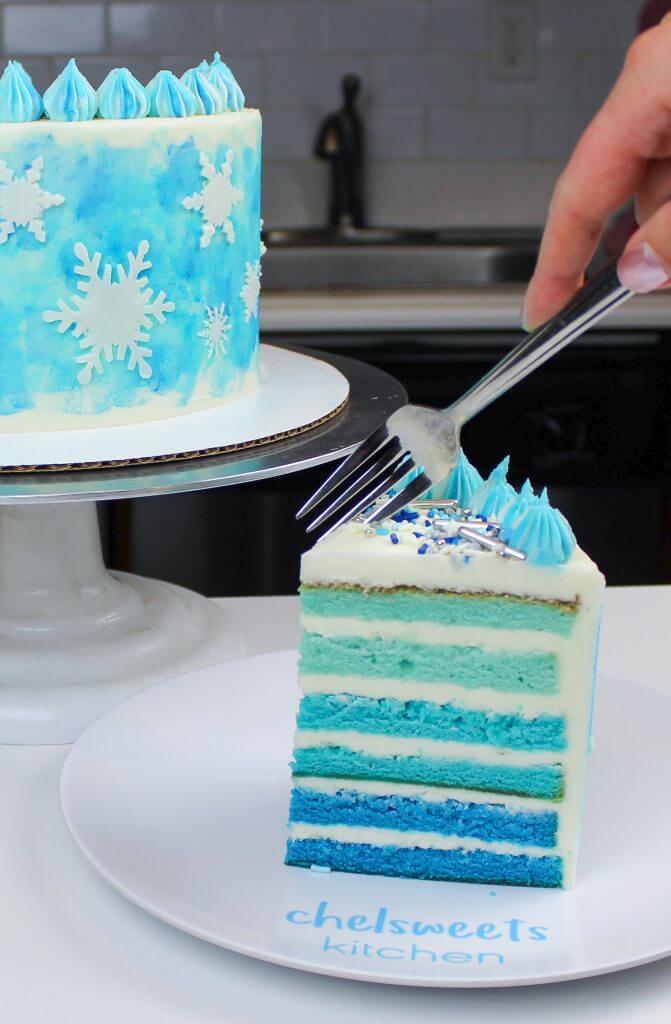 Another option with this recipe is to torte your cake layers! Torting cake layers means you cut them horizontally, to create multiple layers.
I like doing this, because it creates an amazing cake to frosting ratio. A great example of torted cake is my snowflake cake.
Below is a video showing exactly how I trim and level my cake layers.
Tips for Making This Vanilla Cake Recipe:
Mix your cake batter just until the ingredients are incorporated; this will ensure your cake layers are tender and fluffy
Make sure you are properly measuring your flour! Spoon fluffed flour into a measuring cup, and level with knife. Or even better, use a kitchen scale 🙂
Use a serrated knife to level your cake layers once they're fully cooled, to make it easier to assemble and frost your cake
Let Me Know What You Think!
If you try my vanilla layer cake recipe, I'd love to hear what think of it! Please leave a rating, and let me know your thoughts by sharing a comment 🙂
Also please tag me @chelsweets, and use the #chelsweets on social media so that I can see your amazing creations!
Recipe Notes:
This recipe is adapted from Kara's Couture Cakes, and can be found below.
One batch can be used to make three, eight inch cake layers, or four, seven-inch cake layers
If you want to make a cake with 6 inch cake layers using this recipe, I recommend making 2/3 of a batch of batter
I do NOT recommend using this recipe to make cupcakes! What makes this cake recipe amazing is that it bakes flat, which cause it to make terrible cupcakes! They stick to liner and don't rise enough. If you want to make vanilla cupcakes, I highly recommend using my favorite vanilla cupcake recipe.
Yield: 24 servings
Best Vanilla Cake Recipe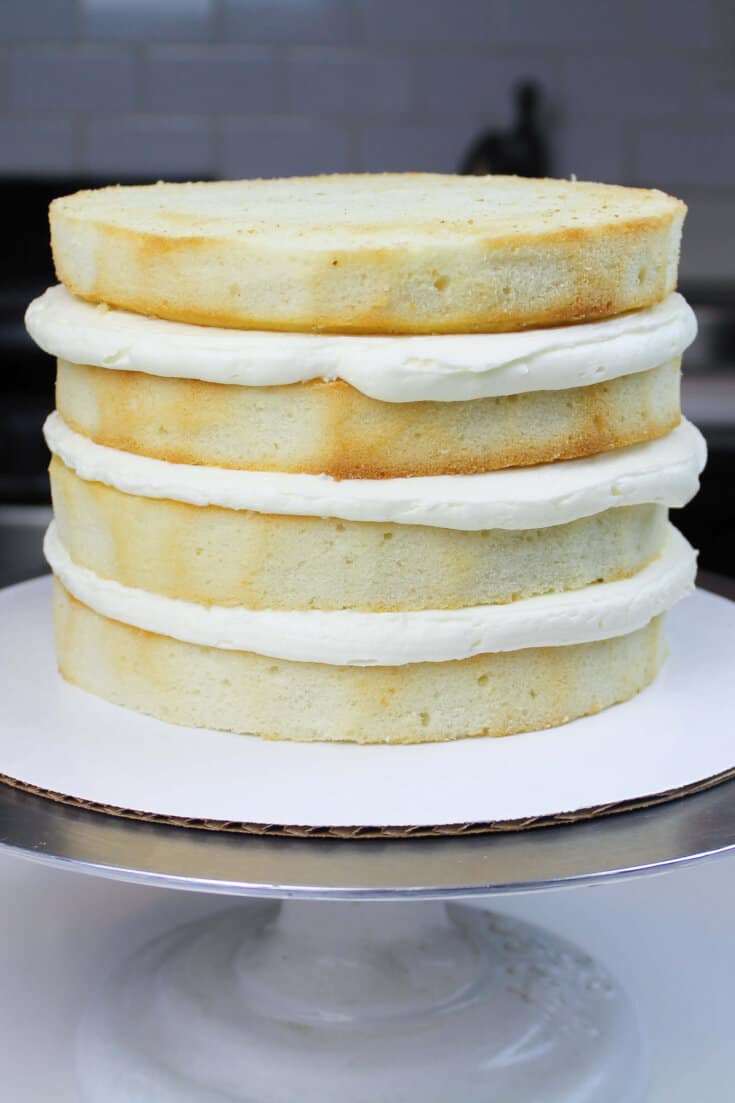 This vanilla cake recipe is made in one bowl, and is super moist! One batch makes 3, 8-inch cake layers, and is frosted with vanilla buttercream frosting.
Additional Time
20 minutes
Total Time
1 hour
10 minutes
Ingredients
Vanilla Cake
3 cups all-purpose flour (390 grams)
3 cups granulated sugar (600 grams)
2 1/2 tsp baking powder (10 grams)
1 tsp salt (6 grams)
1 cup unsalted butter, room temperature (226 grams) - 2 sticks
2 tsp. vanilla extract (8 grams)
1 cup pasteurized egg whites from a carton (or about 7 egg whites) (235 grams)
1 1/2 cups buttermilk, room temperature (345 grams)
1/8 cup vegetable oil (28 grams)
gel food coloring (if desired)
Vanilla Buttercream Frosting
3 cups unsalted butter, room temperature (678 grams)
11 cups powdered sugar (1375 grams) - or about 1.5 lbs
1 tsp salt (6 grams)
1/3 cup heavy cream (or whipping cream) (75 grams)
1 1/2 Tbsp vanilla extract (18 grams)
Instructions
Vanilla Cake Layers:
Preheat oven to 350°F. Line four 7 inch pans or three 8 inch round pans with parchment rounds, and grease with non-stick cooking spray.
Mix together all dry ingredients (flour, baking powder, sugar, and salt) in a stand mixer with a paddle attachment until fully combined.
Mix chunks of room-temperature butter slowly into the dry mix, on a low speed. Continue to mix until no large chunks of butter remain, and the mixture becomes crumbly.
Pour in egg whites, and mix on low until just incorporated. Mix in the buttermilk in two installments, on a low speed.
Add in vanilla and oil, and mix at a low speed until fully incorporated. Scrape down the sides of the bowl with a spatula, then beat on low speed for about 15 seconds (the key is to mix until the ingredients are JUST incorporated, so that the batter isn't over mixed). 
If desired, add in gel food coloring. Mix the color in by hand using a rubber spatula, scraping the sides and bottom of the bowl part way through. Mix until the batter is evenly colored.
Divide batter evenly between the prepared cake pans (about 450 grams per pan). I like to use a digital kitchen scale to weigh my pans, to make sure the layers are the same height.
Bake for 34-35 minutes, or until a toothpick comes out clean. Allow the pans to cool for 10 minutes, then run an offset spatula around perimeter of the pan to separate the cake from the pan.
Place cake layers into the freezer for 45 minutes, to accelerate the cooling process. Once the layers are fully cooled, carefully flip the pans and remove the layers from the pans.
Use a serrated knife to level the tops of the layers, and then frost as desired.
Vanilla Buttercream Frosting:
While the cake layers bake and cool, make the vanilla buttercream frosting.
Beat the butter on a medium speed for 30 seconds with a paddle attachment, until smooth. Slowly add in the powdered sugar, 1 cup at a time. Alternate with small splashes of cream.
Once fully mixed, add in the vanilla and salt, and beat on low until the ingredients are fully incorporated, and the desired consistency is reached. 
If the frosting is too thick, add in additional cream (1 TBSP at a time). If the frosting is too thin, add in more powdered sugar (quarter of a cup at a time).
If you plan to color the buttercream, add in the gel food coloring once the frosting is fully made, and beat on low until it reaches the desired color
To Assemble The Cake:
Stack and frost cake layers on a greaseproof cake board, using a dab of frosting to help stick the first cake layer to the board.
Add an even layer of buttercream between each cake layer.
Apply a thin coat of frosting around the cake, to fully cover the cake layers. Smooth using a bench scraper, then chill the cake in the fridge (20 minutes) or freezer (5 minutes) until the frosting is firm to the touch.
Add a second, thicker layer of frosting to the cake, and smooth using a bench scraper. Then decorate as desired!
Notes
One batch of cake batter makes about 1800 grams, so when I'm making a cake with four layer, I add 450 grams of batter into each pan.
Once the layers have fully cooled, I sometimes like to trim the caramelized bits from the sides of the layers using a serrated knife.
These cake layers can be made in advance!! Learn more about how far in advance they can be made, and how to properly wrap them in my post on how to make cake layers ahead of time.
Since this frosting will be used to decorate a cake, it is important to mix the buttercream on the lowest speed at the end of the process for a couple minutes, to get out any extra air that might have be incorporated during the mixing process.
You can also stir the frosting in a bowl with a rubber spatula, pushing it from side to side, to get rid of any air bubbles.This will make it easier to get super smooth sides on your cake!
The frosting recipe above is 1.5 batches of my American buttercream, which is the amount I usually make for 7 or 8 inch cakes. This makes enough buttercream to add a generous amount between the cake layers, and to have leftover buttercream for any special decorations. If you have extra buttercream you don't use, it can be stored in an airtight container for up to a month in the fridge.
Nutrition Information
Yield
24 slices
Serving Size
1
Amount Per Serving
Calories

571
Total Fat

33g
Saturated Fat

20g
Trans Fat

0g
Unsaturated Fat

11g
Cholesterol

86mg
Sodium

297mg
Carbohydrates

66g
Net Carbohydrates

0g
Fiber

0g
Sugar

54g
Sugar Alcohols

0g
Protein

4g