I've tested a lot of chocolate cake recipes over the years, and this moist chocolate cake recipe is one of my favorites. It is incredibly moist, and turns out perfectly every time!
This Recipe Can Be Made By Hand
I love this recipe for so many different reason. The first one is that this moist chocolate cake recipe doesn't require a hand mixer, which means less dishes to clean!!
It also comes together incredibly quickly. It's a modified version of Robyn's chocolate cake recipe on Add A Pinch.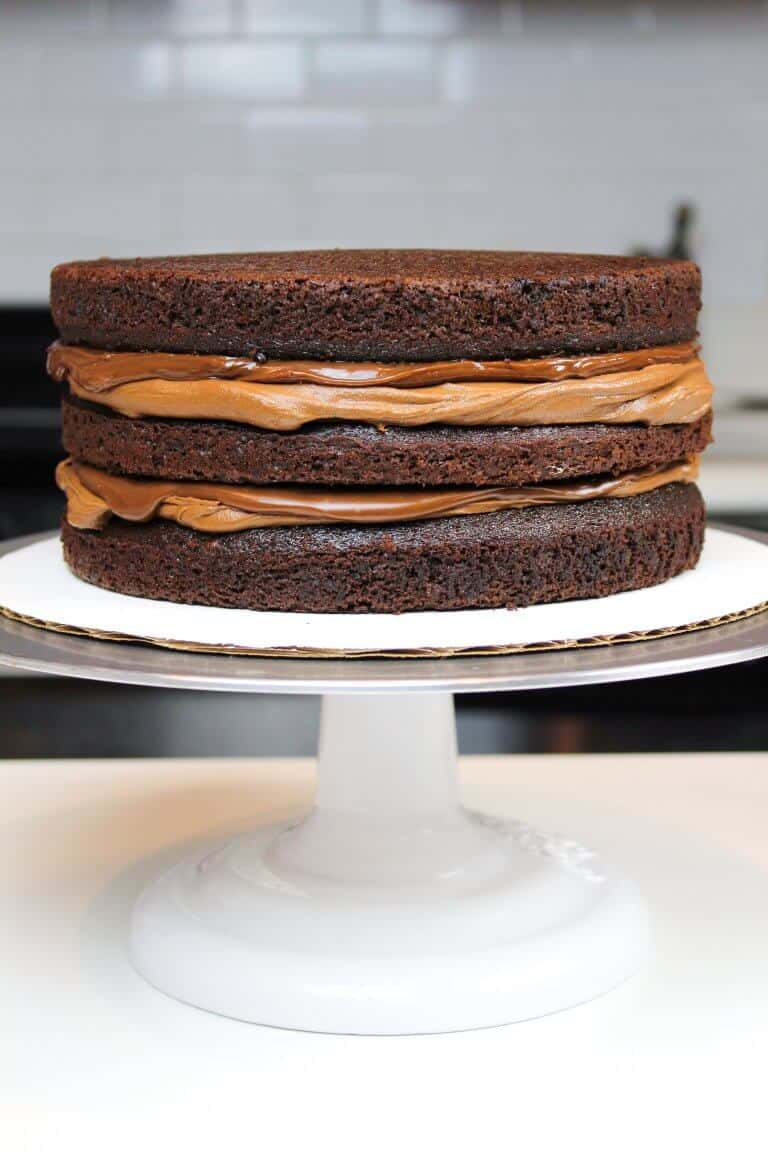 This Moist Chocolate Cake Recipe Bakes Flat (no huge domes!)
Another wonderful aspect of this recipe? It bakes pretty flat!
If I'm just making a cake for family and friends, I'll usually just use a bit of extra buttercream to level everything out.
You can also trim the top of the cake with a serrated knife to make it perfectly level.
If you're still getting comfortable trimming your cake layers, here is a great tutorial on how to level and trim your cake layers.
My Secret Ingredient: Espresso
I love to add espresso to my chocolate cake recipes!! It pairs so well with the cocoa powder, and really elevates the chocolate flavor of the cake layers!
If you're not a fan of coffee, don't worry! It isn't a strong flavor in the cake, it simple enhances the overall flavor of the cake.

Tip: Use Good Quality Baking Cocoa!
To make sure these cake layers taste as delicious as possible, I highly recommend using a good quality cocoa.
The quality of cocoa you use in this recipe is key, since it's the main flavor of these cake layers!
I love to use ghirardelli cocoa, because it gives the layers such a wonderful chocolate flavor.
Pair With Your Favorite Frosting
I love frosting this moist chocolate cake recipe with my chocolate frosting or peanut butter buttercream, but the options are really limitless!
Feel free to get creative, and make whatever combination floats your boat.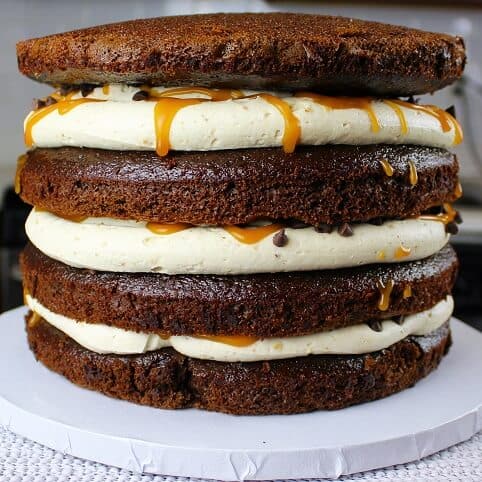 Decorate as desired! The photo below shows a snickers cake made with this cake base, before it was crumb coated.
Let Me Know What You Think!
If you try this recipe, please tag me @chelsweets, and use the #chelsweets, so I can see your beautiful creations!!
Yield: 20
Moist Chocolate Cake Recipe
This chocolate cake recipe comes together so quickly, and is incredibly moist! It's just as delicious as it is easy to make.
Additional Time
30 minutes
Total Time
1 hour
10 minutes
Ingredients
Moist Chocolate Cake Recipe
2 cups all-purpose flour (260 grams)
2 cups granulated sugar (400 grams)
3/4 cup sifted unsweetened cocoa powder (60 grams)
2 tsp baking powder (8 grams)
1 1/2 tsp baking soda (9 grams)
1 tsp salt (6 grams)
1 cup very hot water (237 grams)
2 tsp. instant espresso of coffee (6 grams)
1 cup buttermilk (240 grams)
1/2 cup vegetable oil (112 grams)
2 tsp vanilla extract (8 grams)
2 large eggs, room temperature (112 grams)
1 tsp white vinegar (4 grams)
Chocolate Buttercream Frosting
2 cups (or 4 sticks) unsalted butter, room temperature (434 grams)
5 cups powdered sugar (625 grams)
1 1/3 cups of melted dark chocolate, cooled (228 grams)
1 cup sifted, unsweetened baking cocoa (100 grams)
1/2 tsp salt (3 grams)
1/2 cup heavy cream (120 grams)
1 tsp vanilla (4 grams)
Instructions
Chocolate Cake Layers
Preheat oven to 350 degrees Fahrenheit. Line and grease three, eight-inch cake pans, or four, seven-inch pans.
Combine 2 cups all-purpose flour, 2 cups sugar, 3/4 cup baking cocoa, 2 tsp baking powder, 1 1/2 tsp baking soda, and 1 tsp of salt in a large bowl. Whisk together until combined.
In a separate, medium-sized bowl, add 2 tsp instant espresso or coffee into 1 cup of hot water, and stir until dissolved.
Add in 1 cup buttermilk, 1/2 cup oil, and 2 tsp vanilla extract into the instant espresso mixture. Give the mixture a quick stir to combine the ingredients.
Pour the wet ingredients into the dry ingredients. Mix by hand until fully incorporated.
Stir in 2 eggs eggs, one at a time.
Mix in the 1 tsp vinegar.
The batter will be on the thin side, but that's the consistency you're after!
Divide the batter evenly between the cake pans, and bake for about 24-27 minutes.
Remove from oven, and let the cakes sit for about 5 minutes. Gently run an offset spatula around the rim of the cake pans to loosen them.
Place the cake pans in the freezer to speed up the cooling process, and to trap in additional moisture.
Chocolate Buttercream Frosting:
Beat the butter on a medium speed for 30 seconds with a paddle attachment, until smooth.
Add in the sifted cocoa, and mix on low until the cocoa is fully incorporated, and no clumps remain.
Slowly add in the powdered sugar, 1 cup at a time. Alternate with small splashes of cream.
Mix in the cooled, melted chocolate chips.
Once fully mixed, add in the vanilla and salt.
Beat on low until the ingredients are fully incorporated, and the desired consistency is reached.
Notes
These cake layers and buttercream can be made in advance!! I highly recommend making them ahead of time to make the decoration of the cake less stressful and more fun.
These layers bake quite flat! However, if you want them to be perfectly level, I recommend trimming the tops with a serrated knife once they layers are completed cooled.
I like to chill my cake layers in the freezer for about 20 minutes before frosting and assembling my cakes, to make them easier to stack and frost.
Nutrition Information
Yield
20
Serving Size
1
Amount Per Serving
Calories

434
Total Fat

15g
Saturated Fat

6g
Trans Fat

0g
Unsaturated Fat

8g
Cholesterol

30mg
Sodium

354mg
Carbohydrates

71g
Fiber

3g
Sugar

55g
Protein

5g