WASC cake is truly a unique and delicious type of cake. My spin on it alters my vanilla layer cake recipe to incorporate a few special ingredients.
The result is a super white, moist, and delicious cake. It's perfect for weddings, special occasions, or even engagement cakes!
It's perfect for weddings, bridal showers, or even engagement cakes! I used this cake recipe to make my bachelorette cake, and have used it for anniversary cakes as well.
This cake has a hint of almond, which always reminds me of wedding cake. Whenever I eat it, I feel like it's a special occasion.
What Is WASC Cake?
WASC stands for white almond sour cream cake. While that may sound like a strange combination of flavors, I promise it is delicious!
Traditional WASC cake uses white boxed cake mix as a base, and then adds in a ton of additional ingredients.
Most notably, it calls for sour cream and almond extract. These two ingredients are the real flavor power houses in this recipe.
Sour cream is so fun to bake with, and it adds a ton of moisture to cake recipes.
Why I Make My WASC Cake Recipe From Scratch
By the time you add in the 8 additional ingredients traditional WASC cake recipes call for, you're basically making a cake from scratch anyways.
I have nothing against doctored cake recipes, but I really do find it easier to just throw a little sugar and flour into a bowl myself, and save some money!!
I also never have boxed cake mix in my pantry, so it would mean an extra trip to the grocery store.
My vanilla cake recipe uses buttermilk, which adds a great tang to the recipe. However, it's a bit much when paired with almond extract.
I use sour cream in place of buttermilk, which adds all the moisture, plus it makes the batter lighter in color.
It's amazing watching the color of the batter change as you mix in the sour cream.
It also has a milder taste, which allows the hint of almond to shine through in each bite.
The Perfect Metallic Touch: A Pretty Sprinkle Blend
A sprinkle boarder on this cake was the perfect way to add an elegant design around the base. This sprinkle blend is fittingly called "wedding cake," and is made by Sweetapolita.
While we're on the topic of sprinkles, have I got a deal for you! If you need to refresh your sprinkle supply, or want to step your sprinkle game up, you can use the code CHELSWEETS15 to get 15% your order from Sweetapolita!
Just thought I'd share some sprinkle love with all of my fellow bakers 🙂
Trimming Your Cake Layers
As a full disclaimer, I trimmed these cake layers using a serrated knife. This removes caramelization, to leave you with completely perfect, white cake layers.
I have a mini, 24-inch gas oven (the perks of living in Manhattan), so my cake pans barely fit in my oven. This means my cake pans are right against the sides of my oven.
Even though I shift the pans half way through the baking process, I still have uneven browning and rising when I make cake layers.
If you have a full sized, electric oven (which I think a majority of you do), you should have minimal caramelization. However, the types of pans you use can also impact this! I like to use the fat daddio brand pans, which I order on amazon.
They're made with anodized aluminum, which helps the layers bake evenly. Be sure to avoid using dark colored cake pans, which can cause your layers to brown more.
You can also use Wilton baking strips to help prevent browning, and ensure your layers bake flat. These don't help me much because of my unique oven situation, but I've heard they work wonders from other bakers!
Tips for Making Tender, Moist Cakes:
Don't overmix your batter! Stir until the flour is just combined into the batter
Be sure to properly measure your flour (spoon into the cup measure, then level), or even better, use a kitchen scale when making the cake batter
Make sure your ingredients are at room temp
Bang your pans on the counter before popping them into the oven, to bring any air bubbles that are trapped in the batter to the surface
Don't over bake you layers! Keep an eye on them, and be sure to set a timer
Rotate your pans halfway through, to ensure they bake evenly
Let Me Know What You Think!
If you try this WASC cake recipe, please let me know what you think of it. You can also tag me on social media @chelsweets, and use #chelsweets.
Other Recipes You Might Like:
Yield: 24
White Wedding Cake Recipe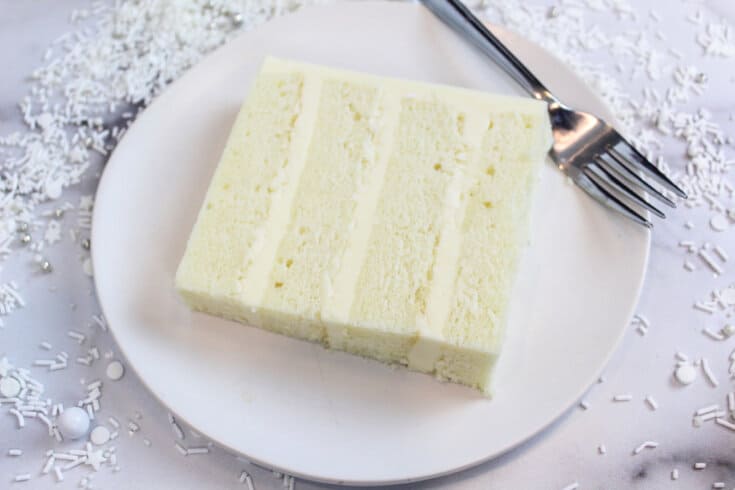 This WASC cake recipe makes the ultimate white cake, and is perfect for any special occasion! It has a hint of almond, and is so moist and delicious!
Additional Time
20 minutes
Total Time
1 hour
10 minutes
Ingredients
WASC Cake Recipe
3 cups all-purpose flour (390 grams)
3 cups granulated sugar (600 grams)
2 1/2 tsp baking powder (10 grams)
1 tsp salt (6 grams)
1 cup unsalted butter, room temperature (226 grams) - 2 sticks
1 tsp vanilla extract (4 grams)
2 tsp almond extract (8 grams)
1 cup pasteurized egg whites from a carton (or about 7 egg whites) (235 grams)
1 1/2 cups full-fat sour cream, room temperature (382 grams)
1/8 cup vegetable oil (28 grams)
Almond Buttercream Frosting
3 cups unsalted butter, room temperature (678 grams)
11 cups powdered sugar (1375 grams)
1 tsp salt (6 grams)
1/3 cup heavy cream (or whipping cream) (75 grams)
1 tsp vanilla extract (4 grams)
1 Tbsp almond extract (12 grams)
Instructions
WASC Cake Layers:
Preheat oven to 350°F. Line and grease four 7 inch pans with parchment rounds.
Mix together all dry ingredients (flour, baking powder, sugar, and salt) in a stand mixer with the whisk attachment until fully combined.
Mix chunks of room-temperature butter slowly into the dry mix, on a low speed. Continue to mix until no large chunks of butter remain, and the mixture becomes crumbly.
Pour in egg whites, and mix on low until just incorporated.
Add the sour cream, vanilla extract, almond extract, and oil, and mix at a low speed until fully incorporated.
Scrape down the sides of the bowl with a spatula, then beat on low speed for a few more seconds (the key is to mix until the ingredients are JUST incorporated, so that the batter isn't over mixed).
Divide batter evenly between the prepared cake pans (about 450 grams per pan). I like to use a digital kitchen scale to weigh my pans, to make sure my layers will be the same height.
Bake for 33-34 minutes, or until a toothpick comes out clean. Allow the pans to cool for 10 minutes, then run an offset spatula around perimeter of the pan to separate the cake from the pan.
Place cake layers into the freezer for 45 minutes, to accelerate the cooling process. Once the layers are fully cooled, carefully flip the pans and remove the layers from the pans.
Use a serrated knife to level the tops, sides, and bottom of the layers, to remove any caramelization.
Almond Buttercream Frosting:
While the cake layers bake and cool, make the vanilla buttercream frosting.
Beat the butter on a medium speed for 30 seconds with a paddle attachment, until smooth. Slowly add in the powdered sugar, 1 cup at a time. Alternate with small splashes of cream.
Once fully mixed, add in the vanilla extract, almond extract, and salt, and beat on low until the ingredients are fully incorporated, and the desired consistency is reached.
If the frosting is too thick, add in additional cream (1 teaspoon at a time). If the frosting is too thin, add in more powdered sugar (quarter of a cup at a time).
If you plan to color the buttercream, add in the gel food coloring once the frosting is fully made, and beat on low until it reaches the desired color
To Assemble The Cake:
Stack and frost cake layers on a greaseproof cake board, using a dab of frosting to help stick the first cake layer to the board.
Add an even layer of buttercream between each cake layer.
Apply a thin coat of frosting around the the cake, to fully cover the cake layers. Smooth using a bench scraper, then chill the cake in the fridge (10 minutes) or freezer (5 minutes) until the frosting is firm to the touch.
Add a second, thicker layer of frosting to the cake, and smooth using a bench scraper. Then decorate as desired!
Notes
This recipe can also be used to make sheet cake! One batch will make 2, 9 inch x 13 inch cake layers that are about 1 inch tall. I did this will the cake pictured above, and cut 4 square cake layers from my sheet cakes.
One batch of cake batter makes about 1800 grams. If you plan use four circular cake pans, add 450 grams of batter into each pan.
Once the layers have fully cooled, I like to trim the caramelized bits from the sides of the layers using a serrated knife to make sure my layers are perfectly white.
These cake layers can be made in advance!! Learn more about how far in advance they can be made, and how to properly wrap them in my post on how to make cake layers ahead of time.
Nutrition Information
Yield
24
Serving Size
1
Amount Per Serving
Calories

679
Total Fat

36g
Saturated Fat

21g
Trans Fat

0g
Unsaturated Fat

12g
Cholesterol

94mg
Sodium

273mg
Carbohydrates

88g
Fiber

0g
Sugar

75g
Protein

3g