After learning about Russian buttercream earlier this year, I fell in love with this incredibly simple and delicious frosting! I knew I wanted to work on a chocolate Russian buttercream recipe, and I finally got around to it this week.
Despite being made with pretty much just butter and sweetened condensed milk, Russian buttercream frosting isn't overly sweet or heavy.
The addition of a bit of baking cocoa helps stabilize this frosting and adds a wonderful depth of flavor.
The chocolate pairs so well with the sweetened condensed milk, which gives this frosting a hint of caramel flavor.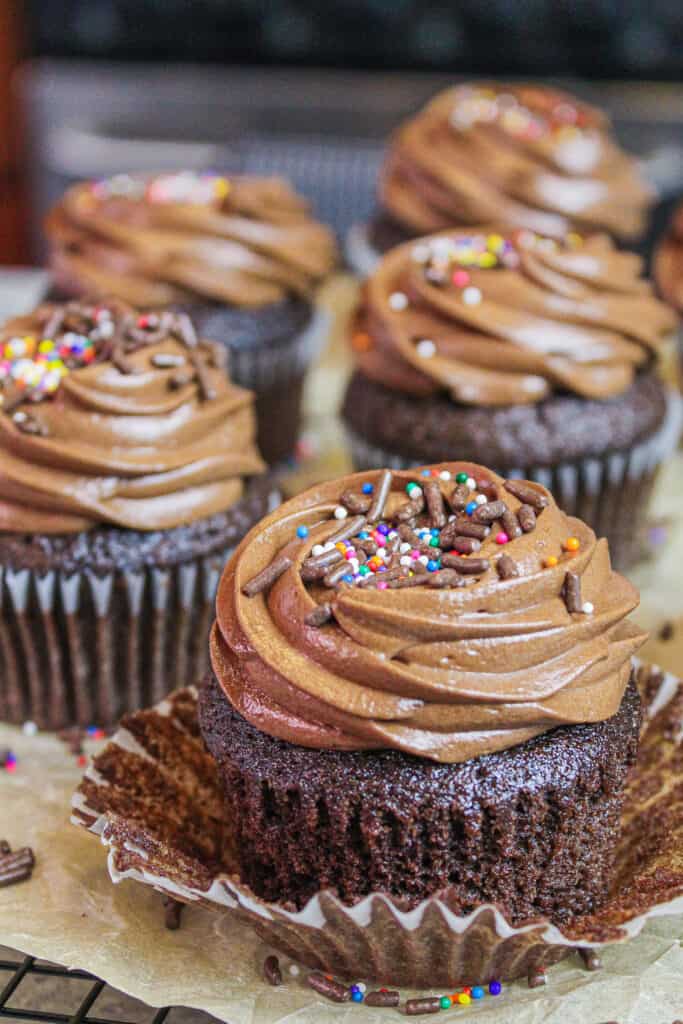 I know it sounds crazy, but you'll understand once you try it. Trust me on this one!
What Is Russian Buttercream?
Russian buttercream is a frosting that's used on a lot of Russian and Eastern European cakes. It's an insanely simple recipe that really is just butter and sweetened condensed milk.
To make chocolate Russian buttercream, I add in a hefty portion of cocoa powder. This not only adds a ton of flavor, it also makes the frosting a bit thicker and easier to work with.
I also like to add in a touch of vanilla extract and salt to elevate the overall flavor, but that part is optional.
Making this chocolate Russian buttercream is even easier than my American buttercream recipe, which I didn't think was possible.
You simply whip the butter up until it's light and fluffy, carefully mix in the cocoa powder, then slowly incorporate the sweetened condensed milk.
And voila! I love that there's no powdered sugar involved, because it makes the process a lot less messy.
You do have to be careful mixing in the cocoa powder though! If you try to mix it in too quickly, you'll end up with chocolate clouds exploding out of your mixing bowl.
Do I Really Have to Whip the Butter for That Long?
The key to creating that delicately fluffy texture is to beat the heck out of the butter.
I'm talking at least 5 minutes at a medium-high speed with a whisk attachment or hand mixer. This incorporates a ton of air into the butter.
The butter should actually change color by the end of the whipping process.
It should be very white in color before you try to add in the sweetened condensed milk.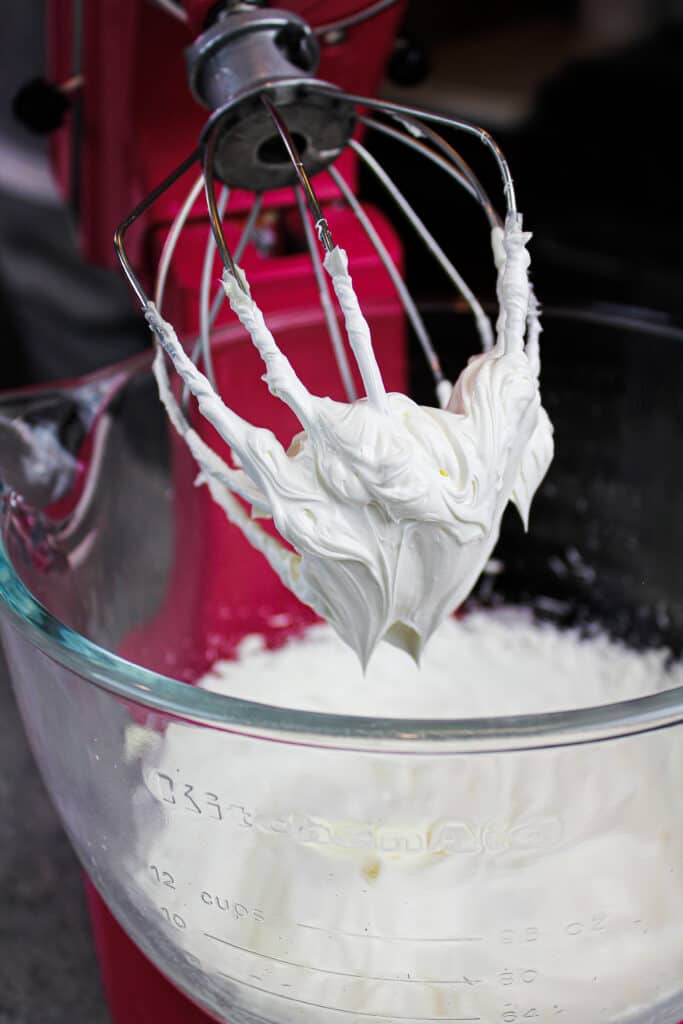 All the air that's incorporated into the frosting gives it that silky smooth texture, and a very light mouth feel.
This also helps the frosting taste a lot less sweet and rich. If you're used to American buttercream, get ready for an entirely different texture and taste.
It's kind of like a hybrid between Italian meringue buttercream and American buttercream.
Reasons Why Your Buttercream Might Separate or Be Too Thin
While it is insanely easy to make a batch of this chocolate Russian buttercream recipe, that doesn't mean that things can't go wrong.
The main issue that I ran into while recipe testing was soupy, thin frosting.
Too Warm of Butter
This can happen for a few different reasons.
If your butter is too soft/warm, it won't whip up as well and will have trouble incorporating all the sweetened condensed milk. This can lead to super soft, thin frosting that won't hold it's shape.
While the frosting in the photo below looks fluffy, you can see it isn't really thick enough to hold its shape on the whisk attachment.
Right after this photo was taken, that blob of frosting fell back into the bowl. That's when I knew my butter had been too soft.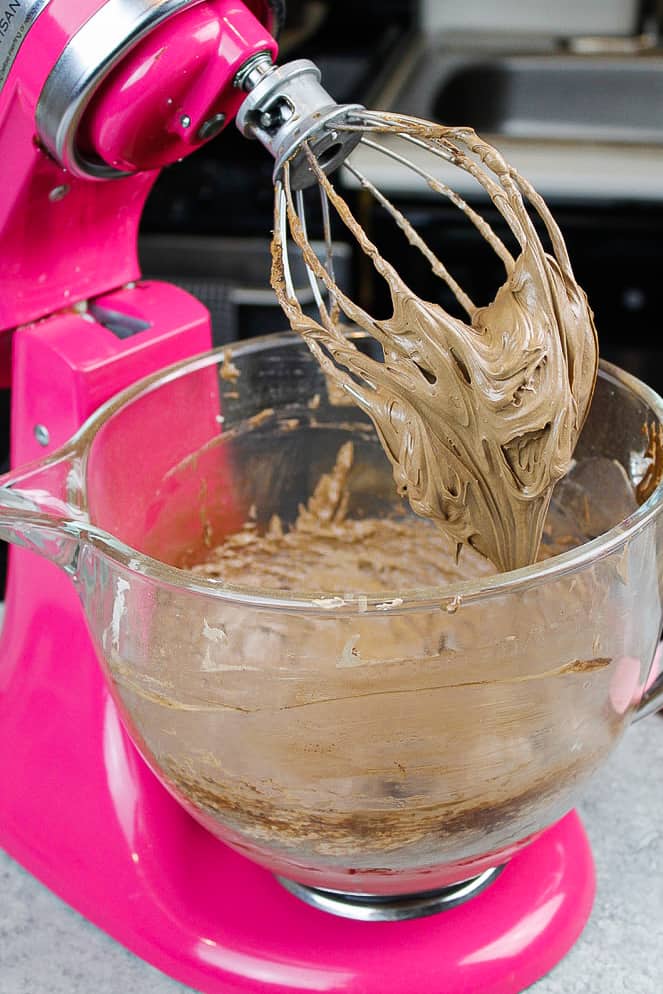 I recommend taking your butter out of the fridge an hour before you plan to make this frosting, to ensure it still can hold its shape.
Butter that is properly room temperature shouldn't be super soft to the touch.
You should be able to make an indent with your finger if you apply pressure, but the butter should still feel pretty firm to the touch.
Too Cold of Butter
On the other hand, if your butter or kitchen is too cold, it might also throw off the texture of your frosting.
The key is that the butter and the sweetened condensed milk are at the same temperature.
Adding in the Sweetened Condensed Milk Too Quickly
Your frosting might also separate if you try to mix in the sweetened condensed milk too quickly.
It's super important that you gradually mix it in.
I like to pour it in 3-4 additions, to allow the butter lots of time to incorporate all that sweet goodness.
How to Fix Separated Russian Buttercream
If your frosting does separate, it's ok. We can easily fix it!
My kitchen is usually pretty warm, so a lot of time my frosting separates because my butter gets too soft.
If my buttercream is broken or soupy after I add the sweetened condensed milk, I pop my mixing bowl into the fridge for 20-30 minutes to cool it down.
Then I whip it up again, and it usually comes together right away. If that doesn't do the trick, continue to repeat this process until it thickens up and comes together.
On the other hand, if you think your butter might have been too cold or your kitchen is cold, I suggest taking a different approach.
Scoop out about a half cup of frosting and place it in a separate bowl. Heat it up in the microwave for 5 second, then give it a good stir with a rubber spatula.
Repeat until the little bowl of buttercream is smooth again. Be sure to heat in small increments, so that the frosting doesn't get too thin!
Add this back into your bowl of frosting, and try whipping it again. Repeat this process until your frosting comes together and is smooth.
How Long Does Chocoalate Russian Buttercream Stay Good?
As I'm sure a lot of you know, I am all about making buttercream in advance! This chocolate russian buttercream is less finicky than my original russian buttercream recipe, and it keeps well.
If you want to work ahead on a baking project, you can make this frosting in advance.
It can last in the fridge for up to a week, or the freezer for up to a month in an airtight container.
While it can be made in advance, you'll will need to re-whip it with your stand or hand mixer once it comes to room temperature to get it back to the right consistency.
Adding This Frosting to Cakes or Cupcakes in Advance
Adding this chocolate russian buttercream to a cake or cupcake the day you plan to eat it is best.
However, you can frost a cake or cupcakes in advance!
If you add it to a cupcake or cake ahead of time and chill it in the fridge, it will keep its shape and consistency.
I don't recommend letting frosted baked goods sit out at room temperature for more than a couple hours, as the sweetened condensed milk is perishable.
I've made layer cakes with this chocolate russian buttercream and let it sit in the fridge for a few days. The frosting still tasted great, and it didn't change in texture at all.
One thing to note, this frosting never gets super firm to the touch, and does not crust.
Tips for Making the Best Chocolate Russian Buttercream:
Use room temperature butter! I suggest taking your sticks of butter out of the fridge about 1 hour before you plan to make the frosting
Whip the butter until it becomes lighter in color
Slowly add in the sweetened condensed milk to prevent the frosting from breaking
Use the frosting shortly after making it
If the frosting seems a bit soft, pop it into the fridge for 30 minutes to make it easier to spread on cakes or pipe with
This buttercream is stable enough to be piped onto cupcakes, to fill and frost a layer cake, or to pipe onto cookies!
Let Me Know What You Think!
If you try this chocolate Russian buttercream recipe, I'd love to hear what think of it!
Other Recipes You Might Like:
Yield: 3
Chocolate Russian Buttercream
This chocolate Russian buttercream is made with just 5 ingredients!! It's secret ingredient is sweetened condensed milk, which gives it a silky smooth consistency
Ingredients
Chocolate Russian Buttercream Recipe
¼ tsp of salt (1 gram) - optional
1 cup unsweetened cocoa powder, sifted (100 grams)
Instructions
Chocolate Russian Buttercream
Whip the room temperature unsalted butter on a medium high speed with a whisk attachment of a stand mixer or hand mixer for 5-7 minutes. The butter should lighten in color as you incorporate air into it.
Add in the vanilla extract, salt, and sifted cocoa powder mix on the lowest speed until incorporated. If you mix this too quickly, you'll get huge cocoa clouds billowing from your mixing bowl.
Mix in the sweetened condensed milk at a medium speed, in 3-4 installments.
Scrape down the sides and bottom of the bowl with a rubber spatula throughout the process. The sweetened condensed milk sometimes pools at the bottom of the bowl, so be sure to scrape all the way to the bottom.
Use to frost layer cakes, pipe on cupcakes, or even to ice cookie. It tastes amazing on just about everything!!
Notes
This recipe makes about 3 cups of frosting, which is enough to frost about 2 dozen cupcakes. Double this recipe to frost a 6" layer cake, or triple it to frost an 8" layer cake.
If your frosting seems too soft, pop it into the fridge for 20-30 minutes to thicken it.
If you make this frosting ahead of time, it can last in the fridge for up to a week, or the freezer for up to a month in an airtight container.
Nutrition Information
Yield
3
Serving Size
1
Amount Per Serving
Calories

1199
Total Fat

125g
Saturated Fat

76g
Trans Fat

0g
Unsaturated Fat

40g
Cholesterol

325mg
Sodium

211mg
Carbohydrates

16g
Fiber

5g
Sugar

0g
Protein

7g