Mermaids are definitely a big cake trend right now and the Food Network asked me to make one! I tested the design out over the weekend, and also live-streamed this cake (you can watch it here)! While there are a lot of different ways to make a mermaid cake, I think a mermaid tail cake is the most playful!
Conveniently, it's also the easiest!! You can see the full tutorial on how to make this cake below:
My version of this cake was eight layers tall, but you could definitely scale this down to fewer layers. The recipes used can be found below:
Decorations:
light turquoise fondant
pastel blue fondant
light purple fondant
wooden skewers
tylose powder
How to Make This Mermaid Tail Cake:
Preheat oven to 350°F. Grease and line 2 8″ pans, 2 7′ pans, 2 6″ pans, and 2 4″ pans.
Mix together all dry ingredients (flour, baking powder, sugar, and salt) in a stand mixer with a paddle until fully combined.
Add chunks of room-temperature butter slowly into the dry mix, on a low speed. Continue to mix until no large chunks of butter remain, and the mixture becomes crumbly.
Pour in egg whites, and mix on low until just incorporated. Mix in the buttermilk in two installments, on a low speed.
Add in vanilla and oil, and mix at a low speed until fully incorporated. Scrape down the sides of the bowl with a spatula, then beat on medium high for about 30 seconds.
Evenly divide the batter between three bowls, and color one light blue, one a light purple, and one light green.
Add drops of the different colored batter into each pan, until all the pans are filled an even height. Swirl the colors together using a knife or offset spatula.
I filled my cake pans about 1 inch full of batter. You can learn how to make swirled cake layers below:
If you don't have cake pans in those sizes, you can always make extra batter, and trim more cake away to get to the desired shape. For example, you could bake four 7 inch cake layers for the top of the cake, and trim away the top more.
Bake cake layers for 25-40 minutes, or until a skewer comes out clean. My 4 inch cake pans baked in about 25 minutes, and my 6 inch and 7 inch cake layers baked in about 36 minutes, and my 8 inch cake layer baked for about 35 minutes.
Try to make each layer the same height, to ensure uniform layers for stacking. Allow cake layers to cool for 10 minutes, then run an offset spatula around perimeter of the pan to separate the cake from the pan.
Place cake layers on a rack to finish cooling, and then chill in the freezer until firm to the touch (at least one hour). This will make it easier to carve them.
While the cakes cool, prepare the frosting! Beat the butter on high for 30 seconds, until smooth. Slowly add in the powdered sugar, 1 cup at a time. Alternate with small splashes of cream.
Once fully mixed, add in the vanilla and salt, and beat on medium low until the ingredients are fully incorporated, and the desired consistency is reached. If the frosting is too thick, add in cream (1 teaspoon at a time).
If the frosting is too thin, add in more powdered sugar (quarter of a cup at a time). You can see a full tutorial on how to make this frosting here.
Assemble the cake layers largest to smallest, to build a cylindrical pyramid. Apply a thin layer of frosting between each layer with an offset spatula.
Once all the cake layers are stacked, insert a tall wooden dowel into the cake layers. Place cake in freezer for about 5 minutes, to allow the cake to firm.
Using a serrated knife, trim cake layers into the shape of a tail.
Add a crumb coat of white frosting, then chill the cake in the freezer for another five minutes.
Once the crumb coat is firm to the touch, color the remaining frosting a light shade of turquoise.
Spread a second layer of frosting around the cake and smooth with a flexible smoother (bowl scraper or acetate sheet).
Twist together the colored fondants, and mix in tylose powder. This will help the thick tail to dry more quickly. Make the tail the night before, to allow it to fully harden before adding to the cake.
Once the fondants have been twisted together, roll out to about 1/3″ thickness, to create a marbled effect.
Use a pastry cutter to trim into the shape of a tail, then insert wooden skewers into the tail. Make the scales using the remaining fondant.
Use a 1.5 inch circle cookie cutter, and cut out several circles from all three colors of fondant. Once the tail is firm, insert it on top of the cake.
Cover the cake in the circle scales, alternating all three colors, and working from top to bottom. Spread some blue fondant around the base, to look like waves.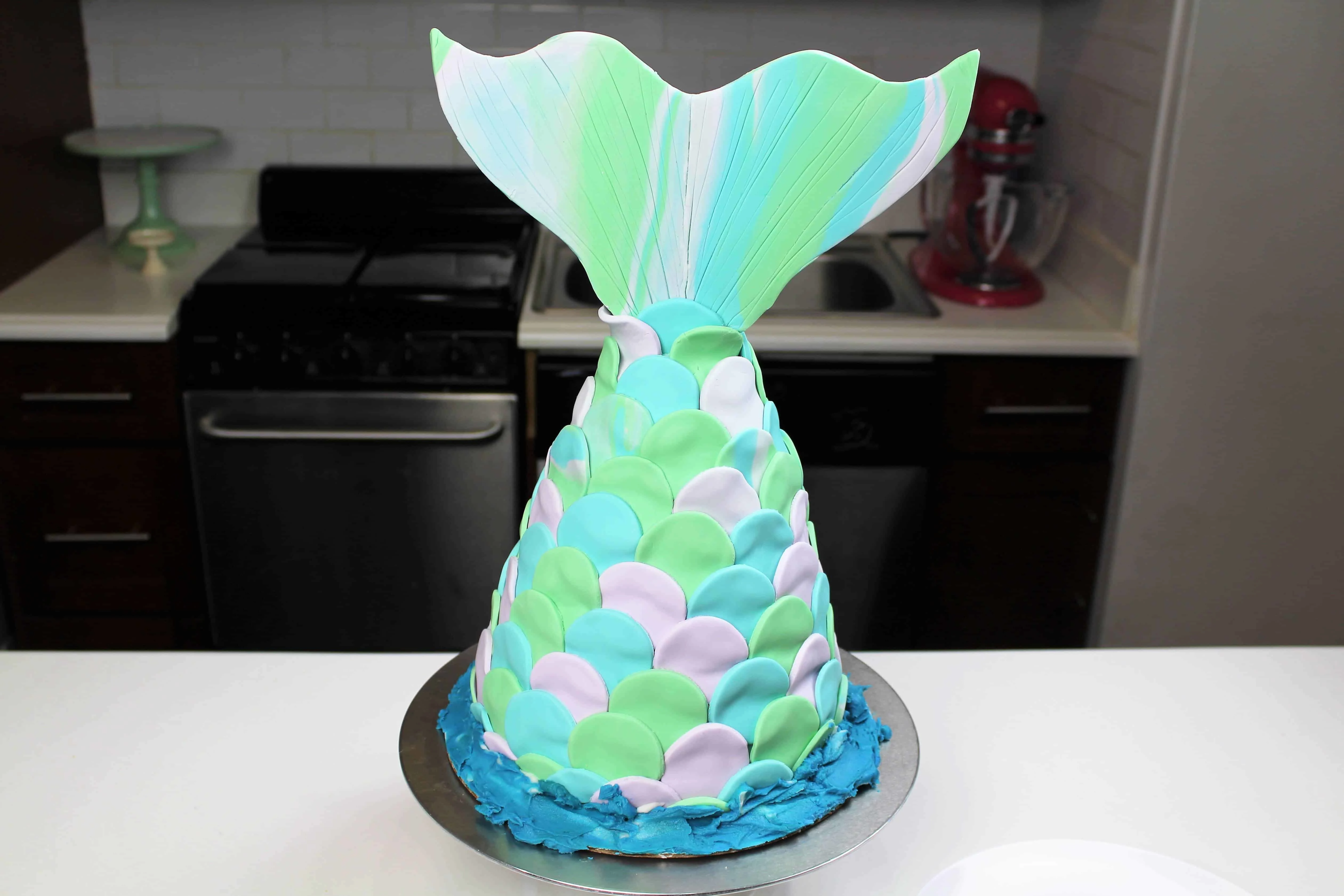 This mermaid tail cake requires a bit of work, but it's totally worth it! It's perfect for any mermaid fanatic, a kid's birthday party, or if you just love pastels 🙂