This past week I wanted to recreate a salted caramel drip cake I made a few years ago. This meant I needed to make some caramel, and of course, some salted caramel frosting!!
I used my caramel sauce recipe to flavor this frosting. It's super versatile, and can be used in so many different ways.
The Secret Ingredient: Homemade Caramel
I know that making caramel from scratch can seem intimidating if you've never tried it before.
I was convinced it was some complicated process that must require all kinds of special equipment. But it doesn't have to be complicated!
My caramel recipe can be made without a candy thermometer and uses just four ingredients.
Did I mention a batch comes together in about 5 minutes?? It doesn't get much easier than that!
One of the best parts of this recipe is that it's made with such simple ingredients. To make this caramel you need granulated sugar, butter, heavy cream, and a bit of salt.
Its incredible flavor comes from the deliciously caramelized sugar and the richness of the butter and cream.
Pro Tip: Add the Sugar Gradually!!
The only part about this caramel drizzle recipe that can be a little scary is melting down the sugar.
My biggest tip when melting sugar is to add it into the pan gradually. I add about a quarter of a cup at a time.
This helps the sugar liquify more quickly and reduces the risk of big clumps forming. It makes a world of a difference.
I didn't know to do that when I first started making caramel and I used to just dump it all in at once.
The caramel will still turn out if you add all the sugar at once, but it takes a lot longer to melt down and is less smooth.
Caramel Frosting Substitutions
While this caramel drizzle recipe doesn't use a ton of ingredients, you might not have them all on hand. Or if you have food allergies or restrictions, I've got you covered.
Below are some swaps and substitutions that you can make:
Unsalted Butter – If you only have salted butter on hand, you can use it in place of the unsalted butter. Just be sure to omit the salt that this recipe calls for. You can also use vegan butter in its place!
Heavy Cream – To make vegan caramel frosting use coconut milk in place of the heavy cream in this recipe.
Salt – I love adding in a bit of salt to balance the sweetness of this caramel and enhance its flavor but you can omit it if needed.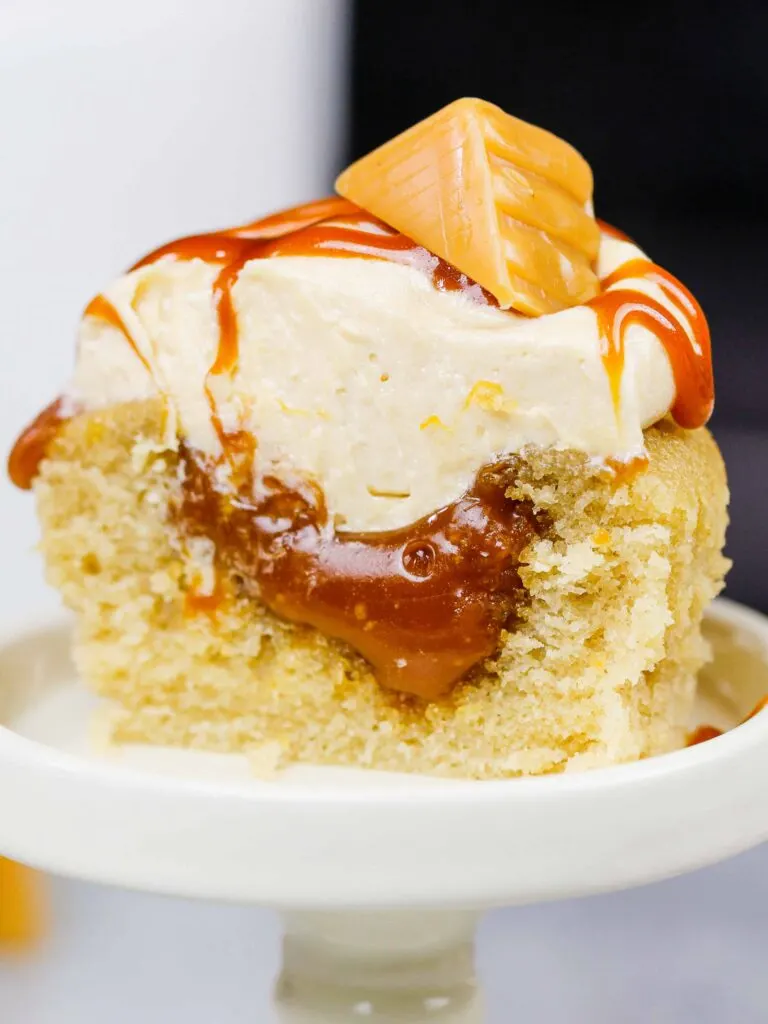 How Sweet is This Caramel Frosting?
Like almost all of my frosting recipes, this salted caramel frosting has an American buttercream base.
American buttercream is the simplest and sweetest of all the types of buttercream.
I like it for both of these reasons. American buttercream is pretty much butter and powdered sugar, and is incredibly easy to make.
This frosting base comes together in minutes and keeps in the fridge for up to a month!
I also have a huge sweet tooth, and grew up eating sugary desserts and candy.
If you're used to eating sweets here in the US, or like classic American baked goods, you will love this frosting recipe.
However, some people prefer less sweet buttercream like Swiss Meringue buttercream or Italian buttercream.
If this is you, feel free to add this caramel recipe to meringue based buttercream to make a less sweet version of this caramel frosting.
What Can I Frost with This Salted Caramel Buttercream Frosting?
The sky's the limit when it comes to using this frosting. Cakes, cupcakes, cookies, macarons, you name it!!
I've used it to frost my vanilla layer cake, caramel cupcakes, French macarons, and even my buttercream cookies!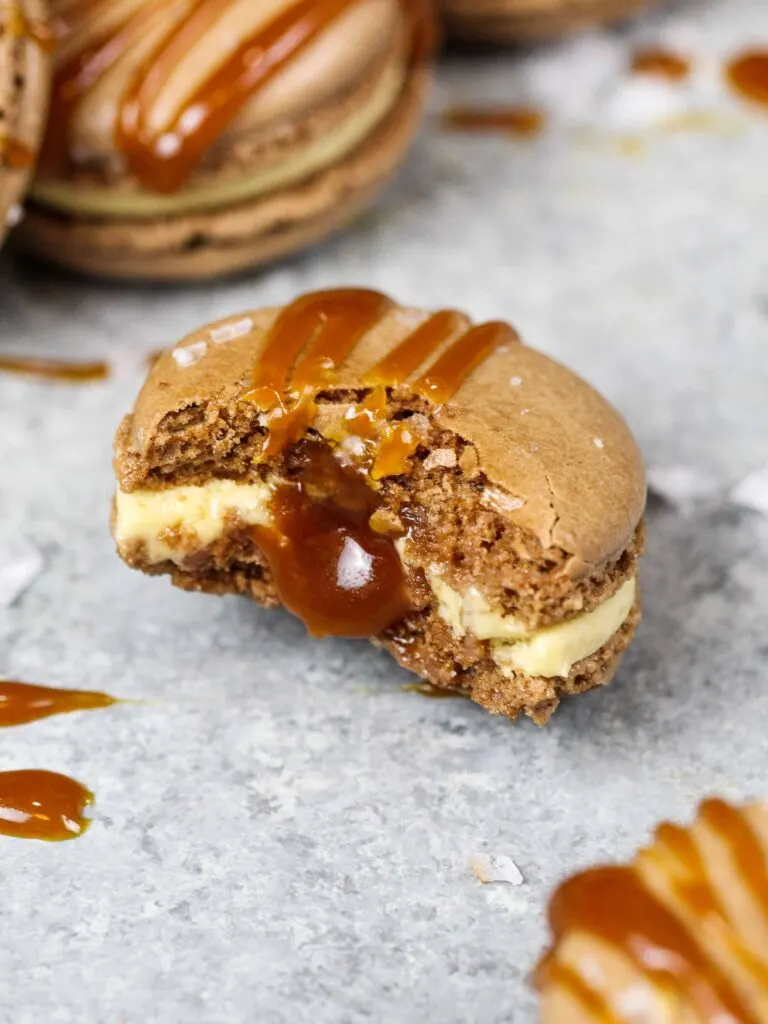 Caramel Frosting Troubleshooting
While this recipe is pretty straight forward, sometimes people do run into issues making it.
One of the hardest parts is getting the consistency of your buttercream just right.
There are few different factors that influence the consistency of your frosting.
It's a delicate balance between the temperature of your kitchen, the brand of butter you use, the temperature of your butter and caramel, and the amount of heavy cream you use.
The easiest way to see if your frosting is the right consistency is the spatula test! I check the consistency of every batch of frosting I make using this test.
To test your frosting, firmly press a rubber spatula into your frosting and pull directly up. Turn the spatula right side up and look at the frosting on the tip.
The frosting should form a somewhat soft peak that has a little curl on the end. It's stiff enough to hold up that curl, but soft enough to create that little curl.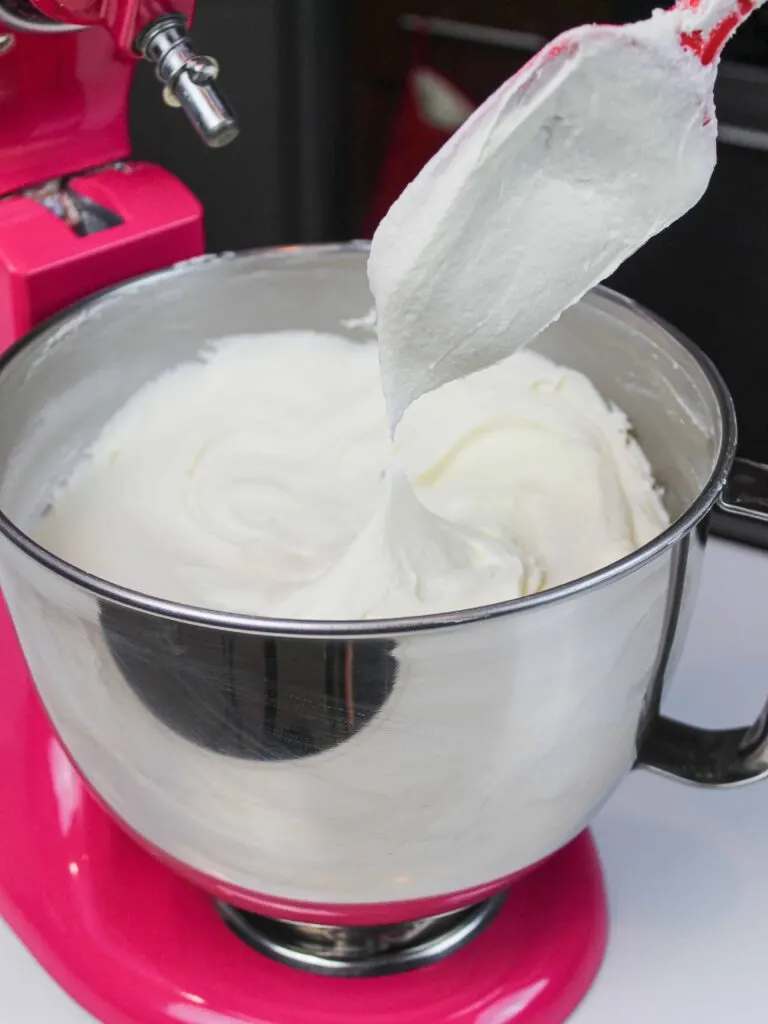 Unfortunately, I don't have a picture of this test with this buttercream, but hopefully the picture above using my vanilla buttercream helps you visualize what you're looking for.
If the frosting is too stiff and sticks straight up, add in additional heavy cream (1 Tbsp at a time).
If the frosting is too thin, add in more powdered sugar (quarter of a cup at a time).
Or if your frosting looks broken, add in more room-temperature butter, 1 Tbsp at a time until it comes back together.
You can also chill it in the fridge in 10-minute intervals if you think your butter was too warm.
After each adjustment, be sure to retest the frosting with your spatula before using it.
Tips for Making the Best Caramel Buttercream
Make sure the butter is at room temperature before making this frosting.
Let the caramel cool before adding it into the frosting to prevent it from melting the butter.
If your powdered sugar contains cornstarch (most brands in the US do) there's no need to sift your powdered sugar.
If you are making this frosting for a cake, mix the buttercream on the lowest speed at the end of the process for a couple minutes. This helps remove any extra air that might have been incorporated during the mixing process.
Does This Caramel Buttercream Need to be Refrigerated?
Below are some tips for storing this frosting in case you make it in advance or have leftovers:
Make this frosting ahead of time or save any leftover frosting. It can sit at room temperature for a day or be stored in an airtight container in the fridge for up to a month.
Can you freeze salted caramel frosting? Yes! Store this frosting in the freezer for up to 3 months. Just be sure to give it a good stir once it thaws to make it nice and smooth again.
A frosted cake can last in the fridge for a week, or in the freezer for a month. The buttercream locks in the moisture and keeps the cake fresh and delicious!
Share Your Creations With Me!
If you try this salted caramel frosting recipe, let me know what you think of it by sharing a rating and/or comment below!
And don't forget to tag me on social media @chelsweets and #chelsweets so that I can see your delicious creations.
Other Recipes You Might Like:
Yield: 7
Salted Caramel Frosting
This salted caramel frosting is simply the best! It's packed with rich and buttery caramel flavor, along with a flourish of salt that takes it to the next level.
Ingredients
Caramel Sauce
1/2 cup granulated sugar (100g)
3 Tbsp unsalted butter, room temperature (42g)
2 Tbsp heavy cream, room temperature (30g)
1/4 tsp fine salt (1g)
Salted Caramel Frosting
2 cups unsalted butter, room temperature (434g)
7 cups powdered sugar (907g or a 2 lb. bag)
1 tsp vanilla extract (4g)
1 tsp fine salt (6g)
1/3 cup of caramel sauce - recipe above (108g)
Instructions
Make the caramel sauce first. It needs time to cool before it's mixed into the buttercream. If you add the warm caramel to your frosting, you will melt the butter and end up with runny frosting. Turn the stove to medium heat and place a small saucepan on the element.
Gradually add in 1/2 cup sugar, 2 Tbsp at a time. Wait until the sugar is mostly melted, then add in the next bit of sugar.
As the sugar melts it will slowly deepen in color.
Stir occasionally until the sugar is fully dissolved and has become an amber color, then turn off the heat.
Mix in 3 Tbsp of butter, 1 Tbsp at a time. Then stir in 2 Tbsp of heavy cream and 1/4 tsp salt. The mixture will be thin but will thicken as it cools.
Pour into a separate container then place in the fridge to cool to room temperature. This caramel can be made in advance and stored in the fridge for up to a month. If you made the caramel in advance and it's fully chilled at this point, heat it in the microwave in short 15 second intervals until it's a more workable consistency.
As the caramel cools, make the caramel buttercream frosting.
Beat 2 cups of butter on a medium speed for 30 seconds with a paddle or whisk attachment until smooth. Mix in 1 tsp of vanilla and 1 tsp of salt on a low speed.
Gradually mix in 7 cups of powdered sugar on a low speed. Halfway through add in 1/3 cup of caramel sauce, which will help thin the frosting and make it easier to mix.
Beat the buttercream on low until the ingredients are fully incorporated and the desired consistency is reached. Scrape the sides and bottom of the bowl as needed.
If the frosting seems too thick, add in additional heavy cream (1 tsp at a time). If the frosting is too thin, add in more powdered sugar (quarter of a cup at a time). If your frosting looks broken, add in more room-temperature butter, 1 Tbsp at a time until it comes back together.
Stir the frosting by hand with a rubber spatula once it's made for a minute or two to make the frosting super smooth.
Either cover the frosting flush with plastic wrap to prevent crusting or place it in a piping bag fit with your favorite frosting tip. This buttercream can sit at room temperature for a day, be stored in the fridge for up to a month in an airtight container or stored in the freezer for 3 months.
Notes
This recipe makes about 7 cups of frosting.
Paddle Attachment vs. Whisk Attachment
Either a paddle or whisk attachment can be used to make this frosting. I like to use my paddle attachment when making frosting for a cake, to minimize the amount of air that is incorporated into the frosting. This makes silky smooth frosting, which is easier to smooth onto cakes.
I use my whisk attachment when making frosting for cupcakes, which I like to be light and fluffy! I like to incorporate air into frosting for cupcakes, because I usually pipe massive swirls onto each cupcake.
Leftover Caramel
The caramel sauce recipe will yield about 3/4 of a cup of caramel, but you will only need 1/3 cup for this salted caramel buttercream. It's hard to make that small of a batch though, so I prefer to make enough to have some left over for topping ice cream or cupcakes!
I like to pour my extra caramel in a squirt bottle (for drizzling over cakes), but a mason jar or Tupperware container would work great too.
This caramel will keep for several weeks in the fridge. I usually store it in a plastic bottle (and pop it into the microwave to reheat it), but an airtight container would work great!
How Much Buttercream Do You Need?
I usually make 1 batch of frosting to stack and frost a seven- or eight-inch cake. One batch of frosting can be used to frost about 3 dozen (36) cupcakes with large swirls.
Nutrition Information
Yield
7
Serving Size
1
Amount Per Serving
Calories

1042
Total Fat

59g
Saturated Fat

37g
Trans Fat

0g
Unsaturated Fat

19g
Cholesterol

157mg
Sodium

479mg
Carbohydrates

133g
Fiber

0g
Sugar

131g
Protein

1g