Sounds crazy, right? A red wine chocolate cake??
But when you think about a really good glass of red wine, paired with some dark chocolate, things start to make a bit more sense.
Or maybe you're a wino, and you didn't even question the combination in the first place!! Whatever your thoughts are on this cake flavor, if you enjoy red wine and chocolate, this cake is for you.
Why Put Red Wine In A Cake?
While I'm a big fan of chocolate, wine is not my drink of choice. I'm a beer girl, through and through (hence my beer mug cake!).
With that being said, I don't discriminate against different types of alcohol. That'd be like trying to pick a favorite child! I enjoy a good glass of wine when the occasion calls for it.
In general, I love making boozy cakes. Cue the long list of other alcohol-inspired cakes I've made:
I'm not sure if a classy chocolate and wine cake really falls into the category of boozy cakes, but this recipe uses more than a cup of red wine. You can taste the red wine in each bite.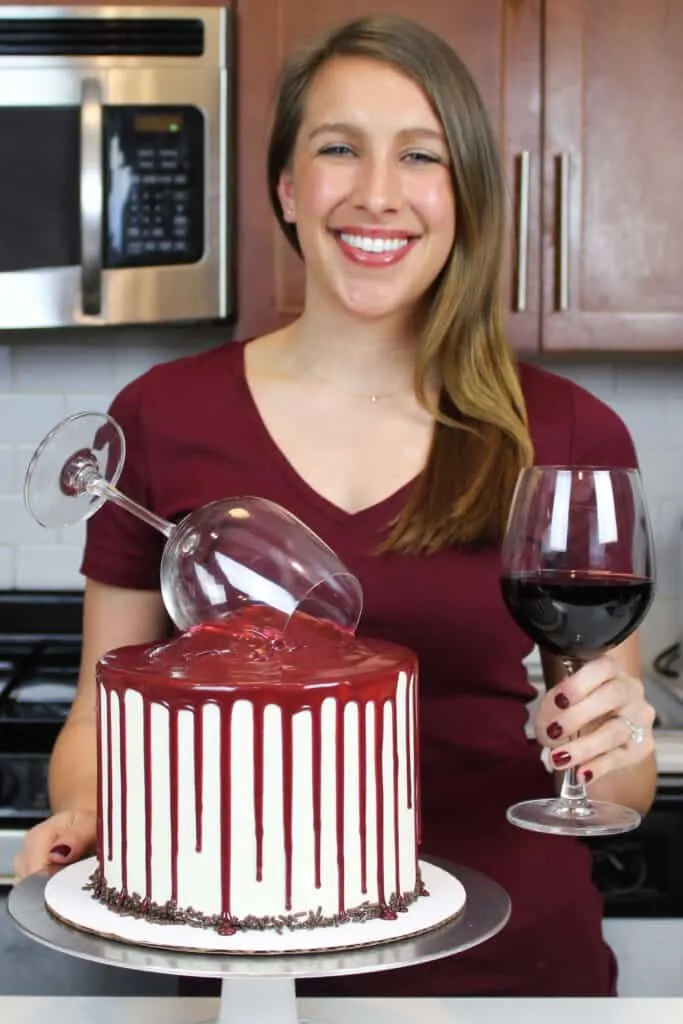 The point of going through that extensive list was to highlight that I haven't really played around with wine in any of my past cake recipes. And it was about time.
The Perfect Pairing: Red Wine and Chocolate
You can't really add red wine to a vanilla cake though. For starters, the cake would be a creepy pale purplish color.
It also just isn't a flavor that goes with buttercream on it's own. Trust me, I tried it. It was lackluster at best!
That's where the chocolate comes in. It creates a happy middle ground, that makes it seems so natural to pour red wine into your chocolate cake batter.
My advice is to use good quality baking cocoa and a red wine that you wouldn't mind drinking on it's own. I used a bottle of Malbec that I happily drank a glass of while whipping this cake up.
I also recommend using a large, light weight wine glass. The larger it is, the more epic it will look on top of the cake!! Most large wine glasses are also pretty thin, which is exactly what you want for this cake.
Safety First
Any time you add something non-edible to a cake, you need to be careful. It could be plastic straws to help support a cake, or wooden skewers to secure a decoration.
Or in this case, you could be shoving a wine glass on top of a cake.
This is the type of cake that needs to be handled with extreme care, especially if you have to transport it somewhere.
You could even bring extra ganache with you, and top the cake on site!
Please be mindful that glass is involved, and use your best judgement when it comes to handling and cutting into this cake.
I'd recommend removing the glass before you cut into the cake, to be safe.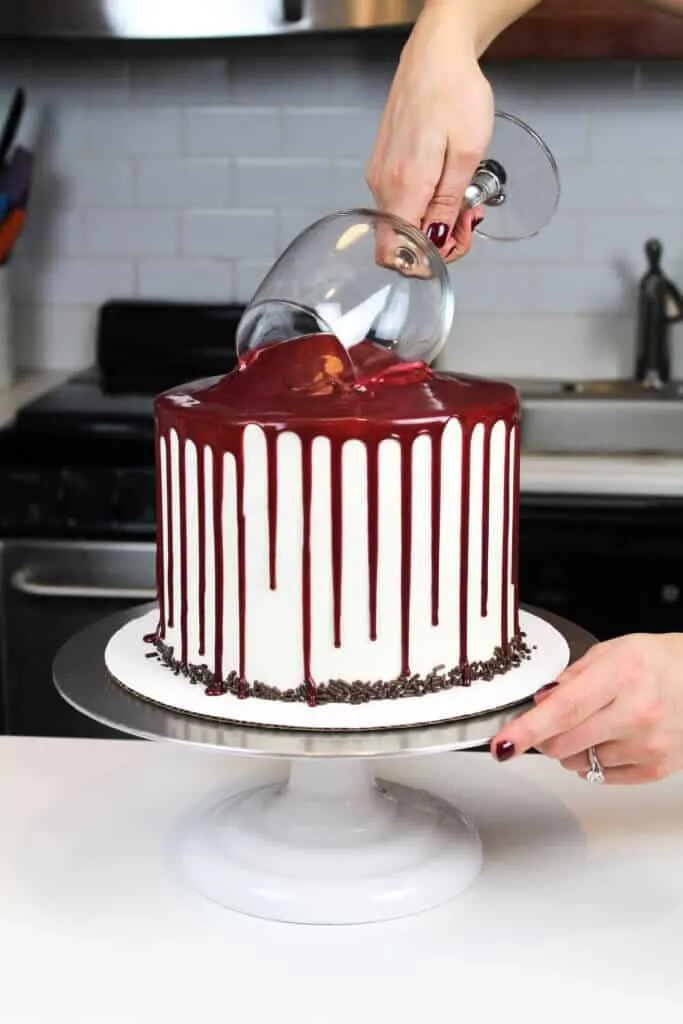 My Original Red Wine Cake
I actually made my first red wine inspired cake for a friend years ago. She loved red wine, and it was her birthday cake.
While I did incorporated wine into the decoration, the actual cake layers and frosting didn't include any actual wine.
The cake was decorated with wine colored ganache drips, and an upside down wine glass.
The concept is supposed to look like the glass has spilled, pouring wine all over the cake. I dubbed it the one glass too many cake, and instagram went wild over it.
It was my first instagram video that went viral, and it ended up getting more than 4 million views.
The original cake had such dramatic look. However, because I went for more of a reddish ganache, it almost looked a bit gory.
It almost reminded me of my halloween shattered glass cake, which is definitely not the vibe I was after with this cake!!
What's Different About This Red Wine Cake
This time around, I wanted to develop a cake recipe that allowed you taste a little bit of wine in every night.
Once I finally got the recipe right, I decided to decorate the cake in a similar fashion to the original "one glass too many" cake.
On this go around, I tried to make it look a bit less haphazard, like it was that final glass of wine that put you over the edge.
The drips are a bit more controlled, and a deeper, purple/reddish shade.
I also added some chocolate sprinkles around the base, because this is a red wine AND chocolate flavored cake.
I always try to decorate my cakes in a way that lets you know exactly what's waiting for you on the inside.
A sprinkle boarder around the bottom of this cake was the perfect way to hint at the chocolate layers inside this cake.
While we're on the topic of sprinkles, have I got a deal for you! If you need to refresh your sprinkle supply, or want to step your sprinkle game up, you can use the code CHELSWEETS15 to get 15% your order from Sweetapolita!
Just thought I'd share some sprinkle love with all of my fellow bakers 🙂
Share Your Creations With Me!
If you try this red wine chocolate cake recipe, please tag me @chelsweets and use the #chelsweets so that I can see your amazing creations!
Other Recipes You Might Like:
Yield: 24
Red Wine Chocolate Cake
Love red wine and chocolate? Then this red wine layer cake recipe is for you! You can taste red wine in every bite of this moist, indulgent chocolate layer cake.
Additional Time
30 minutes
Total Time
1 hour
35 minutes
Ingredients
Red Wine Chocolate Cake Layers
3 cups all-purpose flour (390 grams)
2 1/2 cups granulated sugar (500 grams)
1 tsp salt (6 grams)
1 1/2 tsp baking powder (6 grams)
1 tsp baking soda (6 grams)
4 large eggs, room temp (224 grams)
1 cup unsalted butter, room temp (2 sticks, 226 grams)
1 cup hot water (237 grams)
1/2 cup buttermilk, room temp (120 grams)
1/2 cup red wine (120 grams)
1 cup unsweetened baking cocoa (100 grams)
Vanilla and Red Wine Buttercream Frosting
3 cups unsalted butter, room temperature (678 grams)
11 cups powdered sugar (1375 grams)
1 tsp salt (6 grams)
1/3 cup heavy cream (or whipping cream) (75 grams)
1 Tbsp vanilla extract (12 grams)
2 Tbsp of red wine (24 grams)
maroon gel food coloring (if desired)
Red Wine Simple Syrup
1 cup sugar (200 grams)
1/2 cup water (118 grams)
1/2 cup of red wine (120 grams)
Red Wine Ganache Drips
1/3 cup heavy cream (77 grams)
1 cup white chocolate chips (175 grams)
maroon gel food coloring
Instructions
Chocolate Red Wine Cake Layers
Begin by preheating the oven to 350 degrees Fahrenheit. Line four seven-inch or three eight 8-inch pans with parchment rounds, and spray with non-stick spray.
Add the sugar and butter into the bowl of a stand mixer, and mix on high for 1 minute with a whisk attachment. The mixture should become light in color.
Add in the eggs, one at a time. Then add baking soda, baking powder, and salt. Mix on high for another minute.
In a separate bowl, combine the cup of hot water, and black cocoa. Whisk until no clumps remain. Gently stir in the buttermilk, and red wine.
Next, add 1 cup of flour into the butter/egg mixture. Scrape the sides of the bowl with a spatula, to ensure the flour is fully incorporated.
Pour in half of the cocoa mixture, and gently pulse the mixture to incorporate the liquid (if you don't, you'll end up splattering the cocoa mixture all over you kitchen!)
Mix in the 2nd cup of flour, at a low speed. Pour in the remaining cocoa mixture, and again gently pulse, then mix on low until fully combined.
Add in the last cup of flour, and mix on low until the flour is incorporated. Mix on high for 30 additional seconds, to incorporate a bit more air into the batter.
Evenly divide between the prepared pans. I like to use a kitchen scale to ensure each pan has exactly the same amount of batter.
Bake for 32-35 minutes, or until a toothpick comes out clean.
Allow layers to cool in the pans for about 10 minutes, then run an offset spatula around the edge of the pans to help separate the layers from the pans.
Place the pans in the freezer for about 45 minutes, to accelerate the cooling process. Once the layers are fully cooled, carefully flip the pans and remove the layers from the pans.
Use a serrated knife to level the tops of the layers, and then frost as desired.
Vanilla and Red Wine Buttercream Frosting
While the cake layers bake and cool, make the vanilla buttercream frosting.
Beat the butter on a medium speed for 30 seconds with a paddle attachment, until smooth. Slowly add in the powdered sugar, 1 cup at a time. Alternate with small splashes of cream.
Once fully mixed, add in the vanilla and salt, and beat on low until the ingredients are fully incorporated, and the desired consistency is reached.
If the frosting is too thick, add in additional cream (1 teaspoon at a time). If the frosting is too thin, add in more powdered sugar (quarter of a cup at a time).
Place half the frosting in a separate bowl, and cover with plastic wrap.
Add the red wine to the remaining frosting, and mix until combined. If desired, add maroon gel food coloring to make a wine colored frosting. Cover with plastic wrap and set aside.
Red Wine Simple Syrup:
Place water and sugar in a pot.
Heat over high heat, stirring occasionally until the mixture just begins to boil.
Remove from heat, and allow the mixture to cool for 10 minutes.
Add in red wine, and set aside.
Red Wine Ganache Drips:
Heat heavy cream in a heat-proof bowl in the microwave for 45 seconds, until it's just beginning to bubble. Gently pour white chocolate chips into the heavy cream, making sure they are fully covered with cream. Allow mixture to sit for 1 minute.
Stir slowly until the cream and white chocolate are combined. Some bits of chocolate may not be fully melted yet. Heat the mixture again for 20 seconds, and stir. Repeat as necessary until all the chocolate bits are fully melted and incorporated.
Add in the maroon gel food coloring.
Allow to cool until desired viscosity is reached (barely warm to the touch).
If it seems too thin or thick, you can add a touch more chocolate chips or heavy cream! The type of cream and white chocolate that you use can affect the consistency, so feel free to adjust as needed.
To Assemble The Cake:
Carefully soak the cake layers with the red wine simple syrup using a kitchen brush.
Stack and frost cake layers on a greaseproof cake board, using a dab of frosting to help stick the first cake layer to the board.
Add an even layer of the red wine buttercream between each cake layer.
Apply a thin coat of red wine frosting around the the cake, to fully cover the cake layers. Smooth using a bench scraper, then chill the cake in the fridge (10 minutes) or freezer (5 minutes) until the frosting is firm to the touch.
Add a second, thicker layer of uncolored, vanilla frosting to the cake, and smooth using a bench scraper.
Gently press chocolate sprinkles around the base of the cake.
Chill the cake in the fridge (20 minutes) or freezer (5 minutes) again, until the frosting is firm to the touch.
Top the cake with a small mound of frosting, and and cover the top of the cake with the red wine ganache. Be careful as you cover the top of the cake, so that none of the ganache runs down the sides.
Add the red wine colored drips around the sides of the cake using a plastic squirt bottle or a spoon.
Notes
These cake layers can be made in advance!! Learn more about how far in advance they can be made, and how to properly wrap them in my post on how to make cake layers ahead of time.
This buttercream can also be made in advance!! I highly recommend making it ahead of time to make the decoration of a cake less stressful and more fun. It keeps in the fridge for several weeks, if stored in an airtight container.
When you're ready to use the chilled buttercream, remove it from the fridge a few hours in advance (or overnight) and allow it to come to room temperature. Give it a good stir with a rubber spatula or your kitchen aid, to get rid of any air bubbles that may have formed. Once the buttercream is smooth again, it's ready to use!
Nutrition Information
Yield
24
Serving Size
1
Amount Per Serving
Calories

736
Total Fat

37g
Saturated Fat

22g
Trans Fat

0g
Unsaturated Fat

12g
Cholesterol

121mg
Sodium

313mg
Carbohydrates

98g
Fiber

1g
Sugar

83g
Protein

4g