This past week I wanted to recreate a salted caramel drip cake I made a few years ago. This meant I needed to make a batch of my caramel drizzle recipe!!
I use this caramel drizzle recipe to make my caramel frosting and caramel drips on my cakes! It's super versatile and can be used in so many different ways.
I actually struggled naming this post because it's so versatile! This recipe can be used for everything from adding caramel drips to cakes to filling macarons.
I decided to stick with caramel drizzle to let you get creative with how you use it.
Homemade caramel sauce tastes infinitely better than store-bought caramel and keeps in the fridge for several weeks.
Making Caramel Drizzle From Scratch
I know that making caramel sauce from scratch can seem intimidating if you've never tried it before. When I was a kid, I remember seeing caramel made in giant copper kettles at candy stores.
I was convinced it was some complicated process that must require all kinds of special equipment. But it doesn't have to be complicated!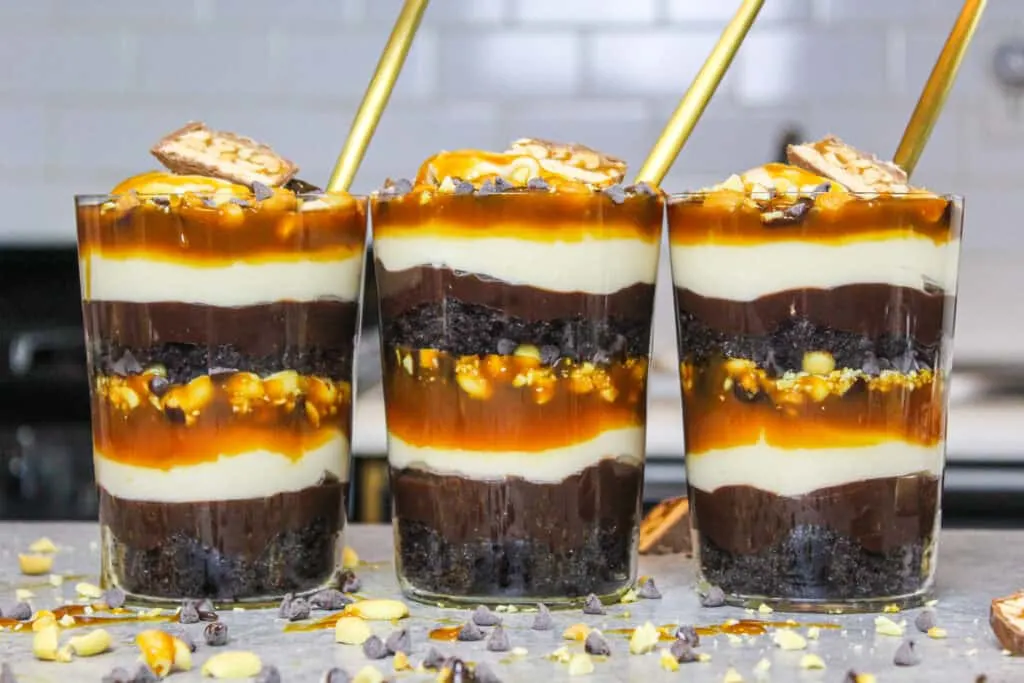 My caramel drizzle recipe can be made without a candy thermometer and uses just four ingredients. Did I mention a batch comes together in about 5 minutes?? It doesn't get much easier than that!
Simple, 4-Ingredient Recipe
One of the best parts of this recipe is that it's made with such simple ingredients. To make this caramel you need granulated sugar, butter, heavy cream and a bit of salt.
While store-bought caramel needs additives and artificial flavorings to be shelf stable and taste good, this caramel drizzle doesn't!
Its incredible flavor comes from the deliciously caramelized sugar and the richness of the butter and cream.
Pro Tip: Add the Sugar Gradually!!
The only part about this caramel drizzle recipe that can be a little scary is melting down the sugar.
My biggest tip when doing this is to add the sugar in gradually. I add about a quarter of a cup at a time.
This helps the sugar liquify more quickly and reduces the risk of big clumps forming. It makes a world of a difference.
I didn't know to do that when I first started making caramel and I used to just dump it all in at once.
The caramel will still turn out if you add all the sugar at once, but it takes a lot longer to melt down and is less smooth.
Caramel Drizzle Substitutions
While this caramel drizzle recipe doesn't use a ton of ingredients, you might not have them all on hand. Or if you have food allergies or restrictions, I've got you covered.
Below are some swaps and substitutions that you can make:
Unsalted Butter – If you only have salted butter on hand, you can use it in place of the unsalted butter. Just be sure to omit the salt that this recipe calls for. You can also use vegan butter in its place!
Heavy Cream – To make vegan caramel sauce use coconut milk in place of the heavy cream in this recipe.
Salt – I love adding in a bit of salt to balance the sweetness of this caramel and enhance its flavor but you can omit it if needed.
Enjoying This Caramel Drizzle
This caramel drizzle is the perfect thickness for drizzling over ice cream, adding caramel drips to a cake, or even filling cakes and cupcakes!
I use this caramel recipe to make the salted caramel frosting in my caramel macarons and it's one of my favorite flavors.
Let Me Know What You Think!
If you try this caramel drizzle recipe, let me know what you think of it by leaving a rating and comment below.
And don't forget to tag me on social media @chelsweets and use #chelsweets! 🙂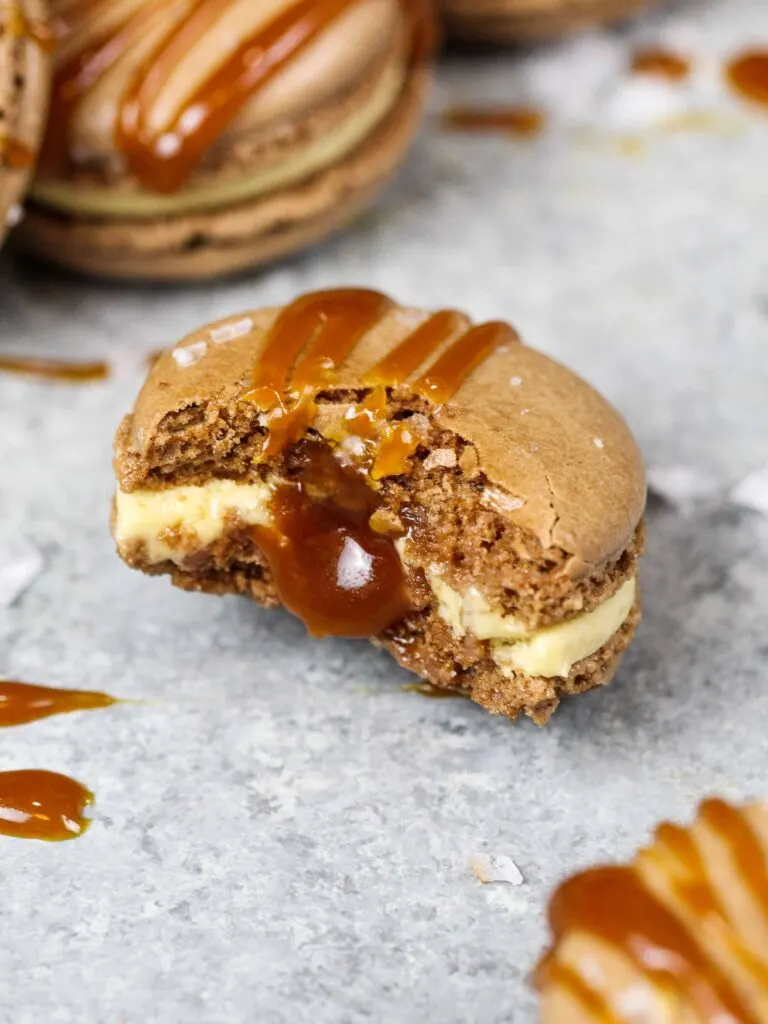 Other Posts You Might Like:
Yield: 1.5 cups
Caramel Drizzle Recipe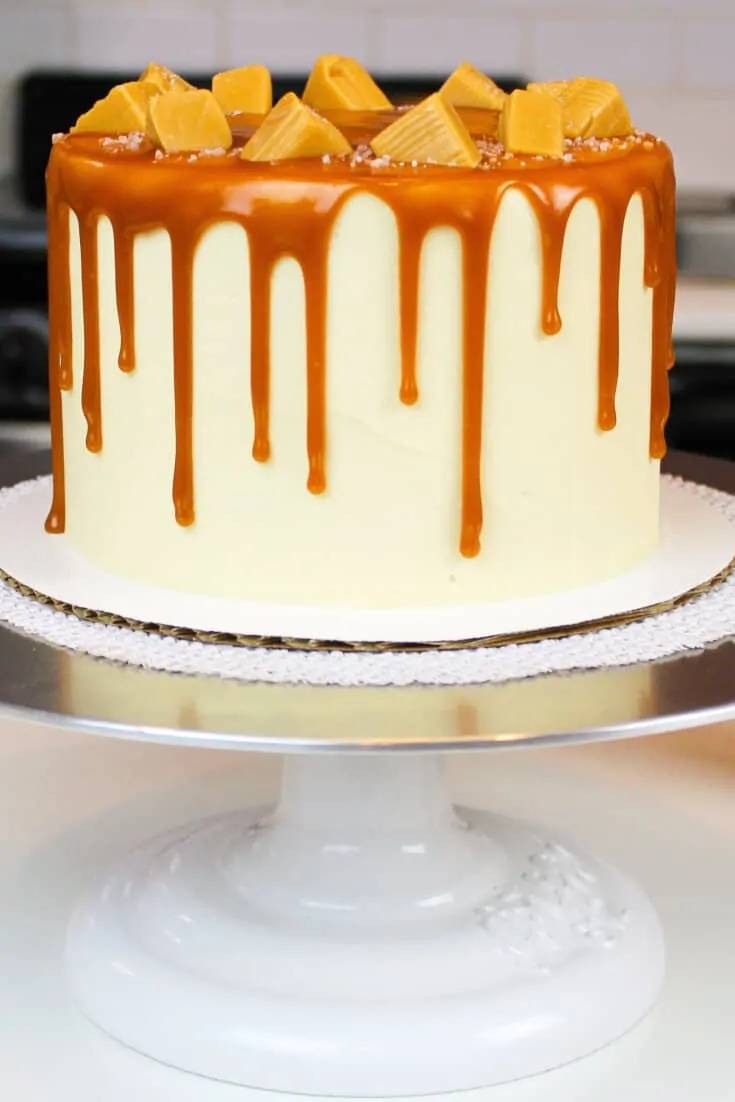 This caramel drizzle recipe can be used to flavor frosting, decorate a cake or cupcakes, or even drizzled over ice cream! It's the perfect additional to any dessert.
Ingredients
1 cup granulated sugar (200g)
6 Tbsp unsalted butter, room temperature (85g)
1/4 cup heavy cream, room temperature (60ml)
1/4 tsp fine salt (2g)
Instructions
Place a medium-sized saucepan over medium heat.
Pour in 1 cup sugar gradually, adding 1/4 cup at a time. Wait until the sugar is mostly dissolved, then add in the next bit of sugar. As the sugar melts it will slowly deepen in color.
Stir occasionally until the sugar is fully dissolved and has become a deep amber color, then turn off the heat.
Slowly mix in 6 Tbsp of butter (2 Tbsp at a time) then stir in 1/4 cup of heavy cream and 1/4 tsp salt. The mixture will be thin but will thicken as it cools.
Pour into a separate container, then place in the fridge to cool and/or store. When you're ready to use it, heat the caramel in the microwave in short 15-second intervals until it's a more workable consistency.
Notes
Yield: This recipe makes about 1 1/2 cups of caramel. This recipe can be halved or doubled if needed.
I like to pour my caramel in a squirt bottle (to drizzle over cakes) but you can also store it in an airtight container like a mason jar or Tupperware container.
This caramel sauce keeps for up to a month in the fridge.
Nutrition Information
Yield
1
Serving Size
1
Amount Per Serving
Calories

1587
Total Fat

91g
Saturated Fat

57g
Trans Fat

1g
Unsaturated Fat

29g
Cholesterol

250mg
Sodium

609mg
Carbohydrates

202g
Fiber

0g
Sugar

201g
Protein

2g