I used to think making a snowflake cake had to be complicated. You either were making individual snowflakes out of fondant (like my Winter Wonderland Cake), or using white chocolate to pipe snowflakes one by one (like this beautiful cake by The Preppy Kitchen).
But after experimenting with a few different techniques, I found a super easy way to make a snowflake cake that is just as beautiful, using buttercream!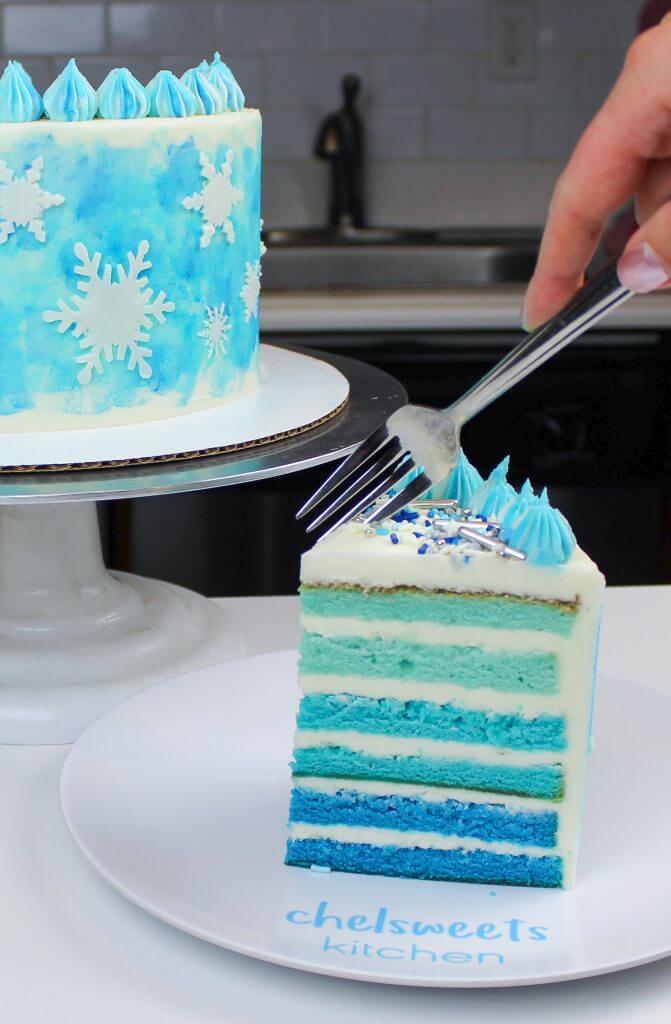 For this snowflake cake recipe, I used two techniques. To color the sides of the cake, I used a simple (sterile) makeup sponge to create a marbled blue look.
It creates the perfect winter wonderland background for the snowflakes.
As I experimented with the snowflakes, I was elated when I found a way to make them with buttercream! Even better? You can use the exact same frosting used to fill the cake!!
To create the snowflakes, I used my American buttercream (plus an extra splash of heavy cream) and a plastic snowflake stencil. Sadly my snowflake stencil isn't sold on amazon anymore, but here is the link to one that's very similar.
I've seen people use cake stencils before, but most cake stencil tutorials use either royal frosting or an airbrush. Who knew you could use buttercream with cake stencils?!
Tips For Making This Snowflake Cake
After playing around with buttercream and a cake stencil, I learned a few things! To successfully use buttercream with a cake stencil, I highly recommend:
Using a chilled cake; the frosting should be firm to the touch
Thinning your buttercream with extra heavy cream to make it more spreadable; this will help the stencil easily lift up once you've covered it in frosting
Fully covering each cutout on the stencil to ensure the design comes out correctly
Slowly removing the template, by starting on one side, and slowly peeling it off toward the other.
I also suggest making the components of this cake over a few days! For most of my cakes, I make my layers a couple days in advance. I also make my frosting up to a week in advance.
This helps me enjoy the decoration of the cake a lot more, and makes baking from scratch so much more manageable.
Speaking of the cake layers, I want to talk about what's on the inside of this cake!! To give the cake layers the same wintery theme as the rest of the cake, I chose to make ombre blue cake layers.
This cake uses my white velvet cake recipe, plus varying amounts of sky blue gel food coloring to create three different colored layers.
Doubling The Layers, Double The Fun – Torting
To give this cake a bit more surface area on the sides, I chose to make three, eight-inch cake layers. Once the cake layers had baked and cooled, I torted (horizontally cut) each cake layer.
Torting the layers magically turns three, thick cake layers into six, wonderfully thin cake layers.
It's a bit of extra work to do this, but it makes the cake have the most incredible frosting to cake ratio!! And I think all of you know by now how much a love buttercream frosting.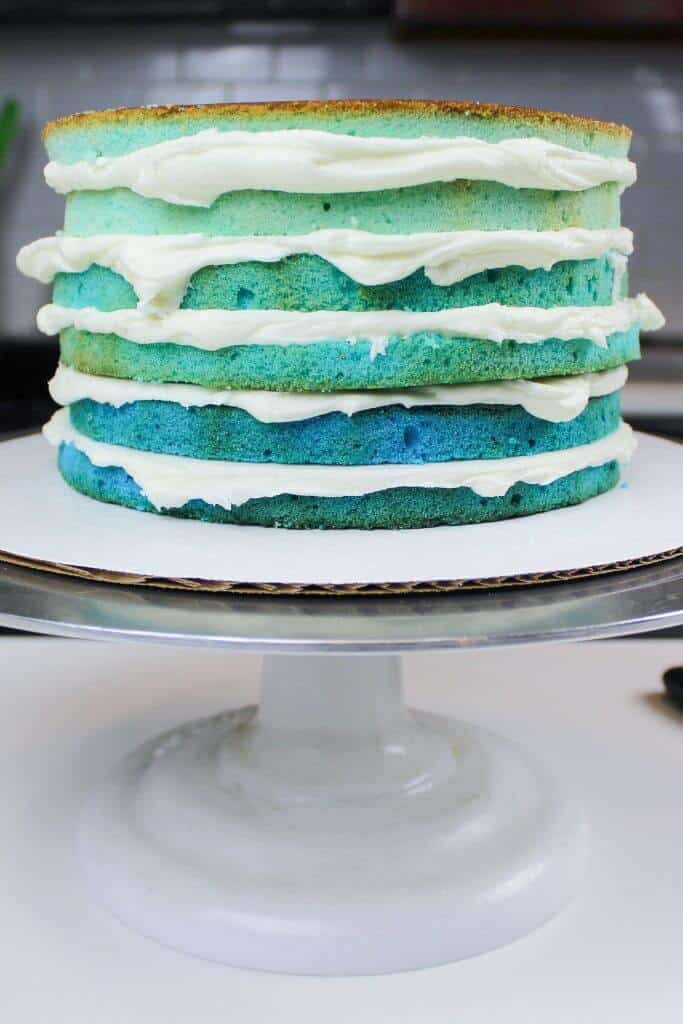 I usually use a serrated knife to trim and torte my cake layers. This is the knife I use – I ordered on amazon and have had it for a couple years!
Trimming the cake layers isn't mandatory, but I find it helps those vibrant colors shine through when the cake is cut into. It also makes it way easier to build a level, straight cake!
Snowflake Cake Technique #1: Painting On Buttercream
Once the cake is assembled and frosted, place the cake in the freezer for 10 minutes to allow the frosting to firm up.
This allows you to paint on the chilled buttercream with a gel food coloring mixture! If you want to learn more about painting on buttercream cakes, you can watch my in-depth tutorial here.
As the cake chills, make your edible "paint" by mixing together 2 tsp of vodka (or any clear extract like lemon or almond extract) with a drop of sky blue gel food coloring.
Using vodka or an extract helps the mixture dry more quickly, due to the high alcohol content. It also helps thin out the gel food coloring, which is too concentrated to be painted directly onto a cake by itself.
Use a fresh sponge to dab the mixture on the side of the cake. Gradually work around the cake, letting the "paint" dry.
Layer additional coloring onto the cake, to create shading. If the frosting begins to soften during this process, place it back into the freezer for a couple minutes.
Snowflake Cake Technique #2: Using Buttercream With A Cake Stencil
After the sides of the cake are painted, pop the cake into the fridge or freezer for another 5 minutes.
Thin 1/2 cup of leftover buttercream with one additional Tbsp of heavy cream. Carefully secure the snowflake template around the cake using either toothpicks or pins.
If your template doesn't have holes in it, you can use an x-acto blade to cut tiny holes on each side of the template.
Spread the thinned buttercream over the snowflake stencil, fully covering each cutout with a thin layer of frosting.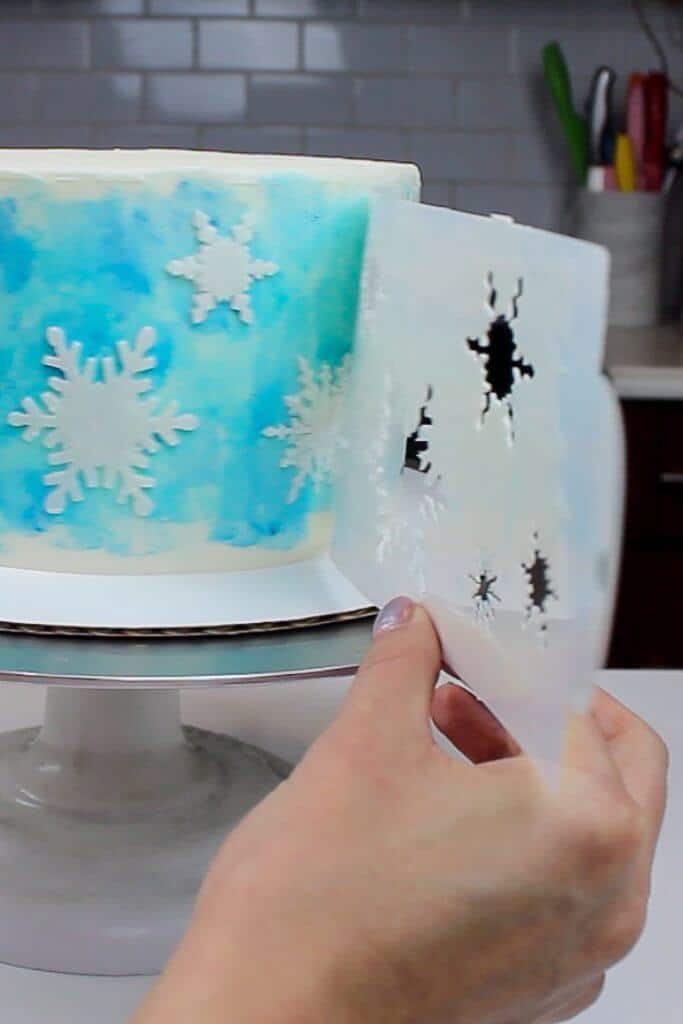 Holding the template in place, remove the toothpicks, and slowly peel away the template.
Color any remaining frosting blue, and pipe swirls (using a Wilton 1M frosting tip) on top of the cake. If desired, add a ring of sprinkles inside the frosting swirls on top of the cake.
To get super clean slices of cake, I run my knife under hot water before cut it! I also cut the cake when it's still slightly chilled, so that each slice keeps its shape.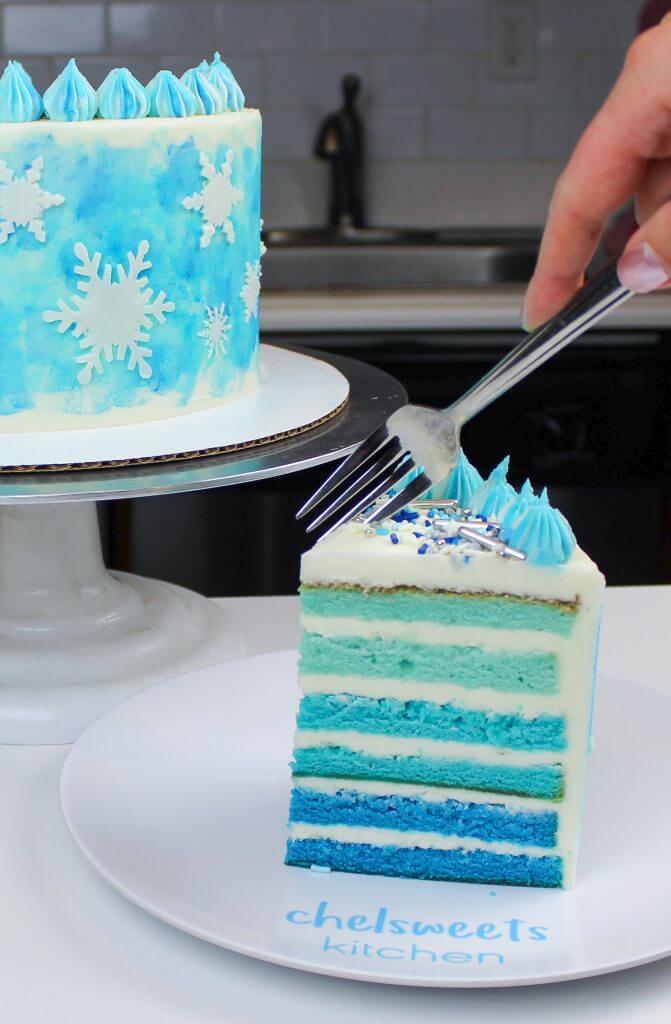 Making This Snowflake Cake in Advance and Storage Tips
Make your cake layers in advance and freeze them. It breaks the process up and make it more approachable.
Make your frosting ahead of time too or save any leftover frosting! It can be stored in an airtight container in the fridge for up to 2 weeks, or in the freezer for up to a month. Be sure to give it a good stir once it thaws to get the consistency nice and smooth again.
A frosted cake can last in the fridge for up to a week or in the freezer for up to a month. The frosting locks in all the moisture, keeping the cake fresh and delicious!
If you cut into the cake and have leftovers, use any remaining frosting to cover the cut section to keep it moist and store in the fridge for up to a week.
Let Me Know What You Think!
If you try this snowflake cake recipe, please tag me @chelsweets and use the #chelsweets so I can see your beautiful creations!!
Also leave a comment below and/or a rating to let me know your thoughts.
Other Recipes You Might Like:
Yield: 24
Snowflake Cake Recipe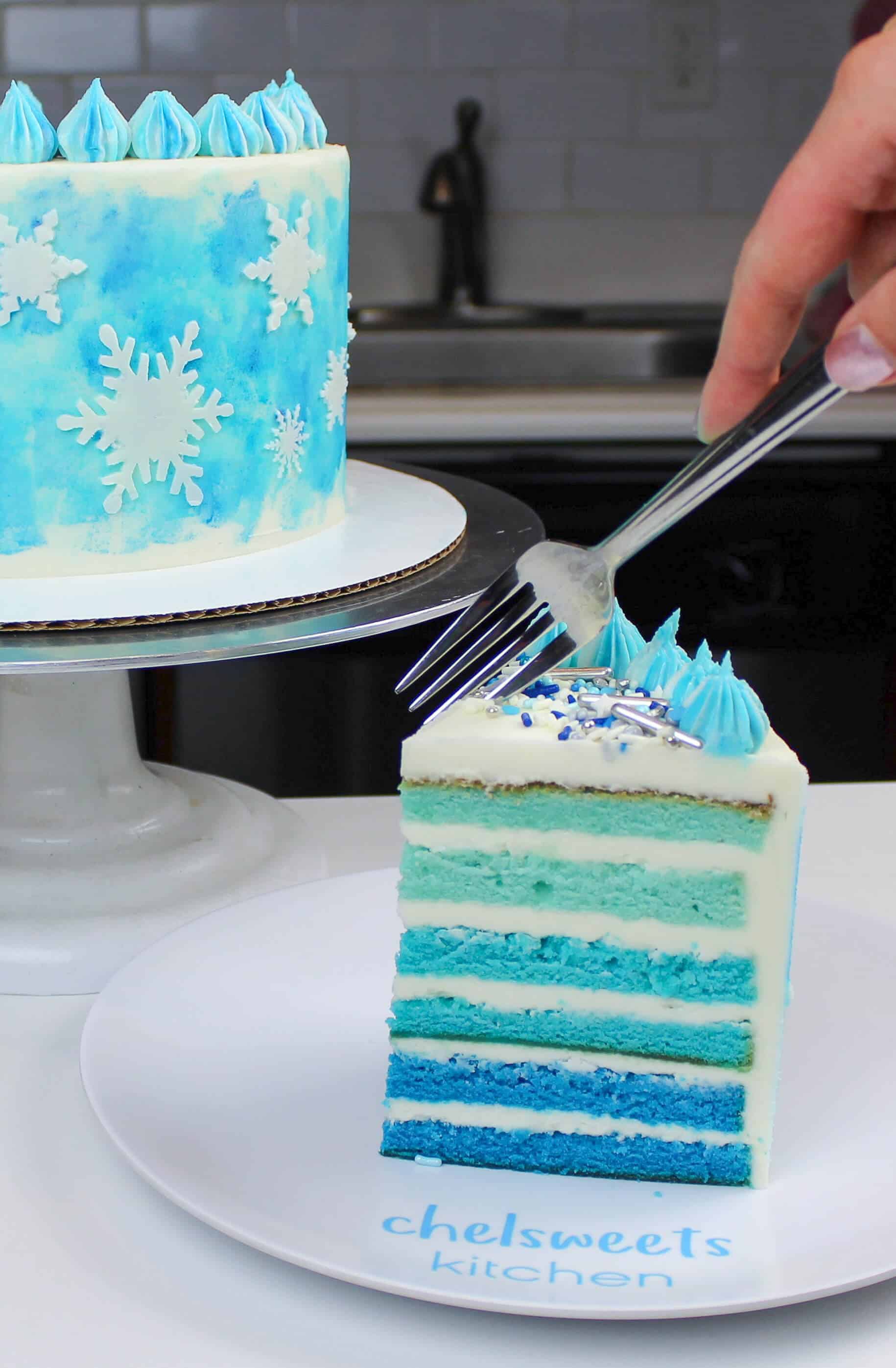 This blue velvet snowflake cake is incredibly moist, with the most delicious tang! It's just as delicious as it is beautiful.
Additional Time
30 minutes
Total Time
1 hour
25 minutes
Ingredients
Blue Velvet Cake Layers
3 cups all-purpose flour (390 grams)
3 cups granulated sugar (600 grams)
2 tsp baking powder (13 grams)
1 tsp baking soda (6 grams)
1 tsp salt (5 grams)
1 cup unsalted butter, room temperature (226 grams) – 2 sticks
1 cup of egg whites, or 7 egg whites (210 grams)
1 1/2 cups buttermilk, room temperature (360 grams)
1/8 cup vegetable oil (28 grams)
2 tsp. vanilla extract (9 grams)
2 tsp vinegar (9 grams)
Vanilla Buttercream Frosting
3 cups unsalted butter, room temperature (678 grams)
11 cups powdered sugar (1375 grams) - or about 1.5 lbs
1 tsp salt (6 grams)
1/2 cup heavy cream (or whipping cream) (115 grams)
1 Tbsp vanilla extract (12 grams)
Additional Tools
Instructions
Blue Velvet Cake Layers
Preheat oven to 350°F. Line three eight-inch pans or three eight-inch round pans with parchment rounds, and lightly spray with non-stick cooking spray.
Mix together all dry ingredients (flour, baking powder, sugar, and salt) in a stand mixer with a paddle attachment until fully combined.
Mix chunks of room-temperature butter slowly into the dry mix, on a low speed. Continue to mix until no large chunks of butter remain, and the mixture looks crumbly.
On a low speed, mix in eggs one at a time. Beat on low until just incorporated. Mix in the buttermilk in two installments, on a low speed. Add in vinegar, vanilla and oil, and mix at a low speed until fully incorporated. Scrape down the sides of the bowl with a spatula, then beat on medium speed for about 30 seconds.
Divide the batter evenly between three bowls, and use increasing amounts of blue gel food coloring to create ombre blue cake layers.
Evenly divide the batter between the prepared cake pans. Bake for 35-37 minutes (or until a skewer comes out clean).
Allow to cool for 10 minutes, then run an offset spatula around the pan to separate the cake from the pan. Place cake layers into the freezer for 45 minutes, to accelerate the cooling process.
Once the layers have fully cooled, I like to trim the caramelized bits from the sides of the layers using a serrated knife. While these layers bake pretty flat, sometimes I'll also trim the top of the layers too, to get my layers perfectly level.
Next, torte the layers but cutting each layer in half horizontally.
Vanilla Frosting
Beat the butter on a medium speed for 30 seconds with a paddle attachment, until smooth. Slowly add in the powdered sugar, 1 cup at a time. Alternate with small splashes of cream.
Once fully mixed, add in the vanilla and salt, and beat on low until the ingredients are fully incorporated, and the desired consistency is reached.
If the frosting is too thick, add in additional cream (1 teaspoon at a time). If the frosting is too thin, add in more powdered sugar (quarter of a cup at a time).
Cake Assembly
Frost and assemble the cake, spreading a thin layer of frosting between each cake layer.
Crumb coat the cake, and chill in the freezer for 5 minutes. When the crumb coat is firm to the touch, add and smooth a second, thicker layer of frosting.
Chill the cake in the freezer for 20 minutes, then lightly dab a mixture of vodka (or lemon extract) and sky blue gel food coloring onto the side of the cake using a small sterile sponge.
Place the cake back in the fridge for 10 minutes. In a small bowl, mix together 1/2 cup of leftover frosting with and one extra Tbsp of heavy cream. Carefully secure the template to the side of the cake using toothpicks.
Spread a thin layer of frosting over the template using an offset spatula. Remove one toothpick, and slowly peel the template off the cake. Repeat pattern on the other half of the cake.
Color any remaining frosting blue, and pipe swirls onto the top of the cake.
Did you try this recipe?
Tag @chelsweets on Instagram and use the hashtag #chelsweets
Notes
If you want to learn how to make your cake layers in advance, I share all my tips and tricks for freezing cake layers here.
I also like to use a digital kitchen scale to weigh my pans, and ensure they all have the same amount of batter. This guarantees your layers will bake to be the same height.
Nutrition Information
Yield
24
Serving Size
1
Amount Per Serving
Calories

581
Total Fat

34g
Saturated Fat

20g
Trans Fat

0g
Unsaturated Fat

12g
Cholesterol

88mg
Sodium

355mg
Carbohydrates

66g
Fiber

0g
Sugar

54g
Protein

5g