I've always had a deep love for Biscoff cookies (thank you Delta), but I didn't know about cookie butter until a couple years ago!
I received flat of cookie butter a few months ago, and have wanted to make a cookie butter cake ever since.
This month I finally made it happen, and boy am I glad I did!! This is one of my favorite cakes I've made.
Staying true to the ingredients used to make Biscoff cookies, the main flavors in this cake are dark brown sugar and cinnamon. The recipe can be found below.
Making The Brown Sugar Cake Layers:
Begin by making the cake layers. Preheat oven to 350°F. Line four 7" (for taller layers) or 8? round pans with parchment rounds, and grease with non-stick cooking spray.
Mix together all dry ingredients (flour, baking powder, sugar, brown sugar, cinnamon, and salt) in a stand mixer with a paddle until fully combined.
Mix chunks of room-temperature butter slowly into the dry mix, on a low speed. Continue to mix until no large chunks of butter remain, and the mixture becomes crumbly.
Pour in egg whites, and mix on low until just incorporated.
Mix in the buttermilk in two installments, on a low speed.
Add in vanilla and oil, and mix at a low speed until fully incorporated.
Scrape down the sides of the bowl with a spatula, then beat on medium speed for about 30 seconds.
Divide evenly between the prepared cake pans.
Bake for 35-36 minutes (or until a skewer comes out clean).
Allow to cool for 10 minutes, then run an offset spatula around perimeter of the pan to separate the cake from the pan.
Place cake layers into the freezer for 45 minutes, to accelerate the cooling process.
While these layers bake pretty flat, sometimes I'll also trim the top of the layers too!
Be sure the layers are completely cooled or chilled before trimming. If you try to trim the layers while they're still warm, they will crumble apart.
Make The Vanilla and Cookie Butter Frosting
Next, make the vanilla buttercream frosting. This will be the base used to make the cookie butter frosting as well!
Beat the butter on a medium speed for 30 seconds with a paddle attachment, until smooth.
Slowly add in the powdered sugar, 1 cup at a time. Alternate with small splashes of cream.
Once fully mixed, add in the vanilla and salt, and beat on low until the ingredients are fully incorporated, and the desired consistency is reached.
If the frosting is too thick, add in cream (1 teaspoon at a time). If the frosting is too thin, add in more powdered sugar (quarter of a cup at a time).
To make the cookie butter frosting, place 1/3 of the vanilla frosting into a separate bowl.
Add 1 cup of cookie butter, plus 2 additional Tbsp. of heavy cream, and mix until fully combined.
NOTE: When making frosting for a cake, it is important to mix the buttercream on low at the end of the process for a couple minutes, to get out any extra air that might have be incorporated during the mixing process. This will make it easier to get super smooth sides on your cake!
Assembling This Cookie Butter Cake
Stack and frost layers on a cardboard cake round. Frost an even layer of vanilla buttercream, then chill the cake in the freezer for about 5 minutes.
Add another layer of cookie butter buttercream on top of this, and spread evenly on top of the vanilla buttercream.
Heat up 3/4 cup of cookie butter for 10 seconds, and drizzle 1/4 of a cup of cookie butter over each layer.
Repeat, with remaining layers, until all are stacked.
Cover the cake in a thin crumb coat using both frostings, and chill in the freezer or fridge for about 5 minutes.
Once the crumb coat is firm to the touch, add a second layer of vanilla frosting.
Smooth using a bench scraper.
You can see a full tutorial on how to frost a cake with smooth sides here.
Carefully press the chopped up Biscoff cookies onto the sides of the cake.
Add less cookie bits as you work up the sides of the cake, to create a cookie gradient.
Press larger chunks of cookies around the base, and smaller bits higher up.
Gentry use your finger tips to add some crumbs around the upper parts of the cake.
Place remaining vanilla frosting into a piping bag fitted with a medium sized french piping tip.
Place the remaining cookie butter frosting in a separate bag fitted with a small french piping tip.
Pipe a border of cookie butter frosting around the top edge of the cake.
Pipe a slightly larger border inside the cookie butter frosting border.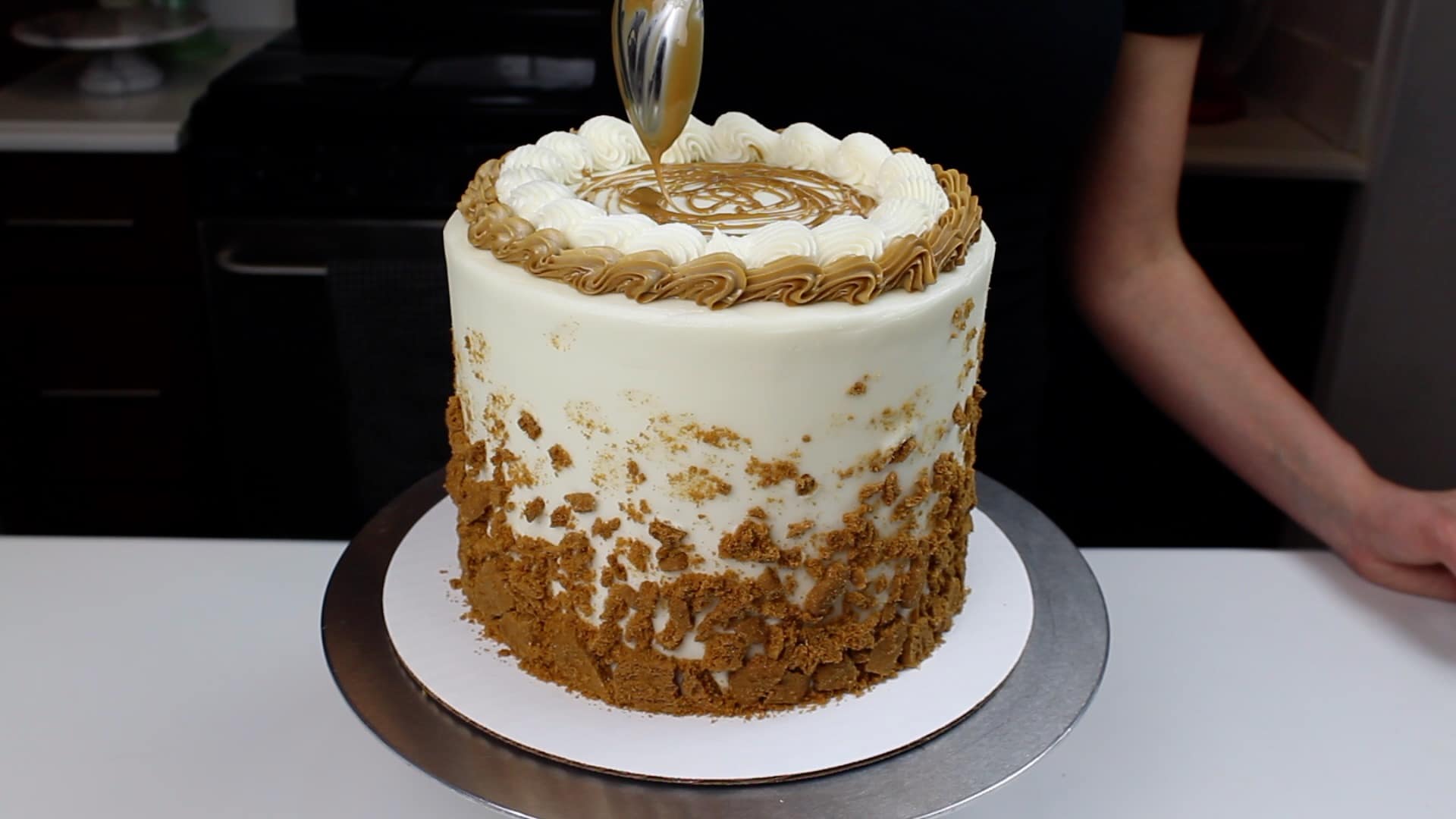 Heat 1/4 cup of cookie butter for about 10 seconds, then drizzle in the center of the cake with a spoon.
I have never added two types of frosting between layers, and I loved the way it looked when I cut into the cake!
Cookie Butter Cake Batter:
3 1/4 cup all-purpose flour
1 cup granulated sugar
2 cups brown sugar ( prefer using dark brown sugar, the extra molasses adds great flavor!)
2 1/2 tsp baking powder
1 tsp salt
1 1/2 tsp. cinnamon
1 cup unsalted butter or 2 sticks (226 grams), room temperature
2 tsp. vanilla extract
1 cup egg whites – about 7 large egg whites; I use egg whites from the carton to avoid wasting egg yolks
1 1/2 cups buttermilk, room temperature
1/8 cup vegetable oil
Vanilla and Cookie Butter Buttercream Frosting:
8 sticks or 4 cups unsalted butter, room temperature
16 cups powdered sugar
1 tsp salt
1/3 cup heavy cream
3 tsp vanilla
For the cookie butter frosting: 1 cup cookie butter + 2 additional Tbsp heavy cream
Additional Decorations:
12 Biscoff cookies, cut into small pieces
1 cup of cookie butter (to drizzle on top)
French piping tips (to pipe the boarder)