My grandma always used to make these giant peanut butter cookies, and dip them in chocolate. As a child, I thought she dipped them in fudge. My culinary adventures have led me to realize that it was just melted chocolate, but the allure of these cookies has only grown stronger as I've grown up. I wanted to attempt to recreate her recipe, and have altered it a bit to make the cookies slightly smaller, and a little bit chewier. I also used freshly ground, honey-roasted peanut butter from Whole Foods to give it a little something extra (and because I'm obsessed).
Peanut Butter Cookie Dough:
1 cup unsalted butter, room temperature
1 cup  granulated sugar
3/4 cup packed light brown sugar
2 large eggs, room temperature preferred
2 teaspoons vanilla extract
1 cup peanut butter (cream, chunky, or in my case, honey-roasted)
3 cups + 2 Tablespoons all-purpose flour
1 teaspoon baking soda
1 teaspoon baking powder
1/2 teaspoon salt
1/3 cup granulated sugar, for rolling
Chocolate Dip:
3 Tbsp butter
2 cups dark (or semi-sweet) chocolate chips
Yield: 16 Large Cookies
Bake Time: 12 minutes
Prep Time: 15 minutes
Using a hand mixer or a stand mixer with paddle attachment, cream the softened butter and both sugars together until smooth. Add the egg and mix on high until combined. Scrape down the sides  of the bowl as needed. Add the vanilla and peanut butter, and mix on high until combined. Set aside.
In a separate bowl, combine the flour, baking soda, baking powder, and salt together. Add to the wet ingredients and mix on low until combined. Dough will be thick, yet very sticky. Cover dough tightly and chill for at least 1 hour (and up to 2 days) in the refrigerator. The dough is much easier to roll out once it has been chilled.
Preheat oven to 350F degrees. Line two large baking sheets with parchment paper or silicone baking mats.
Roll balls of dough (the size of a small satsuma) and roll into granulated sugar. Place 2 inches apart on the baking sheets. Even though the cookies don't seem like they will spread much, they will! I placed mine slightly too close together and got some interesting shapes…so make sure you give them enough room on the baking sheet!
Press a fork into the tops to create the criss-cross pattern. Bake for 12-13 minutes, or until very lightly browned on the sides. The bake time will vary based on the size of our cookies. Keep a close eye on them, and take them out just as they begin to brown. The centers will look very soft and undone. Remove from the oven and let cool on baking sheet for 5 minutes before transferring to a wire rack to cool completely. The cookies will continue to firm up on the baking sheet while they cool, so don't worry if they seem a bit soft.
Melt the butter over a double boiler, and add in the chocolate. Stir until smooth. Dip the cookies half way into the mixture, and then sprinkle with crush peanuts and chocolate chips.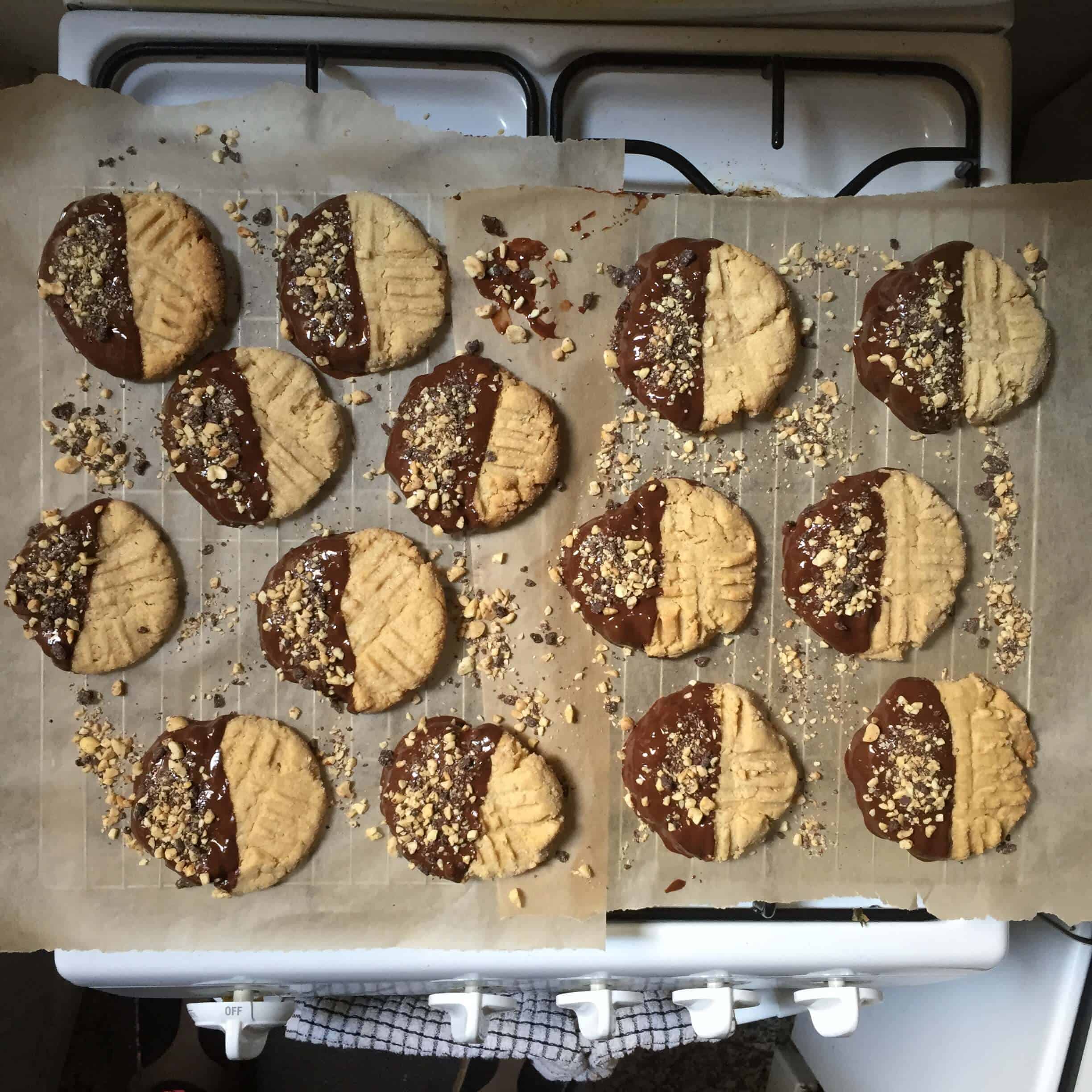 Cover cookies and store at room temperature for up to 1 week. Baked cookies and rolled cookie dough freeze well, and stay good up to 2 months. If baking frozen cookie dough balls, bake for 1-2 extra minutes.