I shared my favorite red velvet cake recipe earlier this year and it led to lots of questions about red velvet cupcakes. I should have seen this coming, but was not prepared and hadn't tested out my cake recipe as cupcakes. After a bit of recipe testing I finally ended up with this recipe red velvet cupcakes with buttermilk.
I've made a few tweaks to this recipe so that it makes the most tender and delicious red velvet cupcakes possible 🙂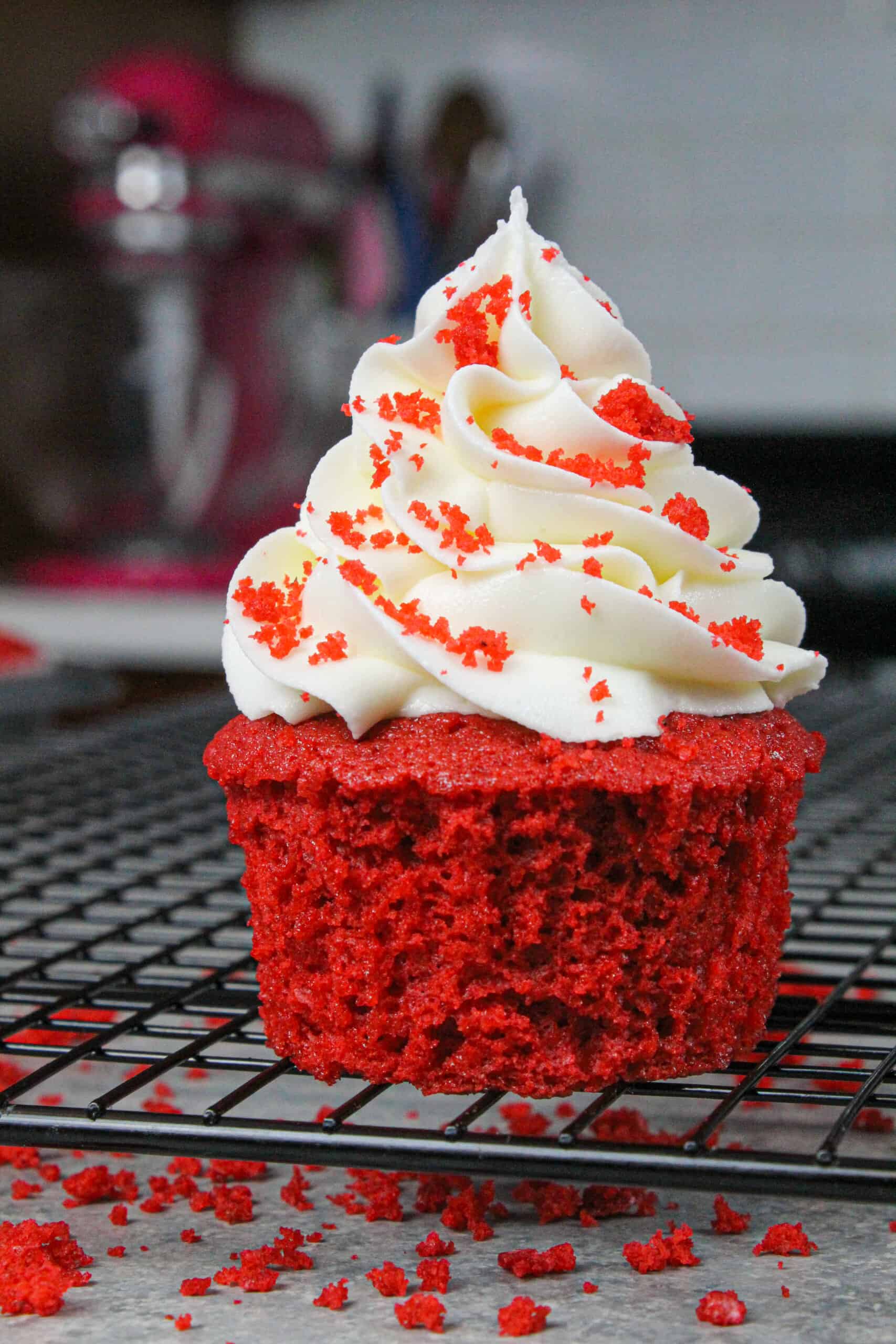 I also cut my cake recipe in half, which allows this red velvet cupcake recipe to perfectly make 1 dozen cupcakes.
The Secret Ingredient: Buttermilk
Anyone who has made my cake recipes before knows I am obsessed with buttermilk.
I love baking with it, and use it in most of my cake and cupcake recipes! It makes such tender cake layers, and adds so much moisture! It also gives my baked goods a delicious tang.
While I love using it in other recipes, I think it absolutely essential in any red velvet recipe.
It's a quintessential part of the classic red velvet taste we know and love. That's why I named this recipe red velvet cupcakes with buttermilk!!
While buttermilk can be found in most grocery stores, some parts of the country or foreign countries don't sell it. If you're having a hard time getting your hands on buttermilk, don't worry.
You can make your own buttermilk! For each cup of buttermilk that the recipe calls for, use 1 tablespoon of white vinegar or lemon juice plus enough whole milk to fill 1 cup.
Oil Vs. Butter, or Oil & Butter?
While my red velvet layer cake recipe uses oil as the only fat, this cupcake recipe uses both butter and oil.
Butter can add a lot of flavor to a cake, but oil adds a lot of moisture. Not to say that a butter cake is dry, but the texture is far from that of a cake recipe made with oil.
Oil gives the cake a fluffier texture. While I love butter cakes and cupcakes, that's not the texture I associate with red velvet.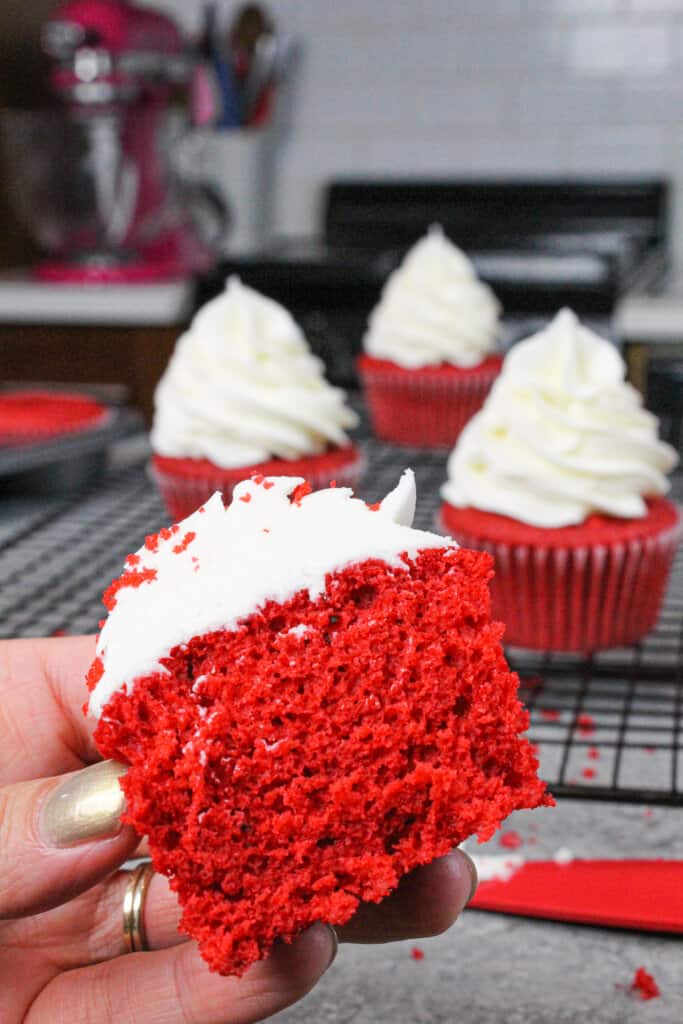 I loved the texture of my cake recipe with all oil, but I found the bottom of the cake layers to be a tiny bit oily. I didn't want that to happen to these cupcakes, especially since they'd be baking in paper liners.
So I decided to split the difference, and make these cupcakes with equal parts butter and oil. The result is a fluffy, tender cupcake with the perfect amount of moisture.
Red Food Coloring
When you make anything red velvet, you expect it to have that gorgeous, deep red color when you bite in. I've found that it's a lot easier to achieve that using gel food coloring.
I prefer americolor, but any gel food coloring will work! If you don't have gel food coloring on hand, you can also use liquid food coloring.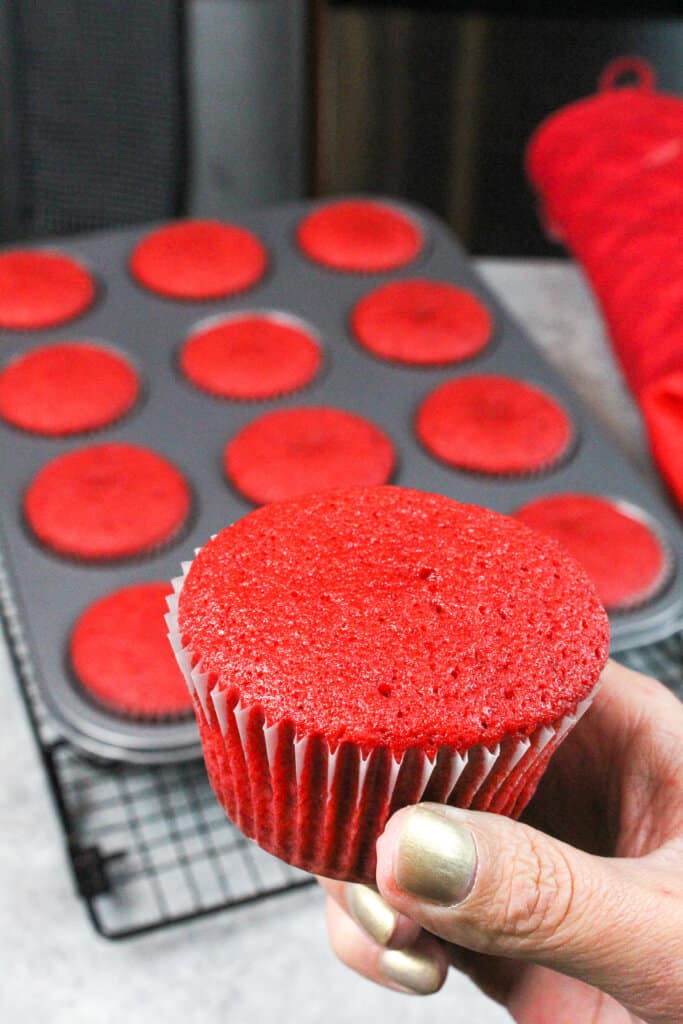 I've found that you need to use about half a bottle of liquid food coloring to get that deep red color, so be sure you have enough on hand if you go this route.
Any Color Velvet Cupcakes
While we're on the topic of color, these cupcakes aren't limited to just being red. Baking for a baby shower? Make pink velvet or blue velvet!
Or maybe your favorite color is purple (like me)? Purple velvet cupcakes it is!!
This cupcake recipe can be made in any color, just be sure you have that shade of food coloring on hand. I used this recipe to make both red and green velvet cupcakes for my grinch cupcakes, and they turned out perfectly.
Don't be afraid to get creative, and taste the rainbow!!
The Cream Cheese Frosting
This red velvet cupcake recipe would taste great with just about any frosting, but I wanted to stick with the classic combination of red velvet and cream cheese frosting.
My cream cheese buttercream is a dream to frost with. It's thick, has great structure, and pipes like a dream.
I love frosting cupcakes with it, because it's stiff enough to pipe a big, beautiful swirl on top of a cupcake. And that is exactly what I did for these red velvet cupcakes with buttermilk!
Decorating These Red Velvet Cupcakes
Speaking of frosting, I used a wilton 1M frosting tip to pipe these massive swirls of cream cheese frosting.
However, when I was done and stepped back, I felt they like they needed a little something else. I ended up crumbling one cupcake with a fork, to create some red velvet crumbs.
I sprinkled these over the top of my frosted cupcakes, almost like sprinkles. The crumbs adds a great pop of color, along with some additional texture!
This decoration also is super easy to do, and give the cupcakes such a classic look.
Tips for Making Tender, Moist Cupcakes:
Don't overmix your batter! Stir until the flour is just combined into the batter.
Be sure to properly measure your flour (spoon into the cup measure, then level), or even better, use a kitchen scale when making the cupcake batter.
Make sure your ingredients are at room temp.
Bang your cupcake pan on the counter before putting it in the oven, to bring any air bubbles that are trapped in the batter to the surface.
Don't over bake your cupcakes. Keep an eye on them, and be sure to set a timer.
Let Me Know What You Think!
If you try these red velvet cupcakes with buttermilk, I'd love to hear what think of it! Please leave a rating and let me know your thoughts in the comments section.
Yield: 12
Red Velvet Cupcakes
These red velvet cupcakes with buttermilk are easy to make & absolutely delicious! They're frosted w/ the best cream cheese frosting, and are irresistible!
Additional Time
30 minutes
Ingredients
Red Velvet Cupcakes
1/4 cup vegetable oil (56 grams)
1/4 cup melted butter (57 grams)
1 egg (56 grams)
1/2 cup buttermilk, room temperature (114 grams)
1 1/2 tsp white vinegar (5 grams)
1 tsp vanilla extract (3 grams)
1 cup granulated sugar (200 grams)
1 tsp unsweetened cocoa powder (4 grams)
1/2 tsp salt (3 grams)
1/2 tsp baking soda (3 grams)
1 1/4 cups all-purpose flour (163 grams)
1 squirt of red gel food coloring (or 1 1/2 tsp liquid food coloring)
Cream Cheese Buttercream Frosting
3/4 cup unsalted butter, room temperature (169 grams) - 1 1/2 sticks
1/4 cup full-fat cream cheese, room temperature (56 grams or 2 oz.)
3 cups powdered sugar (375 grams)
1/2 tsp salt (3 grams)
1 Tbsp heavy cream (or whipping cream) (15 grams)
1 tsp vanilla extract (4 grams)
Additional Tools
piping bag
wilton 1M frosting tip
Instructions
Red Velvet Cake
Preheat oven to 350 degrees F (175 degree C).
Line a standard sized muffin tin with 12 cupcake liners.
In a large bowl, whisk together the butter and vegetable oil.
Mix in the egg, buttermilk, white vinegar and vanilla extract.
Add granulated sugar, and whisk for 30 seconds to help the dissolve the sugar.
Mix in the cocoa powder, salt and baking soda, and whisk until no clumps remain.
Add red gel food coloring, and mix until the batter is evenly colored a deep shade of red.
Mix the flour into the batter in two installments.
Divide the batter evenly between the cupcake tins, and bake for about 18-20 minutes (or until a toothpick comes out with moist crumbs).
Remove the cupcake pan from the oven, and allow them to cool in the pan for 10 minutes.
Carefully remove the cupcakes from the pan, and place on a wire rack to finish cooling.
Cream Cheese Buttercream Frosting:
Beat the butter and cream cheese on a medium speed for 30 seconds with a paddle attachment, until smooth.
Add in the vanilla extract and salt, and beat on low until the ingredients are fully incorporated.
Slowly mix in the powdered sugar on a very low speed, 1 cup at a time. Alternate with small splashes of cream.
If the frosting is too thick, add in additional cream (1 tablespoon at a time).
If the frosting is too thin, add in more powdered sugar (1/4 cup at a time).
Place frosting in a piping bag fitted with a wilton 1M (or open star) frosting tip.
Red Velvet Cupcake Decoration:
Once the cupcakes are fully cooled, remove one cupcake from its liner and use a fork to crumble it into tiny pieces in a small bowl. Set aside.
Pipe large swirls of buttercream frosting on top of each cupcake.
Sprinkle the red velvet cupcake crumbs on top of the frosting, and enjoy!
Notes
These cupcake can be made in advance! If stored unfrosted in an airtight container, they can last for:
2 days at room temp
Up to a week in the fridge
Up to 3 months in the freezer
If you have extra buttercream you don't use, it can be stored in the fridge for up to 2 weeks.
Nutrition Information
Yield
12
Serving Size
1
Amount Per Serving
Calories

454
Total Fat

23g
Saturated Fat

12g
Trans Fat

0g
Unsaturated Fat

10g
Cholesterol

63mg
Sodium

331mg
Carbohydrates

60g
Fiber

0g
Sugar

50g
Protein

3g
Other Recipes You Might Like: