I was chatting with a friend, and somehow we got on the topic of her brother's birthday cake. Their family had an old-fashioned apple cake recipe that had been passed down for generations.
It was their favorite cake recipe, and they all loved it.As my friend was telling me this story, I knew I had to try it!
Luckily my friend's Mom Katie was sweet enough to send me a copy of the original recipe card!!
The Start of a New Series: Family Recipe Cards
I can't tell you how big of a smile I had on my face when I was looking at that photo of the original recipe card.
You can tell it's been around for years, and been put to good use. Something about that makes me feel so nostalgic.
I didn't grow up baking or cooking with my parents or grandparents, so I don't have a box full of family recipes.
Something about trying a recipe that has a story behind it makes it feel so much more meaningful.
It also helps you try new things you never would have.
If you told me to make a cake batter that's half apples (see below!), I would have said you were crazy. Yet here we are 🙂
Origin of this Apple Cake Recipe
When I said this recipe has been passed down through generations, I'm not kidding.
This recipe is from Grandma Eubanks, from way back in the 1920s!!
This recipe is from the great depression, which might explain why it's so unique.
It's also why I'm dubbing this cake an old-fashioned apple cake!
Katie's Favorite Story About This Cake
Katie also shared her favorite memory of this cake recipe. Katie has 5 kids, and this cake never lasts long in their house.
One time she made the cake, and left a fork in it because everyone loves sneaking a bite of it.
That particular night, about half the family woke up and had it as their midnight snack.
When she woke up the next day, half of the cake was eaten!
A Recipe Without Instructions
One thing that made this recipe a bit of an experiment was that the recipe card didn't have any instructions.
It was just that list of ingredients, and the bake time and temp.
I wasn't quite sure what size to cut the apples, or if I should shred them.
These were the questions I should have thought of before I was in the middle of making the batter!!
I didn't want to bother my friend or her Mom after they'd already gone out of their way to send the recipe.
I just made some educated guesses, and surprisingly things worked out quite well.
I also wasn't sure what size of cake layer to make, or how many.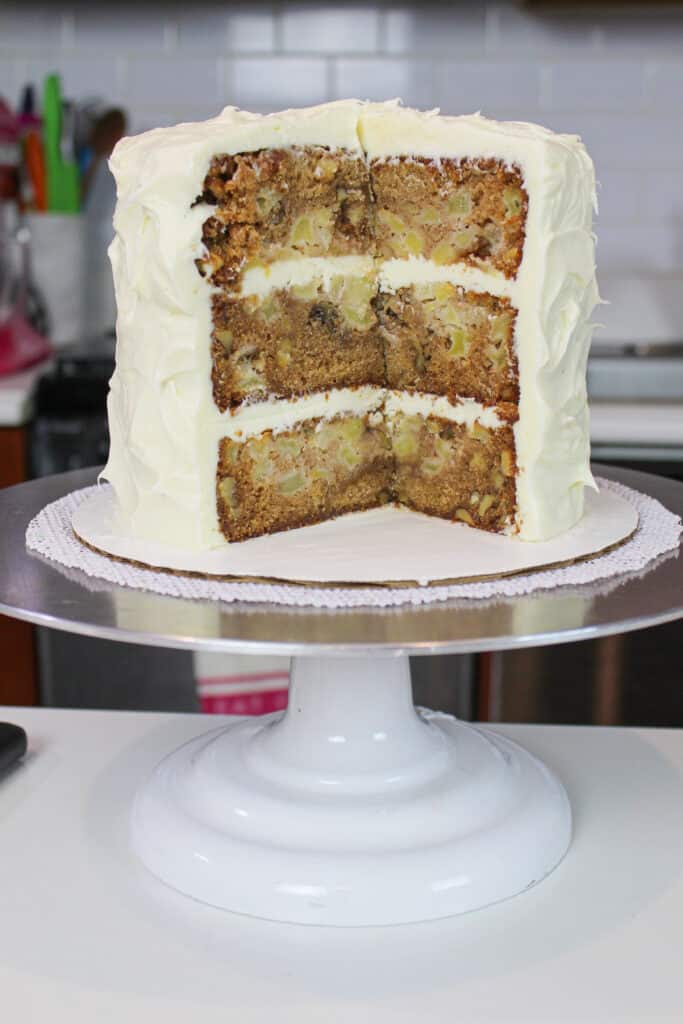 Making an Educated Guess
Once the batter was made, I thought it was just enough to make 3, 6-inch cake layers.
The cake layers ended up rising more than I thought they would though!
Next time I try this recipe, I think I'll try 3 7-inch cake layers.
I also think I might try it with my cream cheese frosting, so that I can have more fun with the decoration of the cake 🙂
What Makes This Recipe Unique
Like I mentioned above, this recipe is about half apples in volume.
Luckily I have a handy dandy little apple peeling machine that made the process a lot easier.
When I was making the batter, I was convinced I had done something wrong. The batter was so thick, I felt like the layers would never bake through.
But I knew the recipe worked. I pushed aside my doubt and baked the layers.
Once they were out of the oven, I couldn't wait to taste them! I leveled the top of one layer and give it a try.
My First Bite
To be honest, I was scared to take that first bite. I also wasn't even sure it was fully baked!!
But I was blown away. The cake was insanely good!!
The apples inside the cake added a ton of moisture, which contrasted wonderfully with the crunch walnuts.
The cake itself was packed with warm cinnamon, and caramelized on the edges.
I quickly leveled the remaining cake layers, solely to enjoy a few more bites before assembling the cake.
It reminded me of a cross between an apple crisp and a spice cake.
This cake almost felt like a breakfast cake, because of all the apples!
It looks pretty odd, but trust me and the Eubank family on this one. This recipe is a real keeper.
My Tips for Making the Best Old-Fashioned Apple Cake:
Note from the family: you can add an additional egg if you want! They sometimes do to make the texture a bit lighter
Be sure to peel and cut your apples into uniformly sized pieces, so they bake evenly in the oven. Aim for 1cm cubes.
Use tart apples like a granny smith or honeycrisps, that bakes well
Make this cake in advance! The recipe card says it's best the 2nd day 🙂
I added a touch of salt to this recipe (based on my preference), but the original recipe doesn't call for any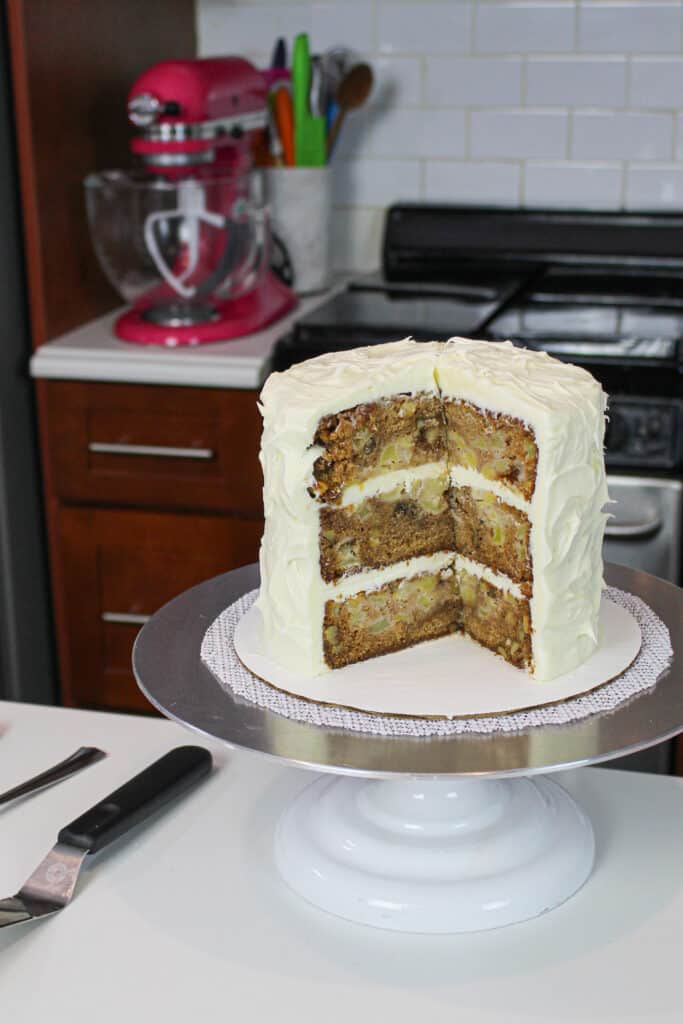 Share Your Favorite Family Recipe
Do you have a tried and true family recipe?!
If you do and feel like sharing it with me, please email me at [email protected] with the following information (if possible):
Picture of the original recipe card & instructions
Story behind the recipe (who/where it's from, when it was created)
Why you love this recipe
Any advice you have about the recipe
Let Me Know What You Think!
If you try this old-fashioned apple cake recipe, I'd love to hear what you think! Please leave a comment below, and let me know how you liked it.
Yield: 16
Old-Fashioned Apple Cake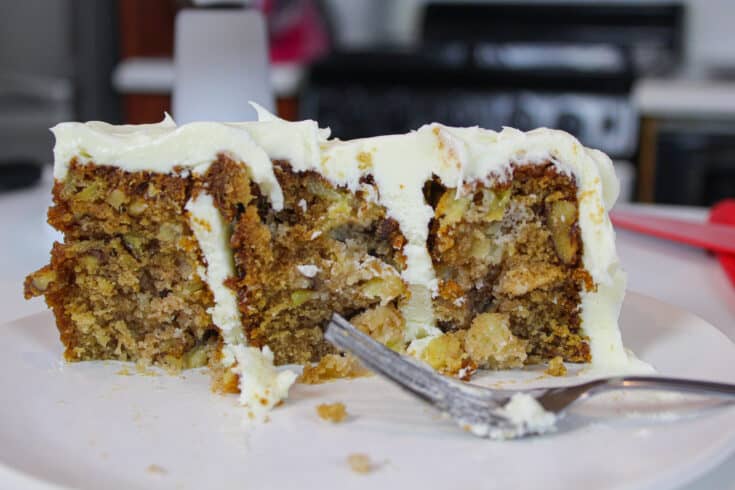 This old-fashioned apple cake is made with loads of fresh apples, crunchy walnuts, and frosted with a cream cheese frosting! It's a tried and true family recipe that you're sure to love!!
Additional Time
20 minutes
Total Time
1 hour
35 minutes
Ingredients
Apple Cake Recipe
2 cups granulated sugar (400 grams)
1 cup vegetable oil (224 grams)
3 eggs, room temperature (168 grams)
2 cups all-purpose flour (260 grams)
1 tsp baking soda (6 grams)
1/2 tsp salt (2 grams)
2 tsp ground cinnamon (8 grams)
1 cup chopped walnuts (125 grams)
4-5 apples, peeled and cut into 1 cm cubes (585 grams)
Cream Cheese Frosting
3 oz. cream cheese, room temperature (84 grams)
1/2 cup butter or 1 stick, at room temperature (113 grams)
1 tsp vanilla extract (4 grams)
2 cups powdered sugar (250 grams)
Instructions
Apple Cake:
Preheat oven to 350 F, and line and grease 3 6-inch or 7-inch cake pans.
Add the granulated sugar and vegetable into a large bowl, and whisk together until fully incorporated.
Whisk in the eggs.
In a separate bowl, mix together the all-purpose flour, baking soda, salt, and ground cinnamon.
Add half of this flour mixture and the walnuts into the wet ingredients, and mix together with a rubber spatula.
Fold in the remaining half of the flour mixture, and stir until just combined.
Fold in the cubed apples with a rubber spatula.
Pour into the prepared cake pans, and bake for 55-60 minutes, or until a toothpick comes out with a few moist crumbs.
Place pans on a wire rack to cool.

Cream Cheese Frosting:
Beat together the room temperature cream cheese and butter with a hand mixer or whisk attachment of a stand mixer.
Add in the vanilla extract, and mix on a low speed.
Add in the powdered sugar in two installments, and mixon a low speed until combined.

Assembling This Old Fashioned Apple Cake
Once the cake layers are fully cooled, stack and assemble them using the cream cheese frosting.
Cover the outside of the cake with the remaining cream cheese frosting.
If desired, use a spoon to make some swooshes around the cake.
Notes
Note from the family: you can add an additional egg if you want! They sometimes do to make the texture a bit lighter
Be sure to peel and cut your apples into uniformly sized pieces, so they bake evenly in the oven. Aim for 1cm cubes.
Use tart apples like a granny smith or honeycrisps, that bakes well
Make this cake in advance! The recipe card says it's best the 2nd day 🙂
Nutrition Information
Yield
16
Serving Size
1
Amount Per Serving
Calories

491
Total Fat

27g
Saturated Fat

7g
Trans Fat

1g
Unsaturated Fat

19g
Cholesterol

56mg
Sodium

229mg
Carbohydrates

60g
Fiber

2g
Sugar

45g
Protein

4g