A few months back I made a Spongebob cake, and I knew it was only a matter of time before I made a Patrick star cake!
For those who don't know, Patrick is Spongebob's best friend. He's a happy-go-lucky starfish who loves krabby patties and jelly fishing. Spongebob is definitely my favorite character, but Patrick is a close second.
In fact, I dressed up as Patrick for Halloween this year. My friends were not surprised! 😛
Staying true to my cake style, I did my best to make this cake primarily out of buttercream.
However, I had to pull out some fun cake tricks to create Patrick's starfish shaped body.
Creating a Patrick Star Shaped Cake
This cake ended up being quite large. I used two batches of cake batter just to make Patrick's body and head! For his arms and legs, I decided to take a different approach.
Believe it or not, they're made out of rice krispie treats!! While I think Patrick's legs could have been made out of rice krispies, his arms would have been super challenging.
Rice krispies are great for gravity defying aspects like this. By mixing together rice krispies and melted marshmallows, you can add onto cakes in a way in a stable manner.
But omitting the butter that a classic rice krispie treat recipe calls for, you can form the krispie mixture into any shape, and it will firm up as the marshmallows cool.
In a strange yet wonderful twist of fate, my grocery store only had strawberry rice krispies! It could not have been more perfect for this cake. I loved that they were pink, just like the cake layers and frosting!!
My one tip is to really squeeze the rice krispies treats together with your hands, to make sure the shape you make is compact and sturdy. This will ensure it keeps its shape when you add it to your cake.
I also love that they're still edible!! Rice krispies and buttercream are a surprisingly delicious combination.
What Flavor Should a Patrick Star Cake Be?
After I figured out the best way to create Patrick's pointy shape, I had to think about what flavor he should be.
This was definitely a challenge. Patrick is pink, so I decided to use that a starting point. After wracking my brain for a bit, I settled on making him a strawberry flavor.
On TV, Patrick Star loves eating ice cream, and it's usually pink in color. I always assumed it was strawberry flavored, so this seemed fitting!! It also is the only pink colored flavor that I could really think of that I like to eat 😛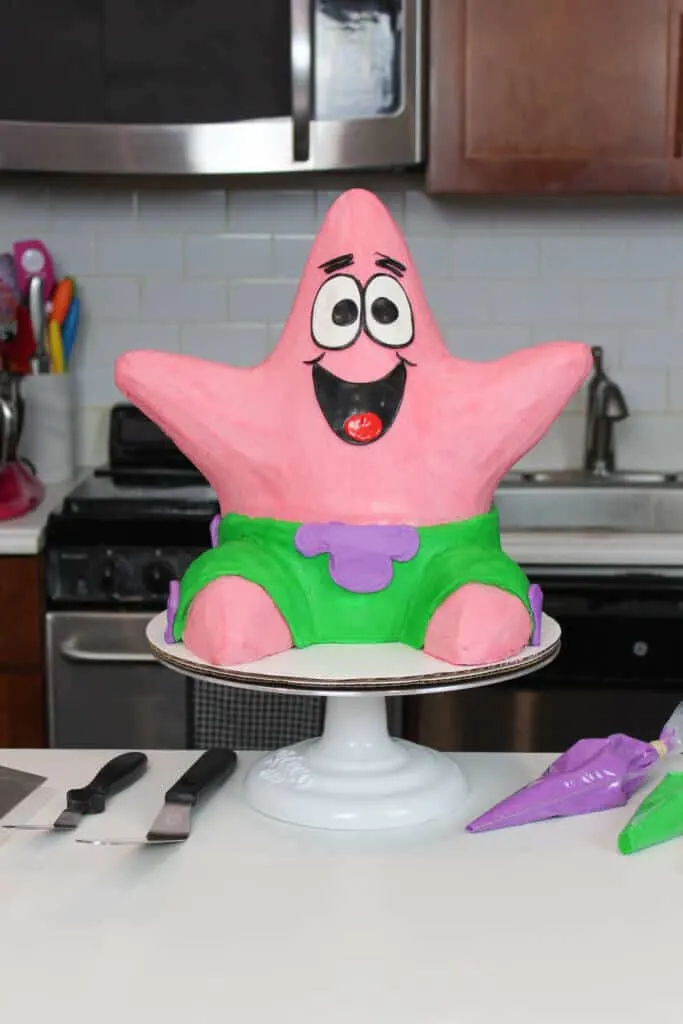 To incorporate strawberry flavor into the cake and frosting, I used strawberry powder. It's a bit expensive, but it adds such a delicious flavor!! It also doesn't add any moisture to the batter or frosting, which is great because it doesn't change the consistency.
I also added a touch of pink gel food coloring, to make the shade of pink a touch brighter.
Smoothing Buttercream on a Sculpted Cake
Sculpted cakes can be a nightmare when it comes to smoothing frosting. I love using acetate sheets to help make this process easier.
Acetate sheets come in different sizes and thickness, and get mine in a pack of 25 online. You really only need one sheet, but sadly you can't buy them in that small of a quantity.
The acetate sheets I use come in 12in x 12in square and .007 thick. I cut them down into smaller pieces to use on my cakes. The pieces I use are usually 4in x 3in once I've trimmed them with scissors.
They're the perfect thickness to allow you to spread and smooth the frosting. At the same time, they're flexible enough to curve around arms and legs!
Let Me Know What You Think!
If you try making this Patrick Star Cake, I'd love to hear what think of it! Please leave a rating, and let me know your thoughts in the comments section.
Other Recipes You Might Like:
Yield: 48
Patrick Star Strawberry Cake Recipe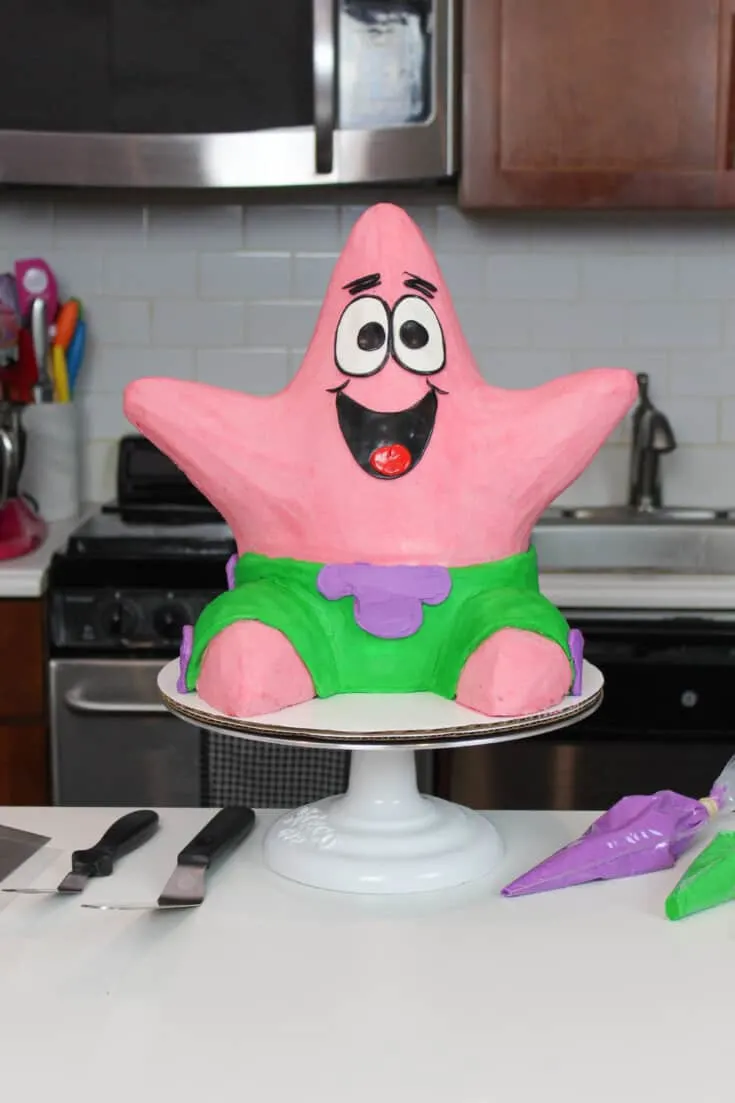 This strawberry cake recipe is made in one bowl, and is super moist! It's made with strawberry powder made from freeze-dried strawberries, which gives it an incredible flavor!!
Additional Time
20 minutes
Total Time
1 hour
10 minutes
Ingredients
Strawberry Cake
6 cups all-purpose flour (780 grams)
5 cups granulated sugar (1000 grams)
1/2 cup strawberry powder (46 grams)
1 2/3 Tbsp baking powder (20 grams)
2 tsp salt (12 grams)
2 cups unsalted butter, room temperature (454 grams) - 4 sticks
1 Tbsp vanilla extract (12 grams)
2 cups pasteurized egg whites from a carton (or about 14 egg whites) (470 grams)
3 cups sour cream, room temperature (690 grams)
1/4 cup vegetable oil (56 grams)
pink gel food coloring (if desired)
Strawberry Buttercream Frosting
3 cups unsalted butter, room temperature (678 grams)
10 cups powdered sugar (1250 grams)
2/3 cup strawberry powder (61 grams)
1 tsp salt (6 grams)
3/4 cup heavy cream (or whipping cream) (170 grams)
2 tsp vanilla extract (18 grams)
1 1/2 Tbsp fresh lemon juice (18 grams)
pink gel food coloring (if desired)
Strawberry Rice Krispies
5 cups mini marshmallows (1 10 oz bag)
1 box strawberry Rice Krispies (1 11.5 oz box)
Additional Tools
2 bubbles tea straws or wooden dowels
black and white fondant
green and purple food coloring
Instructions
Strawberry Cake Layers:
Preheat oven to 350°F. Line the following sized-round pans with parchment rounds, and grease with non-stick cooking spray: 3 8-inch pans, 1 7-inch pan, 2 6-inch pans, 3 4-inch pans.
Mix together all dry ingredients (flour, baking powder, sugar, strawberry powder, and salt) in a stand mixer with a paddle attachment until fully combined.
Mix chunks of room-temperature butter slowly into the dry mix, on a low speed. Continue to mix until no large chunks of butter remain, and the mixture becomes crumbly.
Pour in egg whites, and mix on low until just incorporated. Mix in the sour cream in two installments, on a low speed.
Add in vanilla and oil, and mix at a low speed until fully incorporated. Scrape down the sides of the bowl with a spatula, then beat on low speed for about 15 seconds (the key is to mix until the ingredients are JUST incorporated, so that the batter isn't over mixed).
If desired, add in pink gel food coloring. Mix the color in by hand using a rubber spatula, scraping the sides and bottom of the bowl part way through. Mix until the batter is evenly colored.
Divide batter evenly between the prepared cake pans, so that they are filled to the same height.
Bake for 30-35 minutes (varies slightly based on pan size), or until a toothpick comes out clean. Allow the pans to cool for 10 minutes, then run an offset spatula around perimeter of the pan to separate the cake from the pan.
Place cake layers into the freezer for 45 minutes, to accelerate the cooling process. Once the layers are fully cooled, carefully flip the pans and remove the layers from the pans.
Use a serrated knife to level the tops of the layers. Set aside.
Strawberry Buttercream Frosting:
While the cake layers bake and cool, make the strawberry buttercream frosting.
Beat the butter on a medium speed for 30 seconds with a paddle attachment, until smooth.
Add the strawberry powder, and mix until it's fully combined with the butter.
Slowly add in the powdered sugar, 1 cup at a time. Alternate with small splashes of cream.
Once fully mixed, add in the vanilla extract, lemon juice, and salt, and beat on low until the ingredients are fully incorporated, and the desired consistency is reached.
If the frosting is too thick, add in additional cream (1 TBSP at a time). If the frosting is too thin, add in more powdered sugar (quarter of a cup at a time).
Wait to add any food coloring until after the cake is filled and crumb coated.
Place 2 cups of frosting in a separate bowl and color green.
In a different bowl, color 1 cup of frosting purple, to make Patrick's shorts.
Color the remaining frosting a brighter shade of pink with pink gel food coloring.
Strawberry Krispies
Wait to make these until your cake is crumb coated, and chilling in the freezer or fridge.
To make Patrick's arms and legs, melt the marshmallows in a microwave safe bowl, until they're mostly dissolved (about 1 minutes).
Pour in the strawberry rice krispies, and mix until they're fully coated in marshmallow.
To Assemble The Cake:
Stack and frost cake layers on a large, greaseproof cake drum, from largest to smallest. Use a dab of frosting to help stick the first cake layer to the board.
Build the cake off center, so that you have room to add Patrick's legs later on.
Add an even layer of buttercream between each cake layer.
Insert a wooden dowel through the center of the cake, to help keep the layers in place as you frost the cake.
Apply a coat of frosting around the cake, to fully cover the cake layers.
Smooth using an acetate sheet, then chill the cake in the fridge (30 minutes) or freezer (10 minutes) until the frosting is firm to the touch.
Make the Strawberry Krispies as the cake chills, and tightly press them together to shape patrick's legs.
Shape his arms around bubble tea straws, and then press the straws into the sides of his body. Chill the cake for 10 additional minutes to help the krispies set in place.
Add a second, thicker layer of pink frosting to the torso, head, arms, and legs of the cake.
Smooth using an acetate sheet.
Add green buttercream around Patrick's bottom half, to make his shorts. Chill again, then pipe purple flowers on top of this shorts.
Use fondant to create his eyes, mouth and eyebrows, and gently press them into place.
Notes
Once the layers have fully cooled, I sometimes like to trim the caramelized bits from the sides of the layers using a serrated knife.
These cake layers can be made in advance!! Learn more about how far in advance they can be made, and how to properly wrap them in my post on how to make cake layers ahead of time.
Nutrition Information
Yield
48
Serving Size
1
Amount Per Serving
Calories

477
Total Fat

25g
Saturated Fat

14g
Trans Fat

0g
Unsaturated Fat

9g
Cholesterol

64mg
Sodium

230mg
Carbohydrates

62g
Fiber

1g
Sugar

48g
Protein

4g