I'm sure you knew when I shared my salted caramel buttercream recipe a couple weeks ago, it was only a matter of time before I shared a salted caramel cake recipe!
I always have leftover caramel when I make a batch, and decided adding a caramel drip to this cake would be a great way to decorated it.
My wedding is only a couple weeks away, so I wanted to keep this cake design simple! No sculpting, challenging shapes, or finicky recipes for me right now.
I wanted to make a simple, delicious, and stress-free cake that looks just as good as it tastes.
In the end, I think I achieved just that with this recipe 🙂
The Secret Ingredient: Homemade Caramel
The caramel sauce in the recipe is used in pretty much every element of the cake. It's in the frosting, swirled between the cake layers, and of course, dripped all around the cake.
I know that making caramel sauce from scratch can seem intimidating if you've never tried it before. When I was a kid, I remember seeing caramel made in giant copper kettles at the old-timey candy store.
I was convinced it was some complicated process, that must require all kinds of special equipment. But the truth of the matter is, it doesn't have to be complicated.
In fact, my caramel is made without a thermometer, with just four ingredients. A batch can be made in about 5 minutes. It doesn't get much easier than that!
All you need is sugar, butter, heavy cream, and a bit of salt. The only part that is a little scary is melting down the sugar.
My biggest tip when doing this is to add the sugar in gradually. I add about a quarter of a cup at a time.
This helps the granulated sugar liquify more quickly, and minimizes clumping. It makes a world of a difference.
However, I didn't know to do that when I first started making caramel. I used to just dump it in all at once.
The caramel will still turn out if you add all the sugar at once, but it takes a lot longer to melt down.
Adding Drips To This Salted Caramel Cake
Drip cakes don't have to be scary, but there are a few things to keep in mind to make sure you get that perfect drip look! The most common issues people run into when making drip cakes include:
Runaway drips – drips that run all the way down the cake and right off the cake board
Watery, thin drips, that looks more like streaks than drips
Caramel that seems to melt the buttercream
Short, stubby drips that resemble candle wax
Most of these problems are caused by adding the caramel to a cake when it isn't right temperature.
You can also have issues if the cake hasn't been properly chilled. If you follow my tips below, I promise you can avoid all of these issues!!
Step #1 : Chill Your Cake
My first tip is to make sure your cake is properly chilled. Once frosted, you should allow it sit it your fridge for at least 20 minutes, or in your freezer for 10 minutes. This makes sure the frosting is cold and firm to the touch.
Chilling the cake helps the buttercream keep its shape as the caramel is added.
It will also help slow down the speed at which the drips run down the cake. This helps keep them from running all the way down the cake.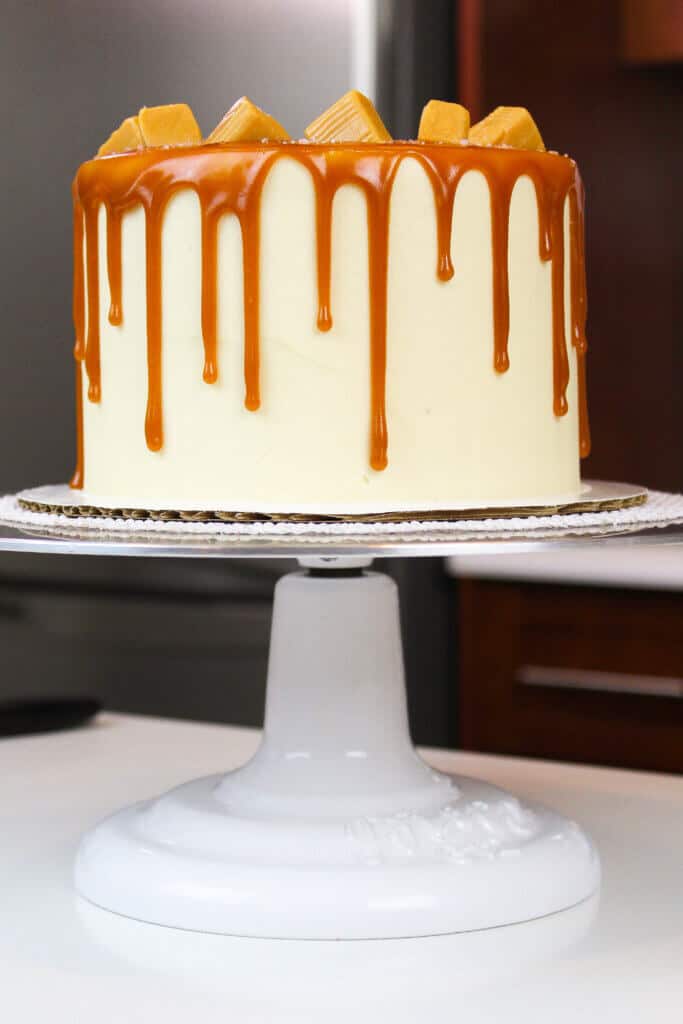 Step #2 : Temperature Of Your Caramel
The second tip is to make sure your caramel is the right temperature!! It should be pretty much at room temperature.
If your caramel is too warm, it will be thinner than you want, and will run straight down the cake and pool at the bottom of your cake board.
On the other hand, if it's not warm enough, you will end up with short, stubby little drips. Neither of these will create those beautiful, long drips.
Step #3: The Test Drip
The best way to ensure your caramel is the right temperature is do a test drip. THIS IS SUCH A CRUCIAL STEP!!!
Make one drip on the side of your cake, and let it flow. Allow it to slowly run down the side of the cake for a couple minutes.
If it's the length and look you're after, then go ahead and add drips to the rest of the cake. If not, adjust as needed.
Either pop the caramel into the fridge for a couple minutes to allow it to cool off a bit more, or heat the bottle (or bowl) in the microwave for 5-10 seconds.
Then test out one more drip, just to be safe! While these extra steps may lengthen the process, it's worth it to make sure your drips are perfect.
When you spend hours making a cake from scratch, it's worth taking the extra 10 minutes to ensure your caramel drips will turn out beautifully.
If you're more of a visual learner, here is a video tutorial showing how to add drips to a cakes.
Share Your Creations With Me!
Nothing makes me happier than when I get emails or DMs with photos of your baking. Please don't hesitate to reach out to me with your triumphs, or questions <3
If you try this salted caramel cake recipe, please let me know what you think of it. You can also tag me on social media @chelsweets, and use #chelsweets.

Yield: 16 servings
Salted Caramel Cake
This salted caramel cake recipe makes the perfect caramel drip cake! It's made with vanilla cake layers, salted caramel buttercream, and is decorated with a caramel drip.
Additional Time
20 minutes
Total Time
1 hour
5 minutes
Ingredients
Vanilla Cake Layers
2 cups + 2 Tbsp all-purpose flour (276 grams)
2 cups granulated sugar (400 grams)
1 1/2 tsp baking powder (6 grams)
1/2 tsp salt (3 grams)
2/3 cup unsalted butter, room temperature (150 grams) - 1 and 1/3 sticks
1 tsp. vanilla extract (4 grams)
2/3 cup egg whites (or about 5 egg whites) (185 grams)
1 cup buttermilk, room temperature (240 grams)
1 Tbsp vegetable oil (14 grams)
Caramel Sauce
1 cup granulated sugar (200 grams)
6 Tbsp unsalted butter, room temperature (84 grams)
1/3 cup heavy cream, room temperature (76 grams)
1/4 tsp table salt (2 gram)
Salted Caramel Buttercream Frosting
2 cups unsalted butter, room temperature (434 grams)
7 cups powdered sugar (907 grams) - or a 2 lb bag
1 tsp table salt (6 grams)
1 Tbsp heavy cream (or whipping cream) (15 grams)
1 tsp vanilla extract (4 grams)
1/3 cup of caramel sauce - recipe above (108 grams)
Additional Decorations
Instructions
Vanilla Cake Layers:
Preheat oven to 350°F. Line three 6 inch pans with parchment rounds, and grease with non-stick cooking spray.
Mix together all dry ingredients (flour, baking powder, sugar, and salt) in a stand mixer with a paddle until fully combined.
Mix chunks of room-temperature butter slowly into the dry mix, on a low speed. Continue to mix until no large chunks of butter remain, and the mixture becomes crumbly.
Pour in egg whites, and mix on low until just incorporated. Mix in the buttermilk in two installments, on a low speed.
Add in vanilla and oil, and mix at a low speed until fully incorporated. Scrape down the sides of the bowl with a spatula, then beat on medium speed for about 30 seconds. 
If desired, add in gel food coloring. Mix the batter on a low speed, scraping the sides and bottom of the bowl part way through. Mix until the batter is evenly colored.
Divide batter evenly between the prepared cake pans. I like to use a digital kitchen scale to weigh my pans, and ensure they all have the same amount of batter. This guarantees your layers will bake to be the same height.
Bake for 32-35 minutes, or until a toothpick comes out clean. Allow the pans to cool for 10 minutes, then run an offset spatula around perimeter of the pan to separate the cake from the pan.
Place cake layers into the freezer for 30 minutes, to accelerate the cooling process.Once the layers are fully cooled, carefully flip the pans and remove the layers.
Use a serrated knife to level the tops of the layers, and then frost as desired.
Caramel Sauce
Next, make the caramel sauce. Turn stove onto medium heat, and place a pot over element.
Pour in sugar gradually, adding 1/4 cup at a time. Wait until the sugar is mostly liquified, then add the remaining sugar.
As the sugar melts, it will gradually deepen in color.
Stir occasionally until the sugar is fully dissolved, and is an amber color.
Turn off the heat.
Mix in butter slowly (1 Tbsp at a time), then stir in cream and salt. The mixture will be very thin, but will thicken as it cools.
Pour into a separate container, then place in fridge to cool for 20 minutes.
Salted Caramel Buttercream Frosting
As the caramel cools, make the caramel buttercream.
Beat the butter on a medium speed for 30 seconds with a paddle or whisk attachment, until smooth. Mix in the vanilla and salt on a low speed.
Slowly add in the powdered sugar, 1 cup at a time. Alternate with the heavy cream and caramel, which will help thin the frosting.
Beat on low until the ingredients are fully incorporated, and the desired consistency is reached. 
To Assemble The Cake:
Stack and frost cake layers on a greaseproof cake board, using a dab of frosting to help stick the first cake layer to the board.
Add an even layer of salted caramel buttercream between each cake layer, as well as a large swirl of caramel sauce.
Once the layers are stacked, add a thin coat of frosting around the the cake to fully cover the cake layers. Smooth using a bench scraper, then chill the cake in the fridge (10 minutes) or freezer (5 minutes) until the frosting is firm to the touch.
Add a second, thicker layer of frosting to the cake, and smooth using a bench scraper.
Chill the cake for an additional 10 minutes in the freezer. Once the frosting is firm to the touch, use the caramel sauce to add drips around the cake.
Cover the top of the cake with caramel sauce, and add caramel squares around the top of the cake.
Finish with a sprinkle with a flourish of sea salt on top of the cake.
Notes
Making These Cake Layers In Advance
These cake layers can be made in advance!! Learn more about how far in advance they can be made, and how to properly wrap them in my post on how to make cake layers ahead of time.
Paddle Attachment vs. Whisk Attachment
Either a paddle or whisk attachment can be used to make this frosting. I like to use my paddle attachment when making frosting for a cake, to minimize the amount of air that is incorporated into the frosting. This makes silky smooth frosting, which is easier to smooth onto cakes.
I use my whisk attachment when making frosting for cupcakes, which I like to be light and fluffy! I like to incorporate air into frosting for cupcakes, because I usually pipe massive swirls onto each cupcake.
Leftover Caramel
The caramel sauce recipe will yield about 3/4 of a cup of caramel, but you will only need 1/3 cup for this salted caramel buttercream. It's hard to make that small of a batch though, so I prefer to make enough to have some leftover for topping ice cream or cupcakes!
I like to pour my extra caramel in a squirt bottle (for drizzling over cakes), but a mason jar or Tupperware container would work great too.
This caramel will keep for several weeks in the fridge. I usually store it in a plastic bottle (and pop it into the microwave to reheat it), but ay air tight container would work great!
Nutrition Information
Yield
16
Serving Size
1
Amount Per Serving
Calories

736
Total Fat

39g
Saturated Fat

24g
Trans Fat

0g
Unsaturated Fat

13g
Cholesterol

103mg
Sodium

378mg
Carbohydrates

98g
Fiber

0g
Sugar

96g
Protein

2g