When I think about chocolate cake, I want the cake layers to be moist. I want them to be packed with chocolatey flavor, and to have a soft texture.
The baker in me also wants the cake layers to have structure, so that they don't fall apart as you try to frost them.
I also wanted a chocolate cake recipe that could be carved for sculpted cakes!
The Perfect Chocolate Layer Cake Recipe
That's how this recipe came to be. I had been playing around with different chocolate cake recipes for years, and they all were delicious.
Each recipe had some of these attributes, but none of them had it all.
Was it greedy to demand so many things from one chocolate cake recipe?? No. We deserve it!
If we're going to take the time to make a cake recipe from scratch, we deserve to have cake layers that are moist and keep their shape (as seen below).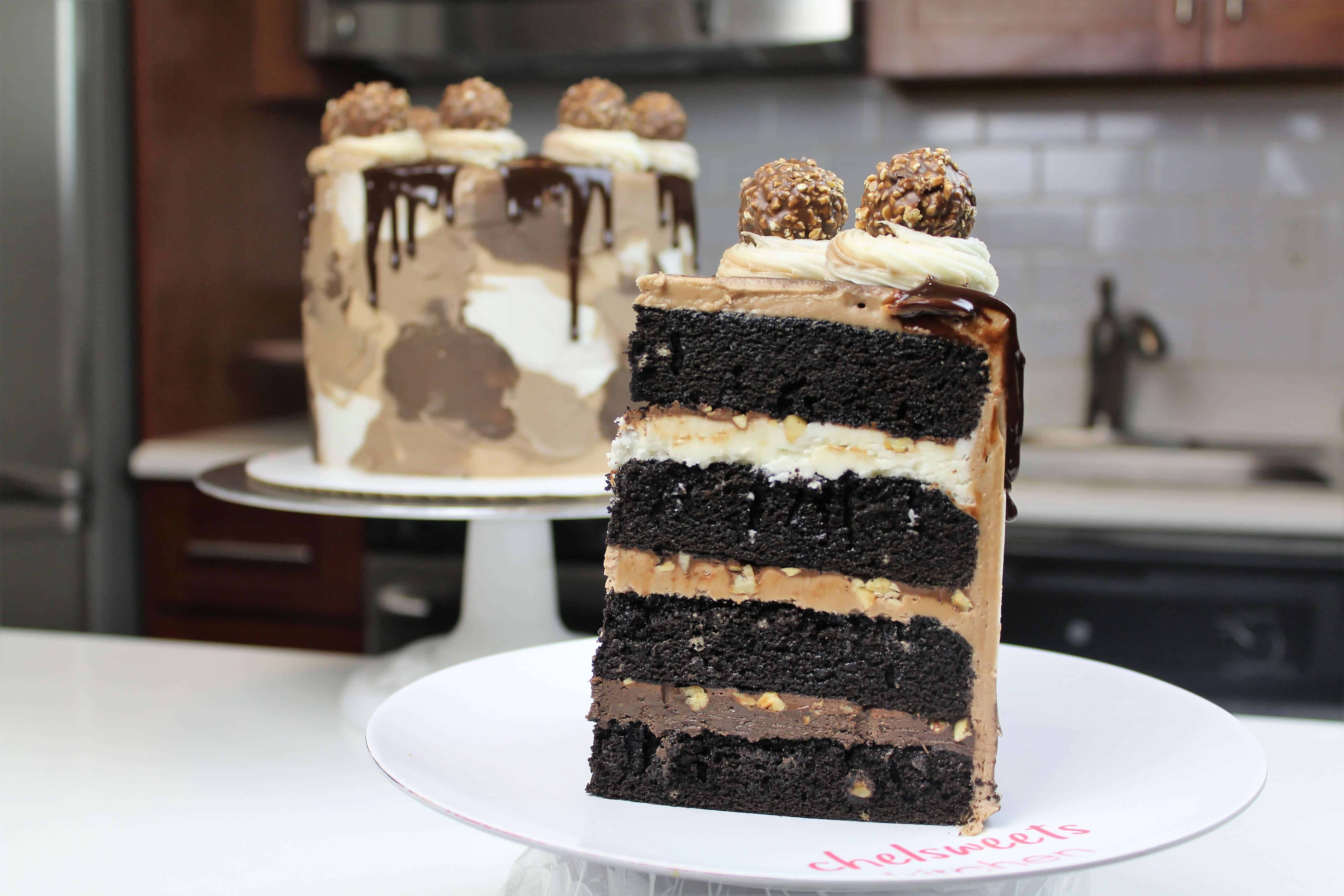 My First Chocolate Cake Recipe
Speaking of my past chocolate cake recipes, I'm not saying they're not great in their own way. The first chocolate cake recipe I really fell for was my moist chocolate cake recipe.
It is incredibly soft and fluffy, and I love the way it tastes!! It's a great recipe for beginning bakers, and is really easy to make.
My moist chocolate cake recipe actually can be made in one bowl, AND can be made without a hand mixer!! Talk about the perfect starter recipe, right?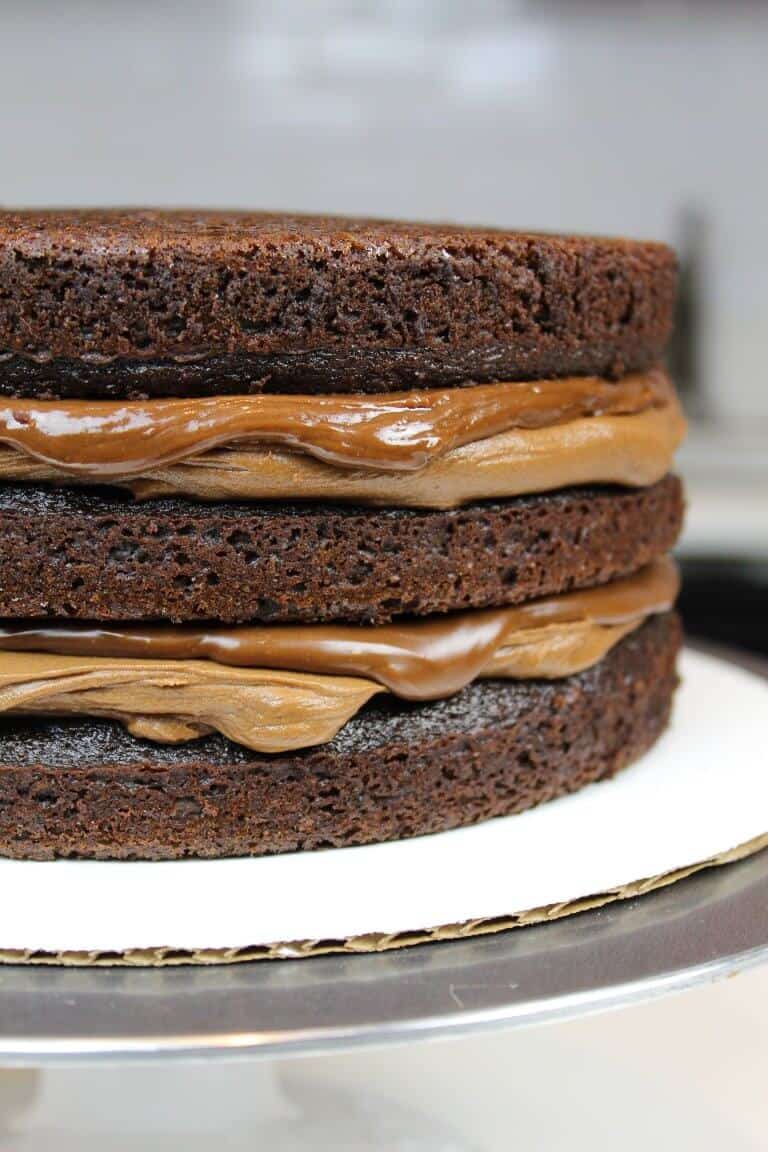 The only downside is that it isn't the easiest to stack and frost with perfectly smooth sides!
When I was first getting into baking, taste was my #1 priority, so this didn't bother me much.
My Chocolate Butter Cake Recipe
As I became more interested in cake decoration, I was obsessed with frosting cakes with smooth sides.
It was so much easier to frost cake layers that had a bit more structure, like my favorite vanilla layer cake recipe.
I fell in love with the strength of the layers, and how well they help up while being frosted.
I altered the recipe to a make a chocolate version, and used this as my chocolate layer cake recipe for a while.
The only downside is that I like to trim my layers to remove the caramelization on the sides.
This means an extra step in the process, and I wasn't completely satisfied with the texture of the layers.
Classic Chocolate Sponge Cake Recipe
This lead me to continue to try out new chocolate cake recipes, and experiment. I really loved using Yolanda Gampp's chocolate sponge cake recipe, but didn't like that they baked with such huge domes!
I felt like i was cutting off 2/3 of each layer when I leveled them. However, the layers tasted great with simple syrup, and had great structure.
My Favorite Chocolate Layer Cake Recipe
I used Yolanda's recipe as the starting point, then combined my favorite elements from all my past chocolate cake recipes.
The other element I really wanted to change was the size of the domes on top of each cake layer.
While creating this recipe, I chose to use black cocoa instead of regular baking cocoa. I love the taste and color it creates!!
You can see what a beautiful color the black cocoa adds to the cake layers by looking at this slice of my raspberry chocolate cake.
I also swapped some of the water for buttermilk to add more moisture, and used less baking soda.
The result?? A soft, tender chocolate cake that doesn't need simple syrup, and that holds its shape well while being frosted and stacked.
I'm obsessed with this recipe, and hope you all will be too!
If you don't have access to black cocoa or don't want to buy it, you can also use regular baking cocoa in this recipe! That's exactly what I did in my triple chocolate wrap cake below, and it was delicious.
You can add a splash of simple syrup if you love using it, or think that the cake layers will be exposed to air for long period of time.
I highly recommend adding simple syrup if you're making a carved cake or a wedding cake!
Tips on Making the Best Chocolate Layer Cake:
Don't overmix your batter! Stir until the flour is just combined into the batter
Be sure to properly measure your flour (spoon into the cup measure, then level), or even better, use a kitchen scale when making the cake batter
Make sure your ingredients are at room temp
Bang your pans on the counter before popping them into the oven, to bring any air bubbles that are trapped in the batter to the surface
Don't over bake you layers! Keep an eye on them, and be sure to set a timer
Let Me Know What You Think!
If you try this chocolate layer cake recipe, please tag me @chelsweets, and use the #chelsweets, so I can see your beautiful creations!!
Yield: 24 servings
Chocolate Layer Cake
This is my go-to chocolate layer cake recipe! It makes soft, tender, chocolaty cake layers that can handle a splash of simple syrup, and still hold up while being frosted.
Additional Time
30 minutes
Total Time
1 hour
15 minutes
Ingredients
Chocolate Cake Ingredients
3 cups all-purpose flour (390 grams)
2 1/2 cups granulated sugar (500 grams)
1 tsp salt (6 grams)
1 1/2 tsp baking powder (6 grams)
1 tsp baking soda (6 grams)
4 large eggs, room temp (224 grams)
1 cup unsalted butter, room temp (2 sticks, 226 grams)
1 cup hot water (237 grams)
1 cup buttermilk, room temp (240 grams)
1 cup black cocoa (100 grams)
Chocolate Buttercream Frosting
2 cups (or 4 sticks) unsalted butter, room temperature (452 grams)
6 cups powdered sugar (750 grams)
1 1/3 cups of melted dark chocolate, cooled (232 grams, 8 oz.)
1 cup unsweetened baking cocoa, sifted (100 grams)
1/2 tsp salt (3 grams)
1/2 cup heavy cream (115 grams)
Instructions
Chocolate Cake Layers
Begin by preheating the oven to 350 degrees Fahrenheit. Line four seven-inch or three eight 8-inch pans with parchment rounds, and spray with non-stick spray.
Add the sugar and butter into the bowl of a stand mixer, and mix on high for 1 minute with a whisk attachment. The mixture should become light in color.
Add in the eggs, one at a time. Then add baking soda, baking powder, and salt. Mix on high for another minute.
In a separate bowl, combine the cup of hot water, and cup of buttermilk. Pour in the cup of black cocoa, and whisk until no clumps remain.
Next, add 1 cup of flour into the butter/egg mixture. Scrape the sides of the bowl with a spatula, to ensure the flour is fully incorporated.
Pour in half of the buttermilk/cocoa mixture, and gently pulse the mixture to incorporate the liquid (if you don't, you'll end up splattering the cocoa mixture all over you kitchen!)
Mix in the 2nd cup of flour, at a low speed. Pour in the remaining buttermilk/cocoa mixture, and again gently pulse, then mix on low until fully combined.
Add in the last cup of flour, and mix on low until the flour is incorporated.
Evenly divide between the prepared pans. I like to use a kitchen scale to ensure each pan has exactly the same amount of batter.
Bake for 32-35 minutes, or until a toothpick comes out clean.
Allow layers to cool in the pans for about 10 minutes, then run an offset spatula around the edge of the pans to help separate the layers from the pans.
Place the pans in the freezer for about 45 minutes, to accelerate the cooling process. Once the layers are fully cooled, carefully flip the pans and remove the layers from the pans.
Use a serrated knife to level the tops of the layers, and then frost as desired.
Chocolate Buttercream Frosting
While the cake layers bake and cool, make the chocolate buttercream frosting.
Beat the butter on a medium speed for 30 seconds with a paddle attachment, until smooth. 
Add in the sifted cocoa, and mix on low until the cocoa is fully incorporated, and no clumps remain.
Slowly add in the powdered sugar, 1 cup at a time. Alternate with small splashes of cream.
Mix in the cooled, melted chocolate.
Once fully mixed, add in the salt.
Beat on low until the ingredients are fully incorporated, and the desired consistency is reached.
If the frosting is too thick, add an extra Tbsp of heavy cream. If it's too thin, add in another 1/2 cup of powdered sugar.
Stir by hand with a rubber spatula for a couple minutes to get the frosting SUPER smooth.
To Assemble The Cake:
Stack and frost cake layers on a greaseproof cake board, using a dab of frosting to help stick the first cake layer to the board.
Add an even layer of chocolate buttercream between each cake layer.
Apply a thin coat of frosting around the the cake, to fully cover the cake layers. Smooth using a bench scraper, then chill the cake in the fridge (10 minutes) or freezer (5 minutes) until the frosting is firm to the touch.
Add a second, thicker layer of frosting to the cake, and smooth using a bench scraper. Then decorate as desired!
Notes
These cake layers can be made in advance!! Learn more about how far in advance they can be made, and how to properly wrap them in my post on how to make cake layers ahead of time.
This buttercream can also be made in advance!! I highly recommend making it ahead of time to make the decoration of a cake less stressful and more fun. It keeps in the fridge for several weeks, if stored in an airtight container.
When you're ready to use the chilled buttercream, remove it from the fridge a few hours in advance (or overnight) and allow it to come to room temperature. Give it a good stir with a rubber spatula or your kitchen aid, to get rid of any air bubbles that may have formed. Once the buttercream is smooth again, it's ready to use!
Nutrition Information
Yield
25
Serving Size
1
Amount Per Serving
Calories

440
Total Fat

16g
Saturated Fat

9g
Trans Fat

0g
Unsaturated Fat

5g
Cholesterol

61mg
Sodium

256mg
Carbohydrates

70g
Fiber

3g
Sugar

52g
Protein

5g