Mom's deserve something special. They deserve something just as sweet and wonderful as they are! This cake is inspired by my Mom, who is a big fan of both chocolate and fresh berries.
To this day, my Mom still grows the most delicious strawberries and raspberries in our garden. I can't see a berry and not think of my Mom!
I wanted to make a cake that was packed with fresh raspberries and chocolate, but wasn't too sweet or heavy.
I ended up making a chocolate sponge cake, filled with a whipped chocolate buttercream and fresh raspberries, and frosted with a dark chocolate ganache. The recipe and some more Mother's Day cake inspiration can be found below:
Make the dark chocolate ganache first, as it needs at least a few hours to cool and set. To make, simply place the chocolate (about 2 bags of dark chocolate chips) and heavy cream in a heat proof bowl, and heat it for 30 second increments (stirring between).
Usually after about 2 minutes of heat, all the chocolate is melted. Once the mixture is fully incorporated, place plastic wrap over the top of the ganache, and let it sit at room temperature. Before adding the room temperature ganache to a cake, I give it a slow stir with a spatula.
I also recommend making the chocolate simple syrup in advance. It needs time to cool before it can be used, and preparing it ahead of time makes the following day a bit easier.
Place the sugar and water in a pot, and bring to a simmer. Once the sugar has dissolved, mix in the cocoa, and turn off the heat. Place in a sealed Tupperware container in the fridge overnight.
Bake 4, 8-inch round cake layers using my chocolate cake recipe and instructions. I baked my 8 inch layers for about 32 minutes.
Allow layers to cool fully before leveling with a serrated knife. Place pans into the freezer for 45 minutes, to accelerate the cooling process, and lock in the moisture.
While the layers bake, make the whipped chocolate buttercream. Begin by melting the cup of chocolate chips. Heat it in the microwave for 1 minute at half power in large heat proof bowl, or over a double boiler. Stir until smooth, then set aside briefly to allow it to cool just a bit (not more than 5 minutes).
In the bowl of a stand mixer, beat the butter on a medium speed for 30 seconds with a whisk attachment, until smooth. Slowly add in the powdered sugar, 1 cup at a time.
Alternate with small splashes of cream. Scrap the sides of the bowl with a spatula, to ensure all the powdered sugar is mixed in.
Add in any remaining heavy cream, then whip on high for about 1 minute. Next, add in the melted chocolate. Beat on high again, until the chocolate is fully incorporated. Pour in the egg whites, and beat on high again for about 30 seconds.
Add in the vanilla and salt, and mix until fully incorporated. The frosting should be rather thick, like whipped topping!
After the cake layers are baked and fully cooled, level the cakes by cutting off the tops using a serrated knife.
I like to "taste test" the cake tops with any left over frosting or ganache once I've decorated the cake! The cake tops can also be used to make cake balls. Use a large, sterile paint brush to douse the cake layers with a generous coat of chocolate simple syrup.
Next, it's time to assemble the cake! Place the ganache into a piping bag, and pipe a ring around the perimeter of the cake layer.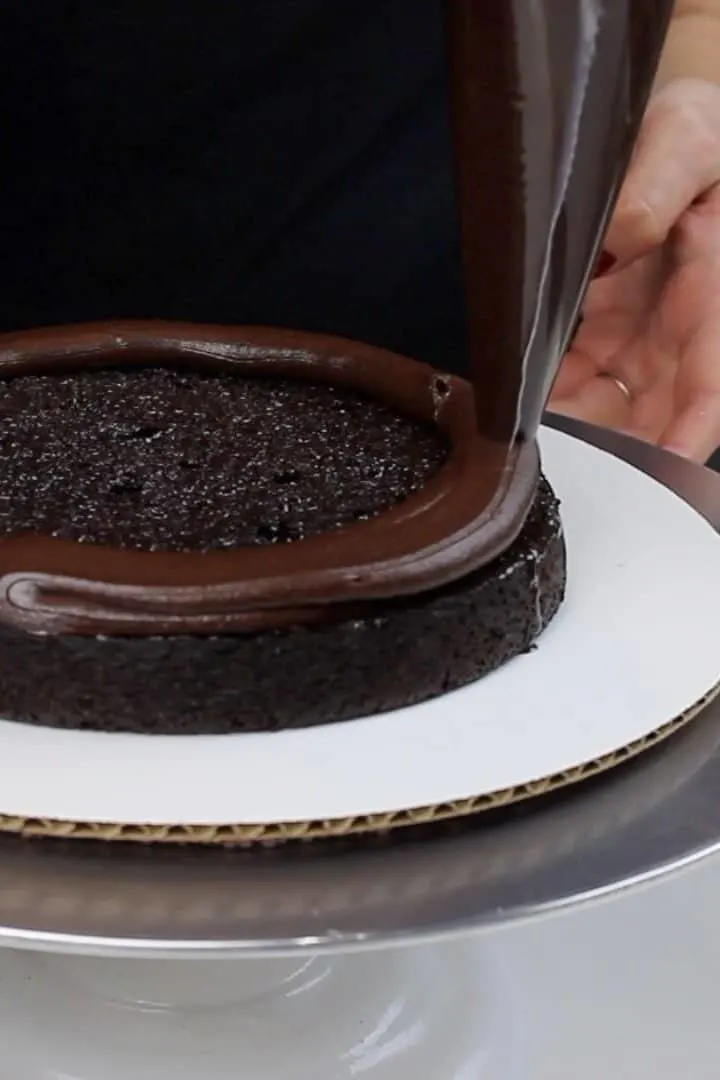 Scoop a few spatulas of whipped buttercream into the center of the cake layer, and use an offset spatula to evenly spread it out to the ganache boarder.
Press a generous amount of raspberries into the whipped chocolate frosting. Repeat until all layers are stacked.
Repeat this process with the remaining cake layers. Once stacked, cover the cake with a thick layer of chocolate ganache, and smooth with a patterned bench scrapper (I got these Wilton "icing combs" on amazon).
Pipe a boarder around the top of the cake using a small French tip, and fill the top of the cake with remaining whipped chocolate buttercream.
This cake is just as delicious as it looks! It feeds about 16 people, so be sure to gather your whole family around to enjoy it. Happy Mother's Day to all the amazing mother's out there!!
Recipes: