Longest. Title. Ever!! But that's exactly what this post is about. I've taken my go-to chocolate layer cake and modified it to create the perfect small batch chocolate blackberry cake recipe. This recipe makes three, 6-inch cake layers that are the perfect height.
I initially modified my vanilla layer cake recipe to make a small batch vanilla cake recipe. You all were quite enthusiastic about it, and several of you asked me to do the same with my chocolate cake recipe.
So here we are, ready to make the perfect 6-inch chocolate cake.
To jazz this cake up a bit, I also incorporated some blackberries to make it a chocolate blackberry cake.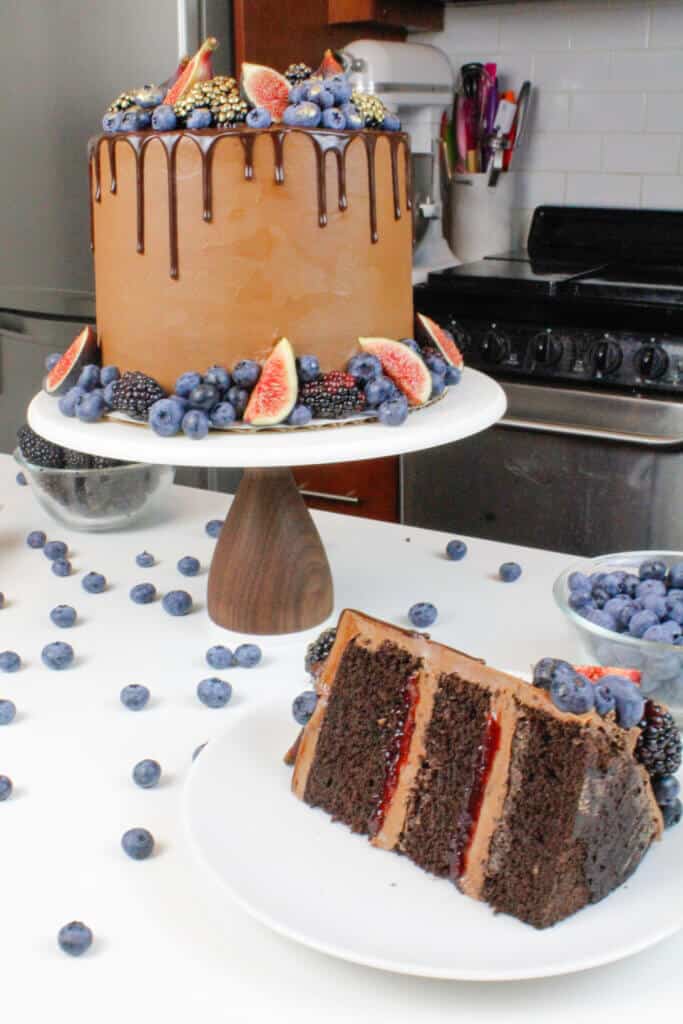 Why Would I Need A Small Batch Version?
My chocolate recipe is great, but makes a pretty big cake. One regular sized batch makes a cake big enough to feed about 24 people.
This is great if you're making a cake for a party, or a large group of people. But sometimes you don't need to make that big of a cake.
You might just want to make a cute little six-inch layer cake. Maybe you want to make a smaller cake to create a certain look.
Sometimes it just comes down to the size of pans people have. A lot of bakers start off with 6 inch cake pans, and don't have bigger pans.
If that's you, then today is your lucky day.
Jazzing Up This Chocolate Cake Recipe
As I recipe tested and photographed this small batch chocolate cake recipe, I chose to add a simple chocolate drip, and frost the cake with my favorite chocolate buttercream.
Blackberries and figs were in season, so I threw some of those onto the cake too!
I also added a bit of my blackberry freezer jam between the cake layers, to tie the garnish and the flavor of the cake together.
It sounds like an odd flavor combination, but I swear blackberries and chocolate are delicious together!
You can also keep things a bit more simple, and just focus on chocolate if you prefer. There is nothing wrong with a classic chocolate cake frosted with chocolate buttercream!
What Does Small Batch Mean?
In this case, small batch just means I've updated the amount of ingredients you use, to make a smaller cake.
At first I thought I could just cut the recipe in half, and make three cake layers. You can do this, but the cake layers turn out quite a bit thinner than I'm used to.
I wanted each cake layer to be at least an inch tall, so I knew I'd have to play around this.
In the end, it turned out that making 2/3 of a batch is the ideal amount of batter to make a 6-inch cake.
How Many Layers Does This Recipe Make?
Like I mentioned above, this small batch chocolate blackberry cake recipe bakes three, perfect little 6 inch layers.
It may seem like you're filling your pans pretty full, but this batter doesn't rise much as it bakes.
That's part of what makes my chocolate cake recipe so great though. With that in mind, you should end up with cake layers that are just a bit taller than 1 inch once they're leveled.
If you want to make a taller cake with four cake layers, I recommend following my standard sized chocolate cake recipe.
The cake will turn out to be quite tall, but tall cakes are all the rage lately.
If this small batch recipe is used to make 4 cake layers, they will end up being a bit thinner, and should be baked for slightly less time (24-27 minutes).
Let Me Know What You Think of This Chocolate Blackberry Cake!
I'd love to hear your thoughts on this small batch chocolate blackberry cake! Do you like to make smaller cakes like this?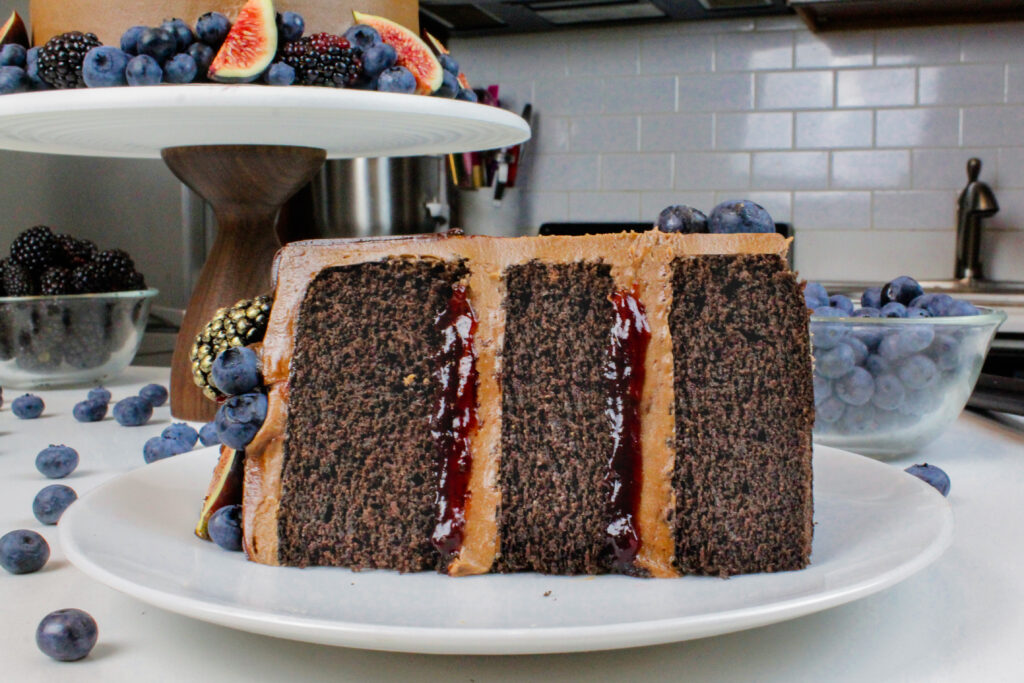 If you try this recipe, please tag me @chelsweets. Also use the #chelsweets so that I can see your amazing creations!
Other Recipes You Might Like:
Yield: 16
Small Batch Chocolate Blackberry Cake
This small batch chocolate blackberry cake recipe makes just enough batter for a perfect, 6 inch layer cake! It's moist, delicious, and the ideal size!
Additional Time
30 minutes
Total Time
1 hour
15 minutes
Ingredients
6-Inch Chocolate Cake
1 2/3 cup granulated sugar (330 grams)
2/3 cup unsalted butter, room temp (150 grams)
3 large eggs, room temp (168 grams)
2/3 tsp baking soda (4 grams)
1 tsp baking powder (4 grams)
1/2 tsp salt (3 grams)
2/3 cup hot water (156 grams)
2/3 cup buttermilk, room temp (158 grams)
2/3 cup black cocoa (67 grams)
2 cups all-purpose flour (260 grams)
Chocolate Buttercream Frosting
1 1/2 cups (or 3 sticks) unsalted butter, room temperature (339 grams)
2/3 cup unsweetened baking cocoa, sifted (67 grams)
3 1/2 cups powdered sugar (454 grams) - or a 1 lb bag
1/3 cup heavy cream (76 grams)
1 cup of melted dark chocolate, cooled (174 grams, 8 oz.)
1/2 tsp salt (3 grams)
Optional Filling:
Optional Decoration
1 pint blueberries
1 pint figs
1 pint blackberries
Instructions
Chocolate Cake Layers
Begin by preheating the oven to 350 degrees Fahrenheit. Line three 6-inch pans with parchment rounds and spray with non-stick spray.
Add 1 2/3 cup of granulated sugar and 2/3 cup unsalted butter into the bowl of a stand mixer and mix on high for 1 minute with a whisk attachment. The mixture should become light in color.
Add in 3 large eggs, mixing each egg in one at a time on a medium high speed.
Add 2/3 tsp baking soda, 1 tsp baking powder, and 1/2 salt. Mix on high for another minute.
In a separate bowl, combine 2/3 cup of hot water, and 2/3 cup of buttermilk. Pour in 2/3 cup of black cocoa and whisk until no clumps remain.
Next add 1 cup of flour into the butter/egg mixture. Scrape the sides of the bowl with a spatula to ensure the flour is fully incorporated.
Pour in the buttermilk/cocoa mixture and gently pulse the mixture to incorporate the liquid (if you don't, you'll end up splattering the cocoa mixture all over your kitchen!)
Mix in the 2nd cup of flour, at a low speed, and mix on low until the flour is incorporated.
Evenly divide between the prepared pans.
Bake for 32-34 minutes, or until a toothpick comes out clean.
Allow layers to cool in the pans for about 10 minutes, then run an offset spatula around the edge of the pans to help separate the layers from the pans.
Place the pans in the freezer for about 45 minutes, to accelerate the cooling process. Once the layers are fully cooled, carefully flip the pans and remove the layers from the pans.
Use a serrated knife to level the tops of the layers, and then frost as desired.
Chocolate Buttercream Frosting
While the cake layers bake and cool, make the chocolate buttercream frosting.
Beat 1 1/2 cups of butter on a medium speed for 30 seconds with a paddle attachment until smooth.
Add in 2/3 cup of sifted cocoa and mix on low until the cocoa is fully incorporated and no clumps remain.
Slowly add in 3 1/2 cups of powdered sugar, 1 cup at a time. Half way through, pour in 1/3 cup of heavy cream to make the frosting easier to mix.
Mix in 1 cup of cooled, melted chocolate and 1/2 tsp of salt.
Beat on low until the ingredients are fully incorporated, and the desired consistency is reached.
If the frosting is too thick, add an extra Tbsp of heavy cream. If it's too thin, add in another 1/2 cup of powdered sugar.
Stir by hand with a rubber spatula for a couple minutes to get the frosting SUPER smooth.
To Assemble This Chocolate Blackberry Cake:
Stack and frost cake layers on a greaseproof cake board, using a dab of frosting to help stick the first cake layer to the board.
If desired, add a thin layer of blackberry jam on top of the cake layer, then top it with an even layer of chocolate buttercream. Repeat with the second cake layer, then place the top cake layer upside down to make it easier to frost.
Spread a thin coat of frosting around the the cake to fully cover the cake layers.
Smooth using a bench scraper, then chill the cake in the fridge (10 minutes) or freezer (5 minutes) until the frosting is firm to the touch.
Add a second, thicker layer of frosting to the cake, and smooth using a bench scraper. Then decorate as desired!
Notes
These cake layers can be made in advance!! Learn more about how far in advance they can be made, and how to properly wrap them in my post on how to make cake layers ahead of time.
This buttercream can also be made in advance!! I highly recommend making it ahead of time to make the decoration of a cake less stressful and more fun. It keeps in the fridge for several weeks, if stored in an airtight container.
When you're ready to use the chilled buttercream, remove it from the fridge a few hours in advance (or overnight) and allow it to come to room temperature.
Give it a good stir with a rubber spatula or your kitchen aid, to get rid of any air bubbles that may have formed. Once the buttercream is smooth again, it's ready to use!
Nutrition Information
Yield
16
Serving Size
1
Amount Per Serving
Calories

465
Total Fat

17g
Saturated Fat

10g
Trans Fat

0g
Unsaturated Fat

5g
Cholesterol

65mg
Sodium

277mg
Carbohydrates

75g
Fiber

3g
Sugar

56g
Protein

5g