My classic american buttercream recipe is my top blog post, and is also my most frequently requested recipe!
While I feel comfortable swapping in and out ingredients to make different flavors using this base recipe, I realize that you guys might want to know the recipe for my frequently used variations.
When it comes to buttercream (and baking in general), I always like to keep things simple!
While there are tons of delicious types of buttercream out there (Swiss, German, Italian, French…), I prefer American Buttercream!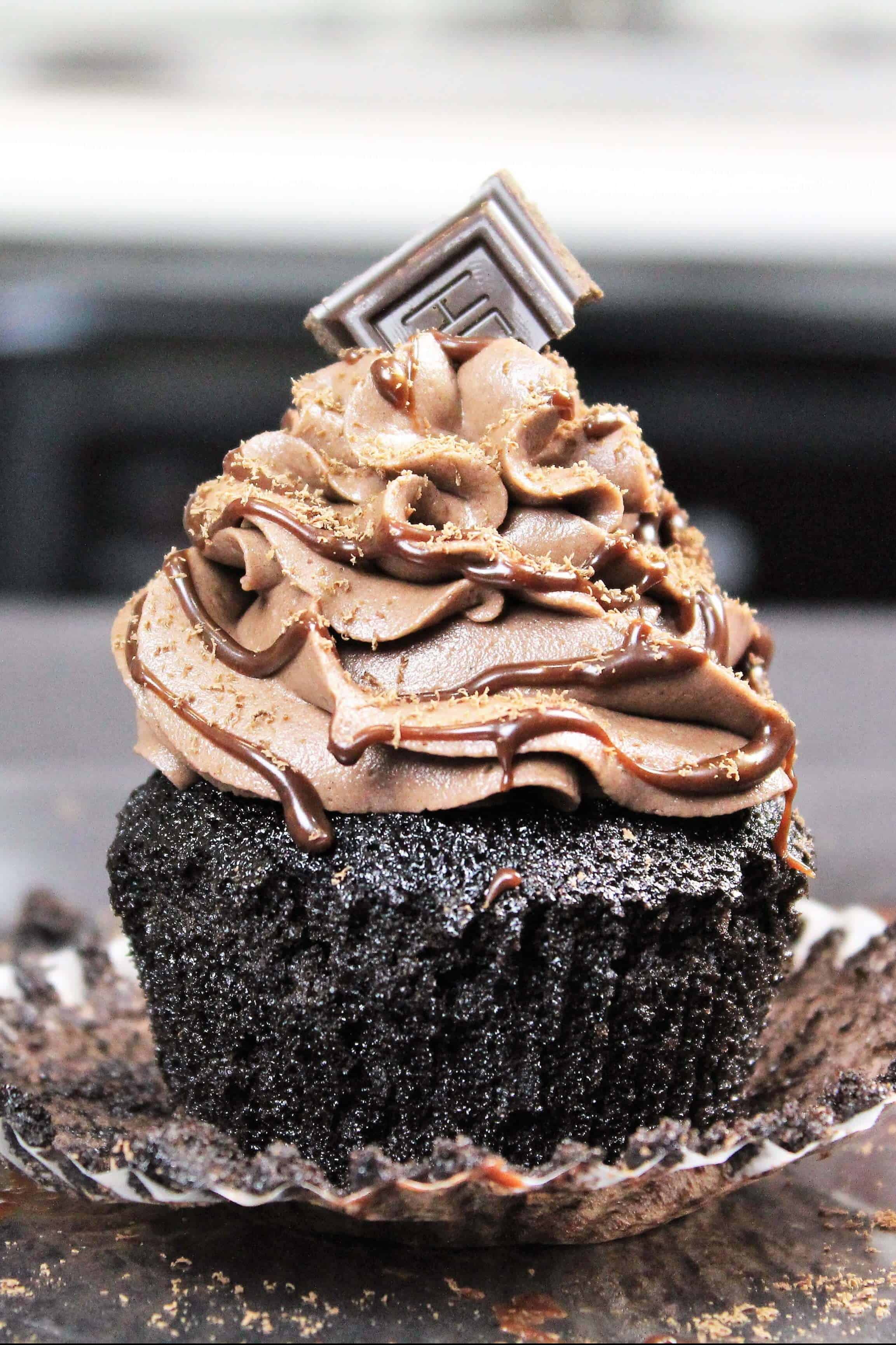 Why? I don't like to mess with eggs when it comes to frosting, and I enjoy the way American buttercream tastes.
I find I'm disappointing when bite into a cake with Swiss meringue buttercream (SMBC).
SMBC is much lighter and less sweet, and it leaves me feeling unsatisfied. This is just my personal opinion!
It's definitely the sweetest type of buttercream (Duff Goldman calls it sweetened butter :P), but I grew up eating sweet icing.
I have always had a huge sweet tooth!! I grew up loving pop tarts, cans of sugary frosting, and fruity candies!
If you didn't grow up eating American sweets, or if you don't have a big sweet tooth, this frosting recipe might be too sweet for you.
However, I do find that my chocolate buttercream tastes a bit less sweet than my vanilla buttercream.
If you're looking for a rich chocolaty cake filling, or a something that is chocolaty but a bit less sweet, I highly recommend trying ganache!
The cake below is covered in milk chocolate ganache, and it is a really great alternative to chocolate buttercream.
So here you have it, the recipe for my second most popular flavor of buttercream-CHOCOLATE!
It takes my vanilla buttercream recipe, and adds in baking cocoa, and a touch more heavy cream to balance out the thickening effect of the cocoa!
You can also add more cocoa if desired, to get a stronger chocolate taste. Just be sure to add in more heavy cream as well, to maintain the consistency of the frosting.
This frosting is just as easy to make as my vanilla buttercream, and is a dream to frost cakes and cupcakes with.
When using this to frost my favorite vanilla layer cake recipe (which can be used to make four 7 inch or 8 inch cake layers), I usually make 1.5 – 2 batches, depending on how I'm decorating the cake.
NOTE: If you are making frosting for a cake, it is important to mix the buttercream on low at the end of the process for a couple minutes, to get out any extra air that might have be incorporated during the mixing process.
This will make it easier to get super smooth sides on your cake!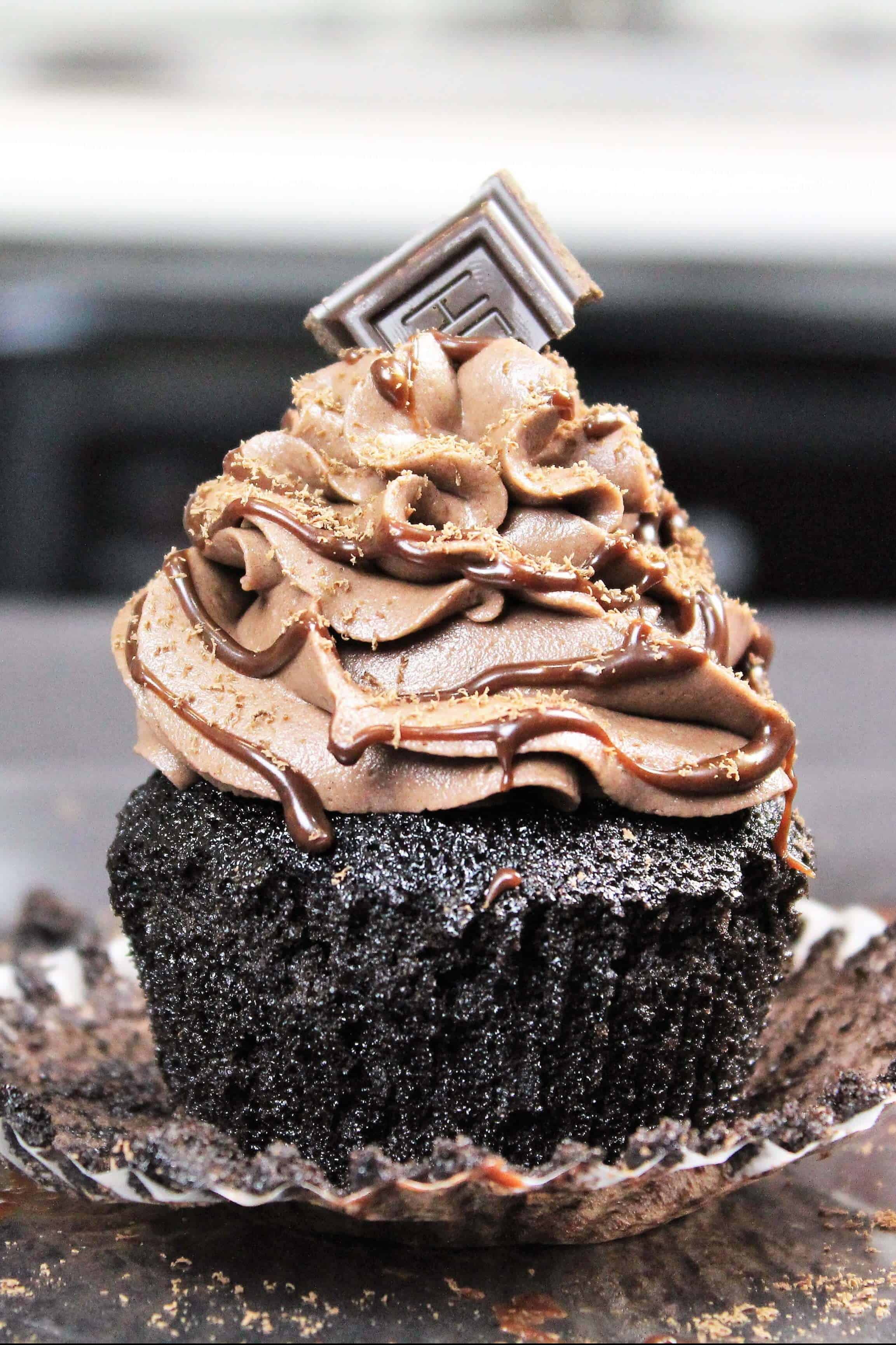 Easy Chocolate Buttercream
This chocolate buttercream recipe is so easy, you'll never buy store bought frosting again!! It's made with only 6 ingredients, and takes less than 10 minutes to make!!
Servings
1
seven inch layer cake
Ingredients
2

cups

(or 4 sticks) unsalted butter, room temperature

(434 grams)

8

cups

powdered sugar

(907 grams)

1/3

cup

unsweetened baking cocoa

(40 grams)

1/2

tsp

salt

(3 grams)

1/3

cup

heavy cream

(80 grams)

1

tsp

vanilla

(4 grams)
Instructions
Beat the butter on a medium speed for 30 seconds with a paddle attachment, until smooth.

Add in the cocoa, and mix on low until the cocoa is fully incorporated, and no clumps remain.

Slowly add in the powdered sugar, 1 cup at a time. Alternate with small splashes of cream.

Once fully mixed, add in the vanilla and salt.

Beat on low until the ingredients are fully incorporated, and the desired consistency is reached.
Recipe Notes
If the frosting is too thick, add in additional cream (1 teaspoon at a time). If the frosting is too thin, add in more powdered sugar (quarter of a cup at a time).