As a 29-year-old, I know that I should have outgrown the cartoons I grew up watching…but I simply can't help it.
I loved SpongeBob then, and I love him now. I may love him forever. There's something about his ever-optimistic personality and his appreciation for the little things in life that still resonates with me.
I'll admit, I still watch SpongeBob on Saturday mornings. In fact, I get up early (before my husband, who is not as big of a fan!) to watch it while I bake.
I've even seen SpongeBob on Broadway!! Which is a fantastic show, I highly recommend seeing it.
Clearly, it was high time I made a SpongeBob cake. Like so many other fun ideas, a SpongeBob cake had been on my cake to-do list for years.
There was a big special on Nickelodeon for SpongeBob's birthday this July (I'm embarrassed that I know that), and it was gave me the push I needed to finally make this cake.
I was determined to do him justice, to make him proud. I also wanted to make him primarily out of buttercream, with as little fondant as possible.
There's nothing wrong with fondant, I just love working with and eating buttercream more 🙂
I implemented some interesting techniques to make it work, but I'm happy with how he turned out!
Who Lives in A Pineapple Under the Sea?
I had to incorporate pineapple into this cake, since SpongeBob lives in one! To do this, I added some pineapple juice into my layer cake recipe.
I also made a pineapple simple syrup, to make sure the flavor was prominent in each bite.
I knew I'd have to do a lot of work with the buttercream to get the decoration of this cake right, so I chose not to add pineapple into the frosting.
If you wanted to go all out with the pineapple theme, you could add crushed, freeze-dried pineapple into your frosting.
Another option would be to add pineapple slices between the cake layers, sealed in with a frosting dam.
However, this can cause the layers to slice when they're being frosted! That's the main reason I chose not to use fresh fruit.
I knew this would end up being a tall, thin cake, which can already be difficult to assemble and frost.
Who's Porous As He?
As I frosted SpongeBob, I was trying to figure out the best way to give him holes.
I really wanted them to be three dimensional as opposed to just adding spots onto the cake, or little fondant circles.
While saying it here sounds strange, SpongeBob's circles are actually a unique shade of green on TV.
Originally, I thought I would use a small circle cutter to cut out circles of buttercream. I planned to use some olive-green buttercream to fill inside the circles.
I waited to make his holes until the rest of the cake was decorated.
When the time came, using green frosting just felt wrong. In the end, I used a completely different technique.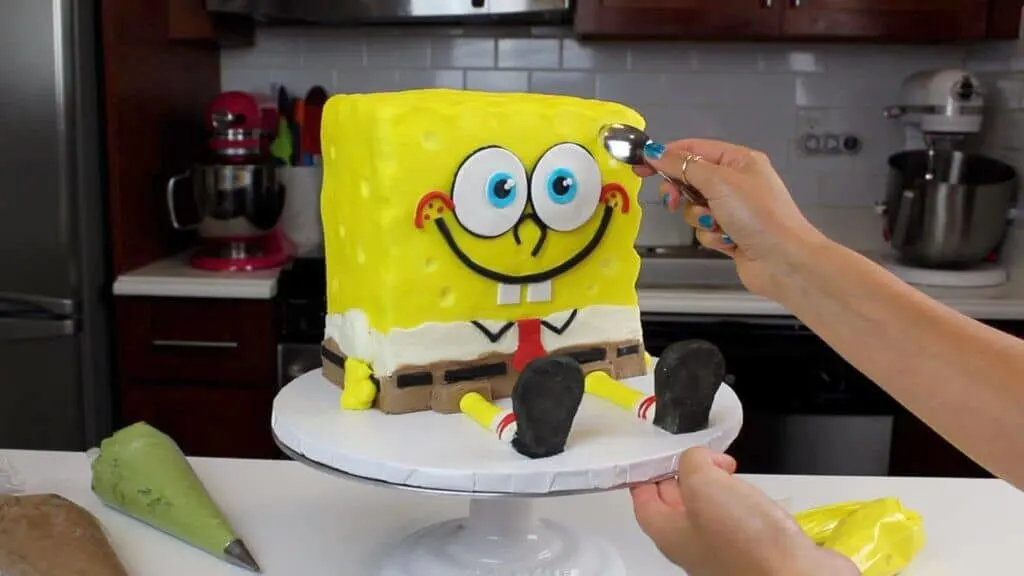 I heated up a small baby spoon with some hot water (and dried it), and used that to carve out holes in the cake.
The cake had been chilled overnight and the buttercream had crusted, so the warm spoon worked like a charm!
It also gave me the 3D look I was going for, without having to incorporate any green frosting.
Giving SpongeBob a Backbone
In true invertebrate form, SpongeBob needed a little help sitting up. Since he's built with 6 rectangular cake layers, he isn't the most stable cake shape.
I used two bubble tea straws to ensure he stayed upright while I decorated him. You also could use a wooden dowel.
I prefer bubble tea straws because they're so much easier to cut.
I highly recommend adding some sort of central support into this cake, to keep the layers in place.
This cake had to be chilled several times throughout its decoration. Knowing that it was stable gave me piece of mind as I took it in and out of the fridge.
SpongeBob's Squeaky Shoes
The other piece of this cake that I struggled with was SpongeBob's shoes. They needed to be 3D as well, but are such a unique shape.
The last thing I wanted to do was plop two giant pieces of fondant onto the cake board. I worked so hard to create him with buttercream, and I wasn't ready to quit that just yet.
Whenever I need to make an interesting shape to add to a cake, I used cake scraps mixed with frosting.
This allows me to essentially make a cake pop in whatever shape I need!
I saved the cake scraps from leveling my sheet cakes, and mixed them with a combination of chocolate buttercream, and black gel food coloring.
Once the mixture was fully combined and evenly colored, I shaped his shoes onto cut bits of bubble tea straws.
The straws help them stay upright once they're placed on the cake board.
Then I popped his little shoes in the freezer!! Freezing them makes them easier to handle and add to the cake. It also helps them set and keep their shape.
Let Me Know What You Think!
If you (or your child) loves SpongeBob as much as I do, please let me know what you think of this cake.
Or better yet, try the recipe and let me know how yours turns out!!
Other Recipes You Might Like: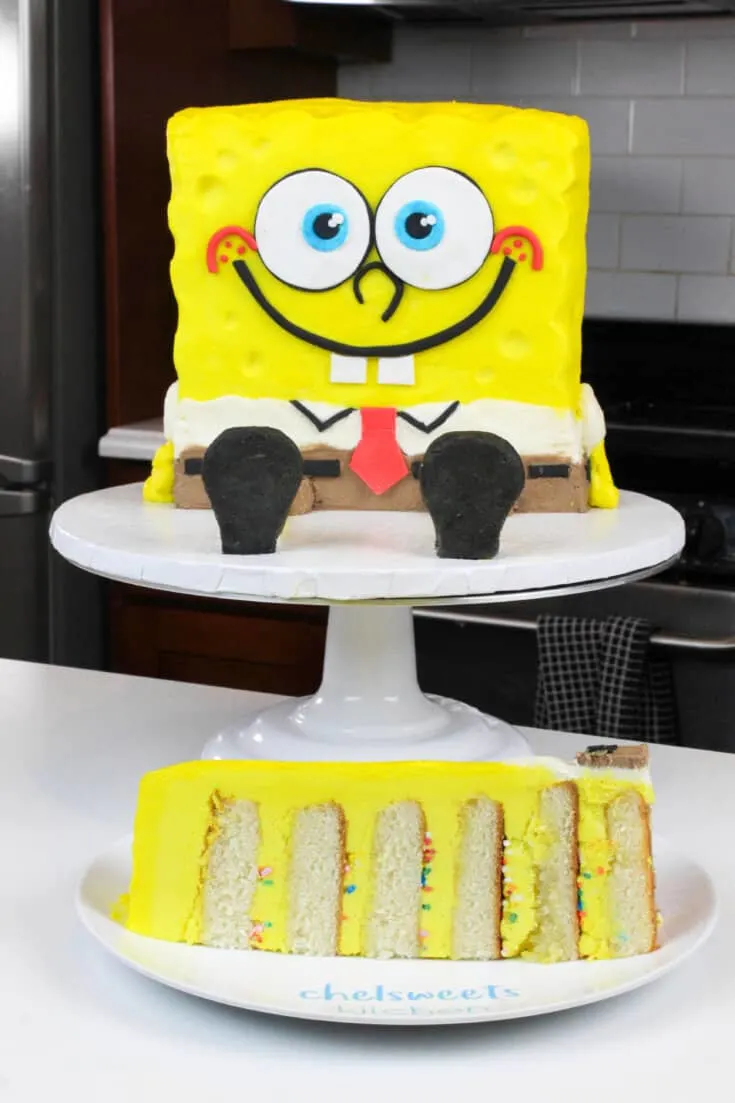 Who lives in a pineapple under the sea? Absorbant & yellow & delicious as he?! This SpongeBob cake is made w/ pineapple cake layers, and a pineapple simple syrup, and is just as tasty as it is fun!
Additional Time
20 minutes
Total Time
1 hour
10 minutes
Ingredients
Pineapple Sheet Cake
3 cups all-purpose flour (390 grams)
3 cups granulated sugar (600 grams)
2 1/2 tsp baking powder (10 grams)
1 tsp salt (6 grams)
1 cup unsalted butter, room temperature (226 grams) - 2 sticks
2 tsp. vanilla extract (8 grams)
1 cup pasteurized egg whites from a carton (or about 7 egg whites) (235 grams)
1 cup pineapple juice (240 grams)
1/2 cups buttermilk, room temperature (115 grams)
1/8 cup vegetable oil (28 grams)
gel food coloring (if desired)
Pineapple Simple Syrup
1 cup pineapple juice
1 cup sugar
Vanilla Buttercream Frosting
3 cups unsalted butter, room temperature (678 grams)
11 cups powdered sugar (1375 grams)
1 tsp salt (6 grams)
1/3 cup heavy cream (or whipping cream) (75 grams)
1 1/2 Tbsp vanilla extract (18 grams)
yellow, blue, and black gel food coloring
Additional Decorations
Red fondant
White fondant
Black fondant
1 cup rainbow jimmies
Instructions
Pineapple Sheet Cake Layers:
Preheat oven to 350°F. Line 2 quarter sheet pans (9 inch x 13 inch) with parchment paper, and grease with non-stick cooking spray.
Place 2 flower nails upside down in the pans, spaced a few inches apart from one another. Spray generously with non-stick cooking spray.
Mix together all dry ingredients (flour, baking powder, sugar, and salt) in a stand mixer with a paddle until fully combined.
Mix chunks of room-temperature butter slowly into the dry mix, on a low speed. Continue to mix until no large chunks of butter remain, and the mixture becomes crumbly.
Pour in egg whites, and mix on low until just incorporated. Slowly mix in the pineapple juice, then add the buttermilk, and mix on a low speed.
Add in vanilla and oil, and mix at a low speed until fully incorporated. Scrape down the sides of the bowl with a spatula, then beat on medium speed for about 30 seconds.
Divide batter evenly between the prepared cake pans.
I like to use a digital kitchen scale to weigh my pans, and ensure they all have the same amount of batter. This guarantees the layers bake to be the same height.
Bake for 34-36 minutes, or until a toothpick comes out clean. Allow the pans to cool for 10 minutes, then run an offset spatula around perimeter of the pan to separate the cake from the pan.
Place cake layers into the freezer for 30 minutes, to accelerate the cooling process.Once the layers are fully cooled, carefully flip the pans and remove the layers from the pans.
Use a serrated knife to level the tops of the layers, the cut each sheet cake in to three rectangular pieces (7 in x 4.33 in pieces).
Pineapple Simple Syrup:
Place the pineapple juice and granulated sugar in a sauce pan, and heat at a medium high heat.
Stir the mixture occasionally until it begin to boil.
Remove from heat, and pour into a separate bowl to cool.
Set aside.
Vanilla Buttercream Frosting:
While the cake layers bake and cool, make the vanilla buttercream frosting.
Beat the butter on a medium speed for 30 seconds with a paddle attachment, until smooth. Slowly add in the powdered sugar, 1 cup at a time. Alternate with small splashes of cream.
Once fully mixed, add in the vanilla and salt, and beat on low until the ingredients are fully incorporated, and the desired consistency is reached.
If the frosting is too thick, add in additional cream (1 teaspoon at a time). If the frosting is too thin, add in more powdered sugar (quarter of a cup at a time).
Place 1 /2 cup of uncolored frosting into a piping bag, and cut a 1 inch opening at the end of the bag. Set aside.
Place 1 /2 cup of frosting into a separate bowl, and mix in 1 tbsp of cocoa powder. Place this chocolate frosting into another piping bag, and cut a 1 inch opening in the bag. Set aside.
Color the remaining frosting yellow with gel food coloring.
To Assemble The Cake:
Brush each cake layer with the pineapple simple syrup using a kitchen brush.
Stack and frost cake layers on a large, 12 inch greaseproof cake board, using a dab of frosting to help stick the first cake layer to the board.
Add an even layer of yellow buttercream between each cake layer, and a sprinkle of rainbow jimmies.
Insert either a central wooden dowel, or two bubble tea straws into the cake as supports.
Apply a thin coat of frosting around the the cake, to fully cover the cake layers. Smooth using a bench scraper, then chill the cake in the fridge (10 minutes) or freezer (5 minutes) until the frosting is firm to the touch.
Add a second, thicker layer of frosting to the top 3/4 of the cake, and smooth using a bench scraper.
Pipe a white line underneath the yellow, then a brown line in the remaining space.
Smooth using a bench scraper and an acetate sheet.
Use fondant to create SpongeBobs facial features, tie, belt, and shoes.
Carefully press the fondant onto the buttercream.
Pipe on SpongeBob's legs and arms.
Use a small spoon dipped in warm water (and dried) to make SpongeBob's holes.
Nutrition Information
Yield
24
Serving Size
1
Amount Per Serving
Calories

748
Total Fat

35g
Saturated Fat

20g
Trans Fat

0g
Unsaturated Fat

13g
Cholesterol

85mg
Sodium

279mg
Carbohydrates

107g
Fiber

0g
Sugar

92g
Protein

3g