We may still be celebrating things virtually, but that has yet to stop me from baking for my friends and family. We're hosting a virtual baby shower for my friend today and I wanted to make this adorable elephant cake to match her nursery theme!
While we might not be able to enjoy the cake together, it's the thought that counts.
I've avoiding making an elephant cake for the longest time because I was always scared of the trunk and the ears. But after a little strategizing to figure out how to make this cake, I realized it's not as hard as you might think!
With the help of some cake decorating-friendly rice krispies (more on that below) and pink fondant, this elephant cake is a lot of fun to make.
Making This Little Elephant's Ears & Face
While I'm always team buttercream, there are some situations where using a bit of fondant just makes sense.
Plus we've already put so much energy into making the cake layers and buttercream from scratch, a tiny but of fondant never hurt anyone. I used black, white and pink fondant to make my elephant's face and ears.
Those ears would be just about impossible to get right without using fondant. Trust me, I tried using rice krispie treats and it was a no-go. They were way too thick!!
Making this Elephant Cake with Rice Krispie Treats
You read that right! A batch of cake decorating-friendly rice krispies makes this challenging cake shape so much more manageable.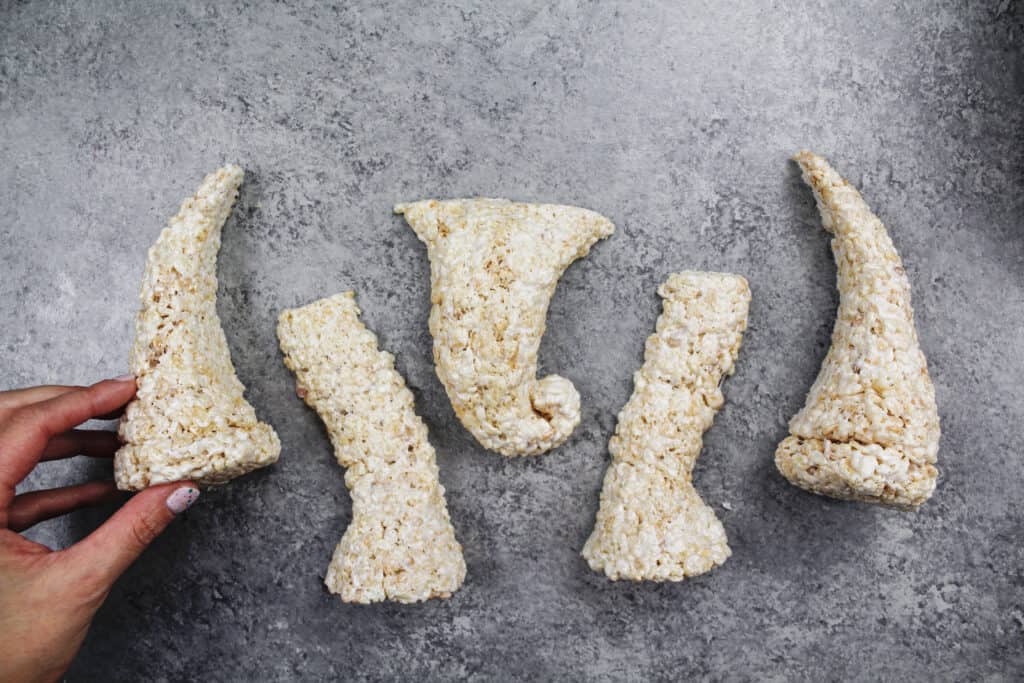 By omitting the butter that is in most rice krispie treats, these rice krispie treats set quite firmly once they're cooled.
This allows you to creatively and easily shape your cake. I used the same technique to make my Patrick Star cake I highly recommend if for larger shaped cake like this.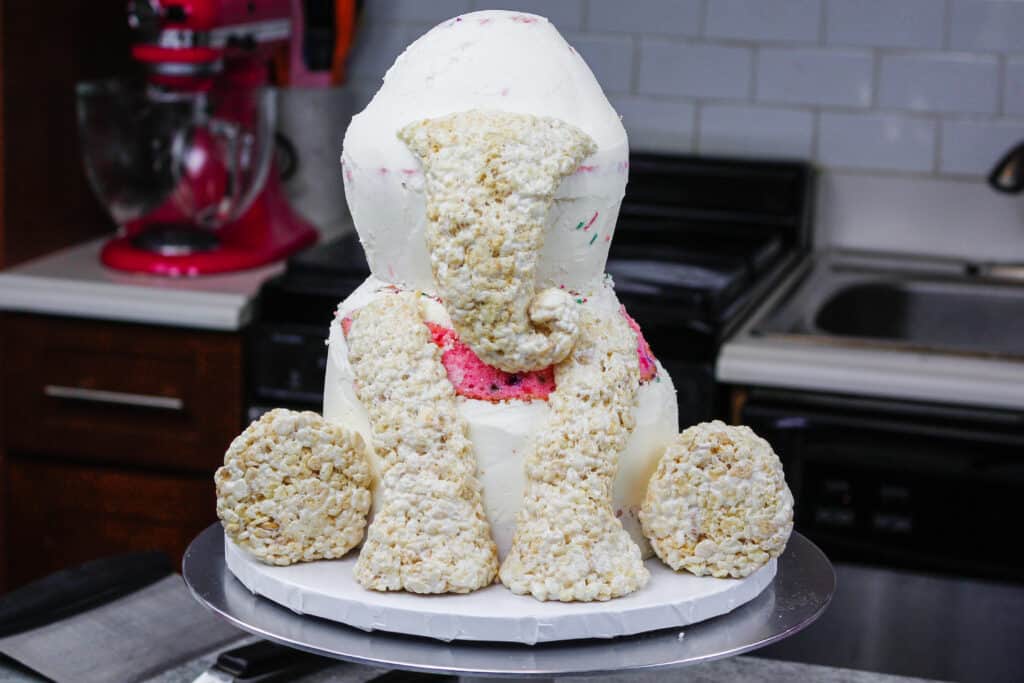 Substitutions and Swaps – Pink Funfetti Cake Layers
This elephant birthday cake uses quite a few ingredients and I know you might not have all of them on hand. Or if you have food allergies or restrictions, I've got you covered.
Below are some swaps and substitutions that can be made in this elephant cake recipe.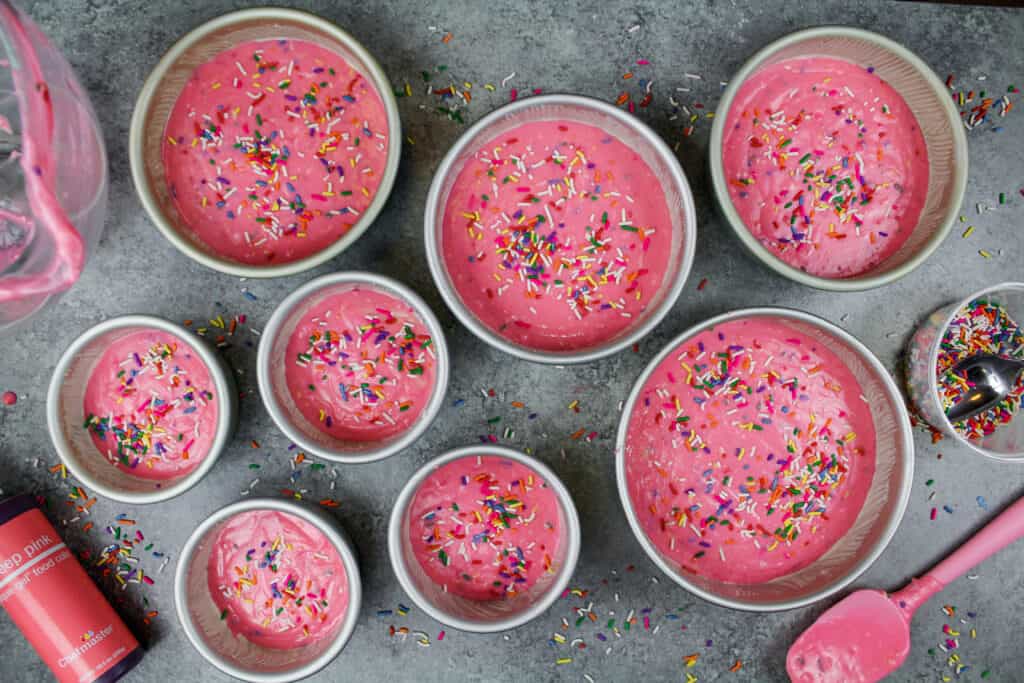 Substitutions and Swaps – Grey Buttercream Frosting
Coloring These Funfetti Cake Layers
Coloring these funfetti cake layers is totally optional, but it creates a fun surprise when you cut into the cake!
I used gel food coloring to make these cake layers pink. Liquid food coloring can work too, but it can throw off the consistency of the cake batter if you add too much.
I highly recommend using gel food coloring. Gel food coloring is concentrated so it allows you to use less. A couple squirts will create a beautiful pink shade.
Gel food coloring is also thicker so it won't change the consistency of the cake batter. Americolor and Chef Master are my go-to brands of gel food coloring and I order them on amazon.
Natural food coloring (either liquid or powder) can be used in place of the gel food coloring! The colors won't be quite the same, but it will still be beautiful.
Tips for Making The Best Elephant Cake:
Making This Elephant Cake In Advance & Storage Tips: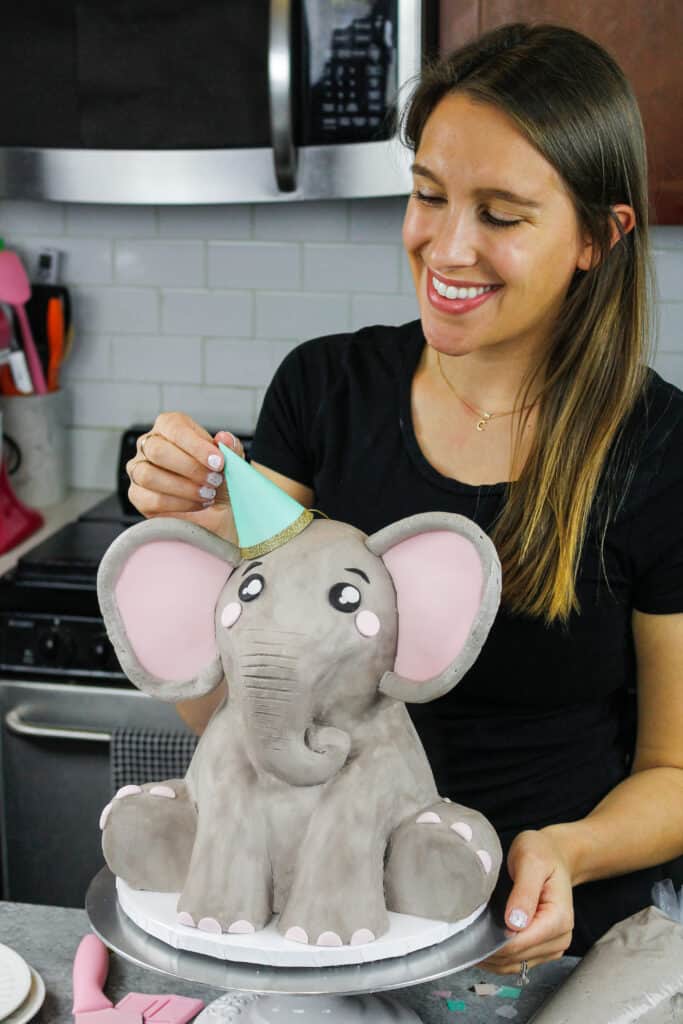 Let Me Know What You Think!
If you try this elephant birthday cake recipe, I'd love to hear what think of it! Please leave a rating and let me know your thoughts by sharing a comment.
Also please tag me @chelsweets! Use the #chelsweets so that I can see your amazing creations on social media.
Other Recipes You Might Like: