Matcha seems to be popping up as a flavor all over the place, and it inspired me to make this matcha drip cake.
From matcha pancakes, to matcha soft serve, it's slowly worn me down. I'm not actually the biggest fan of green tea by itself.
However, when green tea powder is used as a flavor in other types of food, I find I really enjoy it. I also found I loved baking with it when I made matcha cupcakes.
What is Matcha?
Matcha is made from special green tea leaves, that are ground down into an incredibly fine consistency.
These leaves are specifically grown and processed to make matcha powder.
The leaves are grown in the shade the last 3 to 4 weeks before they're harvested. This increases the amount of caffeine they contain, and also intensifies their color.
You can buy matcha at most grocery stores in either the tea and coffee section, or the international section. I get mine from Whole Foods, but you can also order matcha powder on amazon.
What Does Matcha Matcha Taste Like?
The first time I tried matcha, it was matcha soft serve! I liked it a lot more that I thought I would. Slowly I progressed to matcha pancakes, matcha croissants, and even matcha lattes.
Matcha has a uniquely earthy flavor. It's rich and smooth, but sometimes it can have a bitter aftertaste. However, good quality matcha should almost have a sweet finish.
A lot of it comes down to how the matcha is prepared, and its quality.
Ceremonial grade matcha is used in tea ceremonies, and is the highest quality. However, most matcha used for culinary purposes is a lower grade.
When matcha is being mixed with sweeteners in desserts, or with milk in lattes, the sugars can balance out any hint of bitterness.
It leaves a wonderful flavor, that pairs well with so many different things!
Incorporating Chocolate Into This Matcha Cake
Baking with matcha is an entirely different challenge.
There's a delicate balance around adding just right amount of matcha. It's also fun to pair matcha with additional flavors.
Of the many flavors that compliment matcha, I love it with dark chocolate. Matcha reminds me of asian desserts, which aren't too sweet.
With that in mind, I thought a rich, dark chocolate would be the perfect flavor to pair with the matcha in this cake.
I chose to make chocolate and matcha cake layers, using the same cake batter. It makes for a beautiful slice when the cake is cut, and also tastes delicious together.
Adding matcha to the buttercream also creates the most gorgeous shade of frosting!
I also added a dark chocolate and white chocolate drip, for a bit of contrast in the decoration of this cake.
Other fun matcha pairings include matcha and almond, matcha and white chocolate, or even matcha and Oreo.
Now my brain is starting to think about more matcha cake ideas…but we'll save that for another day.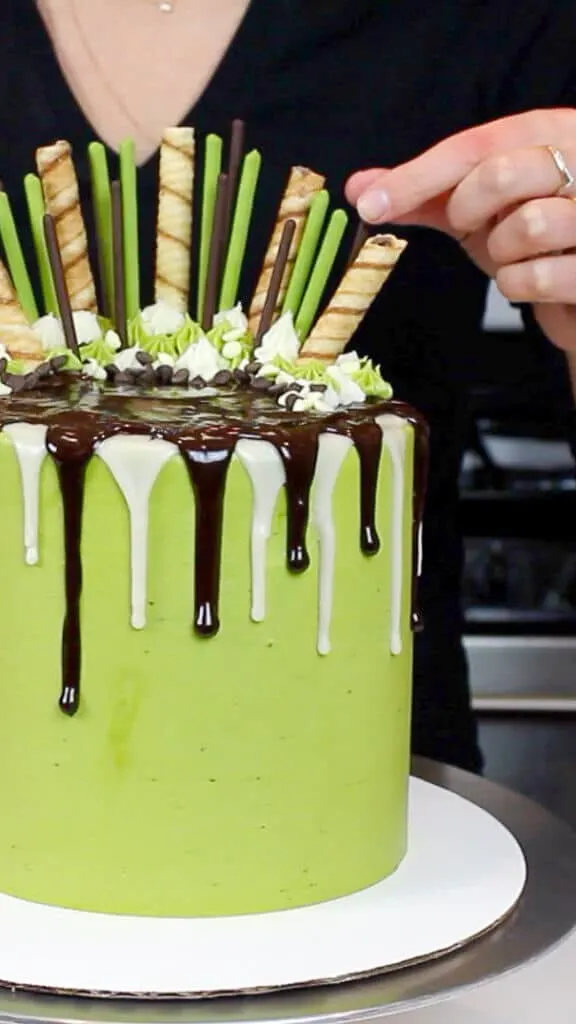 Share Your Creations With Me!
If you try this matcha drip cake recipe, I'd love to hear what you think of it! Please leave a rating and/or comment.
You can also tag me @chelsweets and use the #chelsweets so that I can see your amazing creations!
Other Recipes You Might Like:
This matcha cake recipe is simply delicious!! It's made with chocolate and matcha cake layers, matcha buttercream, and is decorated with dark chocolate and white chocolate drips.
Additional Time
45 minutes
Total Time
1 hour
50 minutes
Ingredients
Matcha Cake
3 1/4 cups cake flour (390 grams)
3 cups granulated sugar (600 grams)
2 1/2 tsp baking powder (10 grams)
1 tsp salt (6 grams)
1 cup unsalted butter, room temperature (226 grams) - 2 sticks
2 tsp. vanilla extract (8 grams)
1 cup pasteurized egg whites from a carton (or about 7 egg whites) (235 grams)
1 cup whole milk, room temperature (245 grams)
1/8 cup vegetable oil (28 grams)
2 Tbsp cocoa powder, sifted (13 grams)
Vanilla and Matcha Buttercream Frosting
3 cups unsalted butter, room temperature (678 grams)
12 cups powdered sugar (1500 grams)
1 tsp salt (6 grams)
1/3 cup heavy cream (or whipping cream) (75 grams)
1 Tbsp vanilla extract (12 grams)
2 Tbsp matcha powder, sifted (13 grams)
Dark Chocolate Drip
1/3 cup heavy cream (75 grams)
1/2 cup dark chocolate chips (35 grams)
White Chocolate Drip
1/2 cup white chocolate chips, preferably the Ghirardelli or Guittard brand (35 grams)
2 Tbsp heavy cream (28 grams)
Instructions
Matcha Cake Layers:
Preheat oven to 350°F. Line four 7 inch pans with parchment rounds, and grease with non-stick cooking spray.
Sift dry ingredients (flour, baking powder, sugar, and salt) into the bowl of a stand mixer.
Mix chunks of room-temperature butter slowly into the dry mix, on a low speed. Continue to mix until no large chunks of butter remain, and the mixture becomes crumbly.
Pour in egg whites, and mix on low until just incorporated. Mix in the milk on a low speed.
Add in vanilla and oil, and mix at a low speed until fully incorporated. Scrape down the sides of the bowl with a spatula, then beat on low speed for about 15 seconds (the key is to mix until the ingredients are JUST incorporated, so that the batter isn't over mixed).
Divide the batter evenly between two bowls. Whisk 2 Tbsp of sifted matcha powder into one bowl, and whisk 2 Tbsp of sifted baking cocoa into the other bowl.
Divide batter evenly between the prepared cake pans.
Bake for 33-35 minutes, or until a toothpick comes out clean. Allow the pans to cool for 10 minutes, then run an offset spatula around perimeter of the pan to separate the cake from the pan.
Place cake layers into the freezer for 45 minutes, to accelerate the cooling process. Once the layers are fully cooled, carefully flip the pans and remove the layers from the pans.
Use a serrated knife to level the tops of the layers, and then frost as desired.
Vanilla Matcha Buttercream Frosting:
While the cake layers bake and cool, make the vanilla buttercream frosting.
Beat the butter on a medium speed for 30 seconds with a paddle attachment, until smooth. Slowly add in the powdered sugar, 1 cup at a time. Alternate with small splashes of cream.
Once fully mixed, add in the vanilla and salt, and beat on low until the ingredients are fully incorporated, and the desired consistency is reached.
If the frosting is too thick, add in additional cream (1 Tablespoon at a time). If the frosting is too thin, add in more powdered sugar (quarter of a cup at a time).
Place 1/2 of the buttercream frosting into a separate bowl, cover with plastic wrap, and set aside.
Add 2 Tbsp of sifted matcha powder in to the remaining frosting, and mix on a low speed until the matcha is fully incorporated.
Dark Chocolate Ganache And White Chocolate Ganache Drips:
Place the dark chocolate chips in a heat-proof bowl, and the white chocolate chips in a separate bowl. Set aside.
Heat heavy cream in a heat-proof bowl in the microwave for 45 seconds to 1 minute, until gently bubbling.
If you don't have a microwave or prefer to use the stove top, you can heat the cream over a medium heat in a pan until it begins to simmer. Remove from heat.
Gently pour 1/3 cup of the heated heavy cream over the dark chocolate chips, and the remaining 2 Tbsp of heavy cream over the white chocolate chips.
Allow mixture to sit for 1-2 minutes.
Stir slowly until the cream and chocolate are fully combined, and ganache is silky smooth.
Pour into a plastic squirt bottles for easy application. If you don't have any plastic bottles on hand, you can also use a spoon to drizzle it over cakes.
Set aside to cool.
To Assemble The Cake:
Stack and frost cake layers on a greaseproof cake board, using a dab of frosting to help stick the first cake layer to the board.
Add an even layer of vanilla buttercream between each cake layer.
Apply a thin coat of frosting around the the cake with additional vanilla buttercream, to fully cover the cake layers.
Smooth using a bench scraper, then chill the cake in the fridge (20 minutes) or freezer (5 minutes) until the frosting is firm to the touch.
Add a second, thicker layer of frosting to the cake with the matcha buttercream. Smooth using a bench scraper.
Chill the cake for an additional 15 minutes in the freezer, or 30 minutes in the fridge.
Carefully add the drips around the cake, alternating the white chocolate and dark chocolate ganache.
Decorate the top of the cake with green tea flavored treats (pocky, Kit Kats, etc.) and bits of chocolate.
Notes
Once the layers have fully cooled, I sometimes like to trim the caramelized bits from the sides of the layers using a serrated knife.
These cake layers can be made in advance!! Learn more about how far in advance they can be made, and how to properly wrap them in my post on how to make cake layers ahead of time.
The frosting recipe above is 1.5 batches of my American buttercream, which is the amount I usually make for 7 or 8 inch cakes. This makes enough buttercream to add a generous amount between the cake layers, and to have leftover buttercream for any special decorations.
If you have extra buttercream you don't use, you can save the leftover buttercream for future baking projects.
Nutrition Information
Yield
24
Serving Size
1
Amount Per Serving
Calories

742
Total Fat

38g
Saturated Fat

23g
Trans Fat

0g
Unsaturated Fat

13g
Cholesterol

92mg
Sodium

278mg
Carbohydrates

100g
Fiber

1g
Sugar

84g
Protein

4g