You've been asking me for my marble cake recipe for a while, and I'm finally getting around to it!
While I love to come up with my own ideas for cakes, I also love hearing your suggestions. At the end of the day, I want to make what you want to see!!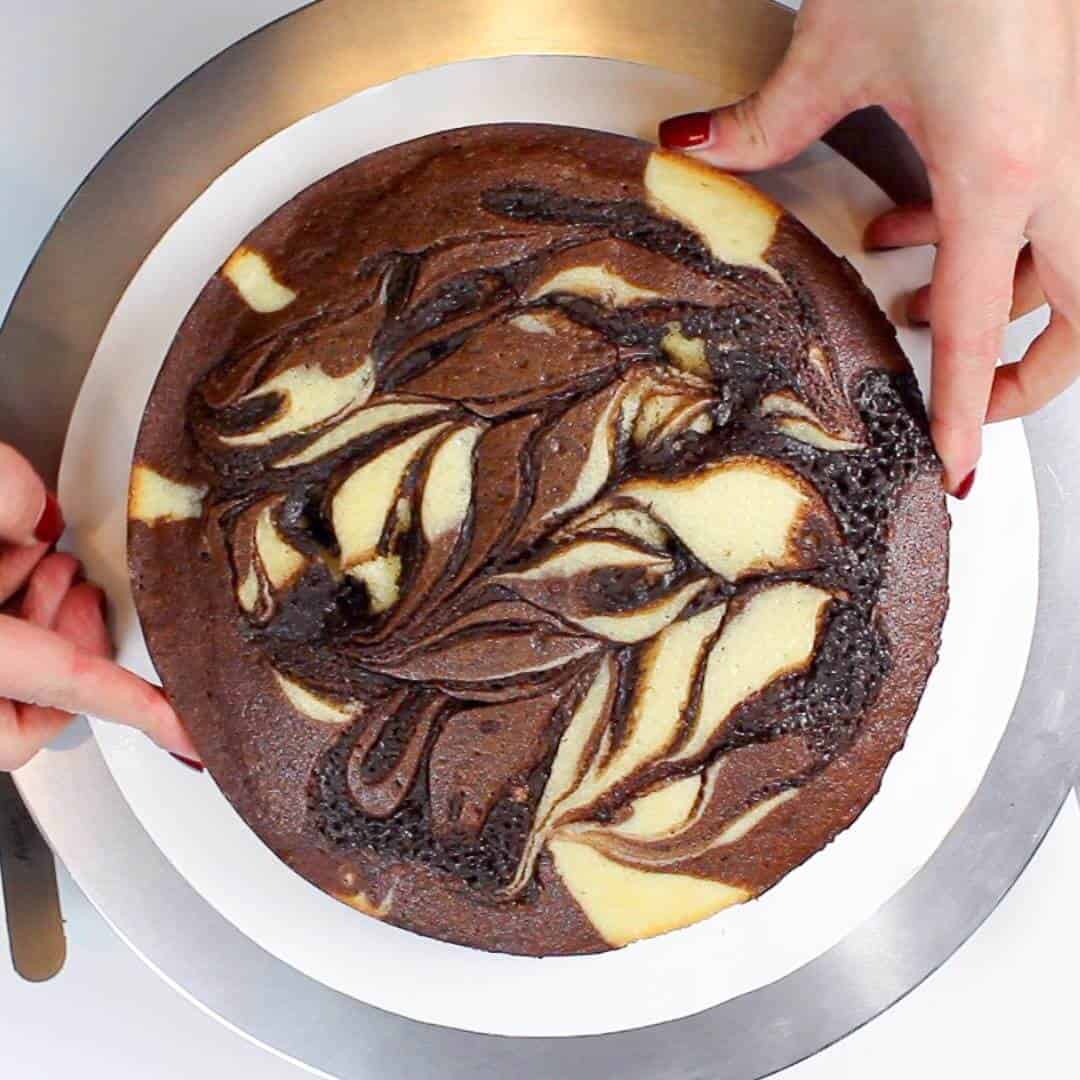 Marble Cake vs. Marbled Cake
On a separate note, I always thought these were called marbled cake layers. I initially titled this post marbled layer cake recipe.
Of course AFTER I created my thumb nails and added text to my videos, google informed me that most people actually call them MARBLE cake layers. Womp womp! Are you team marbled or marble?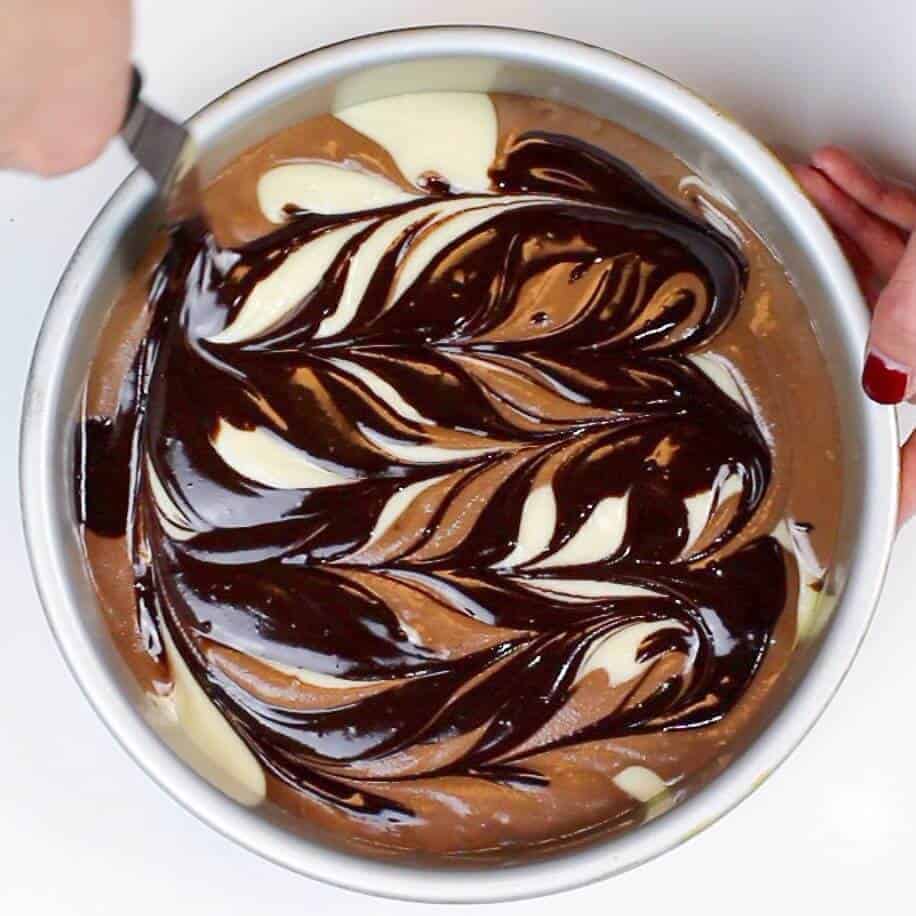 One Batter, Two Flavors!!
There was a reason I put off sharing this marble cake recipe for so long. I was embarrassed to say that in the past, I used to just make a half batch of both my vanilla cake batter and my chocolate cake batter!
It was SO much extra work!! This meant making two sets of batter, which also meant twice the time commitment, twice the dishes, twice the headache!!
My vanilla and chocolate layer cake recipes are super similar. In fact the main difference is that in my chocolate cake recipe, I swap out some of the flour for baking cocoa.
With that in mind, I've adjusted this recipe so that you only have to make one base batch of batter. After making the vanilla cake batter, you can set aside half of it to make the chocolate batter.
All you have to do mix in a few additional ingredients. Now you can forget about the extra dishes, and enjoy the cake once it's made!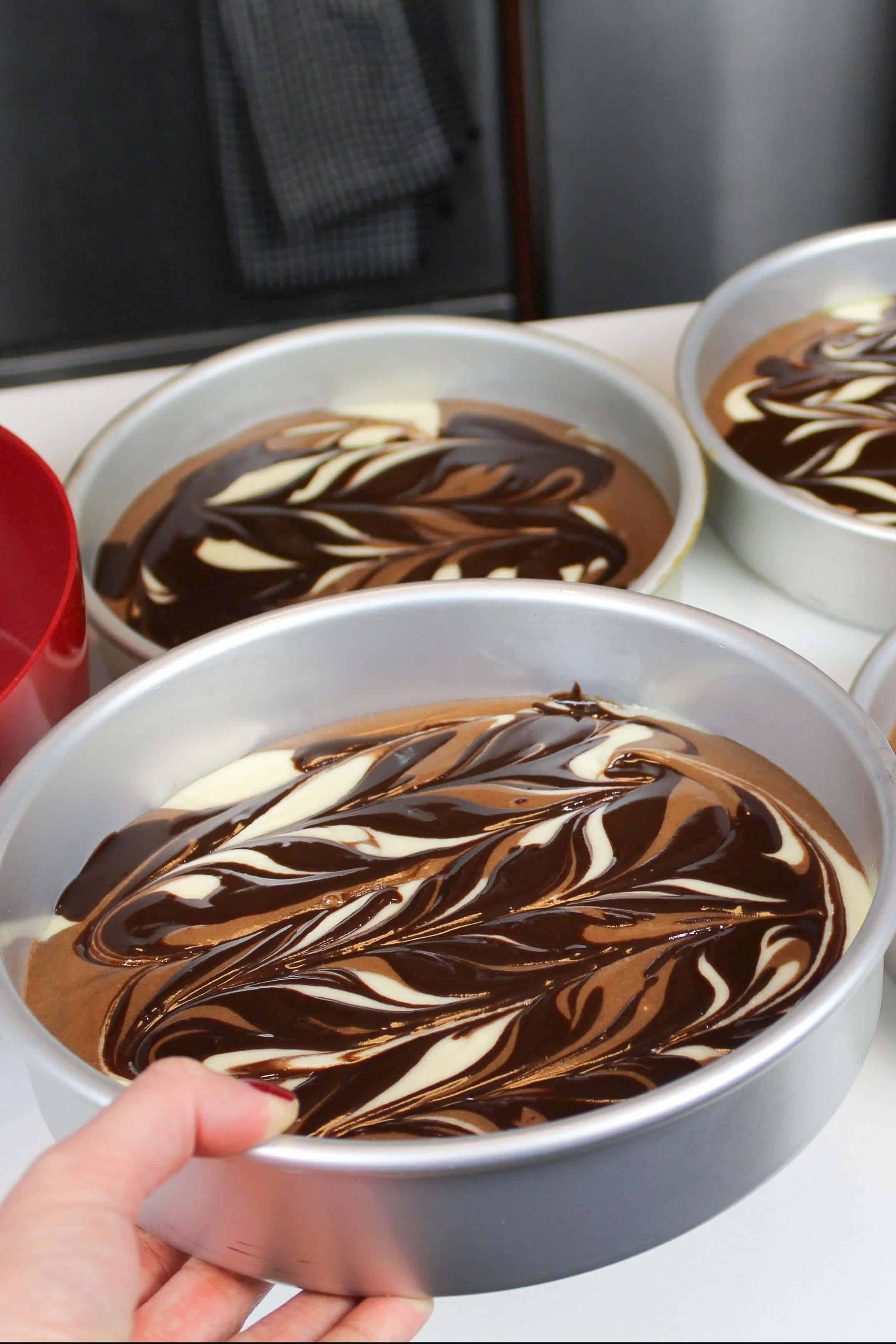 The Added Bonus: A Fudge Swirl
If you want to up the ante, I also included a chocolaty fudge swirl! This is totally optional, but is such a pleasant surprise when you bite into this cake.
It also bakes up beautifully, almost like it dissolves into the cake layers as they bake. The fudge ripple adds a rich and chocolatey flavor into each bite!
I'm also big on aesthetics. The melted chocolate swirled into the batter looks BEAUTIFUL! Not only is it worth adding for the taste, it also creates a visually stunning look.
How To Make Marble Cake Layers
Once both cake batters (and the optional chocolate fudge ripple) are made, the real fun starts.
Alternate spoonfuls of vanilla and chocolate cake batter into your pans. Continue until you've evenly distributed the batter between the pans.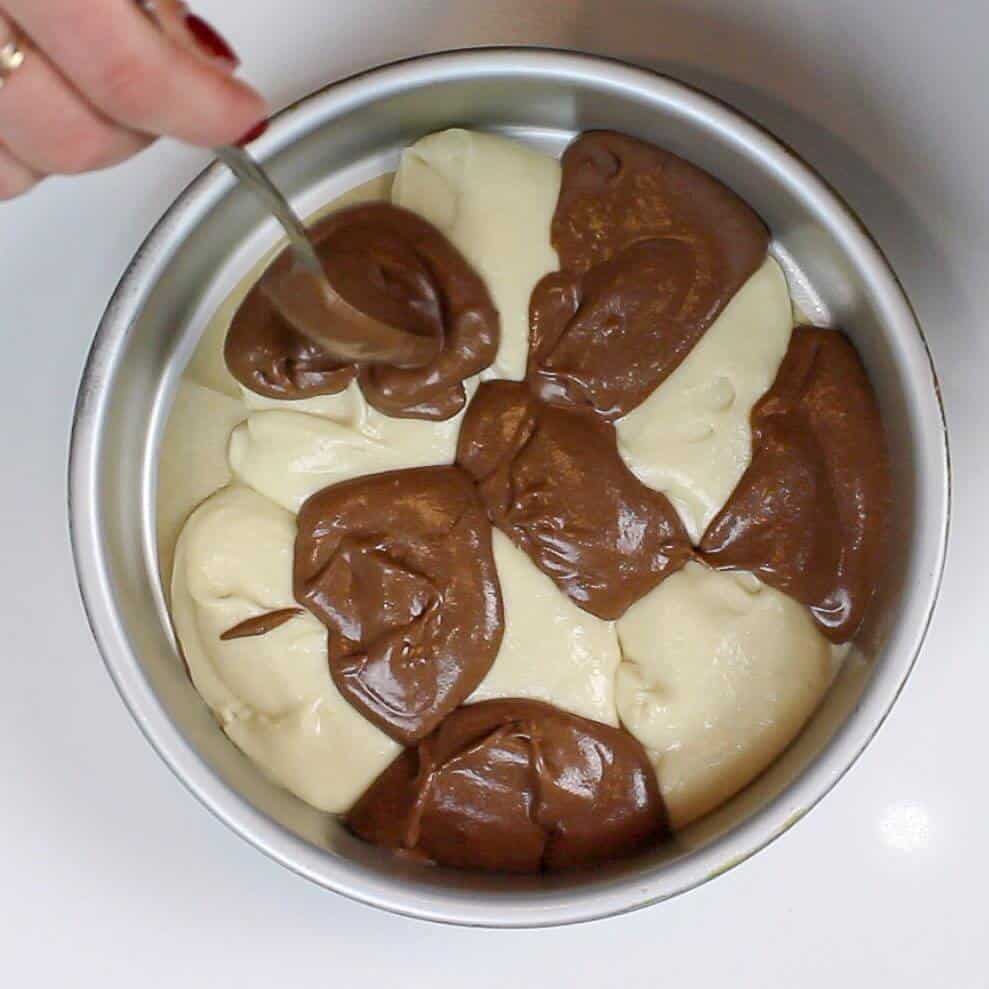 TIP: It's much easier to make sure your pans have the same amounts of cake batter if you add the spoonfuls of batter in rounds. Add a spoonful of vanilla to each pan, then a spoonful of chocolate to each pan, and repeat until you've used all your batter.
Once you've used all your batter, use a spoon to add small drops of the chocolate fudge mixture on top of the cake batter.
Be sure the chocolate drops are relatively spread out. This will prevent them from completely covering the cake batter when swirled.
You want to be able to see each different component in these cake layers once they're baked!!
Then drag a small offset spatula or butter knife through the batter to create lines that are both horizontal and vertical.
Make sure your offset spatula is lightly touching the bottom of the pan. This helps make sure you're swirling the batter throughout the layer, and not just on the top.
Try to create the lines using one continuous motion, going up and down, and then side to side.
Repeat with remaining cake layers. Then pop the layers into the preheated oven for 32-35 minutes, or until a toothpick comes out clean.
Cake Assembly and Decoration
This marble cake recipe is honestly so delicious, it almost doesn't need frosting. ALMOST.
While I am guilty of eating cake tops plain while I level my cakes, this cake is taken to the next level with my fudgy chocolate buttercream recipe.
My chocolate buttercream recipe uses both cocoa and melted dark chocolate, and boy is it tasty.
If you so chose, the last step is to cover these layers with your favorite buttercream frosting on them, and enjoy!
While I chose to chocolate buttercream with my marble cake this time, I think cream cheese frosting would also taste great!
I used three different types of buttercream to create a fun squiggly pattern.
It was the only design that seemed to fit a marble cake in my mind. This is definitely a buttercream intensive design, but it is so fun to make.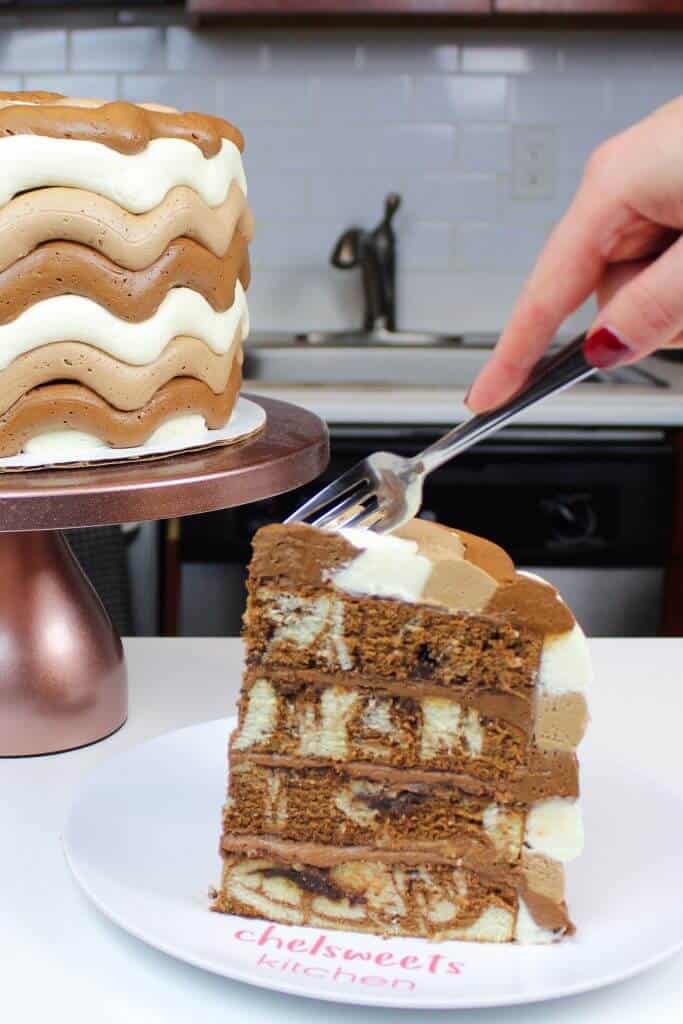 Recipe Notes
If you want to make this cake recipe with six-inch cake layers, halve this recipe to make three, six-inch cake layers
You can make your own buttermilk if you don't any! Simply add 1 Tbsp of lemon juice or vinegar to 1 cup of whole milk
You can also swap out the buttermilk for whole milk, if you prefer baking with regular milk
These layers bake relatively flat, but you can also trim and level them with a serrated knife to make them super flat
Let Me Know What You Think!
If you try this marble cake recipe, I'd love to hear what think of it! Please leave a rating, and let me know your thoughts by sharing a comment 🙂
Also please tag me @chelsweets and use the #chelsweets, so I can see your beautiful creations on social media!
Yield: 30 servings
Marble Cake Recipe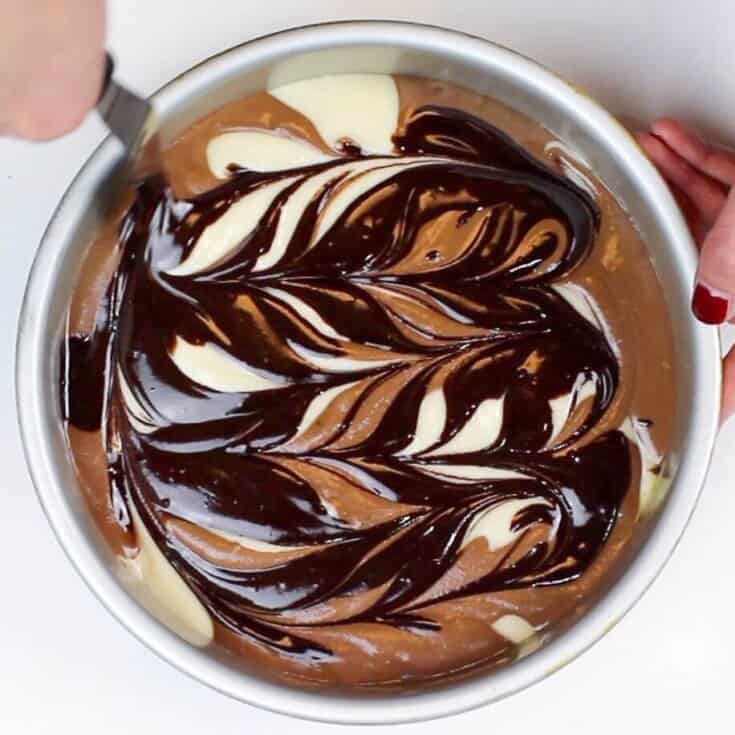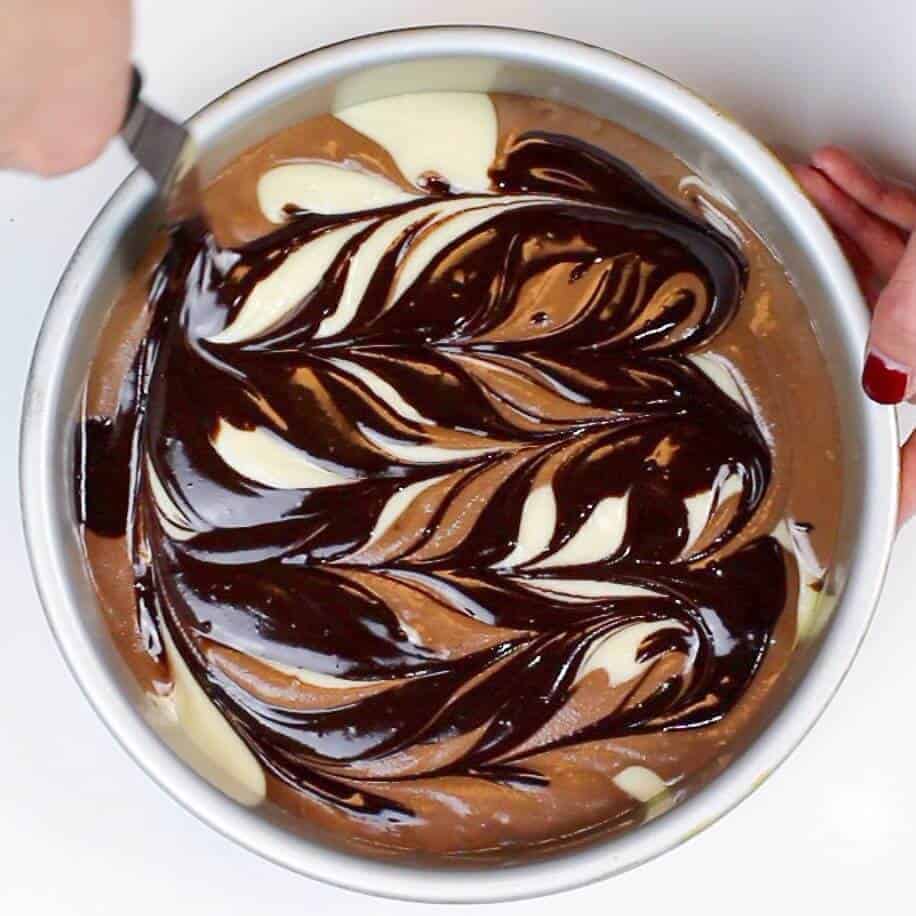 This marble cake recipe uses one batter to make both the vanilla and chocolate batter, which are swirled with a fudge ripple! It is simply delicious!!
Additional Time
30 minutes
Total Time
1 hour
35 minutes
Ingredients
Vanilla Cake Recipe*
3 1/4 cup all-purpose flour (422 grams)
3 cups granulated sugar (600 grams)
2 1/2 tsp baking powder (10 grams)
1 tsp salt (5 grams)
1 cup unsalted butter, room temperature (226 grams) – 2 sticks
2 tsp. vanilla extract (9 grams)
1 cup egg whites (or about 7 egg whites) (244 grams)
1 1/2 cups buttermilk, room temperature (360 grams)
1/8 cup vegetable oil (28 grams)
*additional ingredients for the chocolate cake are listed below
Additional Ingredients: (to be added after the vanilla cake batter is made, to change it into chocolate batter)
1/3 cup unsweetened baking cocoa
1/4 cup granulated sugar (50 grams)
1/4 cup egg whites (60 grams, or 2 egg whites)
1/4 cup buttermilk (45 grams)
1/2 tsp baking powder (2 grams)
1/4 tsp salt (1 gram)
Chocolate Fudge Swirl:
1 cup mini chocolate chips (170 grams)
1/4 cup unsalted butter, room temperature (29 grams)
1/4 cup heavy cream, room temperature (60 grams)
Buttercream Frosting
3 cups unsalted butter, room temperature (650 grams)
11 cups powdered sugar (1375 grams)
1 tsp salt (6 grams)
1/2 cup heavy cream (or whipping cream) (60 grams)
1 1/2 Tbsp vanilla extract (18 grams)
1 cup unsweetened baking cocoa (85 grams)
1 cup dark chocolate chips, melted and cooled (175 grams, or 6oz)
Instructions
Marble Cake Layers:
Preheat oven to 350°F. Line four eight-inch pans pans with parchment rounds, and grease with non-stick cooking spray.
Begin by making the vanilla cake batter. Mix together all dry ingredients (flour, baking powder, sugar, and salt) in a stand mixer with a paddle until fully combined.
Mix chunks of room-temperature butter slowly into the dry mix, on a low speed. Continue to mix until no large chunks of butter remain, and the mixture becomes crumbly.
Pour in egg whites, and mix on low until just incorporated. Mix in the buttermilk in two installments, on a low speed. Add in vanilla and oil, and mix at a low speed until fully incorporated. Scrape down the sides of the bowl with a spatula, then beat on medium speed for about 30 seconds.
Pour half of the batter into a separate bowl (roughly 950 grams), and set aside.
Next, convert the vanilla batter into chocolate cake batter. Mix the additional 1/3 cup baking cocoa, 1/4 sugar, 1/4 tsp salt, and 1/2 tsp baking powder into the remaining batter.
Add the additional 1/4 cup egg whites, and 1/4 cup buttermilk, and mix on a low speed until smooth.
If desired, make the chocolate fudge swirl. Combine the chocolate chips, butter, and heavy cream into a heatproof bowl. Heat in two 30-second intervals, stirring in between. Allow the mixture to sit for 1 minute, then stir until smooth and set aside to cool.
Alternate spoonfuls of chocolate and vanilla cake batter into the prepared cake pans, filling them roughly one inch high with batter (I like to use a digital kitchen scale to make sure each pan has the same amount of batter).
Add small drops (about one inch in diameter) of the chocolate swirl on top of the cake batter, then drag a small offset spatula or butter knife through the batter in horizontal and vertical lines to create a marbled patter.
Bake for 32-35 minutes (or until a skewer comes out clean). Allow to cool for 10 minutes, then run an offset spatula around perimeter of the pan to separate the cake from the pan.
If desired, level the cakes with a serrated knife once they're fully cooled.
Buttercream Frosting:
Beat the butter on a medium speed for 30 seconds with a paddle attachment, until smooth. Slowly add in the powdered sugar, 1 cup at a time. Alternate with small splashes of cream.
Once fully mixed, add in the vanilla and salt, and beat on low until the ingredients are fully incorporated, and the desired consistency is reached. 
If the frosting is too thick, add in additional cream (1 Tbsp at a time). If the frosting is too thin, add in more powdered sugar (quarter of a cup at a time).
Place half of the buttercream into a seperate bowl. Mix in 1/2 cup of baking cocoa, and the melted chocolate chips. This will be used to fill the cake, and will be the darkest buttercream of the squiggles. Place in a large piping bag.
With the remaining vanilla buttercream, place half of the into another large piping bag.
Color the rest of the frosting with the other 1/2 cup of baking cocoa, to create a light brown colored frosting. Place in a large piping bag.
To Assemble The Cake
Once all the different components of this cake are ready, begin to assemble the cake!
Stack the cake layers on a grease proof, cardboard cake round.
Spread a thin dab of buttercream on the center of the board, to help your cake layer stay in place.
Next, center the first cake layer the cake board.
Spread an even layer of the dark chocolate buttercream onto the cake layer. Repeat with remaining cake layers.
Place the top cake layer upside down. Cover the cake in a thin layer of frosting, and smooth using a bench scraper. Chill the cake in the freezer for about 5 minutes, until the frosting is firm to the touch.
Pipe squiggly lines of buttercream around the cake, alternating between the vanilla, chocolate, and dark chocolate buttercream.
Nutrition Information
Yield
30
Serving Size
1
Amount Per Serving
Calories

650
Total Fat

34g
Saturated Fat

20g
Trans Fat

0g
Unsaturated Fat

12g
Cholesterol

78mg
Sodium

288mg
Carbohydrates

85g
Net Carbohydrates

0g
Fiber

2g
Sugar

69g
Sugar Alcohols

0g
Protein

5g