I've seen some stunning painted cakes this summer, and it inspired me to try my hand at a painted buttercream cake!
I don't have an artistic background, and my painting experience is limited to one wine and paint night. Nonetheless, I decided to try this technique.
This cake took quite a while to complete, but was such a fun change of pace! I love trying new techniques, and challenging myself in new ways. That's what life's all about, right??
Different Types of Paint
There are a few different techniques that can be used to paint a cake!
One technique use thinned buttercream as paint, which is another approach! I used this technique to create this beautiful Fall Foliage Painted Cake.
This painted buttercream cake uses a different technique! It involves using an actual paint brush and gel food coloring.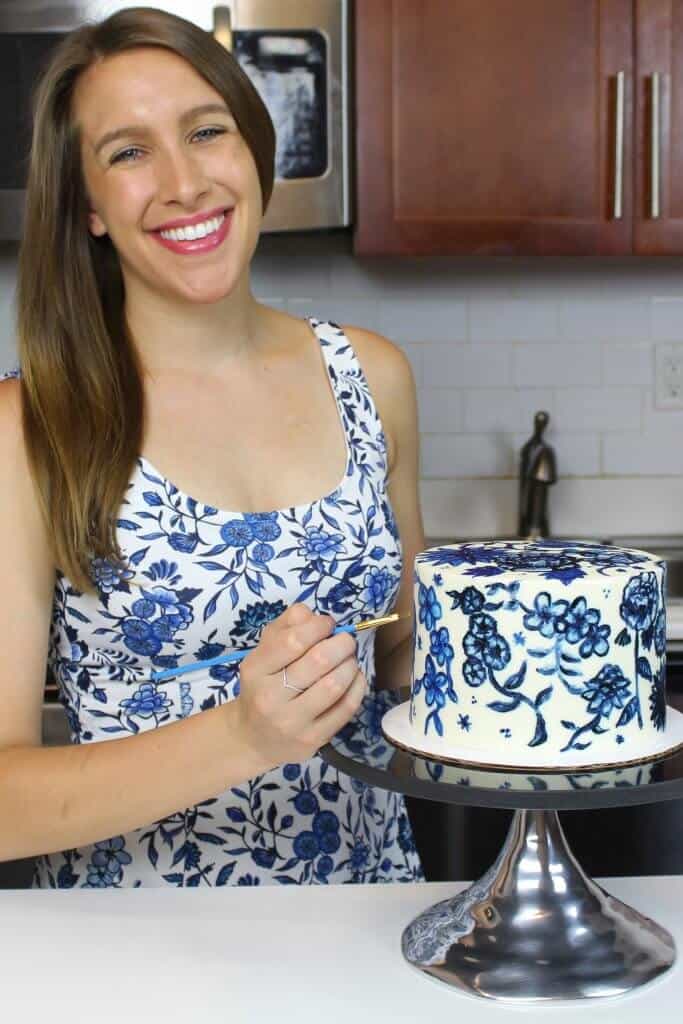 This summer I fell in love with the floral sundress I'm wearing in the picture above. It turned out to be the perfect inspiration for this cake design.
Painted Cakes: Fondant vs. Buttercream
Most of the painted cake designs out there are done on fondant cakes. As you know, I rarely work with fondant. I have nothing against people using it, I just prefer working with buttercream.
So I experimented, and tried to paint directly on buttercream. I found it's possible to paint on a buttercream cake, as long as it's properly chilled.
The cake needs to sit in the fridge for an hour, to allow the buttercream to really firm up, and crust.
I know it sounds strange, but because of the high sugar content in buttercream, it crusts as it sits and is exposed to air.
What Type of Frosting Works Best on Painted Cakes?
A crusting buttercream is ideal for making a painted buttercream cake, but not all types of buttercream crust!
I love using this technique on my vanilla American buttercream, which I think works best. The paint show up best and is the most vibrant on white or light colored frosting.
You could also paint on chilled vanilla swiss meringue or Italian buttercream, but it softens more quickly and is more challenging to paint on.
Creating The Gel Food Coloring "Paint"
Once the frosting crusted, I mixed together some gel food coloring and vodka to create my paint.
The ratio can vary based on the strength of color you're after. In general, I like to mix about 1 tsp of vodka with 1 or 2 drops of gel food coloring.
The vodka helps the food coloring dry faster, due to it's high alcohol content. It also thins out the food coloring. This can help create different shades of blue, using the same gel food coloring.
If you don't want to use alcohol, you can also use lemon extract or any clear extract.
My Advice: Start Small
One thing to note…painted cakes take forever to make!! Between letting the food coloring dry, and having to pop the cake back into the fridge to chill, it's a time consuming process.
I highly recommend using a small cake when trying this technique for the first time.
This cake is made with ombre blue layers, using a small batch of my favorite vanilla layer cake recipe and is frosted with my american buttercream.
My small batch recipe makes three, six-inch cake layers, which are the perfect size for this type of cake.
My Painting Technique
I started by painting the sides of the cake, and outlining some of the flowers. This look is made with two different shades of blue gel food coloring. One was navy blue, the other was royal blue.
I used a couple different sizes of paint brushes, from a pack of brushes I ordered online. Be sure to use a new or super clean paint brush, or a kitchen-specific paint brush that isn't used for other more traditional painting projects.
I keep a set in my kitchen to ensure there's no contamination from non-edible paint.
A thin brush worked great for outlining, and a slightly wider brush was perfect for filling in the petals of the flowers.
I was able to get about a quarter of the way around the cake before the frosting began to soften. You'll know when this happens, because the frosting will start to smear from the paint brush.
I chilled the cake in the fridge for about 20 minutes and then continued my painting.
Be Sure to Take Breaks!
Taking breaks also allows the paint to dry. This makes it possible to layer the paint to create more depth and shading. It also it good for your back and hand to take breaks!
It's also a great idea to take breaks to ensure your frosting doesn't soften or smudge as you paint your cake.
While I did my best to use the flowers on my dress as a guide, I definitely went a bit rogue on a few flowers.
I tried to just have fun with it and not fret over the flowers that turned out a bit different than I planned.
I also used this technique to create this painted pumpkin cake! It was made using my pumpkin layer cake recipe, and was frosted with my cream cheese frosting.
It surprisingly took a lot less time to paint than my blue floral cake.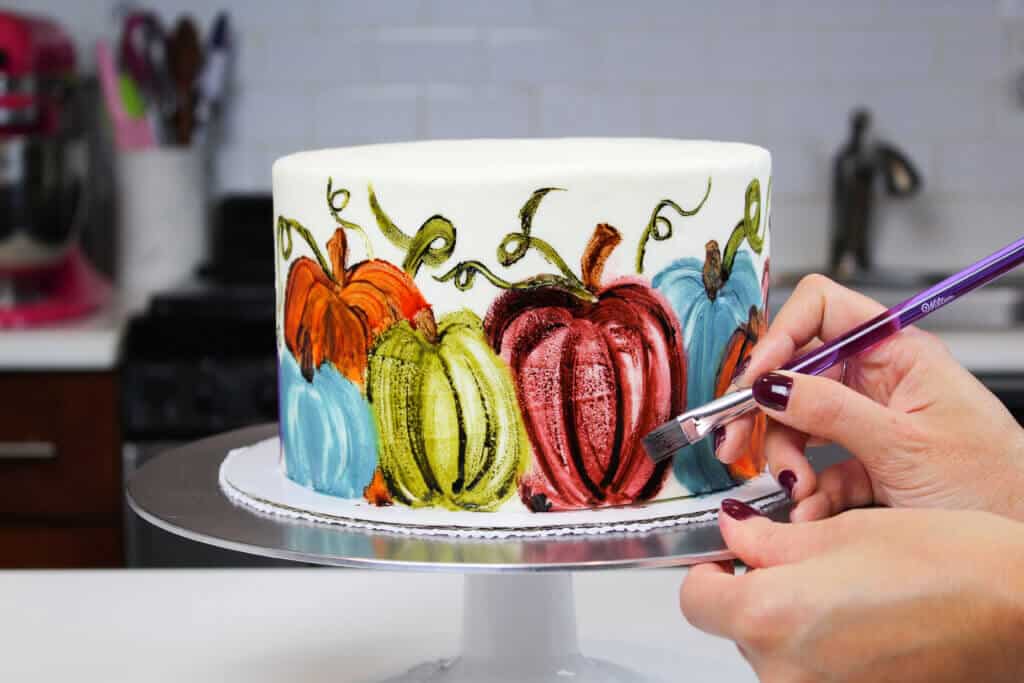 Painted Cake Troubleshooting
If you do have a section that goes awry or smears, simply pop the cake back in the fridge. Then use a warmed bench scraper to carefully remove a thin layer of frosting.
If you try this painted buttercream cake technique, please tag me @chelsweets, and use the #chelsweets, so I can see your beautiful creations!!
Yield: 16
Painted Buttercream Cake
This vanilla layer cake recipe makes the perfect six inch layer cake! It makes three, moist cake layers that are perfect for stacking, and painting
Additional Time
20 minutes
Total Time
1 hour
10 minutes
Ingredients
Vanilla Cake
2 cups + 2 Tbsp all-purpose flour (276 grams)
2 cups granulated sugar (400 grams)
1 1/2 tsp baking powder (6 grams)
1/2 tsp salt (3 grams)
2/3 cup unsalted butter, room temperature (150 grams) - 1 and 1/3 sticks
1 tsp. vanilla extract (4 grams)
2/3 cup egg whites (or about 5 egg whites) (185 grams)
1 cup buttermilk, room temperature (240 grams)
1 Tbsp vegetable oil (14 grams)
gel food coloring (if desired)
Vanilla Buttercream Frosting
1 cup unsalted butter, room temperature (217 grams)
3 1/2 cups powdered sugar (454 grams) - or a 1 lb bag
1/4 tsp salt (2 grams)
1 Tbsp heavy cream (or whipping cream) (15 grams)
1 1/2 tsp vanilla extract (6 grams)
Additional Tools and Ingredients
gel food coloring
vodka or a clear extract
sterile paint brushes
Instructions
Vanilla Cake Layers:
Preheat oven to 350°F. Line three 6 inch pans with parchment rounds, and grease with non-stick cooking spray.
Mix together all dry ingredients (flour, baking powder, sugar, and salt) in a stand mixer with a paddle until fully combined.
Mix chunks of room-temperature butter slowly into the dry mix, on a low speed. Continue to mix until no large chunks of butter remain, and the mixture becomes crumbly.
Pour in egg whites, and mix on low until just incorporated. Mix in the buttermilk in two installments, on a low speed.
Add in vanilla and oil, and mix at a low speed until fully incorporated. Scrape down the sides of the bowl with a spatula, then beat on medium speed for about 30 seconds.
If desired, add in gel food coloring. Mix the batter on a low speed, scraping the sides and bottom of the bowl part way through. Mix until the batter is evenly colored.
Divide batter evenly between the prepared cake pans. I like to use a digital kitchen scale to weigh my pans, and ensure they all have the same amount of batter. This guarantees your layers will bake to be the same height.
Bake for 33-35 minutes, or until a toothpick comes out clean. Allow the pans to cool for 10 minutes, then run an offset spatula around perimeter of the pan to separate the cake from the pan.
Place cake layers into the freezer for 30 minutes, to accelerate the cooling process.Once the layers are fully cooled, carefully flip the pans and remove the layers from the pans.
Use a serrated knife to level the tops of the layers, and then frost as desired.
Vanilla Buttercream Frosting:
While the cake layers bake and cool, make the vanilla buttercream frosting.
Beat the butter on a medium speed for 30 seconds with a paddle attachment, until smooth. Slowly add in the powdered sugar, 1 cup at a time. Alternate with small splashes of cream.
Once fully mixed, add in the vanilla and salt, and beat on low until the ingredients are fully incorporated, and the desired consistency is reached.
If the frosting is too thick, add in additional cream (1 teaspoon at a time). If the frosting is too thin, add in more powdered sugar (quarter of a cup at a time).
If you plan to color the buttercream, add in the gel food coloring once the frosting is fully made, and beat on low until it reaches the desired color
To Assemble The Cake:
Stack and frost cake layers on a greaseproof cake board, using a dab of frosting to help stick the first cake layer to the board.
Add an even layer of buttercream between each cake layer.
Apply a thin coat of frosting around the the cake, to fully cover the cake layers. Smooth using a bench scraper, then chill the cake in the fridge (10 minutes) or freezer (5 minutes) until the frosting is firm to the touch.
Add a second, thicker layer of frosting to the cake, and smooth using a bench scraper.
Chill in the fridge for at least an hour, then paint using a mixture of gel food coloring and vodka (1 tsp of vodka mixed with 1-2 dros of gel food coloring).
Nutrition Information
Yield
16
Serving Size
1
Amount Per Serving
Calories

411
Total Fat

21g
Saturated Fat

12g
Trans Fat

0g
Unsaturated Fat

7g
Cholesterol

53mg
Sodium

204mg
Carbohydrates

55g
Fiber

0g
Sugar

54g
Protein

2g