This past weekend I had the pleasure of having Georgia of @georgiascakes over for a collaboration!
She was visiting from London, and we were able to spend an afternoon together creating an EPIC tiered candy drip cake!!
The design of this cake is inspired by Georgia's gorgeous tiered cakes. Georgia is a trained pastry chef and has an amazing cake business in Israel!
Her creativity and amazing skill are evident in everything she creates.
We messaged back and forth trying to decide on what type of cake we should make, and decided that an over the top drip cake decorated with loads of candy fit the bill.
The Decorations: American & British Candy
In the spirit of collaboration, we decided to use both English and American candy.
Once we laid out all of our candy, my counter was COVERED!
There was Dolly Mix, and Freddos (chocolate frogs), Paydays, Hershey's gold bars…and the list goes on!
There were so many different types, we wanted to do a taste test! If you want to watch us try them all, you can see the full taste test here.
We both tried each others favorites, as well as some classic candies. My favorite English candy was a Twirl bar, which is a chocolate bar with a super interesting texture!
Georgia's favorite American candy was the Payday.
Chocolate Cake Tiers Frosted With Vanilla Frosting
I prepped the cake components ahead of time, so that we could have fun assembling and decorating the cake together.
I made a large batch of my go-to chocolate cake recipe, to bake four chocolate cake layers for each tier.
We wanted to make a 3 tiered cake, so we made an 8-inch, 6-inch, and 4-inch tier. To frost the tiers, I made a double batch of my vanilla American buttercream.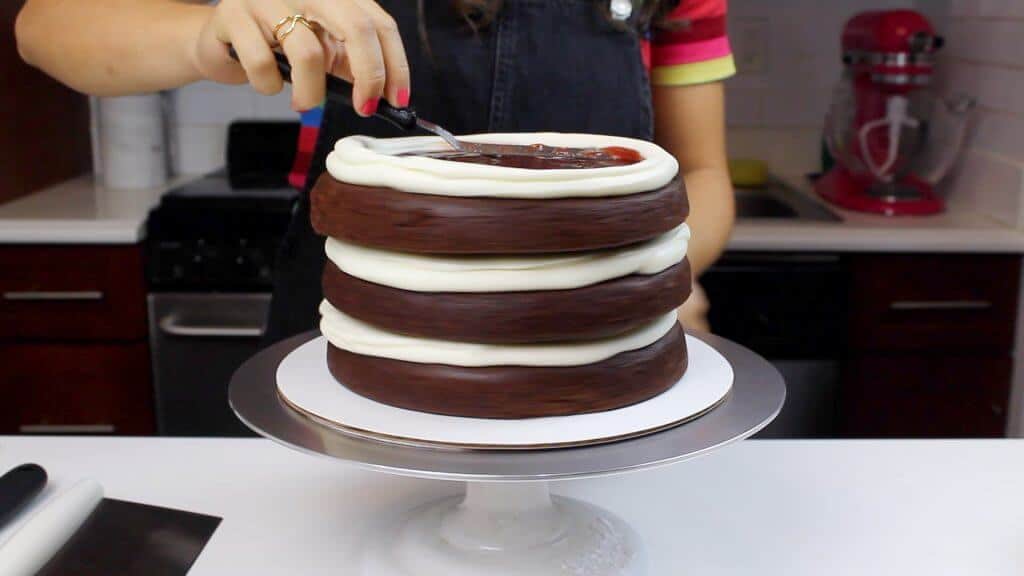 The bottom tier was a nod at a Victorian sponge cake, and is filled with strawberry jam.
We made the middle tier the American tier, and filled it with peanut butter and caramel.
This flavor combination was inspired by the peanut butter snickers that I had Georgia try.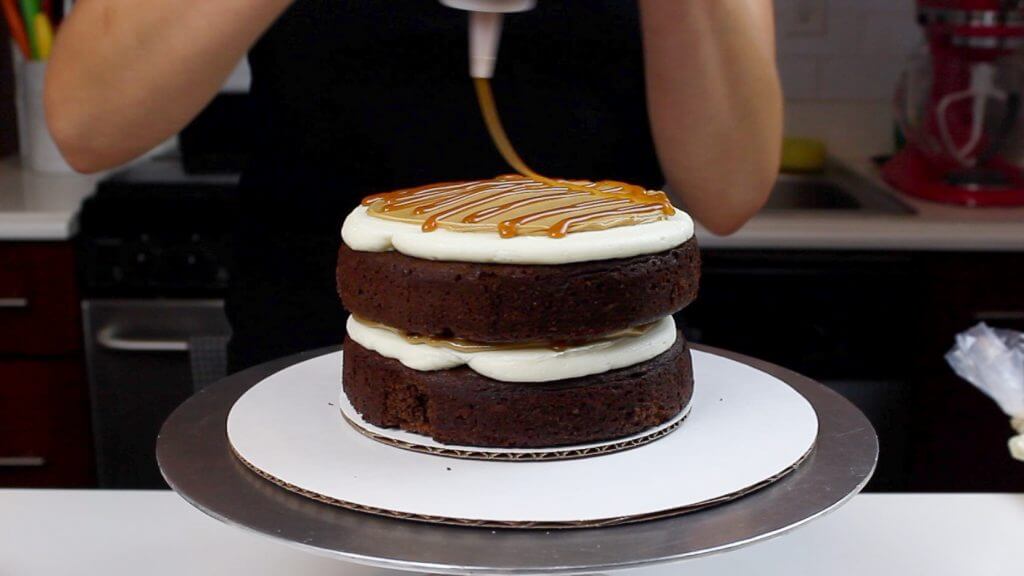 For the tiny top tier, we sprinkled crushed twirl bars between each layer.
I was amazed at how easy they were to crumble just using my fingers!
Once we filled and stacked each tier, we added a crumb coat around the cakes and let them chill in the freezer for about 5 minutes, to allow the frosting to firm up.
Adding Sprinkles to the Tiers: Hand vs. Roll Method
We then added a thin second layer of frosting, and covered the cakes in sprinkles!
Georgia likes to use the roll sprinkle method, which involves decorating the cake on a cake board the same size as the cake layers. A second cake board the same size is placed on top of the cake, and then it's rolled it in a pan of sprinkles!
The key here is to NOT add much frosting to the top of the cake, or else it will kind of ooze out as you hold the cake to roll it.
It also is important to shake the sprinkle plan after each roll, to redistribute the sprinkles and ensure an even coating on your next roll.
I like to use the hand method, which involves gently pressing sprinkles onto the sides of the cake, using your hands!
It really comes down to your preference and what you're most comfortable doing.
The roll method still scares me a bit, but it was so awesome getting to see Georgia use it on our bottom tier!
Adding Supports to the Cake Tiers
Once the tiers were covered in sprinkles, we added bubble tea straws into the bottom two tiers as supports.
This step is incredibly important! While the cake layers are somewhat firm, they are not strong enough to support the weight of the tiers that will be placed on top of them!
Supports (either wooden dowels or thick straws) do just what their name says, they support the upper tiers!
This takes the pressure off of the lower tiers, and allows them to keep their smooth sides and perfect shape.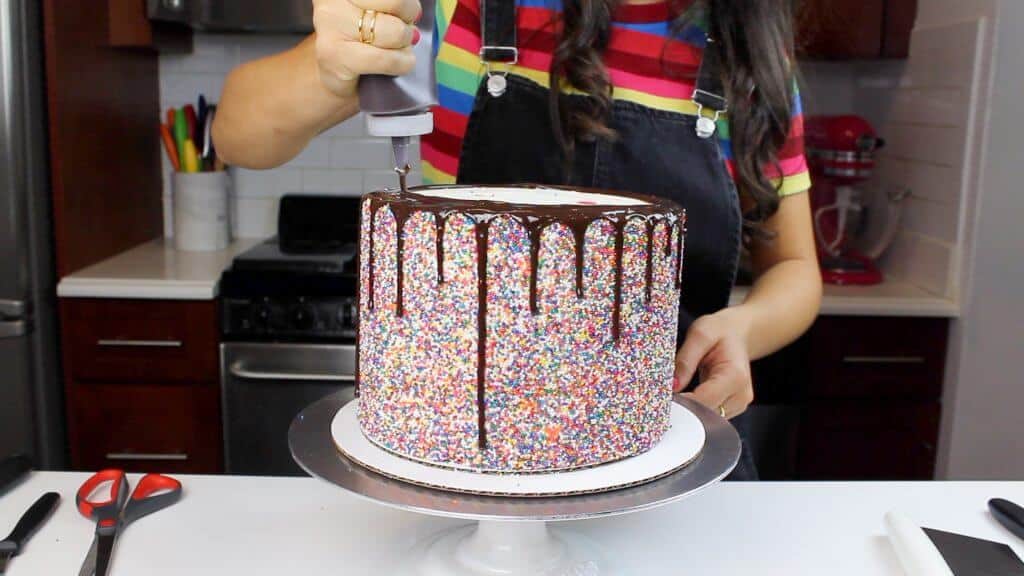 Adding The Chocolate Ganache Drip
Next, we added a chocolate ganache drip using a squirt bottle.
We let the layers chill in the fridge for about 20 minutes to allow them to firm up, and then stacked them on top of each other!
Once they were stacked, Georgia and I went to town adding candy to the cake!
We added as many candies as we possibly could fit, as well as some lollipops to the top.
This cake ended up being 18 inches tall!! It's definitely the most colorful tiered cake I've ever made in my kitchen!
If you're more of a visual learner, you can watch the full video tutorial on my YouTube channel.
Large Batch Chocolate Layer Cake Recipe
This recipe is a large batch (1.5x) of go-to chocolate layer cake recipe! It's perfect for making a 10 inch cake with 3 layers, or for a small tiered cake (8 inch, and 6 inch tiers)
Ingredients
4 1/2

cups

flour

3 3/4

cups

granulated sugar

1 1/2

tsp

salt

2 1/4

tsp

baking powder

1 1/2

tsp

baking soda

6

large eggs. room temperature

1 1/2

cups

unsalted butter. room temperature

(3 sticks)

1 1/2

cups

hot water

1 1/2

cups

buttermilk. room temperature

1 1/2

cups

baking cocoa

(unsweetened)
Instructions
Instructions:
Begin by preheating the oven to 350 degrees Fahrenheit. Line pans (either 3, 10-inch pans, or 4 8-inch and 6-inch pans for a tiered cake) with parchment rounds, and spray with non-stick spray.


Add the sugar and butter into the bowl of a stand mixer, and whisk on high for 1 minute. The mixture should become light in color.

Add in the eggs, one at a time. Then add baking soda, baking powder, and salt. Mix on high for another minute.

In a separate bowl, combine the cup of hot water, and cup of buttermilk. Pour in the cup of black cocoa, and whisk until no clumps remain.

Next, add 1 cup of flour into the butter /egg mixture. Scrape the sides of the bowl with a spatula, to ensure the flour is fully incorporated.

Pour in half of the buttermilk / cocoa mixture, and gently pulse the mixture to incorporate the liquid (if you don't, you'll end up splattering the cocoa mixture all over you kitchen!

Please learn from my mistakes :P. Mix in the 2nd cup of flour, at a medium speed. Pour in the remaining buttermilk / cocoa mixture, and again gently pulse, then mix on low until fully combined.

Add in the last cup of flour, and mix on low until the flour is incorporated. Mix on high for 30 additional seconds, to incorporate a bit more air into the batter.


Evenly divide between the four prepared pans. I like to use a kitchen scale to ensure each pan has exactly the same amount of batter.

Bake according to the size of pan. For 10 inch layers, bake for 40 minutes. For 8 inch layers, bake for 32-33 minutes. For 6 inch layers, bake for 30-32 minutes, or until a skewer comes out clean.

Allow layers to cool in the pans for about 10 minutes, then run an offset spatula around the edge of the pans to help separate the layers from the pans.

Place the pans in the freezer for about 45 minutes, to accelerate the cooling process. Once the layers are fully cooled, carefully flip the pans and remove the layers.


Use a serrate knife to level the tops of the layers, and then frost as desired.
Recipe Notes
Note #1: This recipe will just barely fit into a 4.5 quart kitchen aid mixing bowl! It's quite a stretch to make it fit, but it is doable. Just be sure to mix your ingredients at a slow speed, to avoid any overflow of ingredients or batter. This is the absolute maximum amount of batter I can make at one time. If I need to make a double batch of cake batter, I make two separate batches.
Note #2: If making 10 inch cake layers, I highly recommend placing a flower nail upside down in the center of your pan! This will help the cake layer bake more quickly and evenly.
Double Batch Vanilla Buttercream Recipe
This is a double batch of my favorite vanilla buttercream! It's great for larger cakes, small 2-tiered cakes, or cakes with a lot of frosting decorations (buttercream rosettes, buttercream ruffles, etc.)

Servings
1
tiered cake (8 inch and 6 inch tiers)
Ingredients
4

cups

unsalted butter, room temperature

(868 grams)

16

cups

powdered sugar

(1,814 grams)

1

tsp

salt

(6 grams)

1/3

cup

heavy cream (or whipping cream)

(60 grams)

2

Tbsp

vanilla extract

(24 grams)
Instructions
Instructions
Beat the butter on a medium speed for 30 seconds with a paddle attachment, until smooth. Slowly add in the powdered sugar, 1 cup at a time. Alternate with small splashes of cream.

Once fully mixed, add in the vanilla and salt, and beat on low until the ingredients are fully incorporated, and the desired consistency is reached.

If the frosting is too thick, add in additional cream (1 teaspoon at a time). If the frosting is too thin, add in more powdered sugar (quarter of a cup at a time).
Recipe Notes
If you are making frosting for a cake, it is important to mix the buttercream on low at the end of the process for a couple minutes, to get out any extra air that might have be incorporated during the mixing process. This will make it easier to get super smooth sides on your cake!