This past weekend I had the pleasure of having Georgia of @georgiascakes over for a collaboration!
She was visiting from London, and we were able to spend an afternoon together creating an EPIC tiered candy drip cake!!
The design of this cake is inspired by Georgia's gorgeous tiered cakes. Georgia is a trained pastry chef and has an amazing cake business in Israel!
Her creativity and amazing skill are evident in everything she creates.
We messaged back and forth trying to decide on what type of cake we should make, and decided that an over the top drip cake decorated with loads of candy fit the bill.
The Decorations: American & British Candy
In the spirit of collaboration, we decided to use both English and American candy.
Once we laid out all of our candy, my counter was COVERED!
There was Dolly Mix, and Freddos (chocolate frogs), Paydays, Hershey's gold bars…and the list goes on!
There were so many different types, we wanted to do a taste test! If you want to watch us try them all, you can see the full taste test here.
We both tried each others favorites, as well as some classic candies. My favorite English candy was a Twirl bar, which is a chocolate bar with a super interesting texture!
Georgia's favorite American candy was the Payday.
Chocolate Cake Tiers Frosted With Vanilla Frosting
I prepped the cake components ahead of time, so that we could have fun assembling and decorating the cake together.
I made a double batch of my go-to chocolate cake recipe, to bake four chocolate cake layers for each tier.
We wanted to make a 3 tiered cake, so we made an 8-inch, 6-inch, and 4-inch tier. To frost the tiers, I made a double batch of my vanilla American buttercream.
The bottom tier was a nod at a Victorian sponge cake, and is filled with strawberry jam.
We made the middle tier the American tier, and filled it with peanut butter and caramel.
This flavor combination was inspired by the peanut butter snickers that I had Georgia try.
For the tiny top tier, we sprinkled crushed twirl bars between each layer.
I was amazed at how easy they were to crumble just using my fingers!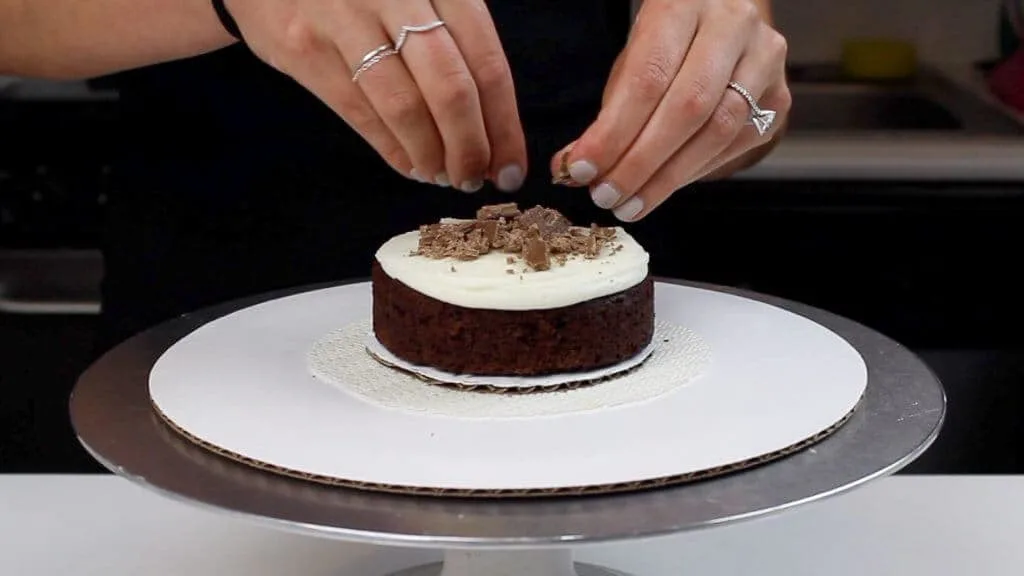 Once we filled and stacked each tier, we added a crumb coat around the cakes and let them chill in the freezer for about 5 minutes, to allow the frosting to firm up.
Adding Sprinkles to the Tiers: Hand vs. Roll Method
We then added a thin second layer of frosting, and covered the cakes in sprinkles!
Georgia likes to use the roll sprinkle method, which involves decorating the cake on a cake board the same size as the cake layers. A second cake board the same size is placed on top of the cake, and then it's rolled it in a pan of sprinkles!
The key here is to NOT add much frosting to the top of the cake, or else it will kind of ooze out as you hold the cake to roll it.
It also is important to shake the sprinkle plan after each roll, to redistribute the sprinkles and ensure an even coating on your next roll.
I like to use the hand method, which involves gently pressing sprinkles onto the sides of the cake, using your hands!
It really comes down to your preference and what you're most comfortable doing.
The roll method still scares me a bit, but it was so awesome getting to see Georgia use it on our bottom tier!
Adding Supports to the Cake Tiers
Once the tiers were covered in sprinkles, we added bubble tea straws into the bottom two tiers as supports.
This step is incredibly important! While the cake layers are somewhat firm, they are not strong enough to support the weight of the tiers that will be placed on top of them!
Supports (either wooden dowels or thick straws) do just what their name says, they support the upper tiers!
This takes the pressure off of the lower tiers, and allows them to keep their smooth sides and perfect shape.
Adding The Chocolate Ganache Drip
Next, we added a chocolate ganache drip using a squirt bottle.
We let the layers chill in the fridge for about 20 minutes to allow them to firm up, and then stacked them on top of each other!
Once they were stacked, Georgia and I went to town adding candy to the cake!
We added as many candies as we possibly could fit, as well as some lollipops to the top.
This cake ended up being 18 inches tall!! It's definitely the most colorful tiered cake I've ever made in my kitchen!
If you're more of a visual learner, you can watch the full video tutorial on my YouTube channel.