With Halloween just around the corner, I've been using black frosting on quite a few of my baking projects. This has led to a bunch of questions on social media, including:
To make our lives easier, I'm sharing my secrets to making super black buttercream frosting here!
I start off using my classic American buttercream as a base, which is insanely easy to make.
Next, I add my two secret ingredients: black cocoa, and black gel food coloring.
The finishing touch to my black frosting recipe is the magic of time!!
That last line sounds hoaky, I know. As I typed it I couldn't help but chuckle!! But I swear, letting this frosting sit is a sure fire way to deepen its color.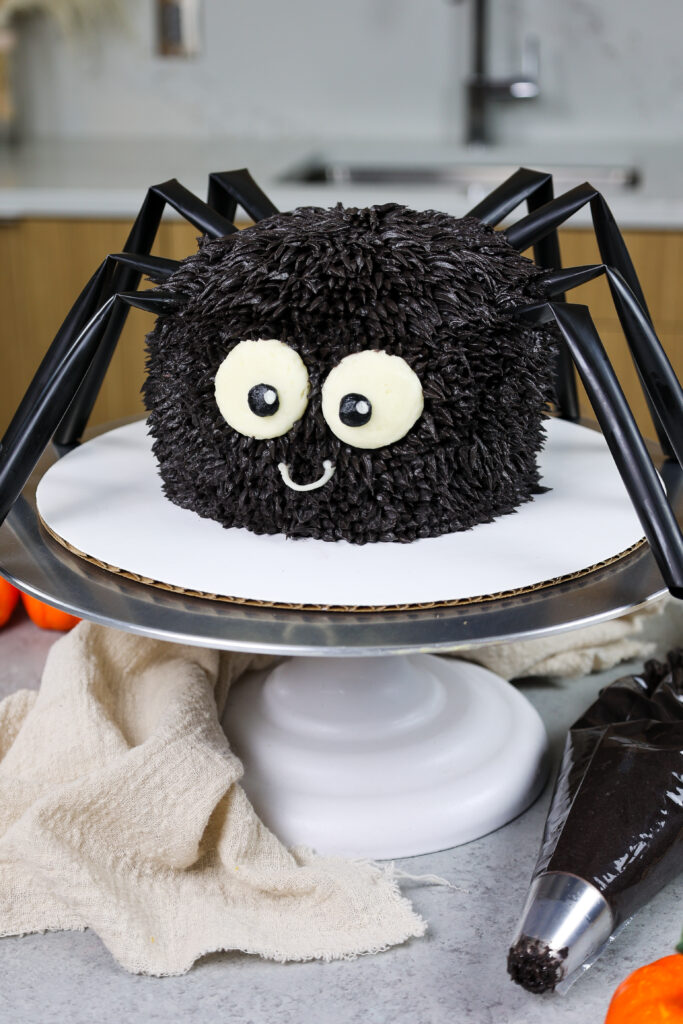 Secret Ingredient #1: Black Cocoa
Turning white buttercream black is incredibly hard. Starting off with a naturally deeper colored frosting base makes it about a million times easier.
How do I like to naturally color my buttercream before adding in the gel food coloring?! Black cocoa and dark chocolate, my friends.
I only recently discovered black cocoa, and I'm obsessed.
Black cocoa has a slightly higher pH than dutch-processed cocoa (8 vs.7), and is much less acidic than natural baking cocoa (5-6).
The best comparison is to think of the bittersweet, chocolaty taste of an Oreo cookie! It's absolutely delicious.
It has a beautiful dark color, which helps build the perfect chocolaty base for this black frosting.
It can be hard to find in grocery stores, so I order mine on amazon! I like to use Wincrest black cocoa.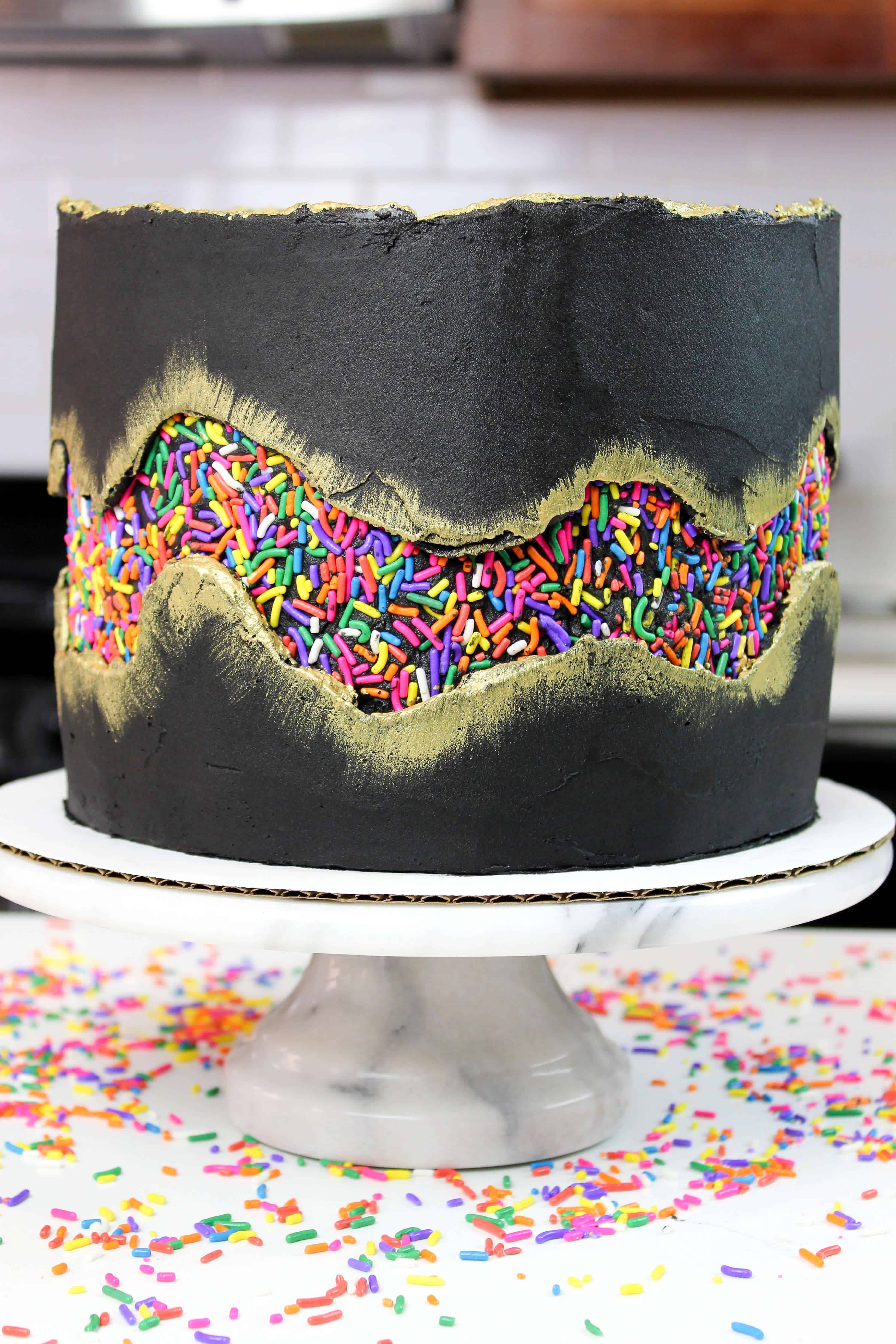 Secret Ingredient #2: Black Gel Food Coloring
Next comes the necessary evil, some food coloring. But I'm not talking about generic, black liquid food coloring.
Liquid food coloring can also throw off the consistency of your frosting if you add too much.
When it comes to coloring frosting, gel food coloring is a must. Especially when you're after super vibrant or deep shades, like black.
Gel food coloring is much more concentrated than liquid food coloring, so you can add less and still get the dark color you're after!
I always use Americolor super black gel food coloring, which I purchase in big bottles from Amazon.
When combining this small amount of black gel food coloring with my black cocoa buttercream, the result it amazing.
You get a frosting that is a wonderfully deep shade of black, that tastes like Oreos and chocolate.
Final Tip For Making Black Frosting: Make It In Advance
My final trick to making black frosting is to make it ahead of time. Yes, time is my biggest secret!!
If you make the frosting a couple days (or more) in advance, the color of the frosting will get darker over time! I swear it's magic.
This buttercream can be made over a week in advance, and stored in the fridge until it needs to be used.
I take the frosting out a few hours before I need it, to allow it to come to room temperature.
Once it's thawed, it always is a darker color than when I initially made it.
Give Your Frosting a Good Stir
I have one important piece of advice around making frosting in advance.
As buttercream sits and/or thaws, it usually gets tons of tiny air bubbles in it! Don't worry, you'll be able to make your buttercream smooth again. All you need to do is give the frosting a really good stir with a rubber spatula.
Work the frosting slowly from side to side. Focus on spreading it across the sides of your bowl for a few minutes.
It's definitely an arm workout. But after working the frosting around the bowl and pushing out the excess air, you'll be left with silky smooth frosting.
How Much Frosting Do I Need For A Cake? Or Cupcakes?
When using this to frost my chocolate layer cake recipe, I usually make 1.5 batches of black buttercream to cover a 7-inch or 8-inch layer cake with large swirls on top.
However, this can vary based on how I'm decorating the cake, and the size of my cake layers.
If you were to use one batch of frosting to pipe buttercream swirls on top of cupcakes, it frosts about three dozen (36) cupcakes.
Again, this cake also drastically vary if you're making massive frosting swirls, or simply piping buttercream rosettes on top of each cupcake.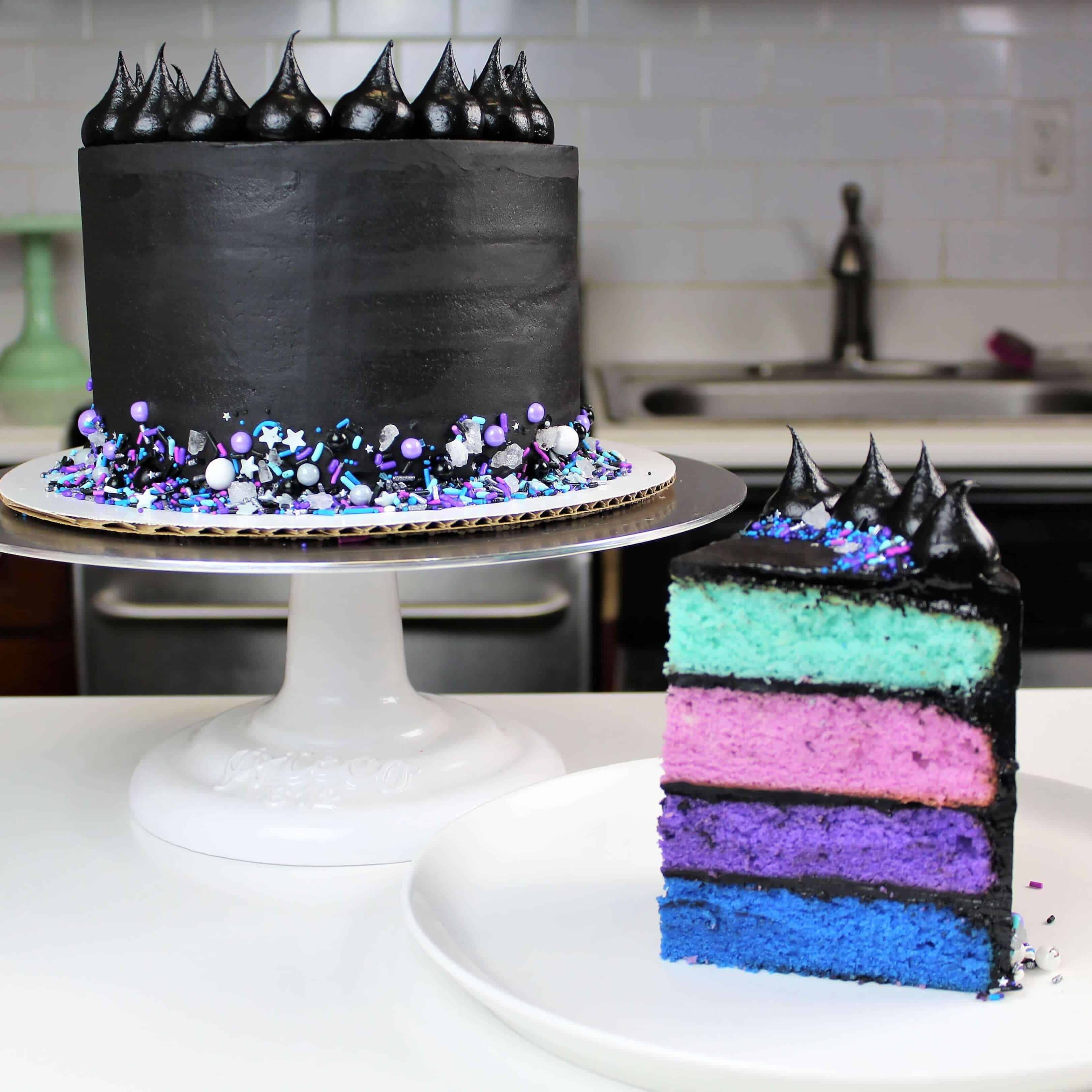 Tips For Making SUPER Black Frosting:
Making This Black Frosting in Advance and Storage Tips:
Share Your Creations With Me!
If you try this black frosting recipe, please tag me @chelsweets and use #chelsweets so that I can see your amazing creations!
Other Recipes You Might Like:
Yield: 7
Black Buttercream Frosting
Struggle to make truly black frosting?? Learn my tips for making the deepest black buttercream, with a simple recipe that comes together in minutes.
Ingredients
1/2 tsp salt (3 grams)
7 cups powdered sugar (907 grams) - or a 2 lb bag
1/2 cup heavy cream (or whipping cream) (115 grams)
Instructions
Beat the butter on a medium speed for 30 seconds with a paddle attachment, until smooth.
Mix in the vanilla extract, salt, and sifted black cocoa on a low speed.
Slowly add in the powdered sugar, 1 cup at a time. Alternate with small splashes of cream.
Add in the melted dark chocolate, and beat on low until the ingredients are fully incorporated, and the desired consistency is reached.
If the frosting is too thick, add in additional cream (1 Tbsp at a time). If the frosting is too thin, add in more powdered sugar (quarter of a cup at a time).
Add in a generous squirt of black gel food coloring (roughly 1 tsp) once the frosting is fully made, and mix by hand with a rubber spatula until the frosting is evenly colored.
To allow the shade to deepen, place in sealed piping bags or an airtight container. Leave out overnight at room temperature, or place in the fridge for several days.
Notes
This recipe makes about 7 cups of frosting, which is enough to fill and frost an 8-inch layer cake.
A frosted cake can last in the fridge for up to a week, or in the freezer for up to a month. The buttercream locks in all the moisture, keeping the cake fresh and delicious!
If you cut into the cake and have leftovers, use any remaining frosting to cover the cut section to keep it moist and store in the fridge for up to a week.
If you are making frosting for a cake, mix the buttercream on the lowest speed at the end of the process for a couple minutes, to get out any extra air that might have be incorporated during the mixing process.
I usually make 1 1/2 batches of frosting to stack and frost a seven or eight inch cake.
Nutrition Information
Yield
7
Serving Size
1
Amount Per Serving
Calories

1161
Total Fat

63g
Saturated Fat

39g
Trans Fat

0g
Unsaturated Fat

20g
Cholesterol

160mg
Sodium

199mg
Carbohydrates

152g
Fiber

2g
Sugar

144g
Protein

3g