It's finally October, and I couldn't resist whipping up some easy pumpkin cupcakes.
Not only are these cupcakes make with pumpkin batter, they're also decorated to look like cute little pumpkins!
While they may look a bit intimidating, these decorations don't require any fancy tips or difficult techniques. You will need a bit of gel food coloring though!
I made them using a super moist pumpkin cupcake recipe, and frosted them with a delicious cream cheese buttercream frosting.
Pumpkin Cupcake Batter
1 1/3 cups all-purpose flour (160 grams)
1 teaspoon baking powder (4 grams)
1 teaspoon baking soda (6 grams)
1/2 teaspoon salt (3 grams)
1 1/2 tsp. pumpkin spice (6 grams)
3/4 cup canned pumpkin (170 grams)
1/2 cup granulated sugar (100 grams)
1/2 cup packed light brown sugar (100 grams)
1/2 cup vegetable oil (112 grams)
2 eggs (112 grams)
orange gel food coloring (optional)
Cream Cheese Buttercream Frosting
2 sticks or 1 cup unsalted butter, room temperature (226 grams)
4 oz. cream cheese, room temperature (60 grams)
6 cups powdered sugar (750 grams)
1/2 tsp salt (3 grams)
1 Tbsp. heavy whipping cream (15 grams)
1 tsp. vanilla extract (6 grams)
Orange and green gel food coloring
Additional Supplies:
Bake time: 17 minutes
Yield: 12-14 cupcakes
Pumpkin Cupcake Batter
Preheat oven to 350 degree Fahrenheit. Line a muffin tin with cupcake liners.
Place the flour, sugar, dark brown sugar, baking soda, baking powder, salt, and pumpkin spice into a large bowl.
Gently whisk to combine.
Add in the oil and pureed pumpkin, and stir just until the ingredients are incorporated.
Mix in the eggs, then add a squirt of orange gel food coloring if desired.
Stir until the batter is evenly colored.
Fill cupcake liners 3/4 full, and bake for 17 minutes.
Remove from oven and place on wire racks to cool.
To speed up the cooling process, you can also place the cupcakes in the freezer for 15 minutes.
Cream Cheese Frosting
While the cupcakes bake, prepare the cream cheese frosting.
Beat the butter and cream cheese on a medium speed for 30 seconds, until smooth.
Slowly add in the powdered sugar, 1 cup at a time.
Alternate with small splashes of cream.
Once fully mixed, add in the vanilla and salt, and beat on medium low until the ingredients are fully incorporated, and the desired consistency is reached.
If the frosting is too thick, add in cream (1 teaspoon at a time).
If the frosting is too thin, add in more powdered sugar (quarter of a cup at a time).
Pumpkin Cupcake Decoration
Color 1/6 of the frosting green, and color the remaining portion orange using gel food coloring.
Place both colors into piping bags.
Trim a 1 cm opening for the orange frosting, and 1/2 centimeter opening for the green frosting.
Once the cupcakes are fully cooled, pipe orange panels onto the top of the cupcake.
Cut tootsie rolls in half, and create score marks on the sides of the tootsie rolls using the edge of an offset spatula.
Press them into the top edge of the cupcake, to be the pumpkin stump.
Use the green frosting to pipe vines and leaves around the base on the pumpkin stump.
I also used this recipe to also make a few other types of spooky Halloween cupcakes!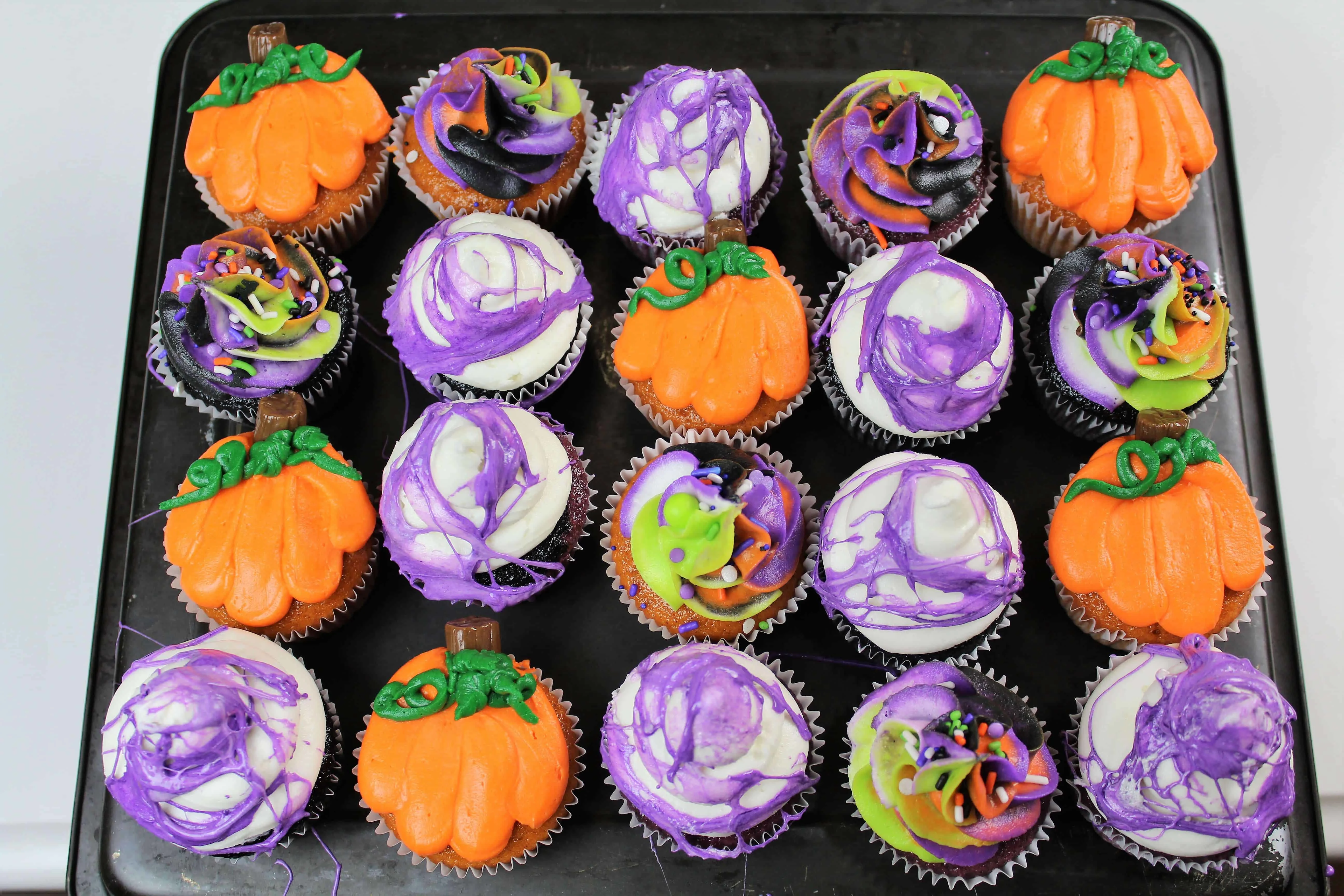 Let Me Know What You Think
Nothing makes me happier than when I get emails or DMs with photos of your amazing creations. Please don't hesitate to reach out to me with your triumphs, or questions <3
If you try this pumpkin cupcake recipe, please tag me @chelsweets. Also use the #chelsweets so that I can see what your baking!