I had so much making my last batch of Halloween cupcakes, I decided to make another!!
This batch of Halloween cupcakes features a couple iconic cupcake designs.
It includes an homage to Frankenstein, and the classic shattered glass cupcake (inspired by this recipe).
These decorations don't require fancy tips or difficult techniques, but you will need a bit of gel food coloring, and a candy thermometer!
I made them using a super moist spice cupcake recipe.
They're frosted them using my American buttercream frosting! The recipes used can be found below, along with a quick tutorial:
Spice Cupcake Batter
1 1/4 cup (162g) all purpose flour
1 cup (212g) sugar
1 1/2 tsp baking powder
1/2 tsp salt
1/2 cup (120ml) buttermilk
1/4 cup (60ml) vegetable oil
2 tsp vanilla extract
1 large egg
1/2 cup (120ml) water
1 1/2 tsp. cinnamon
1/4 tsp. nutmeg
1/4 tsp. ground ginger
Vanilla American Buttercream Frosting:
2 sticks (1 cup) unsalted butter, room temperature
4 cups powdered sugar
1/4 tsp salt
1 Tbsp. heavy cream
1 tsp vanilla
Orange, yellow, black and green gel food coloring
Edible Glass Shards:
1 cup water
1/2 cup light corn syrup
1 3/4 cup sugar
1/2 tsp cream of tartar
candy thermometer
Additional Supplies:
Tootsie Rolls
piping bags
brown and red sprinkles
candy eyes
Halloween sprinkle blend
strawberry jam
red food coloring
Bake time: 17 minutes
Yield: 12-14 cupcakes
Spice Cupcakes
Begin by making the spice cupcakes. Preheat oven to 350 degree Fahrenheit. Line two muffin tins with cupcake liners.
Preheat oven to 350°F (175°C) and place cupcake liners in baking pans.
Add the flour, sugar, baking powder and salt to a large mixer bowl and gently mix.
Add the buttermilk, and gently stir until just combined.
Next, add in the water, vanilla, and vegetable oil, and mix until the batter comes together. Mix in the cinnamon, nutmeg, and ginger.
Stir in the egg until well combined.
Fill cupcake liners 3/4 full, and bake for 17 minutes.
Remove from oven and place on wire racks to cool.
To speed up the cooling process, you can also place the cupcakes in the freezer for 15 minutes.
Buttercream Frosting
While the cupcakes bake, prepare the buttercream frosting.
Beat the butter on medium speed for 30 seconds with a paddle attachment, until smooth.
Slowly add in the powdered sugar, 1 cup at a time.
Add the heavy cream half way through.
Once fully mixed, add in the vanilla and salt, and beat on medium low until the ingredients are fully incorporated, and the desired consistency is reached.
If the frosting is too thick, add in cream (1 Tablespoon at a time).
If the frosting is too thin, add in more powdered sugar (quarter of a cup at a time).
Edible Glass Shards
Next, make the edible glass shards, mix 1 cup water, 1/2 cup corn syrup, sugar, and cream of tartar in a large saucepan or pot.
Bring mixture to a boil.
Use a candy thermometer and boil sugar syrup until temperature reaches 300 degrees, stirring constantly.
It's super important that you get the mixture to exactly 300 degrees, and immediately remove from the heat one it does.
If it doesn't reach this temperature, it won't fully harden, and you won't be able to smash it into smaller shards.
If it gets hotter than this, or if you don't stir if constantly, the mixture can begin to caramelize and gain a yellowish hue.
When sugar reaches 300 degrees, quickly pour onto a metal baking pan.
Cool until completely firm to the touch.
Break into "shards" using a hard object (I sterilized a hammer for this, but a meat mallet would work too!).
Shattered Glass Cupcakes
For the shattered glass cupcake design, remove the center from each cupcake.
I like to use a 1 inch circle cutter, so that each cupcake is packed with jam. Not only does it make them absolutely delicious, it also makes them look super gory when they're bitten into.
In a medium bowl, mix together strawberry jam with 1 squirt of gel food coloring.
Fill each cupcake with strawberry jam, and pipe white frosting over the jam.
Stick glass shards into the frosting.
Drizzle some of the remaining red jam between the shards.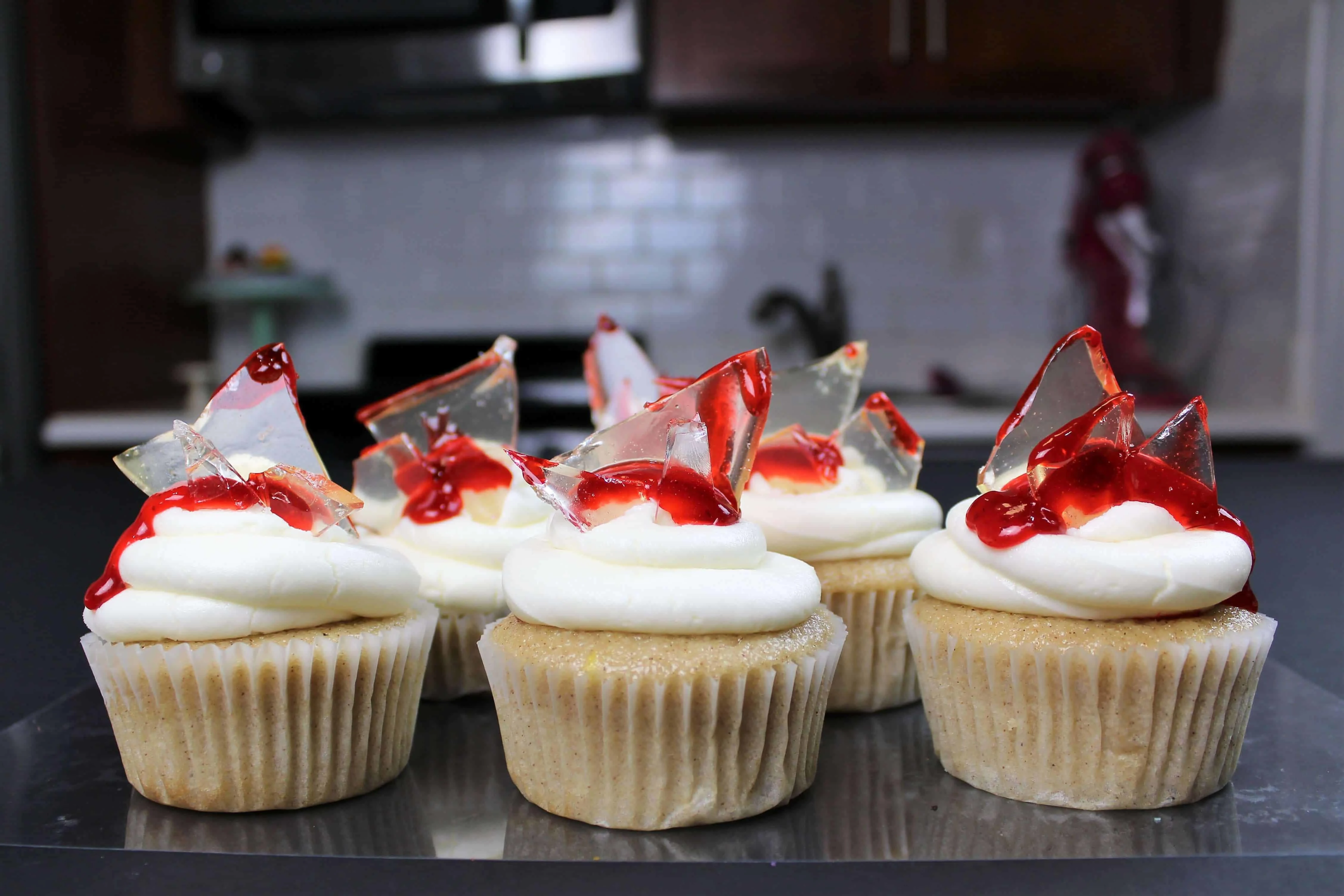 Candy Corn Cupcakes
To make the candy corn swirl cupcake, color a small portion of the frosting yellow, and orange.
Fit three piping bags with a Wilton 1M (open star) tip.
Fill bags with the yellow, orange and white buttercream.
Pipe the first, largest frosting swirl with the yellow buttercream.
Add a second, smaller swirl with the orange frosting.
Pipe a small finishing swirl on top with the white buttercream.
Frankenstein Cupcakes
To create the Frankenstein cupcakes, frost cupcakes with a mound of bright green buttercream.
Dunk into chocolate jimmies, and leave one side of the frosting uncovered by sprinkles.
Add candy eyes, a red sprinkle stitch, and a brown sprinkle mouth.
Cut each tootsie rolls into 8 equal pieces, and shape small neck bolts.
Stick into the sides of the frosting.
Gothic Halloween Cupcakes
To make the gothic halloween swirl cupcakes, pipe a mound of white buttercream onto each cupcake.
Dunk into a Halloween sprinkle blend. I love using blends from Sweetapolita! If you are in need of some spooky sprinkles, you can use the the code CHELSWEETS15 to get 15% off your entire order!
Pipe a swirl of black frosting on top of the sprinkles, using a wilton 1M tip. Top with some orange sanding sugar.
Let Me Know What You Think
And that's how you make all four designs!! I had a hard time picking my favorite, but I think I like the shattered glass cupcakes the best 🙂
Nothing makes me happier than when I get emails or DMs with photos of your amazing creations. Please don't hesitate to reach out to me with your triumphs, or questions <3
If you try this halloween spice cupcake recipe or any of these cupcake designs, please tag me @chelsweets. Also use the #chelsweets so that I can see what your baking!