This morning the sun was shining, and it was so wonderfully warm! For some reason, pink lemonade popped into my mind. And that's when it hit me…PINK LEMONADE CUPCAKES. Or more specifically, strawberry lemonade cupcakes!
I decided to use a lemon cupcake base, fill it with a lemon curd, and top it with a fresh strawberry buttercream. The lemon curd has a great tartness, which is balanced by the bright flavor of the strawberry buttercream. These cupcakes taste like summer. And happiness 😀
Serving: 14 cupcakes
Prep Time: 1 hour
Bake Time: 12-14 minutes
Lemon Cupcake Base:
1 1/4 cup flour
3/4 cup sugar
1/2 cup buttermilk
1/2 cup canola oil
1 tsp. salt
1 1/4 tsp. baking soda
1/2 tsp baking powder
1 1/2 tsp. vanilla
zest of 2 lemons
2 eggs, room temperature
Lemon Curd:
4 large egg yolks
1/2 cup granulated sugar
3 lemons, zest and juice
1/4 tsp. salt
6 tablespoons unsalted butter (3/4 stick), room temperature
Fresh Strawberry Buttercream:
1/2 cup unsalted butter, room temperature
2 cup powdered sugar
1/2 tsp. vanilla
1/2 tsp salt
1/4 cup strawberry puree
Cupcake Garnish:
Step 1: Make the Strawberry Lemonade Cupcakes
Preheat the oven to 350°F and line a cupcake pan with cupcake liners. In a medium bowl, whisk together flour, baking powder, baking soda and salt. Set aside.
Using an electric mixer, quickly beat together the 2 eggs on medium speed. Add sugar, and continue to beat on medium speed (about 30 seconds).
Add vanilla, lemon zest, and oil, and beat on medium speed. Reduce mixer speed to low, and slowly add about half of the flour mixture. Add half of the buttermilk, then the rest of the flour mix, followed by the rest of the milk.
Beat until just combined and smooth, scraping down the sides of the mixing bowl. The batter should be thin. Pour batter into a lined muffin pan filling the cups about 2/3 full. Bake for 12 -14 minutes.
Let them cool in the pan for a couple minutes, then place on a wire rack to finish cooling.
Step 2: Make the Lemon Curd
As the cupcakes bake, prepare the lemon curd. With a hand mixer, beat together butter and sugar until light and fluffy.
Beat in each egg one at a time, allowing them to mix completely before beating in another egg. Beat in the lemon juice and zest, until incorporated.
Over medium heat, in a double boiler, stir the mixture. Stir mixture frequently, until the mixture begins to thicken (about 15 minutes). Pour into bowl and let cool in fridge. If you have any left overs, place them in an air tight container, and use within a week
Step 3: Make the Strawberry Frosting
To make the strawberry frosting, beat the butter until it is fluffy, then slowly incorporate the powdered sugar, 1/2 cup at a time.
Add in the strawberry puree, vanilla, and salt, and continue to mix until all ingredients are fully incorporated.
Step 4: Decorate these Strawberry Lemonade Cupcakes
Frost these strawberry lemonade cupcakes with an open star tip (like a Wilton 1M) and used a strawberry garnish.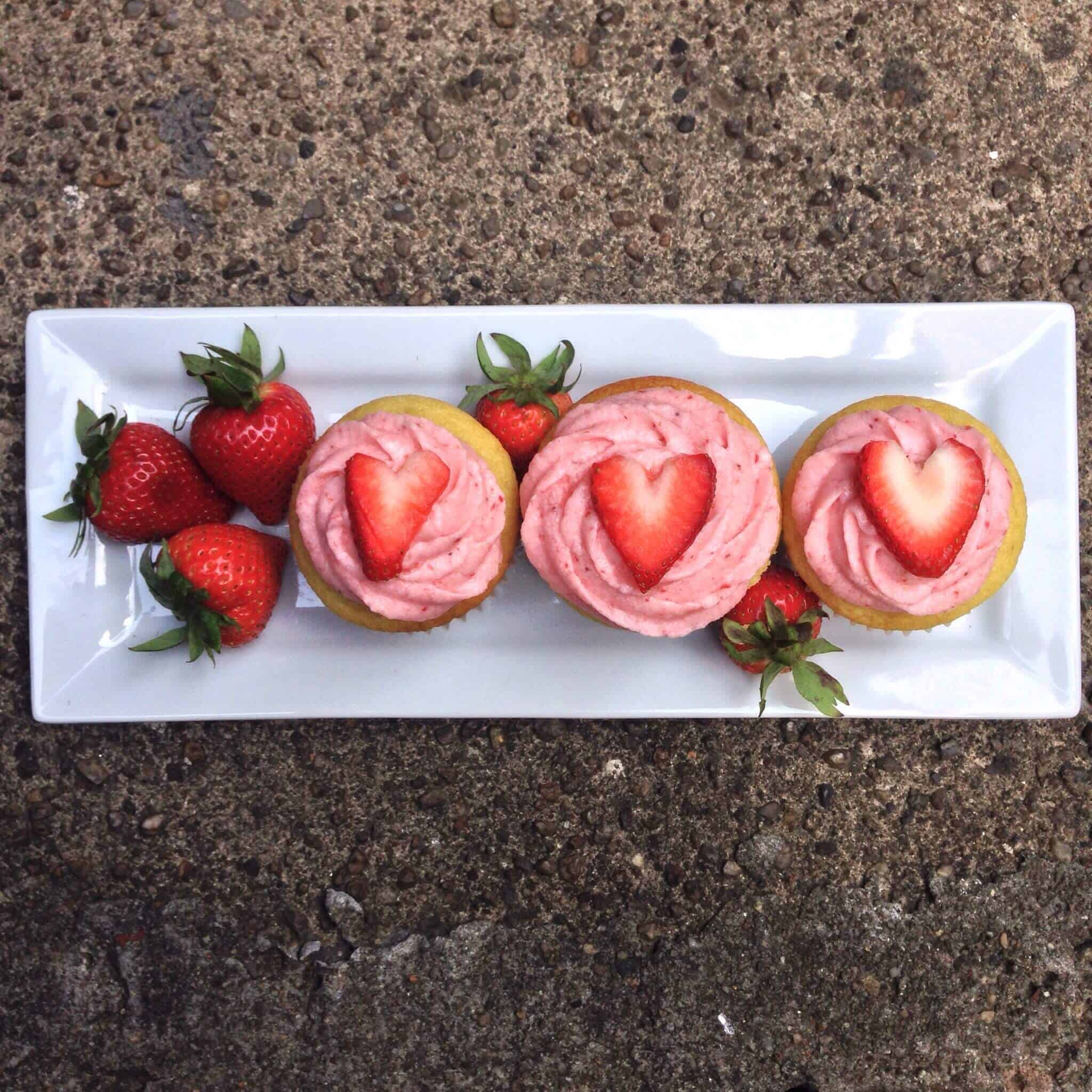 Other Recipes You Might Like: