Peanut butter is one of my favorite flavors, so it's about time I share my peanut butter buttercream recipe.
I love peanut butter so much, I add it to my oatmeal, and even my greek yogurt. Strange, I know! But I swear it's delicious with honey.
More importantly, I love baking with it! I've made several cakes with peanut butter in the past, including my next level honey roasted peanut butter cake, and my PB&J cake!!
This frosting is definitely on the sweet side, but the richness of the peanut butter helps balance out its flavor.
You could also add the same amount of peanut butter to a batch of my Swiss meringue frosting or try my Russian buttercream to create a less sweet peanut butter frosting.
My Secret Ingredient: Pasteurized Egg Whites
Before you get creeped out by the egg whites, trust me on this one!! It gives the frosting this fluffy, silky smooth texture that is so delicious!
This recipe starts by adding some peanut butter to my classic American buttercream, but the peanut butter really thickens the frosting.
To get the consistency right, I like to add in some additional heavy cream and pasteurized egg whites to make it easier to use to pipe and frost.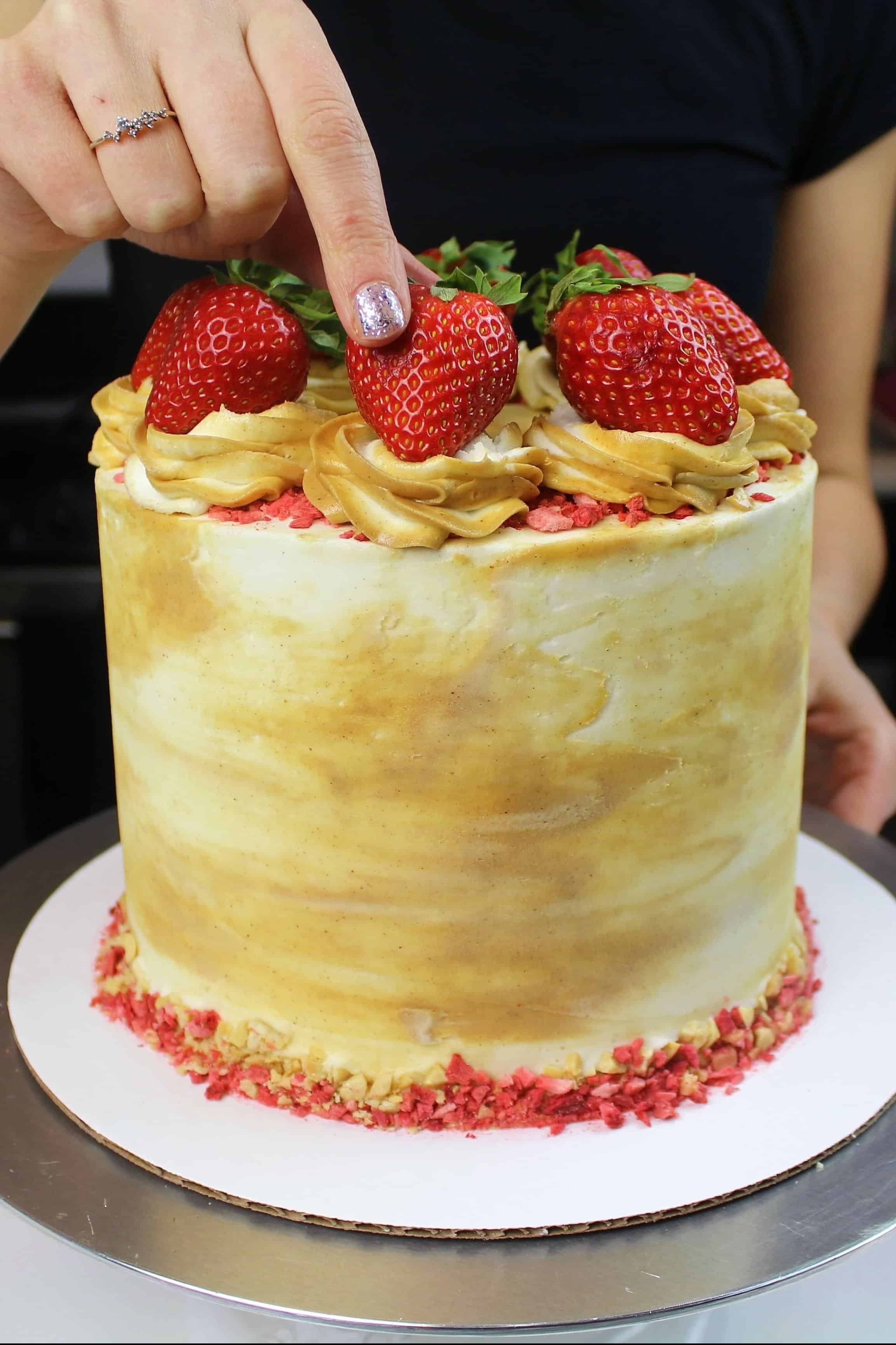 Picking the Right Peanut Butter
One quick note around this recipe – it doesn't work quite as well with natural peanut butter.
I find that because natural peanut butter can separate more easily, they can throw off the consistency of the buttercream. This can result in a messy, broken buttercream.
I usually use creamy peanut butter (like JIF or Skippy) and they incorporate really well into the frosting.
That being said, you can definitely experiment with your favorite peanut butter to see what works best for you!
Just be sure to use a creamy peanut butter or else you won't be able to pipe or smooth this frosting.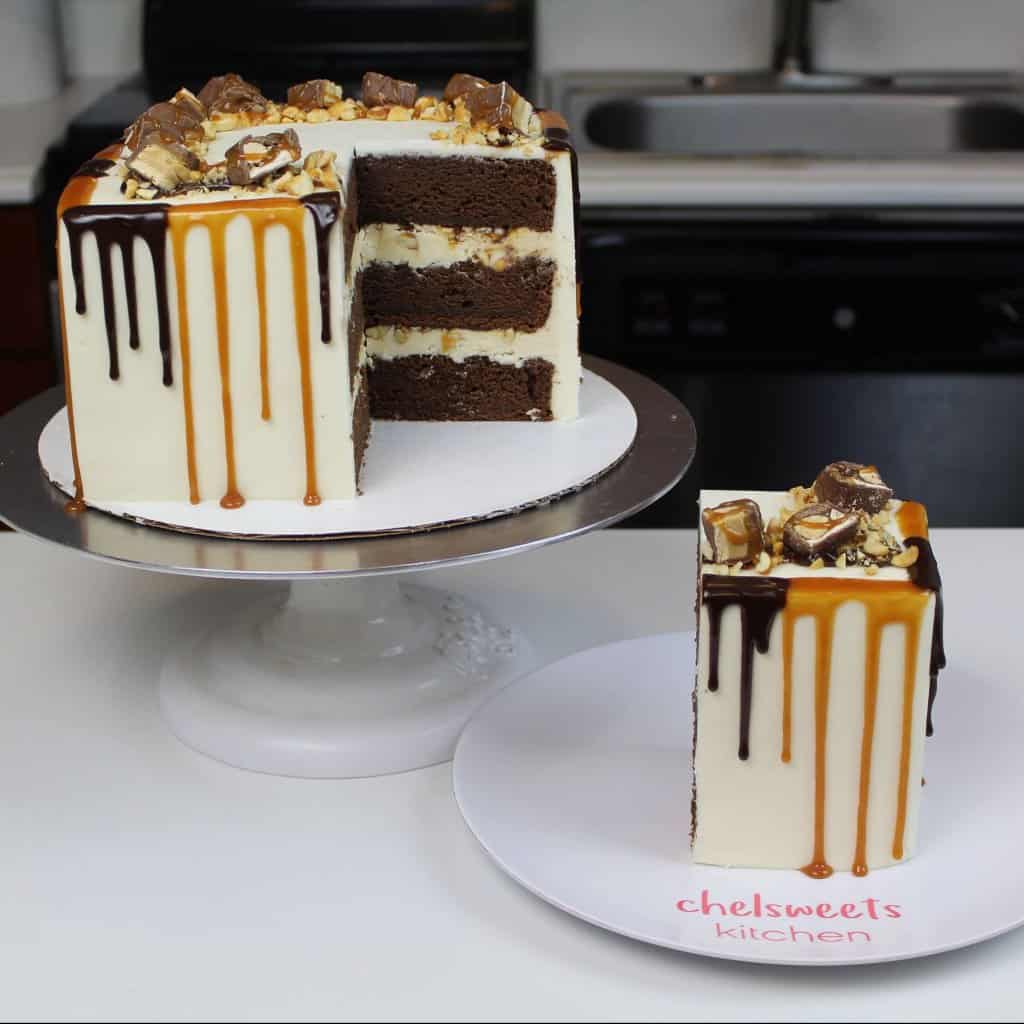 Paddle Attachment vs. Whisk Attachment
Now that we've covered troubleshooting, the last thing to discuss is our equipment.
Either a paddle or whisk attachment can be used to make this frosting with a stand mixer, or you can use a hand mixer.
I like to use my paddle attachment when making frosting for a cake, to minimize the amount of air that is incorporated into the frosting. This makes silky smooth frosting, which is easier to smooth onto cakes.
I use my whisk attachment when making frosting for cupcakes, which I like to be light and fluffy!
I like to incorporate air into frosting for cupcakes, because I usually pipe massive swirls onto each cupcake.
These are just my personal preferences though, and you can use whatever attachment or mixer you have. They'll all get the job done!
Make this Peanut Butter Frosting in Advance
This peanut butter buttercream recipe can be made in advance. I highly recommend making it ahead of time if possible.
Not only does it give the frosting time to develop more flavor, it also makes the decoration of a cake or cupcakes less stressful and more fun.
This frosting keeps in the fridge for up to a month or in the freezer for 3 months if stored in an airtight container.
When you're ready to use the chilled buttercream, remove it from the fridge a few hours in advance (or overnight) and allow it to come to room temperature.
Give it a good stir with a rubber spatula or an electric mixer to get rid of any air bubbles that may have formed. Once the buttercream is smooth again, it's ready to use!
Tips for Making Best Peanut Butter Buttercream Frosting:
Make sure your butter is at room temperature before making your frosting.
If your powdered sugar contains cornstarch (most brands in the US do) there's no need to sift you powdered sugar.
Use heavy cream or heavy whipping cream and not normal milk! You need the higher fat percentage for the frosting to have the right consistency.
If you are making frosting for a cake, mix the buttercream on the lowest speed at the end of the process for a couple minutes to get out any extra air that might have been incorporated during the mixing process.
I usually make 1 batch of frosting to fill and frost a seven or eight inch cake.
Let Me Know What You Think!
If you try out this peanut butter buttercream recipe, please tag me @chelsweets and use the #chelsweets so I can see your creations.
Other Posts You Might Like: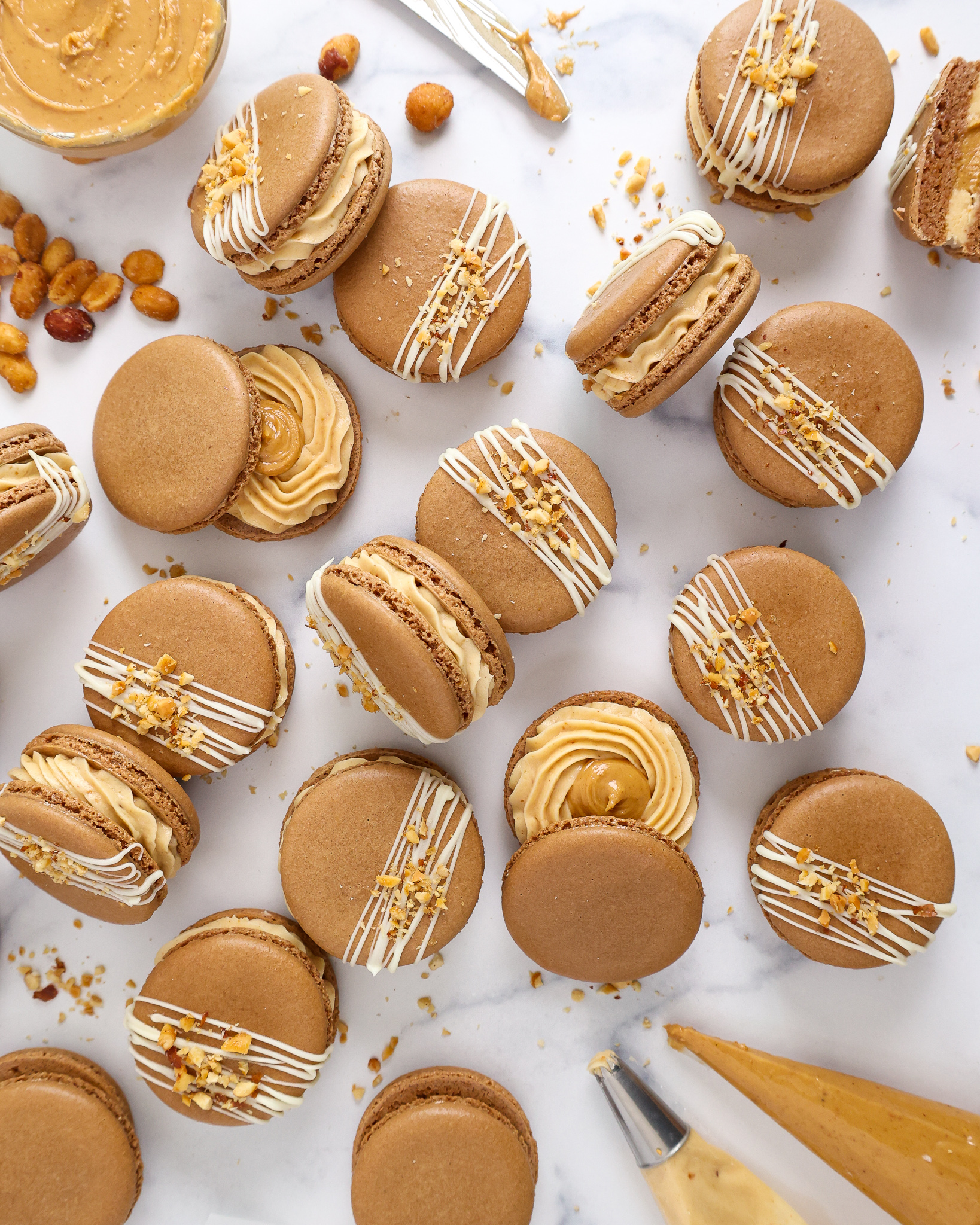 Yield: 7
Peanut Butter Frosting
This delicious peanut butter buttercream recipe is packed with flavor, and so easy to make! It's perfect for frosting cakes, or piping on cupcakes
Ingredients
1 1/2 cups unsalted butter, room temperature (339g)
1/2 cup creamy peanut butter (125g)
7 cups powdered sugar (907g or a 2 lb. bag)
2 tsp vanilla extract (8g)
1 tsp fine salt (6g)
1/3 cup heavy cream or whipping cream (80g)
1 Tbsp pasteurized egg whites - optional (15g)
Instructions
Beat 1 1/2 cups of butter and 1/2 cup of peanut butter on a medium speed for 30 seconds with a paddle attachment until smooth.
Mix in 2 tsp vanilla and 1 tsp of salt on a low speed.
Slowly add in 7 cups of powdered sugar on a low speed. Halfway through add in 1/3 cup of heavy cream and 1 Tbsp of pasteurized egg whites (optional) to make the frosting easier to mix.
Beat on low until the ingredients are fully incorporated and the desired consistency is reached.
If the frosting seems too thick, add in additional cream (1 Tbsp at a time). If the frosting is too thin, add in more powdered sugar (quarter of a cup at a time).
If you plan to color the buttercream, add in the gel food coloring once the frosting is fully made. Beat on low until it reaches the desired colored.
Notes
This recipe makes about 7 cups of frosting, which is enough to frost an 8-inch layer cake or about 3 dozen cupcakes.
If you are making frosting for a cake, it is important to mix the buttercream on the lowest speed at the end of the process for a couple minutes. This pushes out any extra air that might have be incorporated during the mixing process.
You can also stir the frosting in a bowl with a rubber spatula, pushing it from side to side, to get rid of any air bubbles. This will make it easier to get super smooth sides on your cake!
Nutrition Information
Yield
7
Serving Size
1
Amount Per Serving
Calories

942
Total Fat

54g
Saturated Fat

30g
Trans Fat

0g
Unsaturated Fat

20g
Cholesterol

122mg
Sodium

435mg
Carbohydrates

115g
Fiber

1g
Sugar

109g
Protein

5g