Nutella is one of my favorite ingredients to bake with! I grew up eating it and love adding it into cakes whenever I can. It's definitely the star in this Nutella banana cake recipe and is even swirled into each cake layer!
Nutella is also drizzled between each layer, and the cake is frosted with a Nutella buttercream.
To create the Nutella swirled in my banana cake layers, use the same technique that I use to create my colorful swirled cake layers!
Heat up a small jar of Nutella in the microwave for about 15 seconds, then scooped several drops on top of the banana cake batter.
Create both horizontal and vertical lines through the Nutella drops using a small offset spatula, or a butter knife.
While the banana cake layers bake and cool, prepare your buttercream and chocolate ganache.
For the ombre look on the side of this cake, you will need to make three different types of Nutella buttercream.
To make each shade of Nutella buttercream, mix the below ingredients with 2/3 of a cup of frosting:
lightest colored Nutella buttercream: 1 Tbsp Nutella
medium shade of Nutella buttercream: 2 Tbsp Nutella
darkest shade of Nutella buttercream: 2 Tbsp Nutella + 1/4 cup baking cocoa + 1 Tbsp heavy cream
Place each type of frosting into a small piping bag, and secure the top of the bag using a rubber band. Set aside.
Next, begin to assemble to cake! Place each cake layer Nutella-side up, and add a generous layer of frosting on top of each cake layer.
Smooth the frosting using a large offset spatula, and then add a generous drizzle of Nutella on top of the frosting.
Repeat with the second cake layer, then place the third cake layer upside-down on top of the cake.
Add thin layer of frosting around the cake, to trap any crumbs.
Smooth using a bench scraper, then place into the fridge for about 5 minutes.
Once the crumb coat is firm to the touch, add the second layer of ombre frosting.
Start at the base of the cake, and pipe two lines of the darkest shade of Nutella buttercream.
Next, add two lines of the middle shade, follow by two lines of the lightest shade of Nutella buttercream.
Pipe white buttercream around the remaining space, and on top of the cake.
Blend the frosting together, and smooth using a bench scraper.
Next, decorate the top of the cake. Use the warmed ganache to create a circular pattern on top of the cake.
Decorate with your choice of chocolate and bananas!
I chose to create an asymmetrical line with banana chips, mini white chocolate chips, caramel chocolate balls, and some crushed Oreos.
I chose to decorate the cake with these items because I had them on hand. You can use your favorite chocolate candies, or whatever you have in your pantry though!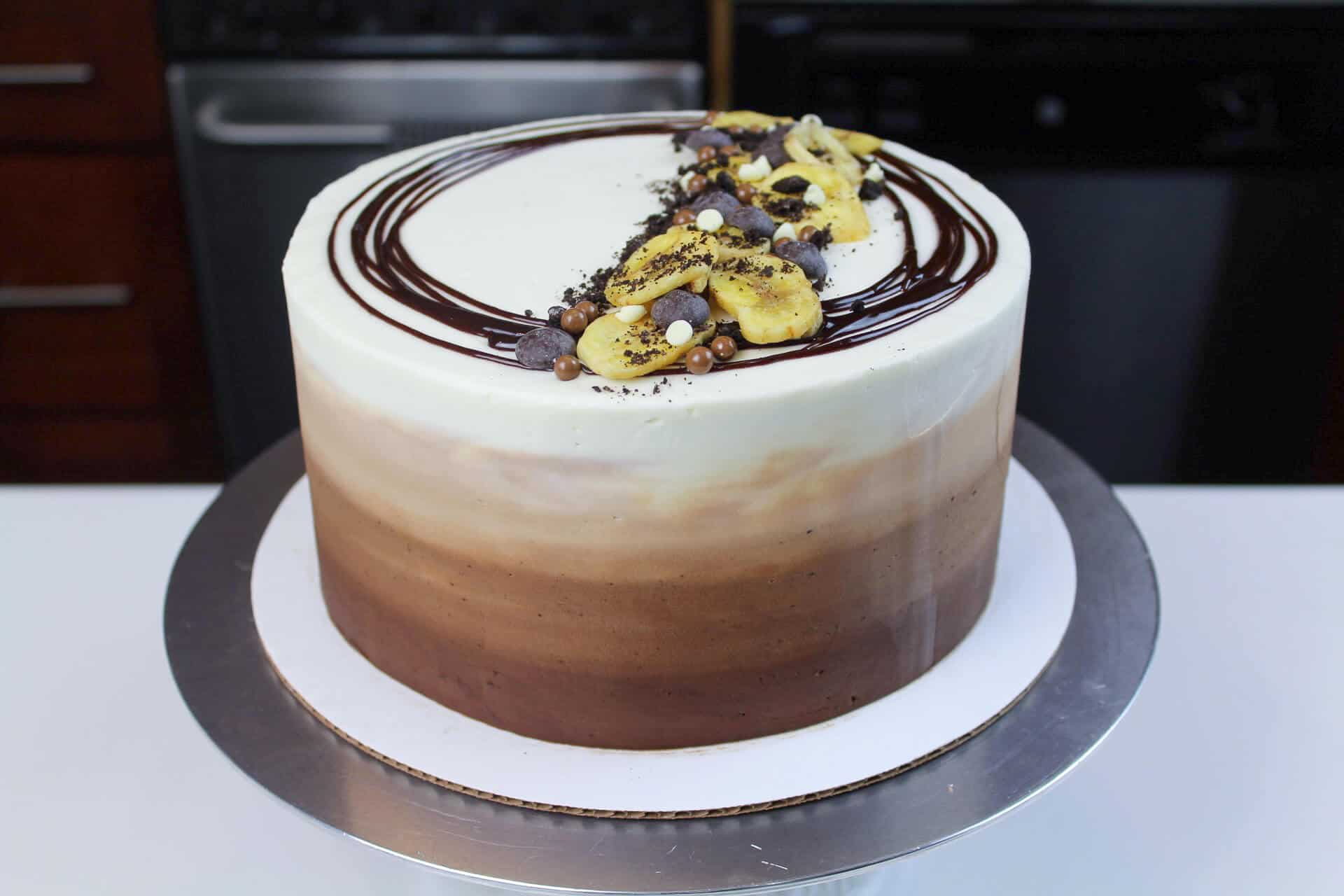 This cake design is definitely a bit different than my normal style, but I really enjoyed trying something a bit outside of my comfort zone.
Decorating a cake like this is also great because you don't need any fancy frosting tips!!
This banana cake recipe is so delicious and soft, and paired with the Nutella buttercream, it's out of this world! It would also be delicious with my cream cheese frosting recipe.
I have a few notes of caution, to help ensure your banana cake layers are as fluffy and delicious as can be! These include:
Use super ripe bananas (must be brown! no yellow bananas) to get a stronger banana flavor and better texture
Do not to overmix your batter; it can make your layers less fluffy / denser
Very carefully measure your flour, to ensure you're adding the right amount! Too much flour can cause your cake layers to be dry and dense
Banana Layer Cake Recipe
This banana layer cake recipe is moist, delicious, and so easy to stack into a layers cake!!
Servings
1
8 inch layer cake
Ingredients
3

cups

all-purpose flour

3

cups

sugar

2 1/2

tsp

baking powder

1

tsp

salt

1

cup

unsalted butter

(room temp)

1/2

cup

egg white

(about 3 egg whites)

1/2

cup

overripe bananas

(about 1 1/2 small bananas)

1 1/2

cups

buttermilk

(room temp)

1

Tbsp

vegetable oil

2

tsp

vanilla extract
Instructions
Directions
Preheat oven to 350°F. Line three 8 inch pans with parchment rounds, and grease with non-stick cooking spray.

Mix together all dry ingredients (flour, baking powder, sugar, and salt) in a stand mixer with a paddle until fully combined.

Mix chunks of room-temperature butter slowly into the dry mix, on a low speed. Continue to mix until no large chunks of butter remain, and the mixture becomes crumbly.

Pour in egg whites, and mix on low until just incorporated. Next, mix in the bananas and buttermilk in two installments, on a low speed.

Add in vanilla and oil, and mix at a low speed until fully incorporated. Scrape down the sides of the bowl with a spatula, then beat on medium speed for about 30 seconds.

Divide batter evenly between the prepared cake pans. I like to use a digital kitchen scale to weigh my pans, and ensure they all have the same amount of batter. This guarantees your layers will bake to be the same height.

If desired, add spoonfuls of warmed Nutella (heated in the microwave for 15 seconds) on top of the banana cake batter. Use a small offset spatula or butter knife to drag horizontal and vertical lines through the batter, to create a swirled pattern with the Nutella.

Bake for 30-32 minutes (or until a skewer comes out clean). Allow to cool for 10 minutes, then run an offset spatula around perimeter of the pan to separate the cake from the pan. Place cake layers into the freezer for 45 minutes, to accelerate the cooling process.
Recipe Notes
NOTE: Be sure your bananas are SUPER ripe! Yellow bananas will not yield the same results as fully brown bananas.
Vanilla American Buttercream Recipe
Servings
1
seven inch layer cake
Ingredients
2

cups

unsalted butter, room temperature

(434 grams)

8

cups

powdered sugar

(907 grams)

1/2

tsp

salt

(3 grams)

2

Tbsp

heavy cream (or whipping cream)

(30 grams)

1

Tbsp

vanilla extract

(12 grams)

gel food coloring, if desired
Instructions
Beat the butter on a medium speed for 30 seconds with a paddle attachment, until smooth. Slowly add in the powdered sugar, 1 cup at a time. Alternate with small splashes of cream.

Once fully mixed, add in the vanilla and salt, and beat on low until the ingredients are fully incorporated, and the desired consistency is reached.

If the frosting is too thick, add in additional cream (1 teaspoon at a time). If the frosting is too thin, add in more powdered sugar (quarter of a cup at a time).

If you plan to color the buttercream, add in the gel food coloring once the frosting is fully made, and beat on low until it reach the desired colored
Recipe Notes
If you are making frosting for a cake, it is important to mix the buttercream on low at the end of the process for a couple minutes, to get out any extra air that might have be incorporated during the mixing process. This will make it easier to get super smooth sides on your cake!