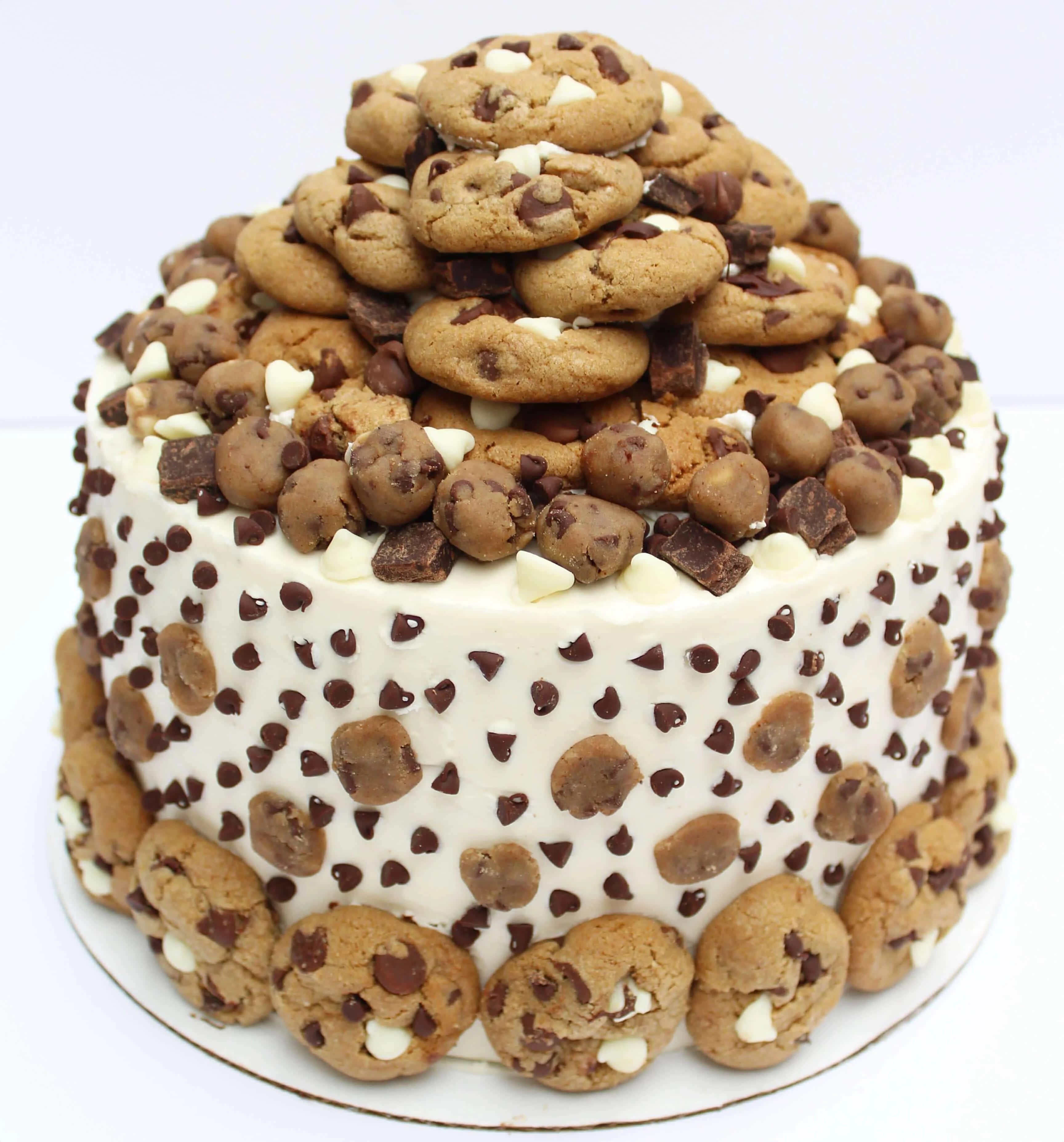 This post is definitely a bit delayed, but better late than never, right?? I've received a lot of emails asking for this recipe, so here it is 🙂 It's quite an undertaking, but it's worth it! It is made with four super moist chocolate cake layers, a cookie dough flavored buttercream, and is decorated with egg-less chocolate chip cookie dough and mini chocolate chip cookies. It took a little bit of experimenting to get this right. I had been pretty dissatisfied with most of the edible cookie dough recipes I'd come across online, so i tweaked the recipe until it as just right. I also created a simpler cookie dough buttercream, as most recipes require melting down the brown sugar. Mine is just as easy to make as regular buttercream, and in my opinion has a better cookie dough flavor!
Chocolate Cake Batter:
2 cups all-purpose flour
2 cups sugar
¾ cup unsweetened cocoa powder
2 teaspoons baking powder
1½ teaspoons baking soda
1 teaspoon salt
1 teaspoon espresso powder
1 cup milk
½ cup vegetable oil
2 eggs
2 teaspoons vanilla extract
1 cup boiling water
Cookie Dough Buttercream:
2 cups unsalted butter (4 sticks), at room temperature
1 cup light brown sugar
1/4 cup heavy cream
6 cups powdered sugar
3 tsp vanilla
1/2 tsp salt
Edible Chocolate Chip Cookie Dough
1 cup unsalted butter (2 sticks), at room temperature
1 cup light brown sugar
2 tbsp heavy cream
1 1/2 cups flour (pasteurized in the microwave or oven)
1/2 tsp salt
1 cup mini chocolate chips
2 tsp vanilla extract
Chocolate Chip Cookies
2 and 1/4 cups all-purpose flour
1 tsp baking soda
1 1/2 tsp cornstarch
1/2 teaspoon salt
3/4 cup (1.5 sticks) unsalted butter, melted
3/4 cup light brown sugar
1/2 cup granulated sugar
1 large egg, and 1 egg yolk, at room temperature
2 tsps vanilla extract
1/2 cup chocolate chips
1/2 cup white chocolate chips
Preheat oven to 350º F. Prepare four 8-inch cake pans by spraying with baking spray, and lining the bottom of the pans with parchment rounds.
Add flour, sugar, cocoa, baking powder, baking soda, salt and espresso powder to a large bowl or the bowl of a stand mixer. Whisk through to combine or, using your paddle attachment, stir through flour mixture until combined well. Add milk, vegetable oil, eggs, and vanilla to flour mixture and mix together on medium speed until well combined. Reduce speed and carefully add boiling water to the cake batter. Mix until fully incorporated. Distribute cake batter evenly between the prepared cake pans. Bake for 25-30 minutes, until a toothpick or cake tester inserted in the center comes out clean. Remove from the oven and allow to cool for about 10 minutes, remove from the pan and cool completely.
Once the cake layers are out of the oven, prepare the cookie dough. Combine the flour, baking soda, cornstarch, and salt in a large bowl. Set aside. In a medium bowl, mix the melted butter, brown sugar, and sugar together until smooth. Whisk in the egg, vanilla, then the egg yolk. Pour the wet ingredients into the dry ingredients and mix together with a large spoon or rubber spatula. The dough will be very soft, yet thick. Fold in the chocolate chips. Form 1 inch balls with the dough, and then cover and chill in the refrigerator for at least an hour. Line two large baking sheets with parchment paper or silicone baking mats, and leave at least 2 inches of space between the cookies. Bake the cookies for 11-12 minutes. The cookies will be very soft and look a little underbaked. But don't be scared, they will continue to bake on the cookie sheet! Allow the cookies to cool on the cookie sheet for 10 minutes before transferring to a wire rack to cool completely.
While the cake layers and cookies cool, prepare the cookie dough frosting. Beat together the butter and brown sugar on medium-high speed for 5 minutes. Pour in the vanilla and salt, and beat until combined. Reduce the speed to medium-low and slowly add the powdered sugar, a little at a time, until it has all been incorporated. Add heavy cream as needed. Increase the speed to medium-high and beat for an additional two to three minutes, until light and fluffy.
For the edible cookie dough, cream the butter and brown sugar together. Add in the salt and vanilla, and beat until combined. Mix in the flour in two installments, add the cream between installments to help the ingredients come together. Gently mix in the chocolate chips on a low speed, or with a spatula. Form into 3/4 inch balls, and refrigerate to allow the cookie dough balls to firm up.
Once all the components are prepared, it's assembly time! Top each cake layer with a thick smear of frosting, and sprinkle a generous handful of edible cookie dough on top of the frosting. Repeat, stacking all four layers. Apply a crumb coat to exterior of the cake, and refrigerate to let the frosting firm up.
Remove from fridge, and apply another coat of frosting. Smooth the frosting, then press the small baked cookies around the base of the cake. Push edible cookie dough bites around the side of the cake, and fill in some of the open space with mini chocolate chips. Form a circular cookie pyramid on top of the cake, anchoring each layer of cookies with a smear of buttercream. Use the remaining edible cookie dough to create a boarder around the top of the cake, and sprinkle white and regular chocolate chips into any open spaces, and around the boarder. And about 5 1/2 hours later, the cake is complete!!

I also made a smaller version of this cake for an order (shown above), and decided to decorate it a little bit different to keep things interesting 🙂