With St. Patrick's Day looming around the corner, it just seems right to whip up a Baileys chocolate cake.
When I think about St. Patrick's Day, I see shamrocks, green beer, and coffee spiked with Baileys.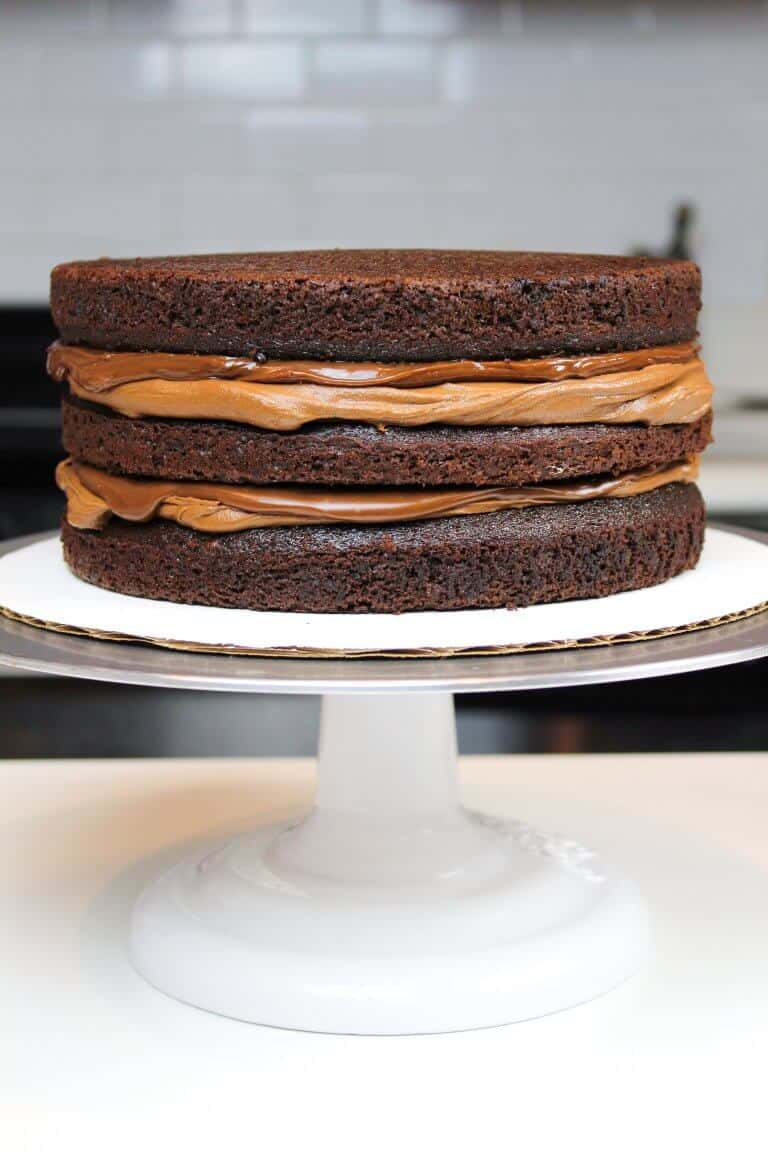 Here in New York City, people go all out on St. Patrick's Day. It's hard to walk a block without seeing a bar overflowing with people, covered head to toe in green.
That being said, I like to bake something special each year to celebrate!!
In the past I've made an adorable shamrock cake last year, and a giant beer mug cake, which didn't leave me with a ton of ideas for this year's cake.
I've wanted to use Baileys in a cake recipe for years though, so I was very happy when I landed on my cake idea for this year….a A Baileys chocolate cake!
What Is Baileys?
Baileys is an Irish whiskey and cream based liquor, which is actually pretty strong (17% ABV). I thought I knew quite a bit about Baileys, until I realized I had been spelling it incorrectly!!
As I was writing this post, I was quite surprised to see that Baileys is spelled without an apostrophe. Guess you learn something new everyday!!
I'm not going to pretend like I've never taken a shot of it, but at this point in my life I like to drink it in my coffee.
To mix things up, this week we're putting it into a cake!! In this Baileys chocolate cake recipe, I've incorporated Bailey's into every component of this cake.
How Did You Add Baileys Into This Chocolate Cake Recipe??
To add it to my chocolate cake recipe, I swapped out some of the buttermilk in my moist chocolate cake recipe for Baileys.
I also added it in the place of some of the heavy cream in my chocolate buttercream recipe, to make the most rich and boozy chocolate frosting.
For the ganache filling, I used an equal ratio of heavy cream and Baileys.
This really lets the flavor from this whiskey liqueur shine though, and creates an indulgent Baileys ganache filling for the cake.
The end result? A delicious, boozy, chocolaty cake that is the perfect St. Patrick's Day dessert.
How To Assemble This Baileys Chocolate Cake
To create this cake, make the ganache as your cake layers bake and cool, or as you prep your frosting the day of. The ganahce needs about a hour to come to room temperature, but can get too firm if it cools too much.
The Bailey's gives the ganache an almost elastic texture, and makes it set like glue! If your ganache gets too hard to work with, heat it up in the microwave for 10 second intervals, until it's easy to spread again.
Or if you like to plan ahead, the chocolate cake layers and buttercream can be made made and frozen ahead of time.
Once all the different components of this cake are ready, begin to assemble the cake! Stack the cake layers on a grease proof, cardboard cake round.
Spread a thin dab of chocolate buttercream on the center of the board, to help your cake layer stay in place. Next, center the first cake layer the cake board.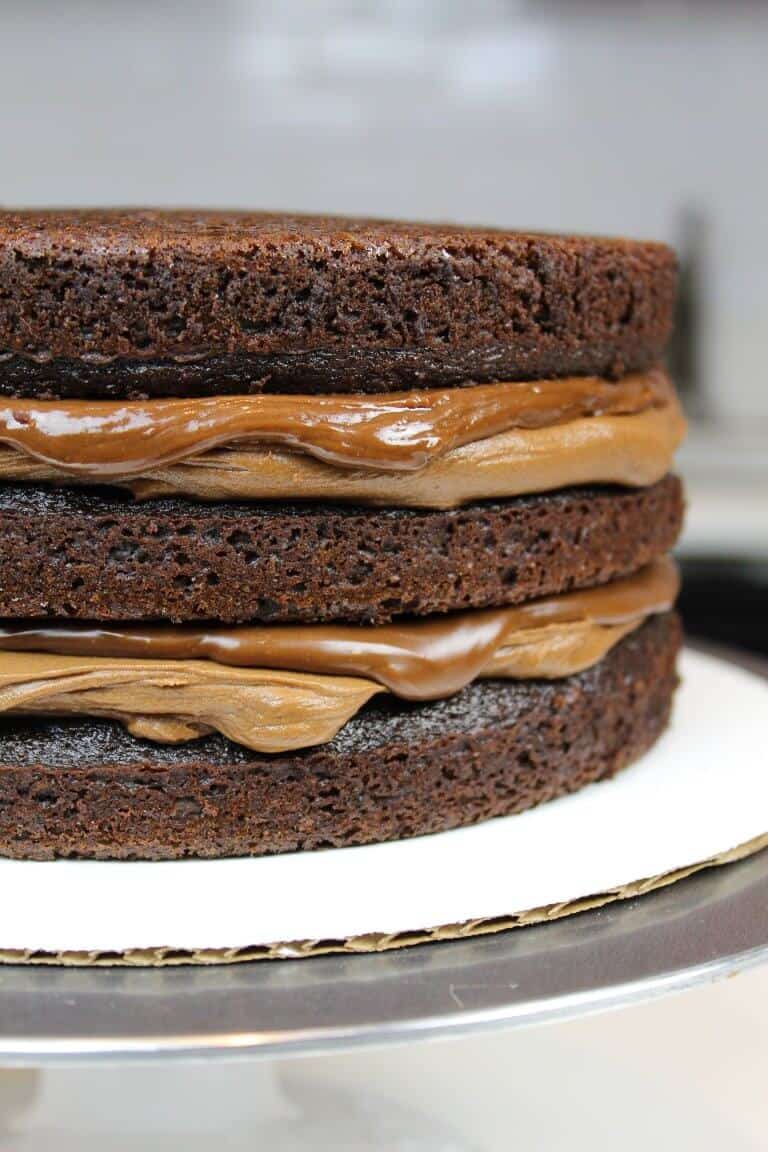 Spread an even layer of chocolate buttercream onto the cake layer with a large offset spatula. Chill it in the freezer for a few minutes to help it firm up. Then spread half of the chocolate ganache on top of it.
Top with a second cake layer, and repeat. Place the top cake layer upside down. Cover the cake in a thin layer of chocolate buttercream.
Then chill in the freezer for 5 minutes, or until the crumb coat is firm to the touch.
Use the remaining buttercream to add a thicker, second layer of frosting to the cake. Smooth using a bench scraper, and then decorate as desired!
Decorating This Bailey's Cake
I opted to cover the long chocolate ganache drips, then made a swirled pattern using a palette knife.
It creates an oddly symmetrical and unique design, and is a lot easier to do than you'd think!
If you try this Baileys Chocolate Cake recipe, please tag me @chelsweets, and use the #chelsweets, so I can see your beautiful creations!!
Yield: 24 servings
Baileys Chocolate Cake
This Baileys chocolate cake recipe is perfect for St. Patrick's Day! It uses Baileys in the cake layers, chocolate ganache filling and in the buttercream!!
Total Time
1 hour
55 minutes
Ingredients
Moist Chocolate Cake Recipe
2 cups all-purpose flour (260 grams)
2 cups granulated sugar(400 grams)
3/4 cup sifted unsweetened cocoa powder (75 grams)
2 teaspoons baking powder (8 grams)
1 1/2 teaspoons baking soda (9 grams)
1 teaspoon salt (6 grams)
1 cup very hot water (237 grams)
1/2 cup buttermilk (120 grams)
1/2 cup Baileys Irish Liqueur (120 grams)
1/2 cup vegetable oil (120 grams)
2 eggs, room temperature (112 grams)
2 teaspoons vanilla extract (8 grams)
Baileys Chocolate Ganache Filling
1 bag milk chocolate chips (340 grams)
1/4 cup heavy cream (57 grams)
1/4 cup Baileys (57 grams)
Chocolate Buttercream Frosting
2 cups (or 4 sticks) unsalted butter, room temperature (434 grams)
5 cups powdered sugar (625 grams)
1 1/3 cups of melted dark chocolate, cooled (228 grams, 8 oz.)
1 cup sifted, unsweetened baking cocoa (100 grams)
1/2 tsp salt (3 grams)
1/2 cup heavy cream (120 grams)
2 Tbsp Baileys Liqueur (30 grams)
1 tsp vanilla (4 grams)
Instructions
Chocolate Cake Layers
Preheat oven to 350 degrees Fahrenheit. Line and grease three, eight-inch cake pans.
Combine the dry ingredients (flour, sugar, cocoa powder, salt, baking soda and baking powder) in a large bowl. Whisk together until combined.
Pour in the buttermilk, Baileys, oil, vanilla and hot water into the dry ingredients. Mix by hand until fully incorporated.
Stir in the eggs one at a time.
The batter will be on the thin side, but that's the consistency you're after!
Divide the batter evenly between the cake pans, and bake for about 25 minutes.
Remove from oven, and let the cakes sit for about 5 minutes. Gently run an offset spatula around the rim of the cake pans to loosen them. 
Place the cake pans in the freezer to speed up the cooling process, and to trap in additional moisture.
Baileys Chocolate Ganache
Place chocolate into a medium sized bowl.
Pour heavy cream and Baileys in a medium-sized pot, and heat at a medium high heat, until it just begins to boil.
Pour over the chocolate, and allow the mixture to sit for 1-2 minutes.
Slowly stir with a rubber spatula, until the mixture is smooth.
Once the ingredients are fully incorporated, place plastic wrap over the top of the ganache, and set aside. Allow the ganache to cool for 4-6 hours, or overnight at room temperature.
Baileys Chocolate Buttercream Frosting:
Beat the butter on a medium speed for 30 seconds with a paddle attachment, until smooth. 
Add in the sifted cocoa, and mix on low until the cocoa is fully incorporated, and no clumps remain.
Slowly add in the powdered sugar, 1 cup at a time. Alternate with small splashes of cream and Baileys.
Mix in the cooled, melted chocolate chips.
Once fully mixed, add in the vanilla and salt.
Beat on low until the ingredients are fully incorporated, and the desired consistency is reached.
Nutrition Information
Yield
24 servings
Serving Size
1
Amount Per Serving
Calories

465
Total Fat

15g
Saturated Fat

6g
Trans Fat

0g
Unsaturated Fat

7g
Cholesterol

29mg
Sodium

292mg
Carbohydrates

72g
Net Carbohydrates

0g
Fiber

3g
Sugar

58g
Sugar Alcohols

0g
Protein

4g