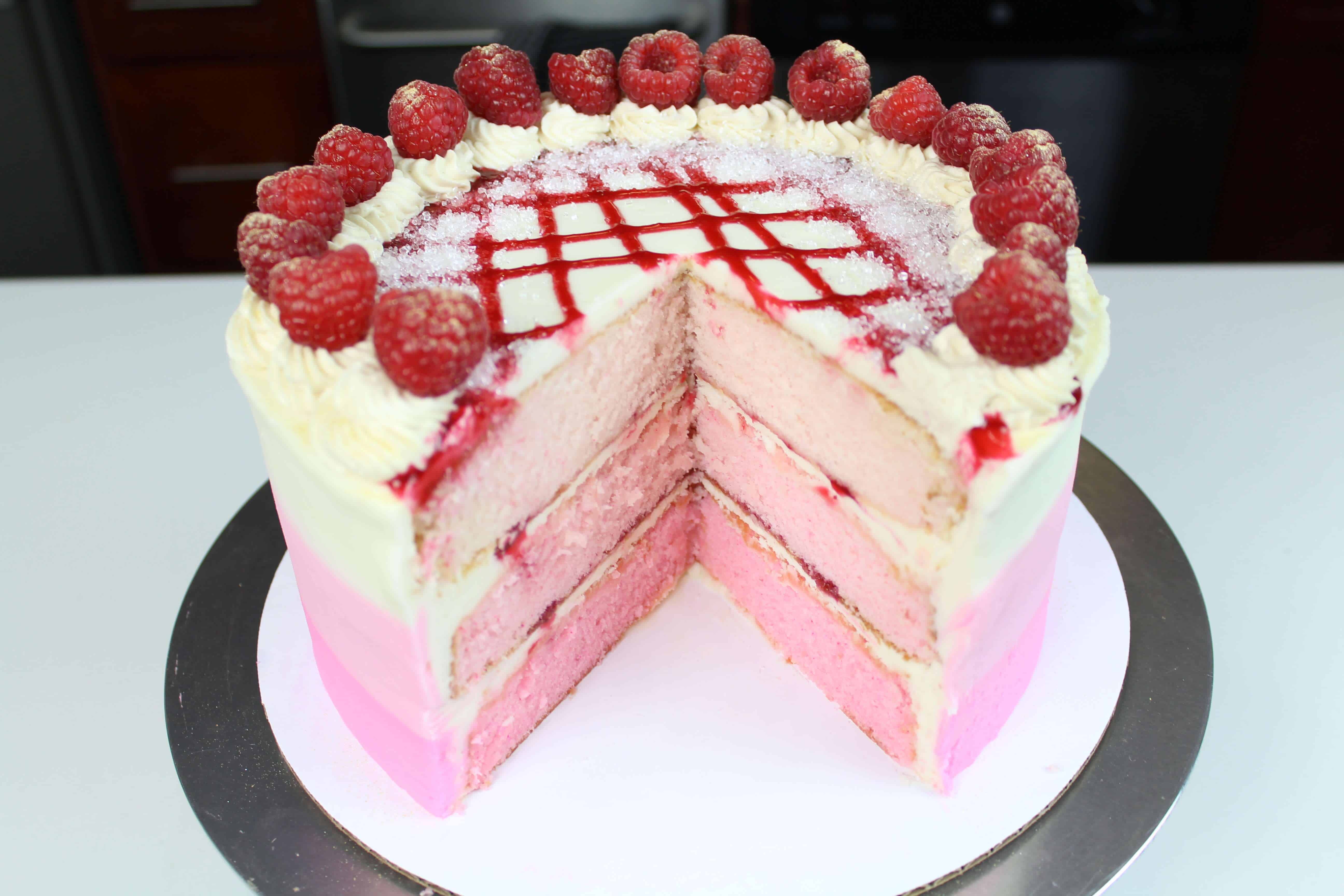 I can hardly believe 2016 is almost over. It's been a big year for me, both in the kitchen and in my personal life! It only seemed fitting to celebrate it in style, and a raspberry pink champagne cake fit the bill. I used the below recipe in a live stream for the Food Network:
Pink Champagne Cake Batter:
3 cups flour
2 cups sugar
3 tsp. baking powder
1 tsp. salt
1 cup (2 sticks) unsalted butter, diced and room temperature
1 cup egg whites (about 6 large egg whites)
1 cup pink champagne (or prosecco)
1/2 cup buttermilk
2 tsp. vanilla
1/8 cup canola oil
2 drops pink gel food coloring (I use the Americolor deep pink shade)
Raspberry Compote:
1 bag frozen raspberries (13 oz.)
1 cup sugar
1 tsp lemon juice
1 Tbsp cornstarch
Champagne Buttercream:
4 sticks (2 cups) unsalted butter, room temperature
8 cups powdered sugar
1/2 tsp salt
3 Tbsp. heavy cream
1 tsp vanilla
1 tsp champagne flavoring (or 1/4 cup champagne, reduced down to half it's volume)
gel food coloring (optional – I did an ombre pattern)
Preheat oven to 350 degrees Fahrenheit. Grease and line 4 7-inch round cake pans.
Start by making the pink champagne cake batter. Combine flour, sugar, baking powder and salt in mixing bowl. Gently stir dry ingredients together, then slowly beat in chunks of butter. Mix on low until mixture becomes crumbly, then mix in the egg whites.
The mixture will be very thick. Mix in the champagne on low, then the buttermilk. Add in oil, and vanilla, then mix at a medium speed until all ingredients are fully incorporated. Mix in gel food coloring, and continue to mix until batter is evenly colored.
Divide batter between the four prepared baking pans, and bake for 38 minutes or until a toothpick comes out clean.
Remove from oven and allow layers to cool in the pans for 15 minutes. Run a knife around the edges of the pans to separate the cake layers from the pan. Remove layers from pan, and place in freezer to finish cooling.
While the cake layers bake and cool, prepare the raspberry compote. Heat a large pan to medium heat, and add frozen raspberries and sugar.
Cook for 10 minutes, stirring occasionally. Add in lemon juice and cornstarch, and continue to cook for another 10 minutes. Remove from heat, and pour mixture through a strainer to remove seeds. Set aside to cool.
Next, prepare the champagne buttercream. Beat the butter on high for 30 seconds, until smooth. Slowly add in the powdered sugar, 1 cup at a time.
Alternate with small splashes of cream. Once fully mixed, add in the vanilla, champagne flavoring, and salt, and beat on medium low until the ingredients are fully incorporated, and the desired consistency is reached.
If the frosting is too thick, add in cream (1 teaspoon at a time). If the frosting is too thin, add in more powdered sugar (quarter of a cup at a time).
Once cake layers are fully chilled, assembly the cake! Stack cake layers, applying a generous layer of buttercream between each layer. Drizzle raspberry compote on top of the buttercream.
Repeat with remaining cake layers, then apply a thin crumb coat of frosting. Place the cake in the freezer for 10 minutes, to allow the crumb coat to set. Apply another layer of frosting, and smooth with a cake bench.
Top with additional raspberry compote, frosting swirls, and fresh raspberries. I also added a bit of edible gold dust and some white sanding sugar, to give it a little extra glitz 🙂