Everyone loves a good taco, so I figured most people would appreciate a taco cake!!
While the shape of the cake may make it seem complicated to make, I promise it's easier than you'd think!
How On Earth Do You Shape The Cake To Look Like A Taco?!
This cake cake is made with two round cake layers (one slightly smaller than the other).
Each layer is cut in half. Then three of these halved cake layers are sticked upright.
This means you'll end up with an extra half a cake layer. I ended up just eating mine with some leftover buttercream…but you could also make cake pops with it.
This taco cake is made with my favorite vanilla layer cake, which has great structure and works wonderfully for shaped cakes like this.
The cake is decorated with my American buttercream frosting. The frosting almost acts like a glue. It keeps the layers of this cake in place, and is also used to create most of the "topping" decorations.
I used a wilton 789 frosting tip to make the frosting process easier.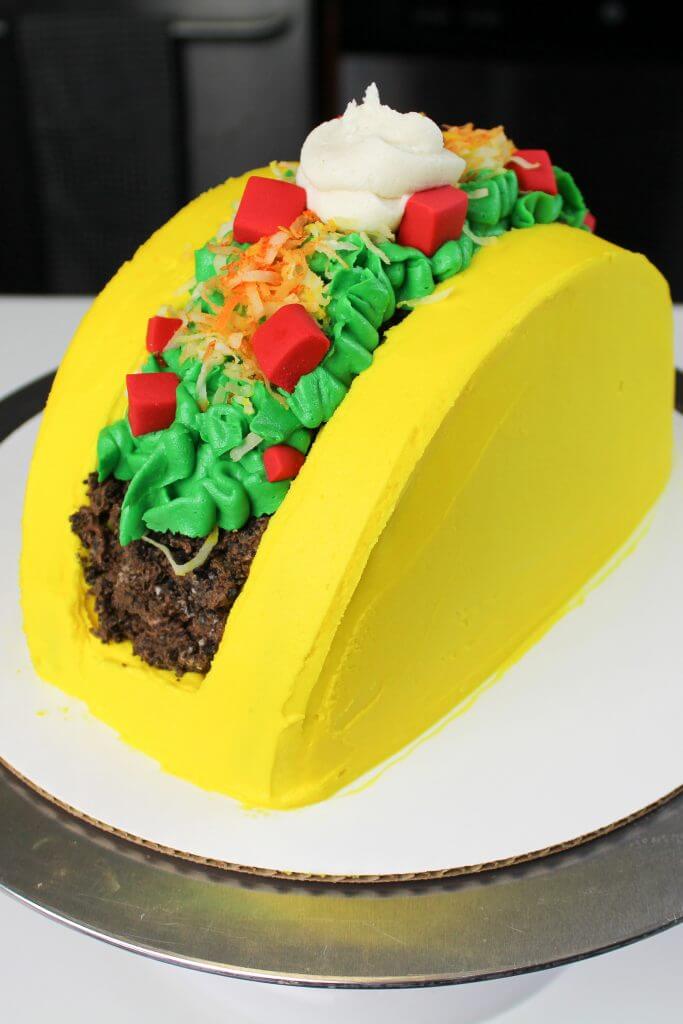 Customize Your Taco Cake
That's one of my favorite parts of this taco cake, you can decorate it to look just like your favorite tacos!
Love beef picadillo (guilty as charged!)? Use some chocolate buttercream and crushed Oreos to make the "beef!"
Or if you're a huge guacamole fan, color some of the buttercream an earthy shade of green, and top your cake with a generous dollop!
Whether you're a taco enthusiast, or just want to celebrate Cinco de Mayo, this cake is perfect for just about any occasion.
I'd even venture out and say this could be a summer-themed cake! Maybe that's stepping too far, but tacos make me think of warm summer nights.
Making This Cake Ahead Of Time
A lot of you (and myself, for that matter) like to make your cakes ahead of time! This cake can totally be made in advance.
That way if you need this cake on a weekday, you don't have to stay up late slaving away the night before. It keeps incredibly well, and will taste just as delicious.
With that in mind, I do have a few notes around making this cake ahead of time:
You can make the cake layers in advance! They can be made and frozen several days (or weeks) in advance if they're stored properly.
The buttercream can also be made ahead of time! It keeps in the fridge for up to a month. Just be sure to store it in an airtight container. Give it a REALLY good stir once it thaws, to get rid of any air bubbles that may have formed while it thawed.
Once the cake is assembled and frosted, it can be stored in the fridge or freezer for several days! The frosting will help lock all the moisture in, and keep the cake layers moist.
If you choose to put it in the freezer, transfer the cake to the fridge the day before you plan to cut into it. This will minimize the temperature shock and reduce the risk of condensation.
The cake will need a couple hours to come to room temperature. Be sure to take it out of the fridge and let it sit for a bit before you plan to cut into it.

What About The Chocolate Cake Layer In The Center Of Your Cake!?
In the cake shown below, I actually ended up using a chocolate cake layer for the center of the cake. I happened to have one on hand from another baking project!
In my recipe below, I instruct you to make all vanilla cake layers. This just makes the recipe a bit simpler. Otherwise, you'd have to make two cake batters, and it would take a lot more work!
If you're totally set on having a chocolate cake layer in the center of your cake, you can put half of your cake batter in a separate bowl. Mix in 1/3 cup baking cocoa, an extra Tbsp of buttermilk, and an extra Tbsp of egg whites. Pour this batter into the six inch prepared cake pan, and bake as instructed below.
Let Me Know What You Think
If you try this recipe, please tag me @chelsweets, and use the #chelsweets so that I can see your amazing creations!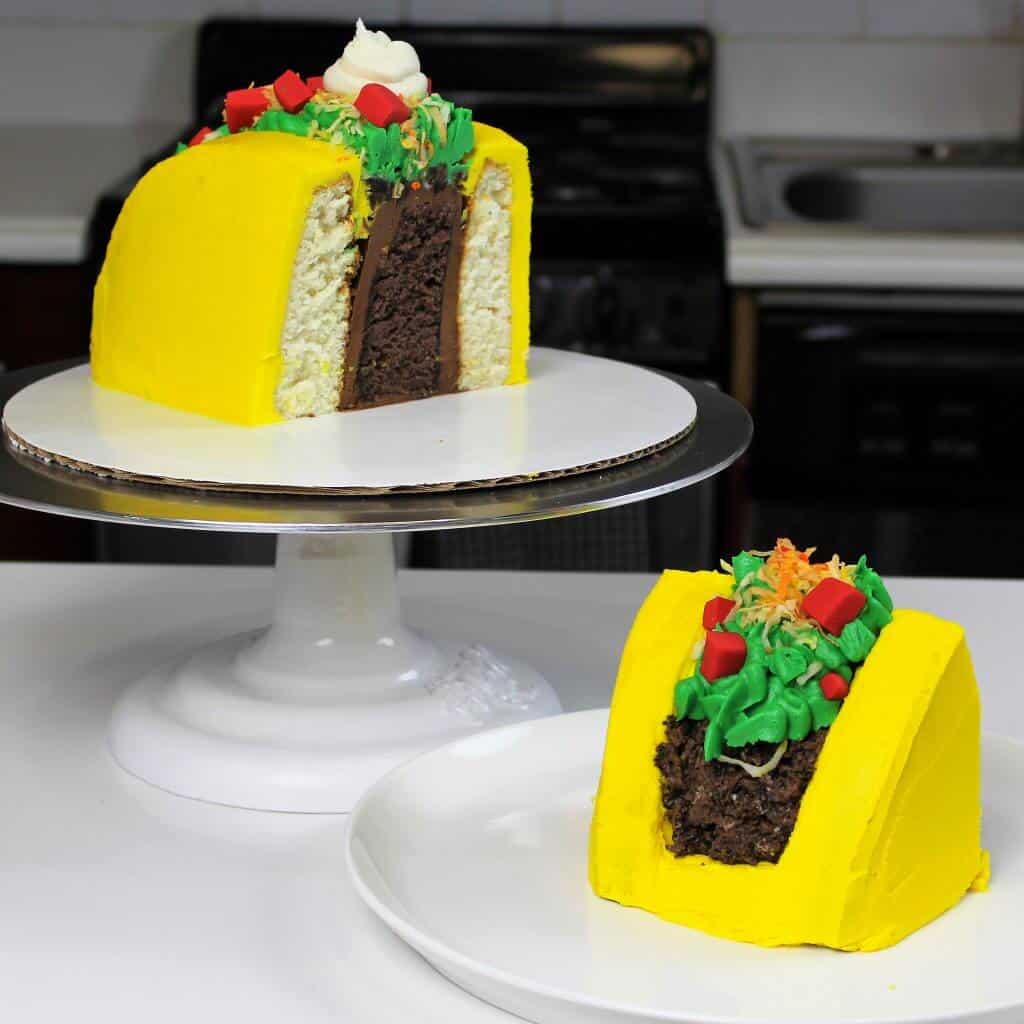 Yield: 16
Taco Cake Recipe
This taco cake is WAY easier to make than you'd think! All you need are two cake layers and frosting!! It's perfect for Taco Tuesdays, or Cinco De Mayo!!
Additional Time
30 minutes
Total Time
1 hour
20 minutes
Ingredients
Vanilla Cake Batter
1 1/2 cup all purpose flour (195 grams)
1 1/2 cups granulated sugar (300 grams)
1 1/4 tsp baking powder (5 grams)
1/2 tsp salt (3 grams)
1/2 cup unsalted butter (1 stick, 113 grams), room temperature
1 tsp. vanilla extract (4 grams)
1/2 cup egg whites (about 4 large egg whites, 122 grams)
3/4 cups buttermilk, room temperature (180 grams)
2 tsp. vegetable oil (10 grams)
Vanilla Buttercream Frosting
2 cups unsalted butter, room temperature (434 grams)
7 cups powdered sugar (907 grams) - or a 2 lb bag
1/2 tsp salt (3 grams)
2 Tbsp heavy cream (or whipping cream) (30 grams)
1 Tbsp vanilla extract (12 grams)
Additional Decorations and Tools
1 cup crushed Oreos
1/2 cup shredded coconut, colored with yellow and orange food coloring
Wilton 103 tip
piping bags
offset spatula
yellow, orange, and green food coloring
10 1cm cubes of red fondant (tomatoes)
Instructions
Vanilla Cake Layers:
Preheat oven to 350°F. Line one seven-inch pan and one six inch pan with parchment rounds, and grease with non-stick cooking spray.
Mix together all dry ingredients (flour, baking powder, sugar, and salt) in a stand mixer with a paddle attachment, until fully combined.
Mix chunks of room-temperature butter slowly into the dry mix, on a low speed. Continue to mix until no large chunks of butter remain, and the mixture becomes crumbly.
Pour in egg whites, and mix on low until just incorporated. Mix in the buttermilk in two installments, on a low speed. Add in vanilla and oil, and mix at a low speed until fully incorporated. Scrape down the sides of the bowl with a spatula, then beat on medium speed for about 30 seconds.
Divide batter between the prepared cake pans, filling them the same height.
Bake for 35-37 minutes, or until a skewer comes out clean. Allow to cool for 10 minutes, then run an offset spatula around perimeter of the pan to separate the cake from the pan. Place cake layers into the freezer for 45 minutes, to accelerate the cooling process.
Once the layers have fully cooled, level the top of both layers using a serrated knife. While these layers bake pretty flat, it's important that the layers are even since we'll be stacking them upright!
Vanilla Buttercream:
Beat the butter on a medium speed for 30 seconds with a paddle attachment, until smooth. Slowly add in the powdered sugar, 1 cup at a time. Alternate with small splashes of cream.
Once fully mixed, add in the vanilla and salt, and beat on low until the ingredients are fully incorporated, and the desired consistency is reached.
If the frosting is too thick, add in additional cream (1 Tbsp at a time). If the frosting is too thin, add in more powdered sugar (quarter of a cup at a time).
Place 1 1/2 cups of frosting into a separate bowl, and mix in 1/4 cup of cocoa, and 2 tsp of heavy cream to make chocolate buttercream. To create the "beef" of the taco, add 1/2 cup of this chocolate frosting to 1 cup of crushed Oreos in a different bowl, and set aside. The rest of the chocolate frosting will be used to cover the center layer of the cake.
Place another cup of frosting into a bowl, and color a bright shade of green with gel food coloring. Put the frosting into a piping bag with a Wilton 103 tip (petal tip), to create the lettuce on the cake.
Set aside 1/4 cup of uncolored frosting (to be the sour cream), and color the remaining frosting a bright shade of yellow with gel food coloring.
Assembling The Cake:
To assemble the cake, cut the cake layers in half. Secure one of the halves of the 6" cake layer in the center of the cake round (vertically) using a large dab of buttercream. Cover with an even layer of chocolate buttercream.
Place the two halves of the 7 inch cake round vertically against the frosted layer, and cover these two layers with yellow buttercream.These two layers will be the taco shell.
Smooth using a bench scraper or acetate sheet, then add the crushed Oreo/chocolate frosting mixture on top of the 6 inch cake half. Next, pipe on some lettuce on top of the Oreo mixture with the green buttercream.
Gently place some of the colored shredded coconut on top, then add the fondant diced tomatoes. The last step is to top the cake with a dollop of white buttercream.
Nutrition Information
Yield
16
Serving Size
1
Amount Per Serving
Calories

666
Total Fat

32g
Saturated Fat

19g
Trans Fat

0g
Unsaturated Fat

11g
Cholesterol

79mg
Sodium

253mg
Carbohydrates

94g
Fiber

1g
Sugar

81g
Protein

3g