This time of year, I think we all appreciate a simple yet adorable cake design! With all the time that goes into buying presents, decorating, and preparing your home for guests, by the time you get into the kitchen the last thing you want to worry about is a complicated cake! That's why I love this easy christmas lights cake design!!
This cake is made with my one bowl vanilla cake recipe (colored green with gel food coloring), and frosted with almond American buttercream.
I can't quite put my finger on it, but whenever I eat something almond flavored, it feels like a special occasion.
Whether it's from eating almond flavored wedding cake, or the almond christmas cookies I love to eat at Christmas time, an almond flavor just elevates a dessert in my mind.
And if the flavor doesn't get across the festive spirit, the decoration will. It's as simple as piping some dark green lines around your cake, and placing almond M&Ms beneath it! It doesn't get much easier than that!
My OCD side really loves that the cake decorations and the flavor of the cake match 🙂
Ombre Green Layer Cake Recipe:
3 cups all-purpose flour (390 grams)
3 cups granulated sugar (600 grams)
2 1/2 tsp baking powder (10 grams)
1 tsp salt (5 grams)
1 cup unsalted butter, room temperature (226 grams) – 2 sticks
5 large eggs, room temp (280 grams)
1 1/2 cups buttermilk, room temperature (360 grams)
1/8 cup vegetable oil (28 grams)
2 tsp. vanilla extract (9 grams)
Almond Buttercream Recipe:
2 cups unsalted butter, room temperature (434 grams)
8 cups powdered sugar (907 grams)
1/2 tsp salt (3 grams)
2 Tbsp heavy cream (or whipping cream) (30 grams)
1 Tbsp almond extract (12 grams)
Additional Decorations:
Ombre Green Cake Layers
Begin by making the Ombre Green Cake Layer Batter. If you want to learn how to make your cake layers in advance, I share all my tips and tricks for freezing cake layers here.
Preheat oven to 350°F. Line four 7 inch pans with parchment rounds, and grease with non-stick cooking spray.
Mix together all dry ingredients (flour, baking powder, sugar, and salt) in a stand mixer with a paddle until fully combined.
Mix chunks of room-temperature butter slowly into the dry mix, on a low speed. Continue to mix until no large chunks of butter remain, and the mixture becomes crumbly.
On a low speed, mix in eggs one at a time. Beat on low until just incorporated. Mix in the buttermilk in two installments, on a low speed.
Add vanilla and oil, and mix at a low speed until fully incorporated. Scrape down the sides of the bowl with a spatula, then beat on medium speed for about 30 seconds.
Divide batter evenly between four bowls (using a kitchen scale helps ensure you have the same amount of batter in each bowl).
Add an increasing amount of gel food coloring to each bowl, until you have four distinct shades of green ranging from a mint green to a forest green. Pour batter into the prepared cake pans.
Bake for 35 minutes (or until a skewer comes out clean). Allow to cool for 10 minutes, then run an offset spatula around perimeter of the pan to separate the cake from the pan.
Place cake layers into the freezer for 45 minutes, to accelerate the cooling process.
Trimming and Torting the Cake Layers
Once the layers have fully cooled, I sometimes like to trim the caramelized bits from the sides of the layers using a serrated knife. While these layers bake pretty flat, sometimes I'll also trim the top of the layers too, to get my layers perfectly level.
To take this cake to the next level, I torted each cake layer by cutting it in half, horizontally. This allows you to take your four cake layers, and create 8!!
This step by no means is necessary, but I love the way it allows you to have an incredible frosting to cake ratio. It makes every bite have the perfect taste of cake and frosting.
Prepping the Almond Buttercream Frosting
While the cake layers bake and cool, make the almond buttercream frosting. Beat the butter on a medium speed for 30 seconds with a paddle attachment, until smooth.
Slowly add in the powdered sugar, 1 cup at a time. Alternate with small splashes of cream.
Once fully mixed, add in the almond and salt, and beat on low until the ingredients are fully incorporated, and the desired consistency is reached.
If the frosting is too thick, add in additional cream (1 teaspoon at a time). If the frosting is too thin, add in more powdered sugar (quarter of a cup at a time). Hold off on adding the green gel food coloring until you've filled and crumb coated the cake.
Stacking and Assembling this Christmas Cake
Then it's finally time to assemble the cake!! Begin by adding a dab of frosting onto your cake board or cake plate. This will help keep your cake layers in place as you frost and stack the layers.
Use a large offset spatula to spread an even layer of frosting onto each cake layer. I'm a big fan of frosting, so I'm always generous with the amount I add between my layers.
Next, cover the cake in a thin layer of frosting, to trap in any pesky crumbs!
Use a bench scraper to get the frosting really nice and smooth, then pop your cake into the fridge or freezer to allow the crumb coat of frosting to chill and firm up.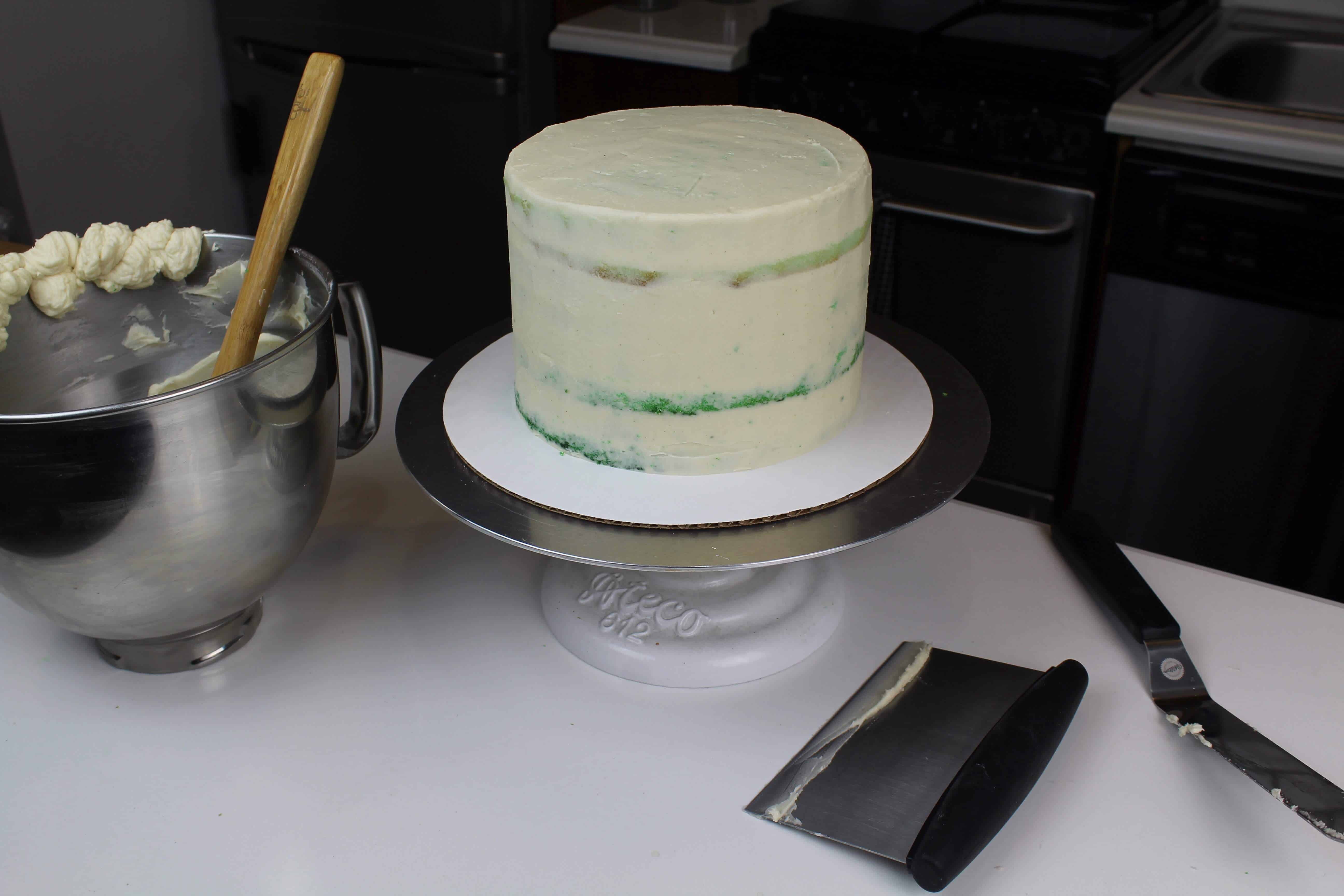 While the cake chills, color about 2/3 of a cup of the uncolored vanilla buttercream with a large squirt of forest green gel food coloring, to create dark green frosting. Place this into a piping bag fitted with a small round tip.
Color the remaining frosting mint green with a small squirt of green gel food coloring. I recommend using Americolor's leaf green gel coloring, which I've found creates a really beautiful shade.
Once the crumb coat is firm to the touch (takes about 5 minutes in the freezer), cover the cake in a second, thicker layer of red buttercream frosting.
You can see an in-depth tutorial on how to get super smooth sides on your cake here.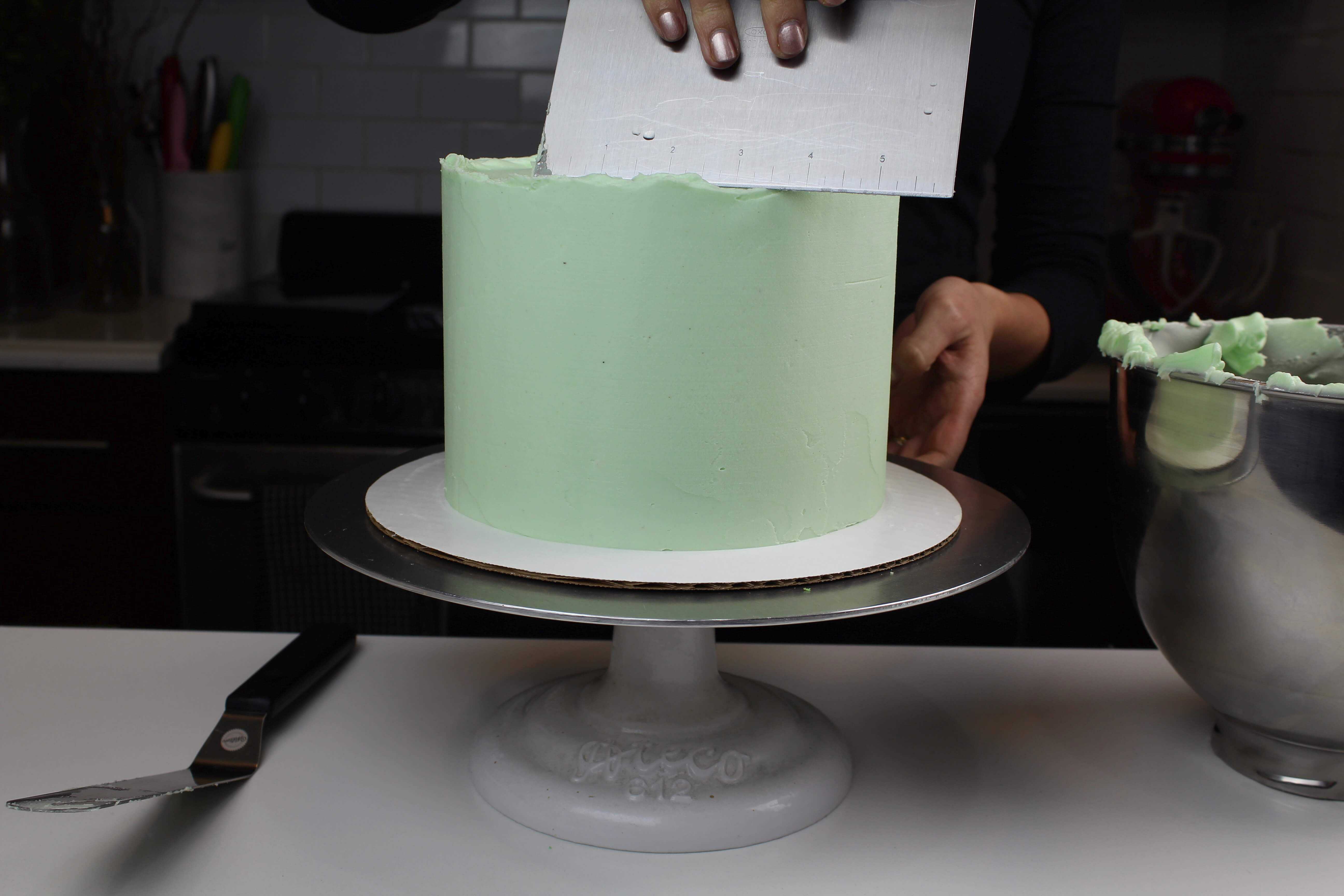 Decorating this Christmas Lights Cake with M&Ms
Once the second layer of frosting is smooth, snip a tiny opening in the piping bag filled with dark green frosting (less than 1 cm).
Pipe squiggly lines around the cake, to look like the wiring of a strand of Christmas lights. Pipe all the way around the cake, and then pipe a squiggly circle on top of the cake.
Pipe some small circles beneath the line every 2 inches, to connect the almond M&M Christmas lights to piped strand.
Use a small spoon to scoop out a tiny bit of frosting beneath each piped dot, to create a little pocket to nestle each M&M in. This will help the M&Ms stay in place, and reduce how far they stick off the side of the cake.
Carefully press each almond M&M into the cake, being sure to alternate colors in the same pattern around the cake.
I love this cake design because it's so simple! It's also a great cake to make with kids, or any guests you have in town.
This cake is perfect for any holiday party, but be sure you have lots of friends and family, or coworkers around when you cut into this cake!
Depending on the size of the slices you cut, this cake feeds 20-25 people.
Let Me Know What You Think!
If you try this Christmas Lights Cake design and recipe, I'd love to hear what think of it! Please leave a rating, and let me know your thoughts by sharing a comment ?