Despite my best intentions this winter, I haven't shared the recipes for all of my holiday cakes! I've been so busy making, filming, and editing my cakes and cake videos, that I totally dropped the ball on blogging!
Usually I'm able to manage my day job in corporate finance with my baking, but sometimes life gets in the way.
Between weddings, holiday travel, and closing out the year at work, I feel like that past month has completely flown by.
But don't worry, I'm planning to have them all up before Christmas…starting with this festive knitted sweater cake. It's inspired by those adorable knitted Christmas sweaters everyone seems to pull out of their closets this time of year.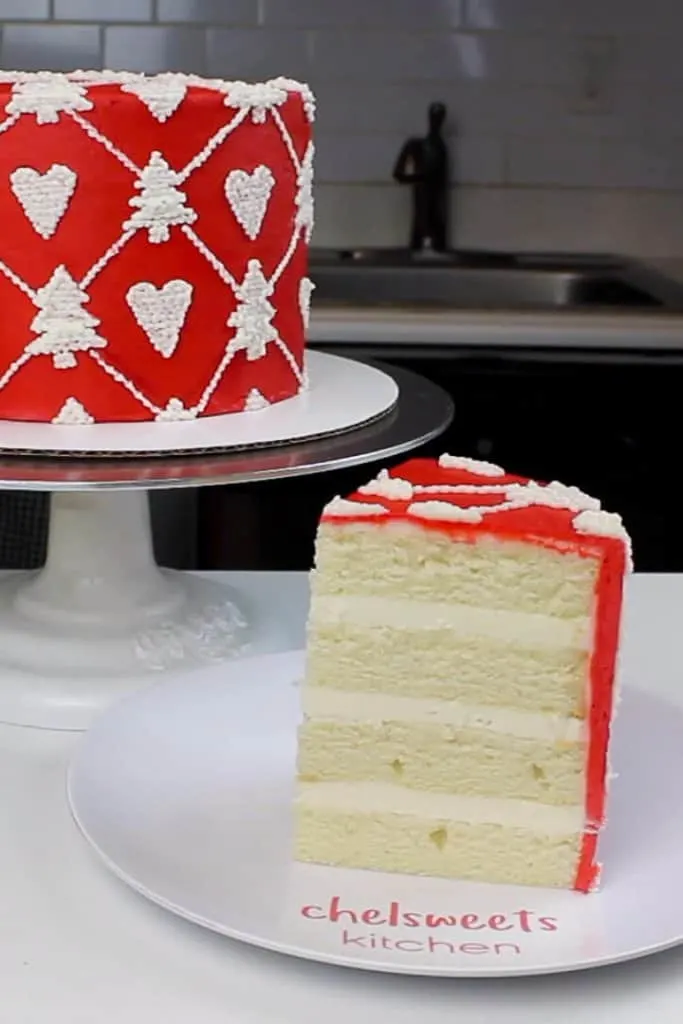 There are a lot of cakes that have a "knitted" look out there, but most use fondant and silicone molds. I wanted to make this cake fully with buttercream, and decided that piping the pattern was my best bet.
To mix things up a bit, I decided to make this cake with white velvet cake layers. White velvet, you say?!?!
Yes. If you wanted to, you could add in a tsp of baking cocoa and some red gel food coloring, and make red velvet cake layers…but where's the fun in that?
The essential components of a red velvet cake that give it that delicious, moist taste are vinegar, buttermilk, and baking cocoa. Red food coloring is also a must, but only for aesthetics.
While taking away the baking cocoa does slightly change that taste of this recipe, it still is super moist and uniquely delicious, from the vinegar and buttermilk. The amount of cocoa in most red velvet recipes is so minimal, I find I can barely taste it most of the time.
Another reason I chose to make white velvet cake layers was because I wanted to frost the outside of the cake in red buttercream. I didn't want to go all out with the red gel food coloring in this cake.
I love bright colors, but that much red seemed excessive. I also thought the white cake layers would make a beautiful, clean look with the vanilla buttercream the cake is filled with.
White Velvet Layer Cake Recipe:
3 1/4 cup all-purpose flour (416 grams)
3 cups granulated sugar (600 grams)
2 tsp baking powder (13 grams)
1 tsp baking soda (6 grams)
1 tsp salt (5 grams)
1 cup unsalted butter, room temperature (226 grams) – 2 sticks
5 large eggs, room temperature
1 1/2 cups buttermilk, room temperature (360 grams)
1/8 cup vegetable oil (28 grams)
2 tsp. vanilla extract (9 grams)
2 tsp vinegar (9 grams)
Vanilla Buttercream Frosting Recipe:
2 cups unsalted butter, room temperature (434 grams)
8 cups powdered sugar (907 grams)
1/2 tsp salt (3 grams)
2 Tbsp heavy cream (or whipping cream) (30 grams)
1 Tbsp vanilla extract (12 grams)
red gel food coloring
Instructions
Begin by making the White Velvet Cake Layer Batter. Preheat oven to 350°F. Line four 7 inch pans (for taller layers) or 8 inch round pans with parchment rounds, and grease with non-stick cooking spray.
Mix together all dry ingredients (flour, baking powder, baking soda, sugar, and salt) in a stand mixer with a paddle until fully combined.
Mix chunks of room-temperature butter slowly into the dry mix, on a low speed. Continue to mix until no large chunks of butter remain, and the mixture becomes crumbly.
Mix in the eggs on a low speed, one at a time until just incorporated. Mix in the buttermilk in two installments, on a low speed. Add in vanilla, vinegar, and oil, and mix at a low speed until fully incorporated. Scrape down the sides of the bowl with a spatula, then beat on medium speed for about 30 seconds.
Divide batter evenly between the prepared cake pans. I like to use a digital kitchen scale to weigh my pans, and ensure they all have the same amount of batter. This guarantees your layers will bake to be the same height.
Bake for 35-37 minutes if using 8 inch pans, or 37-38 minutes for 7 inch cake pans (or until a skewer comes out clean).
Allow to cool for 10 minutes, then run an offset spatula around perimeter of the pan to separate the cake from the pan. Place cake layers into the freezer for 45 minutes, to accelerate the cooling process.
Once the layers have fully cooled, I sometimes like to trim the caramelized bits from the sides of the layers using a serrated knife. While these layers bake pretty flat, sometimes I'll also trim the top of the layers too, to get my layers perfectly level.
While the cake layers bake and cool, make the vanilla buttercream frosting. Beat the butter on a medium speed for 30 seconds with a paddle attachment, until smooth. Slowly add in the powdered sugar, 1 cup at a time. Alternate with small splashes of cream.
Once fully mixed, add in the vanilla and salt, and beat on low until the ingredients are fully incorporated, and the desired consistency is reached.
If the frosting is too thick, add in additional cream (1 teaspoon at a time). If the frosting is too thin, add in more powdered sugar (quarter of a cup at a time). Hold off on adding the red gel food coloring until you've filled and crumb coated the cake.
Then it's finally time to assemble the cake!! Begin by adding a dab of frosting onto your cake board or cake plate. This will help keep your cake layers in place as you frost and stack the layers.
Use a large offset spatula to spread an even layer of frosting onto each cake layer. I'm a big fan of frosting, so I'm always generous with the amount I add between my layers.
Next, cover the cake in a thin layer of frosting, to trap in any pesky crumbs!
Use a bench scraper to get the frosting really nice and smooth, then pop your cake into the fridge or freezer to allow the crumb coat of frosting to chill and firm up.
While the cake chills, place about 2/3 of a cup of the uncolored vanilla buttercream into a piping bag fitted with a small round tip.
Color the remaining frosting red with gel food coloring. I recommend using the no-taste red gel food coloring, to reduce the bitter taste red buttercream can have!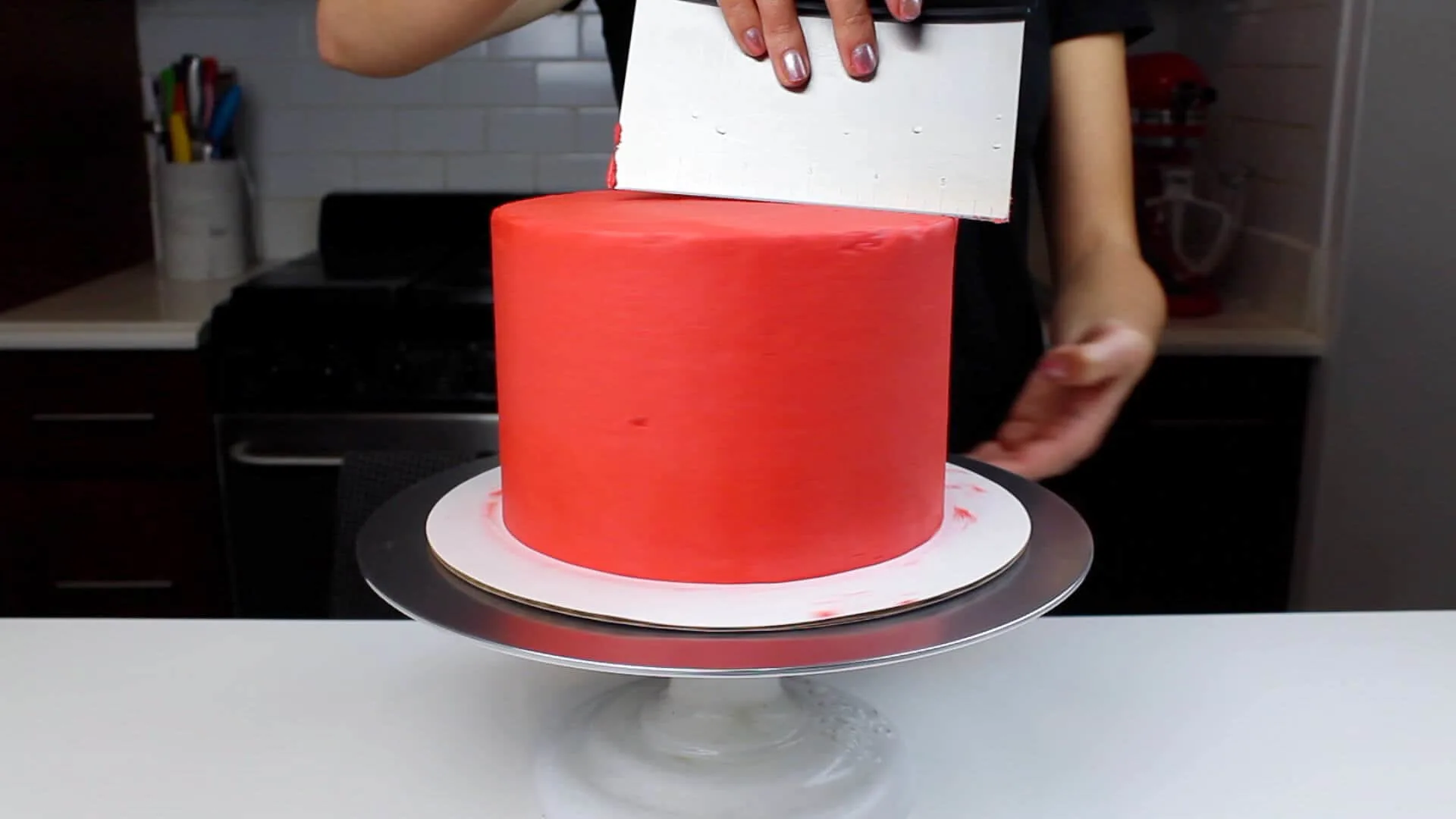 Once the crumb coat is firm to the touch (takes about 5 minutes in the freezer), cover the cake in a second, thicker layer of red buttercream frosting.
You can see an in-depth tutorial on how to get super smooth sides on your cake here.
To create the pattern on this cake, I love using a cookie cutter to outline the shapes you will be piping. It ensures the pattern is symmetrical and evenly spaced.
Use a square cookie cutter (this one was 2 in x 2 inches) to create each knitted square of the sweater, and then a small heart cutter (about 1 inch tall) to outline the heart within each diamond.
Carefully press each cutter against the cake, just hard enough to create a faint outline that you can follow as you pipe.
Next, use the white buttercream to (painstakingly) pipe each little stitch. To make the process less painful, be sure not to fill your piping bag too full!
I filled mine with way more frosting than I needed (see photo below), and it made the process so much more difficult.
It's easier to have control and precision over your piping when there's less frosting in the bag, It also means you have to squeeze less hard, which matters when you're having to pipe this much.
Continue the pattern from the sides of the cake up to the top. I recommend taking breaks as you pipe, to give your hand and wrist a break!! It also helps control how much heat from your hand is transferred to your frosting.
The longer you hold your piping bag, the warmer your frosting will get.
This can throw off the consistency of your frosting, and can also deepen the shade (the frosting becomes more of a cream), making some of you piped stitches a different color.
To avoid this, you can either take breaks while piping, or wrap a thin dish towel or paper towel around the bag, to minimize the transfer of heat.
This knitted sweater cake is perfect for any holiday party, but be sure you have lots of friends and family, or coworkers around when you cut into this cake!
Depending on the size of the slices you cut, this cake feeds 20-25 people.
See what I mean about the white velvet cake layers? They look so pristine and perfect when paired with the bright red buttercream.
If you want to watch the full video tutorial, here is the YouTube video I created of this sweater cake.
Hope you all have a wonderful holiday season, filled with lots of baking!!