Red velvet cake…it has eluded me for so long!! You've been asking me to share my favorite red velvet layer cake recipe, and I've wanted to. I wasn't procrastinating, I just hadn't made a red velvet cake I was truly happy with.
I made an oreo red velvet cake based on my vanilla layer cake recipe, which was good. It had great structure, tasted great, but the texture was the same as my vanilla layer cake recipe.
It's a butter cake recipe, and a bit denser than I like a red velvet cake to be. While I thought it tasted great, it just wasn't quite what I imagine when I think of a classic red velvet cake.
I wanted moist, spongy, tender cake layers, sandwiched between generous layers of cream cheese frosting. So I continued my red velvet experiments.
I tried tons of different recipes to see what ratios I preferred, played around with the amount of leavening agents, and went through 4 iterations of recipe testing.
And here we have it. A delicious red velvet cake recipe that is super moist, and has a delicate, tender crumb.
Oil Vs. Butter, or Oil & Butter?
While most of my cake recipes use butter as the fat, this recipes uses oil. Butter can add a lot of flavor to a cake, but oil adds a lot of moisture. Not to say that a butter cake is dry, but the texture is far from that of a cake recipe made with oil.
Oil gives the cake a fluffier texture. While I love a good butter cake, that's not the texture I associate with a red velvet cake. That's why this cake recipe uses only oil.
Red Food Coloring
When you make a red velvet cake, you expect it to have that gorgeous, deep red color when you cut in. I've found that it's a lot easier to achieve that using gel food coloring.
I prefer americolor, but any gel food coloring will work! If you don't have gel food coloring on hand, you can also use liquid food coloring.
I've found that you need to use an entire bottle of liquid food coloring to get the deep red color, so be sure you have a full bottle if you go this route.
The Cream Cheese Frosting
This red velvet cake recipe would taste great with just about any frosting, but I wanted to stick with the classic combination of cream cheese frosting and red velvet cake.
My cream cheese buttercream is a dream to frost with. It's thick, has great structure, and pipes like a dream. It's wonderful for layer cakes, because it is stiff enough to support the weight of the cake layers.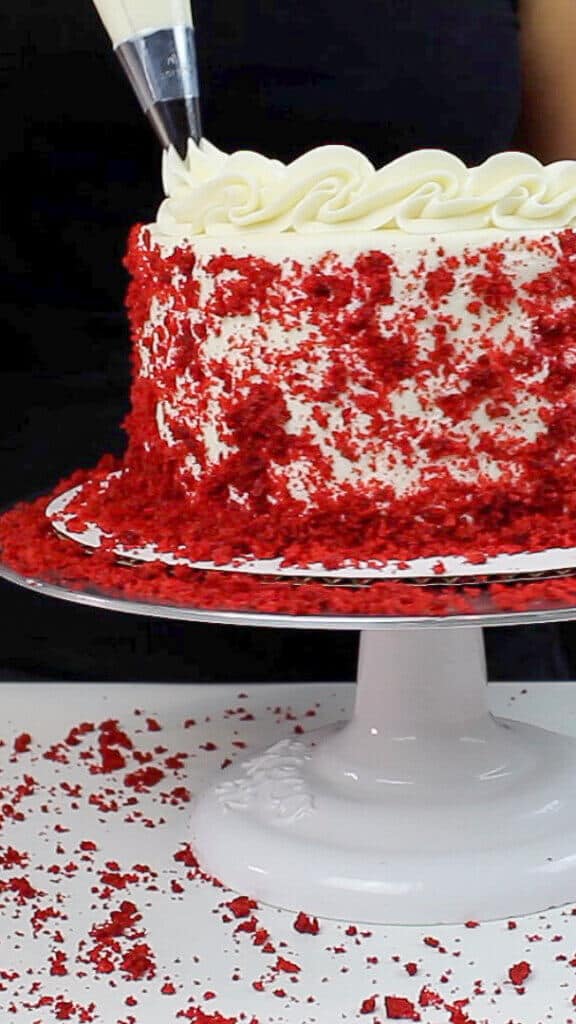 This cream cheese frosting recipe is also stiff enough to pipe a beautiful border around the top of the cake, which is exactly what I did for this cake!
Decorating This Red Velvet Layer Cake
While I love making challenging cake designs, sometimes it's nice to just make a classic layer cake. I kept things simple with this cake, and used crumbled cake tops to decorate the sides of the cake.
This cake decoration screams red velvet! It's also super easy to make, and gives the cake such a classic look.
Tips for Making Tender, Moist Cakes:
Don't overmix your batter, and stir until the flour is just combined into the batter
Be sure to properly measure your flour (spoon into the cup measure, then level), or even better, use a kitchen scale when making the cake batter
Make sure your ingredients are at room temp
Bang your pans on the counter before popping them into the oven, to bring any air bubbles that are trapped in the batter to the surface
Don't over bake you layers! Keep an eye on them, and be sure to set a timer
Let Me Know What You Think!
If you try this red velvet layer cake recipe, I'd love to hear what think of it! Please leave a rating, and let me know your thoughts in the comments section 🙂
Surprisingly, my husband actually ate this cake! He rarely tries my cakes, but he had several bites of this one 😛 I think that means he approves!
Other Recipes You Might Like:
Yield: 24
Red Velvet Layer Cake
This classic red velvet layer cake recipe is moist, tender, and delicious! It's frosted with the best cream cheese frosting, and is irresistable!
Additional Time
30 minutes
Total Time
1 hour
16 minutes
Ingredients
Red Velvet Cake
1 cup vegetable oil (224 grams)
2 eggs (112 grams)
1 cup buttermilk, room temperature (228 grams)
1 Tbsp white vinegar (9 grams)
2 tsp vanilla extract (6 grams)
2 cups granulated sugar (400 grams)
2 tsp. unsweetened cocoa powder (8 grams)
1 tsp salt (6 grams)
1 tsp baking soda (6 grams)
2 1/2 cups all-purpose flour (325 grams)
2 squirts of red gel food coloring (or 1 Tbsp liquid food coloring)
Cream Cheese Buttercream Frosting
2 cups unsalted butter, room temperature (452 grams) - 4 sticks
1 cup full-fat cream cheese, room temperature (225 grams or 8 oz.)
11 cups powdered sugar (1375 grams)
1 tsp salt (6 grams)
2 Tbsp heavy cream (or whipping cream) (29 grams)
1 Tbsp vanilla extract (12 grams)
Additional Tools
piping bag
wilton 1M frosting tip
Instructions
Red Velvet Cake
Preheat oven to 350 degrees F (175 degree C).
Grease and line three 6-inch, or 3 7-inch cake pans.
In a large bowl, whisk together the vegetable oil, eggs, buttermilk, white vinegar and vanilla extract.
Add granulated sugar, and whisk for 30 seconds to help the dissolve the sugar.
Mix in the cocoa powder, salt and baking soda, and whisk until no clumps remain.
Add red gel food coloring, and mix until the batter is evenly colored a deep shade of red.
Mix the flour into the batter in two installments.
Divide the batter evenly between the prepared pans, and bake for 27-30 minutes.
Remove pans from oven, and allow them to cool in the pans for 10 minutes.
Carefully flip the layers out of the pans, and place on a wire rack to finish cooling.
Level the cake tops with a serrated knife once they're fully cooled.
Use a fork to crumble the cake tops, and cover and set aside.
Cream Cheese Buttercream Frosting:
Beat the butter and cream cheese on a medium speed for 30 seconds with a paddle attachment, until smooth.
Add in the vanilla and salt, and beat on low until the ingredients are fully incorporated.
Slowly mix in the powdered sugar on a very low speed, 1 cup at a time. Alternate with small splashes of cream.
If the frosting is too thick, add in additional cream (1 tablespoon at a time).
If the frosting is too thin, add in more powdered sugar (1/4 cup at a time).
Cover the cream cheese frosting with a piece of plastic wrap, to prevent a crust from forming until you're ready to use it.
Red Velvet Cake Assembly:
Stack and frost cake layers on a greaseproof cake board, using a dab of frosting to help stick the first cake layer to the board.
Add an even layer of buttercream between each cake layer.
Add a thin coat of frosting around the cake, to fully cover the cake layers. Smooth using a bench scraper, then chill the cake in the fridge (20 minutes) or freezer (5 minutes) until the frosting is firm to the touch.
Add a second, thicker layer of frosting to the cake, and smooth using a bench scraper.
Carefully press the reserved red velvet crumbs along the side of the cake with you hand.
Place the remaining cream cheese buttercream into a frosting bag fit with a Wilton 1M frosting tip.
Pipe a border around the top of the cake.
Nutrition Information
Yield
24
Serving Size
1
Amount Per Serving
Calories

594
Total Fat

29g
Saturated Fat

13g
Trans Fat

0g
Unsaturated Fat

15g
Cholesterol

68mg
Sodium

314mg
Carbohydrates

83g
Fiber

0g
Sugar

71g
Protein

3g