Sometimes you just can't decide what flavor of cake to make! That's where this variety sheet cake comes into play. I use one 9-inch by 13-inch sheet cake and one batch of buttercream to make 5 different flavors!!
A few months ago, I saw this viral video made by So Yummy and was obsessed! I loved the concept, and decided to test it out with some of my favorite flavors.
Picking My Variety Sheet Cake Flavors
I had the hardest time narrowing down my flavors, but ended making the sections chocolate covered cherry, funfetti cookie dough, PB&J, Nutella, and rose water! The Nutella section ended up being my favorite.
To create these flavors/fillings, I used the below items from my pantry!
Most of these ingredients I already had, but you can alter your flavors for whatever you have on hand (my pantry is literally all baking supplies and sweets).
The beauty of this idea is that you can customize it to whatever flavors you want!
Fillings / toppings:
Cherries
Cherry preserves
Chocolate chips
Chocolate spinkles
Edible cookie dough balls
Rainbow spinkles
Strawberry Jam
Creamy Peanut Butter
Strawberries
Nutella
Chopped hazelnuts
Ferrero Rocher
Rose water
I also used a variety of tools, including:
1-inch circle cutter
1 cm punch cutter or chopstick
biodegradable or reusable straw
heart circle cutter
piping bags
wilton 1M tip
flower nail
Wilton 104 tip
Wilton 352 leaf tip
small offset spatula
One Cake Recipe, One Frosting Recipe
I used my small batch vanilla layer cake recipe to make a 9×13 inch sheet cake, and 1 batch of my American buttercream to make this cake.
All of the different frostings on this cake are made using my American buttercream as a base.
Marking Each Section Of This Variety Sheet Cake
First, measure the sheet cake with a ruler, and lightly score it with a knife, to divide it into 5 equal section.
It's important to use a ruler, so that each section is equally sized! You can also adjust this to make however many sections you want! I found that 5 was the maximum amount I could fit on this size of a cake.
However, if you make a larger sheet cake, you can always make more! Or if you want to keep things simple, you can make fewer flavors too.
First Section: Chocolate Covered Cherry
Begin by making the chocolate cherry section.
Use a small punch cutter to cut out small holes in the top section of the cake. Fill with cherry preserves.
Place 3/4 of a cup of buttercream into a bowl, and mix with 1/4 cup of cherry preserves.
Spoon onto the top section, and smooth using a small offset spatula place 6 chocolate covered cherries on top of the frosting, and add a generous sprinkle of chocolate jimmies
Second Section: Funfetti Cookie Dough
I made a funfetti cookie dough flavor for my second second section! To do this, use a 1.5 inch circle cutter to remove 4 circles of cake.
Fill with edible cookie dough balls. Place 3/4 of a cup of buttercream into a bowl, and mix with 1/2 cup of nonpareil sprinkles.
Spoon onto the top section, and smooth using a small offset spatula to create horizontal lines. Top with small bits of edible cookie dough and more rainbow sprinkles.
Third Section: PB&J
To make the PB&J section of this layer cake, use a biodegradable straw (or a chopstick) to poke holes throughout the third section of the cake.
Heat about 1/3 of cup of strawberry jam in the microwave for about 15 seconds, then spread across this section of the cake.
Allow the jam to run into the holes, to have the same effect as a poke cake!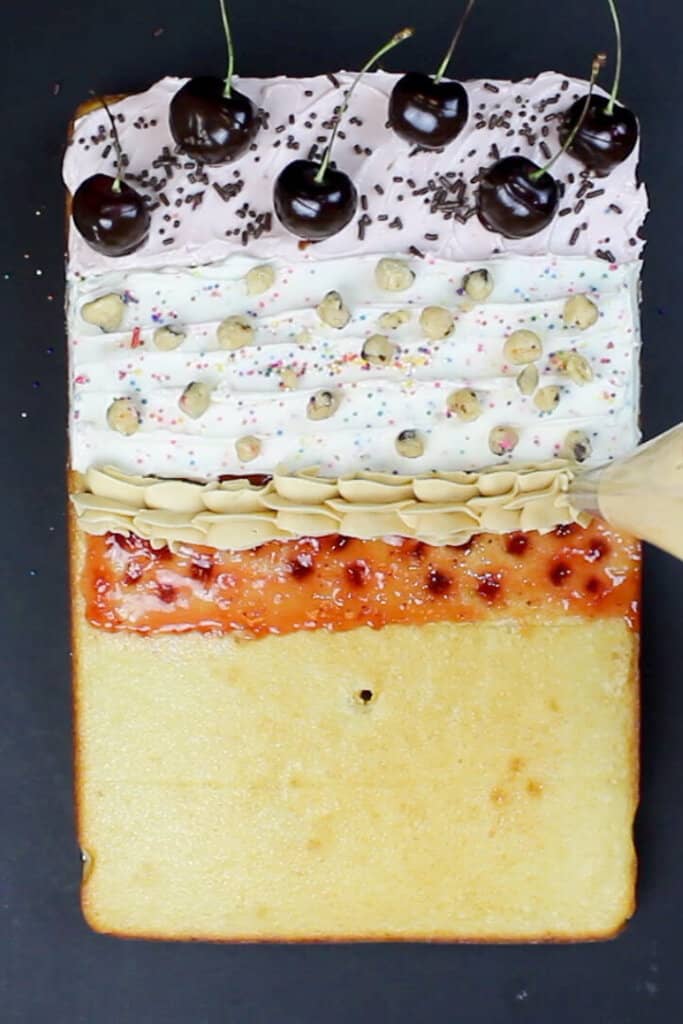 Place 3/4 of a cup of buttercream into a bowl, and mix with 1/2 cup of peanut butter (or to taste).
Place into a piping bag fitted with a Wilton 1M tip, and pipe ruffles horizontally across this section. Top with 3 fanned strawberries.
Fourth Section: Nutella
For the Nutella-inspired 4th section, use a 1 inch cutter of your choice. I used a heart shaped cutter, since I LOVE Nutella!
Cut 4 equally spaced holes across this section and fill with Nutella.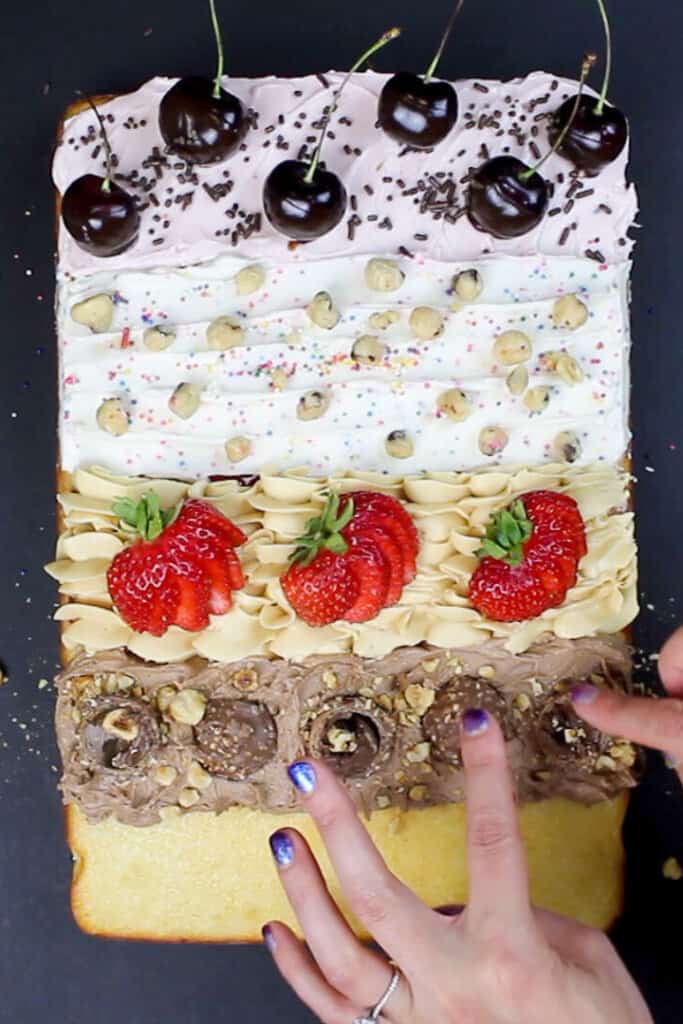 Place 3/4 of a cup of buttercream into a bowl, and mix with 1/3 cup of Nutella (or to taste). Spoon onto the top section, and smooth using a small offset spatula.
Tap the tip of the offset spatula around the frosting, to create a textured pattern.
Top with halved Ferrero Rocher, and a sprinkle of toasted hazelnuts.
Fifth Section: Rose Water
Now for the final section!! cut out four holes using a 1 inch cutter. Mix about 3/4 of a cup of buttercream with a teaspoon of rose water, and drop of pink gel food coloring.
Place pink rosewater buttercream into a piping bag fitted with a wilton 104 tip (or whatever petal tip you have on hand). Fill each cut out with this buttercream.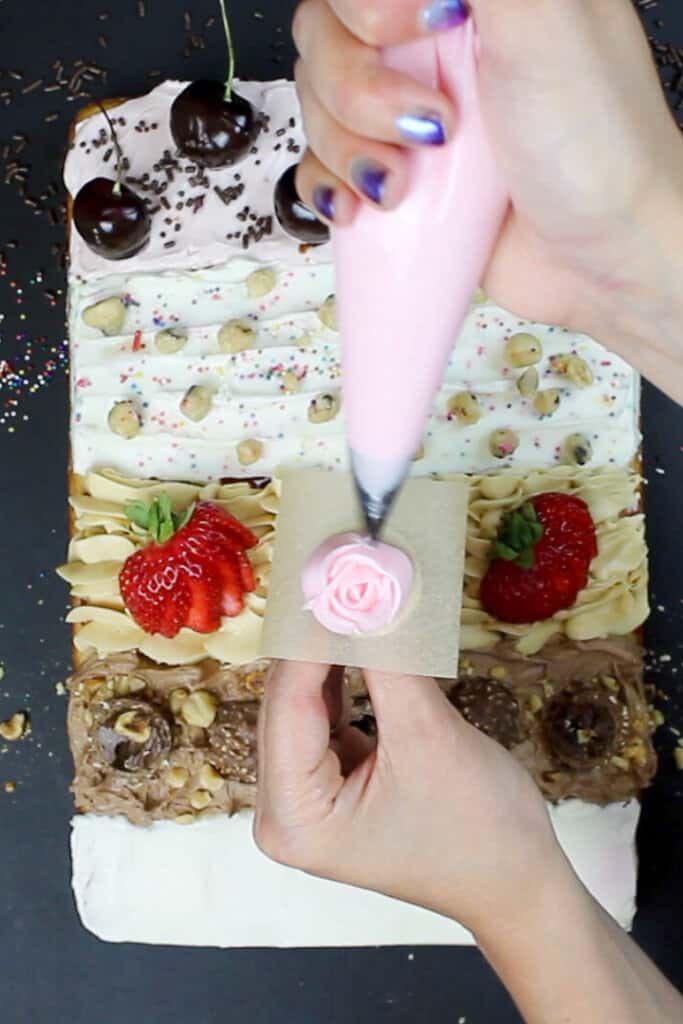 Top with plain vanilla buttercream, and smooth flat.
Pipe 5 buttercream roses using a flower nail, and place across the bottom section using a pair of small scissors.
If desired, color 1/3 of a cup of frosting green and pipe some leaves around the roses using a Wilton 352 tip.
Slice each section into equal sized pieces, and see which flavor your party likes best!
I brought this cake into my office, and despite me loving the Nutella section, the fan favorite was the PB&J section.
Yield: 20
Variety Sheet Cake Recipe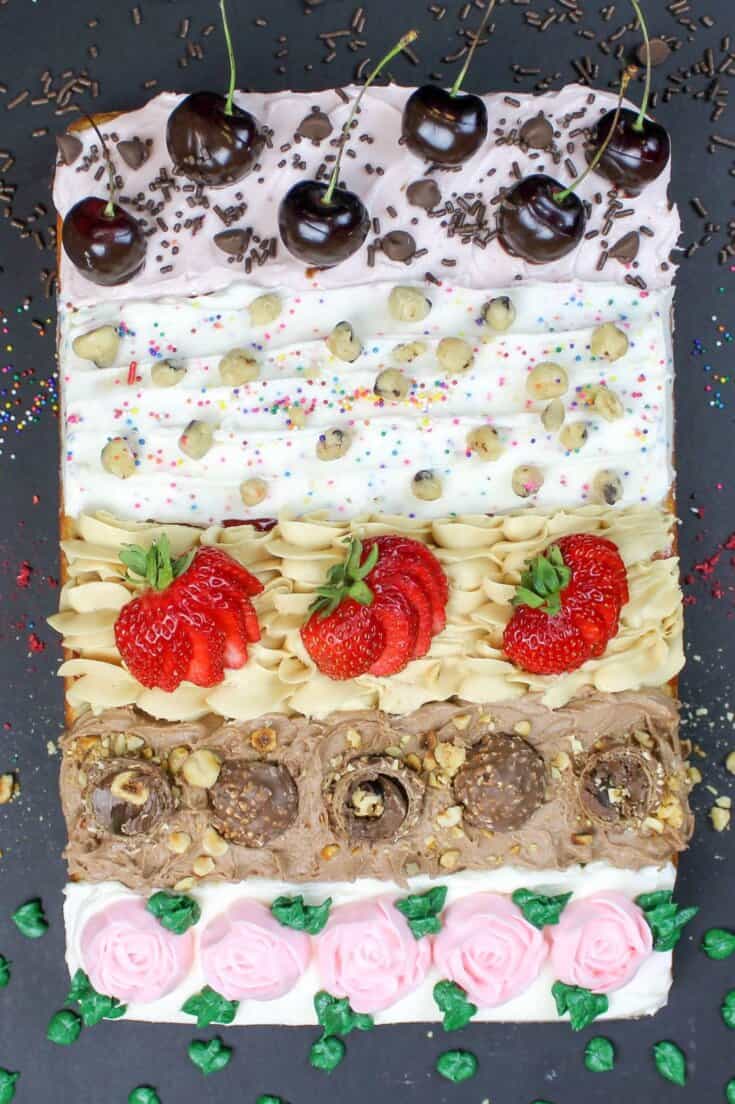 This vanilla layer cake recipe makes the perfect six inch layer cake! It makes three, moist cake layers that are perfect for stacking.
Additional Time
20 minutes
Total Time
1 hour
10 minutes
Ingredients
Vanilla Cake
2 cups + 2 Tbsp all-purpose flour (276 grams)
2 cups granulated sugar (400 grams)
1 1/2 tsp baking powder (6 grams)
1/2 tsp salt (3 grams)
2/3 cup unsalted butter, room temperature (150 grams) - 1 and 1/3 sticks
1 tsp. vanilla extract (4 grams)
2/3 cup egg whites (or about 5 egg whites) (185 grams)
1 cup buttermilk, room temperature (240 grams)
1 Tbsp vegetable oil (14 grams)
gel food coloring (if desired)
Vanilla Buttercream Frosting
2 cups unsalted butter, room temperature (434 grams)
7 cups powdered sugar (907 grams) - or a 2 lb bag
1/2 tsp salt (3 grams)
2 Tbsp heavy cream (or whipping cream) (30 grams)
1 Tbsp vanilla extract (12 grams)
Instructions
Vanilla Cake Layers:
Preheat oven to 350°F. Line three 6 inch pans with parchment rounds, and grease with non-stick cooking spray.
Mix together all dry ingredients (flour, baking powder, sugar, and salt) in a stand mixer with a paddle until fully combined.
Mix chunks of room-temperature butter slowly into the dry mix, on a low speed. Continue to mix until no large chunks of butter remain, and the mixture becomes crumbly.
Pour in egg whites, and mix on low until just incorporated. Mix in the buttermilk in two installments, on a low speed.
Add in vanilla and oil, and mix at a low speed until fully incorporated. Scrape down the sides of the bowl with a spatula, then beat on medium speed for about 30 seconds.
If desired, add in gel food coloring. Mix the batter on a low speed, scraping the sides and bottom of the bowl part way through. Mix until the batter is evenly colored.
Divide batter evenly between the prepared cake pans. I like to use a digital kitchen scale to weigh my pans, and ensure they all have the same amount of batter. This guarantees your layers will bake to be the same height.
Bake for 33-35 minutes, or until a toothpick comes out clean. Allow the pans to cool for 10 minutes, then run an offset spatula around perimeter of the pan to separate the cake from the pan.
Place cake layers into the freezer for 30 minutes, to accelerate the cooling process.Once the layers are fully cooled, carefully flip the pans and remove the layers from the pans.
Use a serrated knife to level the tops of the layers, and then frost as desired.
Vanilla Buttercream Frosting:
While the cake layers bake and cool, make the vanilla buttercream frosting.
Beat the butter on a medium speed for 30 seconds with a paddle attachment, until smooth. Slowly add in the powdered sugar, 1 cup at a time. Alternate with small splashes of cream.
Once fully mixed, add in the vanilla and salt, and beat on low until the ingredients are fully incorporated, and the desired consistency is reached.
If the frosting is too thick, add in additional cream (1 teaspoon at a time). If the frosting is too thin, add in more powdered sugar (quarter of a cup at a time).
If you plan to color the buttercream, add in the gel food coloring once the frosting is fully made, and beat on low until it reaches the desired color
To Assemble The Cake:
Stack and frost cake layers on a greaseproof cake board, using a dab of frosting to help stick the first cake layer to the board.
Add an even layer of buttercream between each cake layer.
Apply a thin coat of frosting around the the cake, to fully cover the cake layers. Smooth using a bench scraper, then chill the cake in the fridge (10 minutes) or freezer (5 minutes) until the frosting is firm to the touch.
Add a second, thicker layer of frosting to the cake, and smooth using a bench scraper. Then decorate as desired!
Nutrition Information
Yield
20
Serving Size
1
Amount Per Serving
Calories

497
Total Fat

26g
Saturated Fat

16g
Trans Fat

0g
Unsaturated Fat

9g
Cholesterol

67mg
Sodium

195mg
Carbohydrates

67g
Fiber

0g
Sugar

65g
Protein

2g